One of the most vital components of any video game is a good story. Yes, epic combat and brutal slashers are great fun! But if we want to really get into the game world – visual novels will be the best solution.
Although still not very popular, this genre finds masses of its fans. A calm plot based on making decisions is a specific style of gameplay that does not necessarily appeal to everyone. But once we enter this rich in stories and intriguing heroes realm, we discover a universe of new possibilities. Best visual novels on Steam display such diverse settings that everyone will find something for themselves here. Fancy a chilling horror movie? Or maybe a hilarious comedy with elements of romance? You will discover it all in this category! If you're intrigued by the world of visual novels for PC, be sure to check out our guide to titles in this inspiring genre.
Phoenix Wright: Ace Attorney Trilogy
| | |
| --- | --- |
| Release: | 2019-04-09 |
| Genre: | Adventure |
| Developer: | Capcom |
It is a refreshed set of the first three parts of the hit law games from 2005. Play as Phoenix Wright and try to explain unsolvable cases.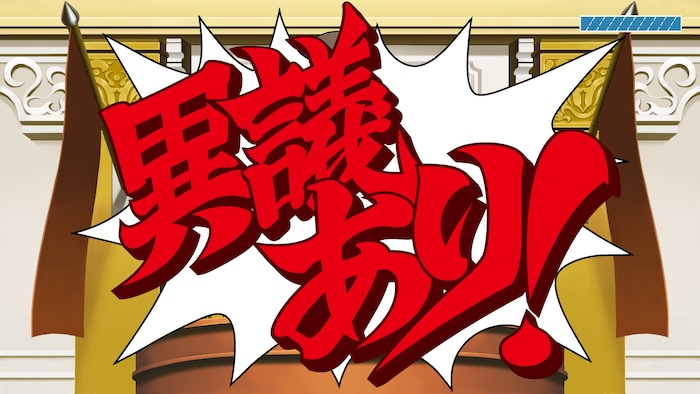 Ace Attorney Trilogy consists of 14 thrilling chapters in English in which you will awaken your sense of a born detective and lawyer. Each game is divided into two main stages: collecting clues and engaging in court trials. Exercise your mind, discover the secrets of the heroes and make crucial decisions. In this game, the ultimate stake is the truth!
Key features
Play the remastered installment of the classic law game series
Collect clues and make decisions
Participate in stormy court trials
Solve the case and find out the truth
Steins;Gate / Steins;Gate 0
| | |
| --- | --- |
| Release: | 2016-09-08 |
| Genre: | Adventure |
| Developer: | MAGES. Inc. |
These are two parts of a Japanese visual novel series with sci-fi and thriller elements. Travel to Tokyo and discover the turbulent fate of a student who wanted to become a brilliant inventor.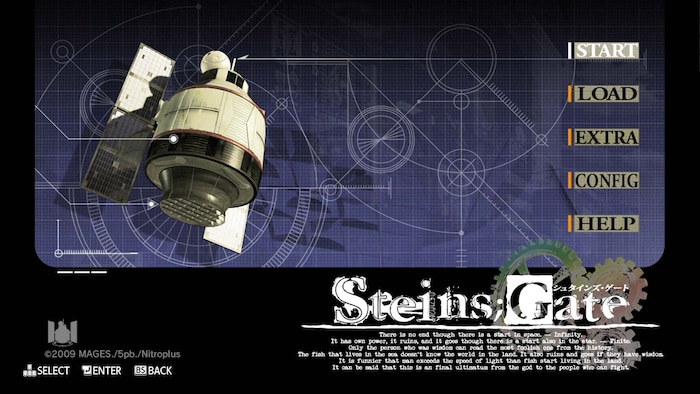 Both parts of the series revolve around Okabe Rintaro – the leading character who is a freshman at a Tokyo university. Together with his friend, he tries to invent a unique electronic device. It soon turns out that things are taking a completely different turn than anyone has previously expected. Make decisions, chat and connect with extraordinary heroes to discover the following chapters of this gripping story.
Key features
Play as Okabe Rintaro – a student who wants to be an extraordinary inventor
Encounter several intriguing characters involved in a great plot
Make decisions and chat to understand the meaning of the story
Discover many possible endings
Doki Doki Literature Club Plus!
| | |
| --- | --- |
| Release: | 2021-06-30 |
| Genre: | Visual novel, horror |
| Developer: | Team Salvato |
It is an enhanced version of the Doki Doki Literature Club harem game and a combination of horror and dating simulator. Join the school's poetry club and discover a shocking secret hidden by its four lovely members.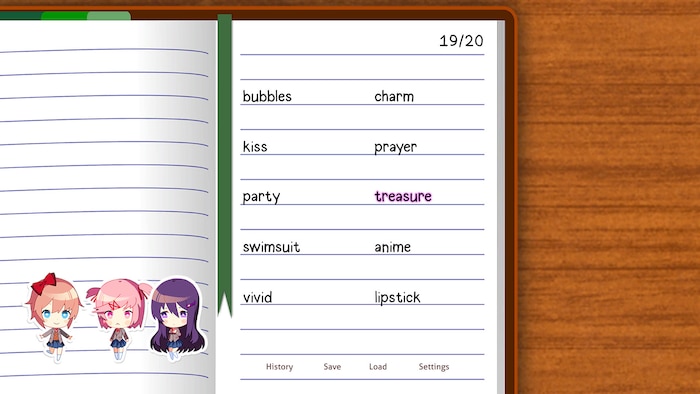 Play the role of a teenager who, in search of love, joins the school's literature club. Meet Monika, Yuri, Natsuki and Sayori! Chat with girls, make friends, and compose romantic poems. You will soon discover nothing in this story is as it may seem at first glance and that your friends are hiding a dark secret. In this version of the game, you will see even more twists, even more pictures, and you will be able to compose your playlist of songs. It is a game exclusively for adults and people with strong nerves.
Key features
Play the extended version of the game from 2017
Play as a teenager who joins a club of poetry lovers
Chat, make decisions, and witness how the story unfolds
Discover the dark secret hidden by the members of the club
Danganronpa Trilogy
| | |
| --- | --- |
| Release: | 2016-04-18 |
| Genre: | Adventure |
| Developer: | Abstraction Games |
It is a set of three adventure games with thriller elements from Spike Chunsoft, where you will face the evil gameplay planned by the vengeful Monokuma bear.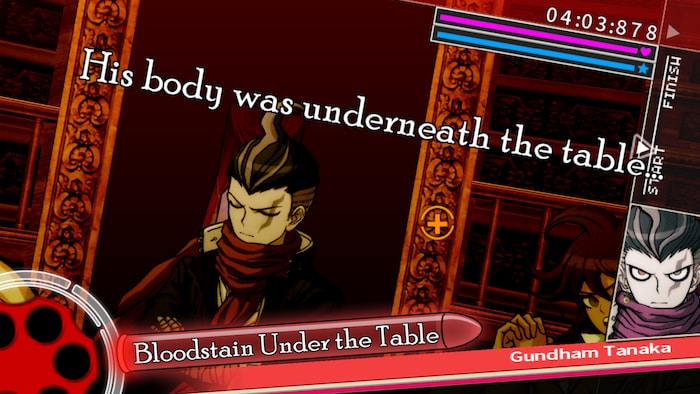 Each game tells the story of several characters and takes place in a different setting. However, they have one significant element in common – the extremely dangerous Monokuma bear. Willing to introduce some chaos into the students' lives, he arranges a brutal game. To leave the terrifying competition, they have to kill. Talk to your friends, make decisions and collect clues, and who knows – maybe you'll be able to survive the Monokuma trap?
Key features
Play a series of three games about the prank of the evil Monokuma
Investigate to find out who killed
Collect evidence and attend a court trial
Talk to other heroes and decide together who killed
Zero Escape Trilogy
| | |
| --- | --- |
| Release: | 2017-03-24 |
| Genre: | Adventure |
| Developer: | Spike Chunsoft Co., Ltd. |
It is a series of adventure games with horror elements where the heroes will have to do everything in their power to get out of the trap arranged by the mysterious Zero.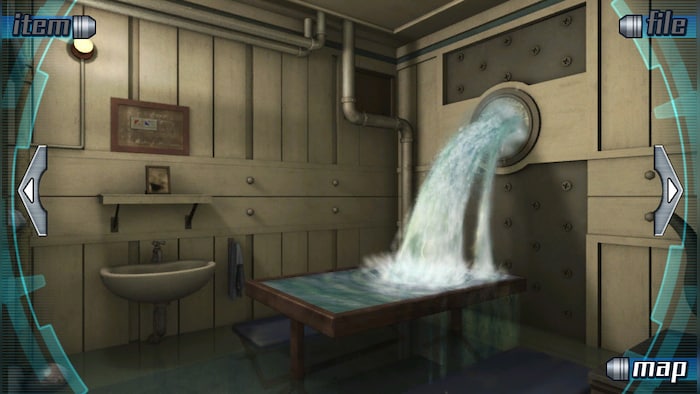 Welcome to the game prepared by Zero – a mysterious sadist for whom the suffering of others is the most beautiful symphony. Take part in three connected stories, each with the same core. It is a fight for life in grim circumstances designed by Zero. To survive, you must make decisions, explore and solve complex puzzles.
Key features
Play three parts of an exciting horror video game
Explore the chapters of the story to face the traps designed by the psychopathic Zero
Make decisions and see how they affect your adventure
Explore locations and solve logical puzzles
Clannad
| | |
| --- | --- |
| Release: | 2015-11-23 |
| Genre: | Adventure |
| Developer: | VisualArts/Key |
Become part of the brilliant story of a teenager's youth. Clannad is an engaging Japanese visual novel with elements of romance, where you decide how the whole adventure will turn out.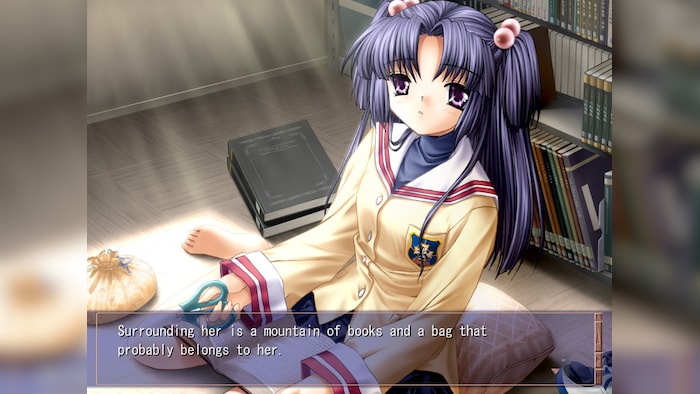 Play as Tomoya Okazaki – a young student who is slowly entering adulthood. Start your story at school, where you will join a drama club and make lots of new friends. In the second stage of the game, the action moves seven years forward, where you will enjoy your life as the husband of the chosen one of your heart. Clannad is an incredibly rich, beautifully drawn story for players at 16 and over.
Key features
See the life of a young student entering adult life
Make decisions to influence the story
Make friends and forge valuable friendships
Be amazed by the lovely audiovisual setting and the unique atmosphere of the adventure
The Silver Case
| | |
| --- | --- |
| Release: | 2016-10-06 |
| Genre: | Adventure |
| Developer: | GRASSHOPPER MANUFACTURE INC. |
Join the police department to investigate a series of brutal murders in 24 Districts. It is an adventure detective game for all fans of complex puzzles and intrigues.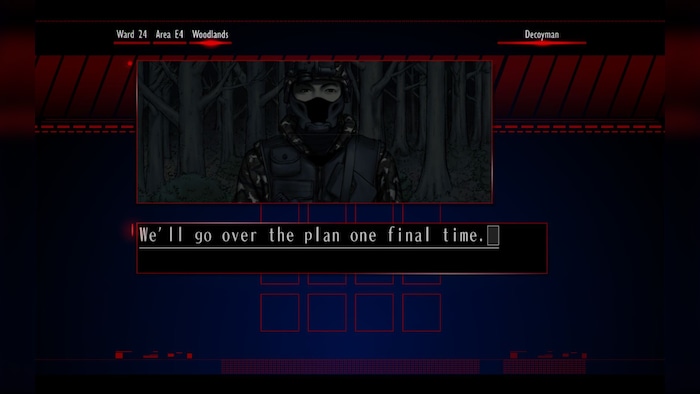 Japan, 1999. Rising violent murders are urging members of the local police department to solve the case. There is only one problem – the main suspect has been dead for a long time. So who hides behind these crimes? Explore, unravel puzzles and meet the heroes to get to the bottom of this intriguing case.
Key features
Investigate from the perspective of the policeman and the journalist examining the case
Meet the characters involved in the storyline
Explore locations, collect clues and discover who the real villain is
Conduct interrogations and expose the truth
VA-11 Hall-A: Cyberpunk Bartender Action
| | |
| --- | --- |
| Release: | 2016-06-21 |
| Genre: | Adventure |
| Developer: | Sukeban Games |
Enormous, futuristic city. Massive corporations. Dystopian reality. And among that you – the bartender.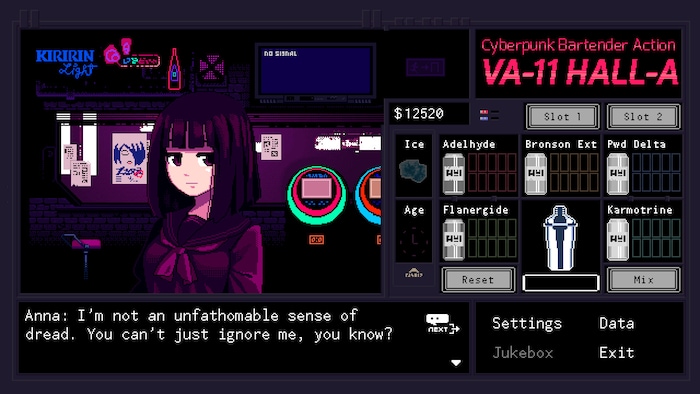 Play as a bartender working in one of the most inspiring places in the city – Valhalla Bar. Your task will be to serve your guests drinks and listen to their unbelievable dystopian stories. Chat, make decisions, and uncover secrets to discover all the elements of an engaging story.
Key features
Play as a bartender living in a cyberpunk dystopia
Listen to stories
Make special drinks to get as much information out of your guests as possible
Get carried away by the plot surrounding the Valhalla Bar
Root Letter
| | |
| --- | --- |
| Release: | 2019-09-02 |
| Genre: | Adventure |
| Developer: | Kadokawa Games |
When long-forgotten letters from a friend fall into your hands, you must do everything in your power to solve the mystery of her disappearance. Did the girl murder a man? And will you manage to meet her alive?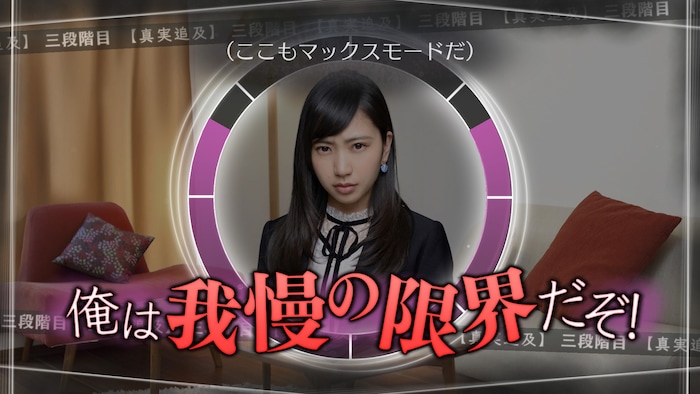 Travel to distant Matsue to find out what happened to your correspondent friend. The gathered information may be surprising, so do your research carefully to get to the bottom of the story. Explore, make decisions and interrogate the heroes involved in the plot. Due to the rather rough language, it is a recommendation for players from 12 years of age.
Key features
Discover long-forgotten letters from your correspondent friend
Interrogate people involved in the plot
Collect clues and evidence
Make decisions to influence the course of the story
The House in Fata Morgana
| | |
| --- | --- |
| Release: | 2016-05-13 |
| Genre: | Strategy |
| Developer: | Novectacle |
It is an adventure game from 2012, which tells the story of an ancient mansion. Explore the individual chapters of the stories about the previous residents of the old house and recognize your place in this bizarre world.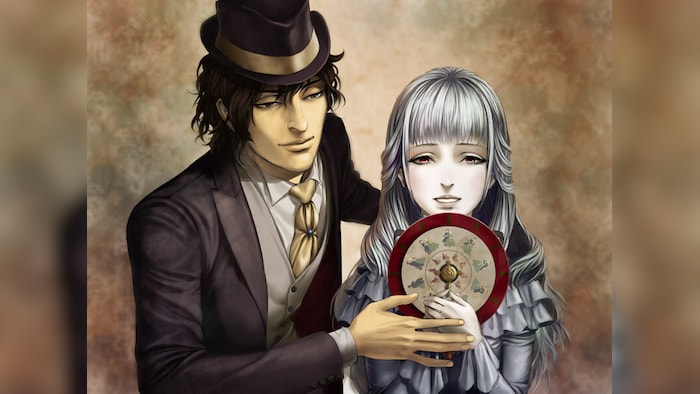 Play as a man who, devoid of memory, ends up in an unknown old house. Here you will meet a mysterious maid who will take you on a journey to the past. This way you will discover the history of the mansion and the people who lived there. It is a beautiful and mysterious dark audiovisual game for players from 16 years of age.
Key features
Play the role of a man affected by amnesia and learn about your destiny
Explore the old mansion and travel back to its better days
Discover who the mysterious maid is
Understand your place in this story
Cinders
| | |
| --- | --- |
| Release: | 2012-06-20 |
| Genre: | Adventure |
| Developer: | MoaCube |
See an alternative Cinderella tale and influence its course. It is an indie adventure game from MoaCube that impresses with its mature plot and fantastic audiovisual setting.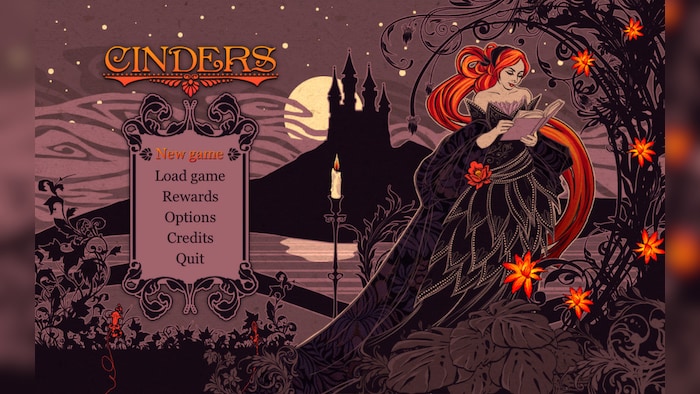 Become part of a story where Cinderella is a confident adult woman who knows what she wants. Together with her stepmother and her two daughters, they face everyday troubles and make extremely complicated life decisions. Cinders is a game in which you have hundreds of possible outcomes and possible endings for the entire scenario.
Key features
See an alternative story about Cinderella
Explore the world of mature women and their secrets
Make decisions to influence the course of history
Be amazed by the magnificent audiovisual setting
Neo Cab
| | |
| --- | --- |
| Release: | 2019-10-03 |
| Genre: | Adventure |
| Developer: | Chance Agency |
Welcome to a world dominated by advanced technology. Artificial intelligence is replacing people, and you are the last human employee in a TAXI company.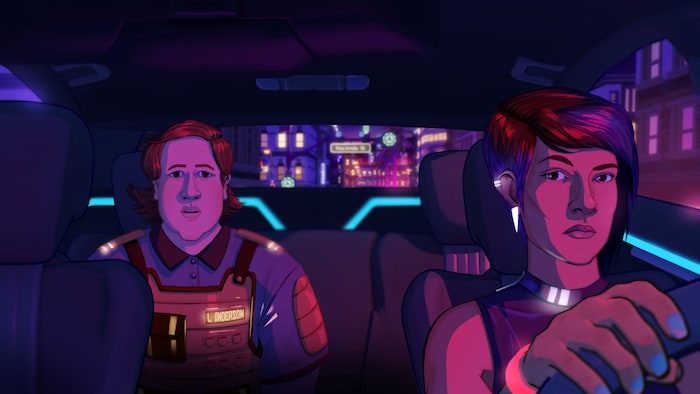 Is there still room for humanity in a world dominated by machines? Learn the story of Lina – the last human taxi driver. Find your place in this complicated reality and earn your livelihood. Chat with passengers and learn their incredible stories. And most of all – find out what trouble your friend Savy has got into.
Key features
Play as the last human taxi driver
Earn your living at all costs
Conduct conversations with passengers to understand the reality
Find out what happened to your best friend
Eliza
| | |
| --- | --- |
| Release: | 2019-08-12 |
| Genre: | Indie |
| Developer: | Zachtronics |
It is a sci-fi adventure game about the sense of AI and people living in the same world. It is a unique independent title, reflecting on the ethics of high-tech development and meeting people from Seattle.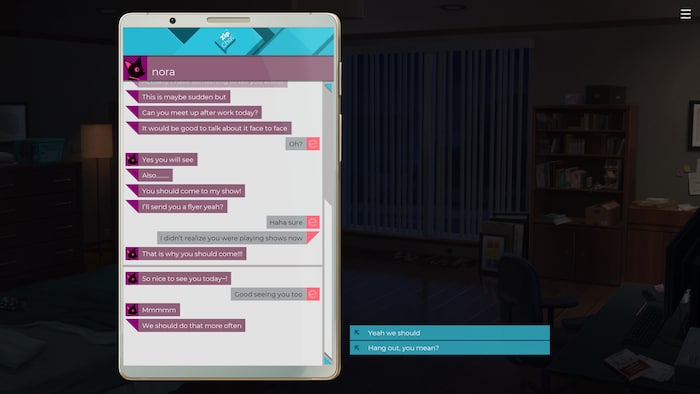 Evelyn Ishino-Aubrey is an expert in developing a specialized Artificial Intelligence responsible for offering therapy to the citizens of Seattle. As the story progresses, the heroine discovers she is unsure if her work is a good thing. Make decisions, engage in dialogues, and influence the plot to learn the truth about Eliza and the main character's past. Eliza is a single-player game for players from 16 years of age.
Key features
Play the role of a specialist developing AI
Observe the course of therapies and decide what is good
Learn about the main character's past and decide on the motives that guide her
Meet the full range of inspiring personalities living in Seattle
Storytelling has been with humanity since the dawn of time. Passed from mouth to mouth by the fireplace, family table, or in the form of gossip – stories are constantly present, helping to interpret the reality that surrounds us. And then influence it.
Best visual games on the Steam platform are not only a form of testing alternative life in various fantasy worlds. It is also a perfect reflection of human life, filled with making decisions and shaping reality. In this great, story-rich genre, we can play with the fate of the heroes, learning the results of our own choices – without any consequences.