One of the best things about Counter-Strike: Global Offensive is that you can adorn the rifles, pistols and knives you wield with some gorgeous skins. Let's be honest here: looking cool while fragging enemies and rushing B is about just as important as your skill level.
We've picked some of the most beautiful or striking gun skins in CS:GO, hope you'll like them!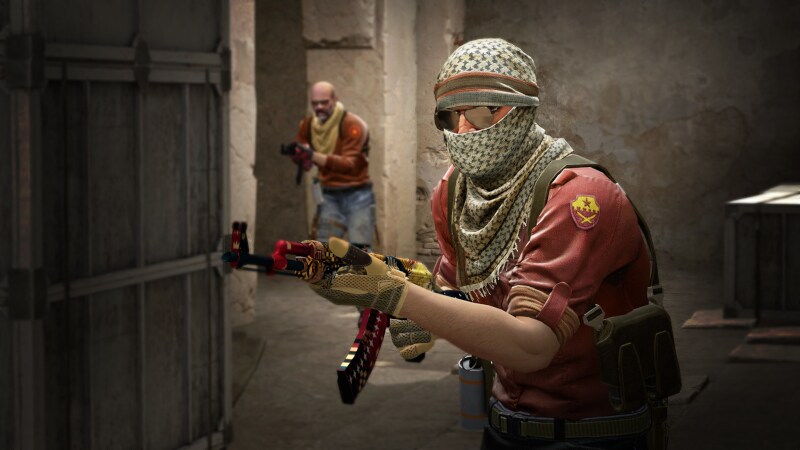 When it comes to purchasing CS:GO weapon skins, there are two websites that you should definitely check out: Hellcase and DMarket.
Hellcase is a case opening website where you purchase various skin cases (think mystery boxes, but with CS:GO cosmetics) to see what you'll get. This way you can grab some sweet weapon skins cheaper.
DMarket is described as a decentralized, blockchain-based game asset marketplace for building metaverses. This is where you can get various skins and cosmetics for CS:GO.
There's plenty of good deals on gift cards for these two platforms on G2A.COM, feel free to check them out:
With that in mind, let's take a look at the CS:GO weapon skins we think are the best at the moment. But before we delve into our picks, there's something that we need to discuss: skin wear.
Skin Wear
What is it? Well, CS:GO randomly gives a weapon skin you get from a case a certain float value that has a direct impact on the looks. The bigger the value, the more worn the skin looks. There are several wear levels:
Factory New (FN)
Minimal Wear (MW)
Field-Tested (FT)
Well-Worn (WW)
Battle-Scarred (BS)
FN skins usually are the most expensive, while Battle-Scarred ones are for the most part the cheapest (although this depends on a skin, as some worn skins are more attractive to players and therefore more costly).
Also, these float values are fixed, meaning there's no way to either refresh them or further wear them down.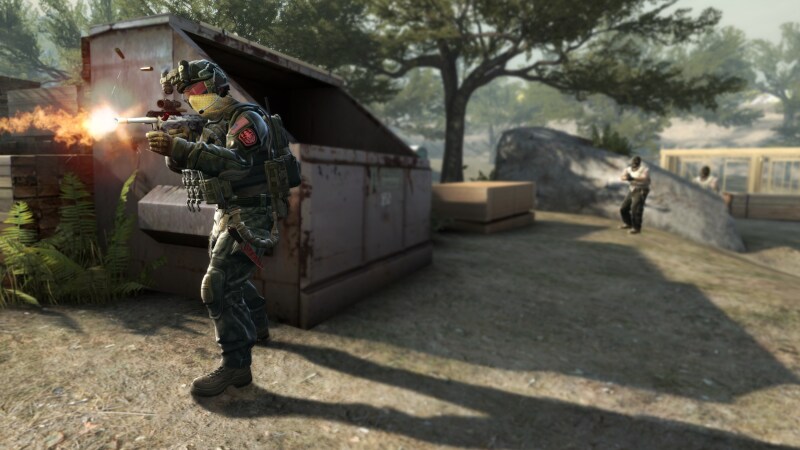 Alright, here are our picks. Some of them are rather cheap, which means you can get them for a couple of bucks, some are more expensive, but there should be something for all sorts of budgets.
Please note that the prices provided in this article are subject to change, as they are influenced by a wide variety of factors, including popularity, rarity and so on.
Goo (MP9)
So you're out there on the map and you want to tell the enemy team you're coming for their heads. What do you do? Well, you might want to evoke the primal fear and refer to popculture at the same time and get your MP9 covered in black goop that looks like you got your gun a symbiote. Would it turn you into Agent Venom? Not necessarily, but your enemies don't need to know that!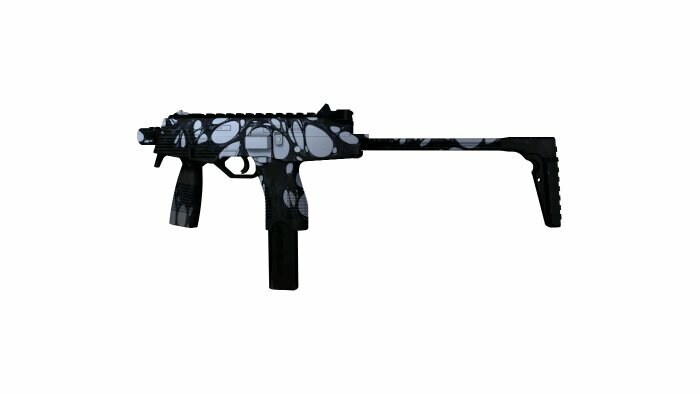 The Goo shouldn't run you more than five bucks if you're very unlucky, and you're more likely to get it at a sub-dollar price, which is a bargain for your own symbiote. Sure, it doesn't do much, but that's because guns are loud. Install a suppressor and see what happens then! (Spoiler: probably nothing).
Wild Lotus (AK-47)
AK-47 might well be one of the most famous tools of war in the world, but this only makes the symbolism stronger if it's covered in a pleasant imagery and calming color palette. This skin wants to say "make peace, not war", and while it won't make the opposing team any nicer to you, a brief moment of hesitation might expose them to getting shanked by your team-mate.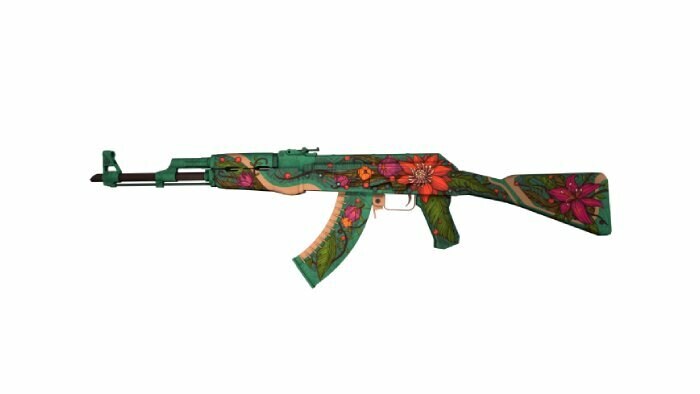 Or it might not, we wouldn't make our strategy depend on it, but this rare and, admittedly absurdly expensive skin (in the thousands of dollars) looks incredible. The gorgeous design balances clarity of contrast and color without giving your position away or distracting you.
Lapis Gator (MAC-10)
Goop here, flowers there, meanwhile the Lapis Gator skin for your MAC-10 is cool and sleek without relying on complex concepts. Instead, it uses a reptilian scale pattern, adds some chill blue tones to it, and boom, it's ready to go. Its appeal lies in the way it's almost understated, looking like a straightforward blue paintjob from a distance, before revealing the pattern on closer inspection. Very cool.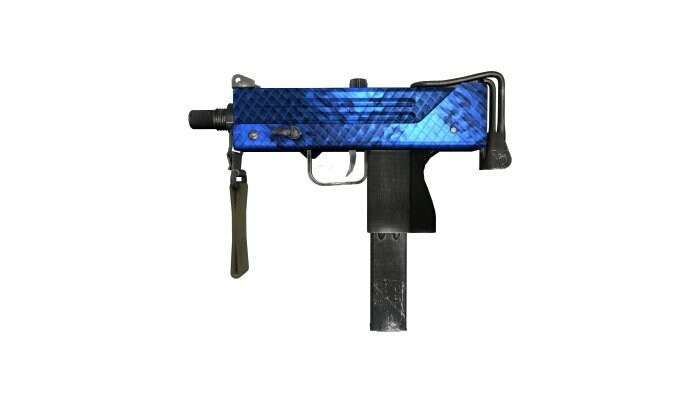 Do you know what else is cool, though? The price, because you could get it for two bucks on the expensive end, and about $0.50 on the cheaper one. It's a very low price for a neat texture and you should definitely put it on your wishlist.
Gamma Doppler (Emerald) (Bayonet)
Another intimidation tactic: showing somebody a knife and implying that you stabbed The Hulk with it and survived. Sure, you and we know that this is just an anodized knife with a green tint, but as ever, mind games are a valid tactic (you shouldn't rely on too much on) in CSGO. Either way, the Gamma Doppler skin looks great, with a marble pattern adding depth and variance to the texture.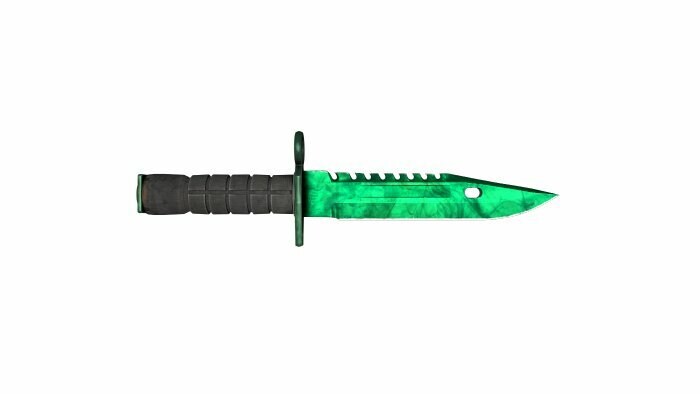 Unfortunately, it's on the expensive side, with prices exceeding a thousand bucks. It's still more affordable than the Lotus AK-47, but nowhere near the low-budget high-quality coolness of the Gator above. Still, it looks great, and also comes in blues and different greens.
USP-S: Blueprint
Sometimes you just don't have time to test something and go through several prototypes. Sometimes you just grab whatever R&D has on the table and do your job, even it is still just a design. Sharing the color palette with the Lapis Gator, the Blueprint skin of USP-S boasts cool blue tones, and the detailing makes it look like a technical or architectural blueprint becoming a 3D object.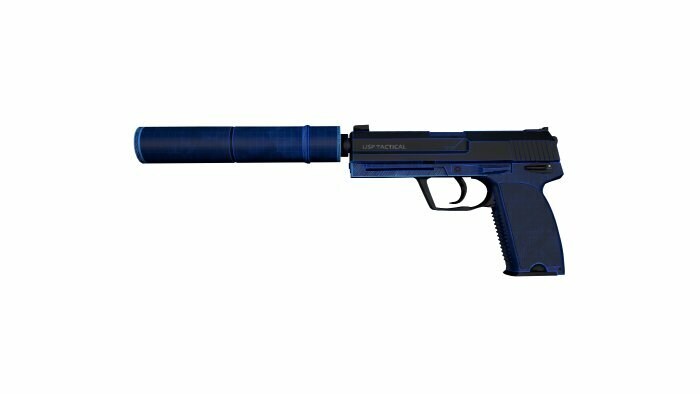 It's an interesting and well-realized concept, and the skin prices have probably the most significant variance, ranging from nearly $200 for a Factory New condition, down to sub-$6 for the Battle-Scarred version. Which makes sense, you want the blueprints to be in top condition for copying!
Monkey Business (Five-SeveN)
Monkey Business sorta reminds us of an old cartoon, Captain Simian and the Space Monkeys. All this one does is turn your trusty Five-SeveN into a, well, banana gun.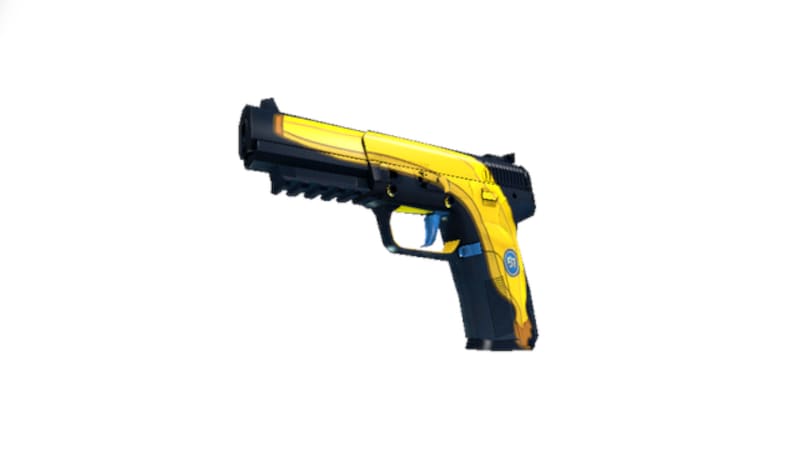 Monkey Business Five-SeveN costs anywhere from around ten euros for a Minimal Wear version to a bit over two euros for a Battle-Scarred version.
If you're interested in the StatTrak edition, it'll cost you between three and twenty seven euros, depending on the wear. Interestingly enough, a Factory New Monkey Business Skin does not exist.
Anyway, it's a great pick if you're looking forward to rejecting modernity and returning to monke.
Water Elemental (Glock)
Alright, jokes and silliness aside, time for the real deal. The Water Elemental skin for Glock is mostly red, but it features a drawing of the titular creature on the sides. It's also one of the cheaper skins out there.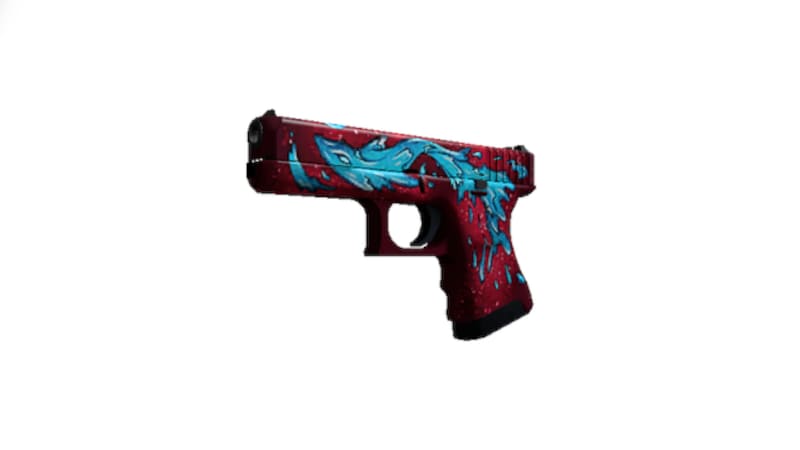 A regular version costs between three and nine euros, while the StatTrak one will set you back by around eight and forty five euros, depending on the float value.
Phantom Disruptor (AK-47)
This gun skin comes from the Prisma 2 collection and features a painting of a chthonian, deadly creature from the abyss painted over a matte black base. The flavor text accompanying the skin says that this monstrosity can be whatever and wherever it wants.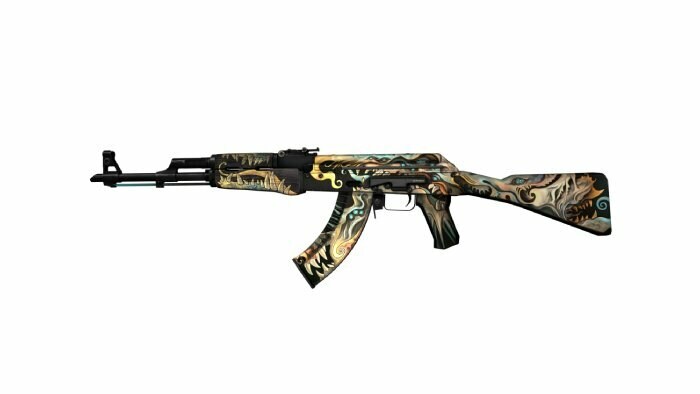 Well, if you're looking for a nice pet, this eldritch horror might be a good choice for you. It's not too expensive, either. A regular version of the Phantom Disruptor skin costs between five and thirteen euros. You can grab the StatTrak edition in the twelve to thirty six euros price range, depending on the wear.
Legion of Anubis (AK-47)
It's definitely one of the cooler-looking skins out there. Beautifully adorned with artwork representing Egyptian gods, Anubis and Ra, it's an attention-grabbing mixture of black and gold. Very pleasing to the eye.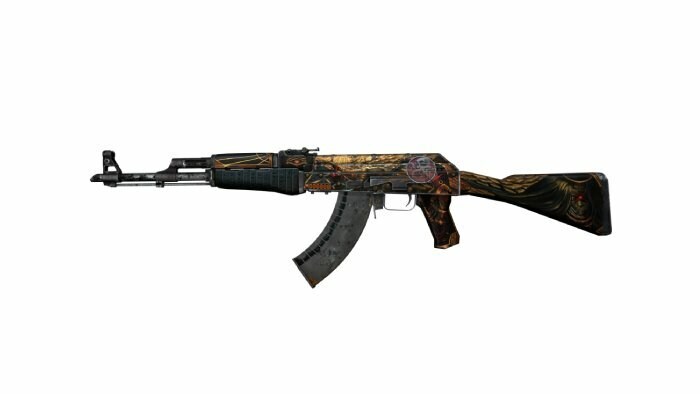 It's one of the cheaper skins, too. A Battle-Scarred Legion of Anubis AK-47 costs a bit over ten euros, while a Factory New one around thirty euros. Double that for the StatTrak edition.
Asiimov (M4A4)
The Asiimov skin, found in the Winter Offensive collection, sort of looks like a hi-tech Nerf gun. And that's what makes it so cool! A mixture of black, white and orange, this version of M4A4 looks elegantly futuristic and is very pleasing to the eye.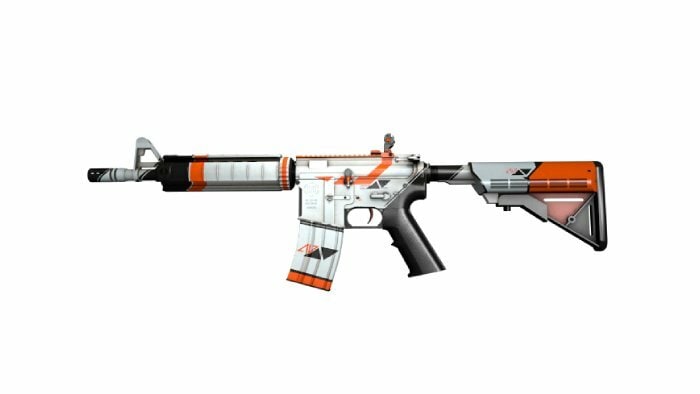 It's also more expensive than the previous skins, as you'll need to pay at least forty euros for a regular version and one hundred eighty euros for a StatTrak edition. Interestingly enough, Factory New and Minimal Wear Asiimov skins simply do not exist.
Cyrex (M4A1-S)
This one makes your good ol' pal M4A1 look like, well, sort of a Nerf toy, but sporting a dark design. A simple mixture of black, white and red, the Cyrex skin seems like something taken straight out of the Mirror's Edge game.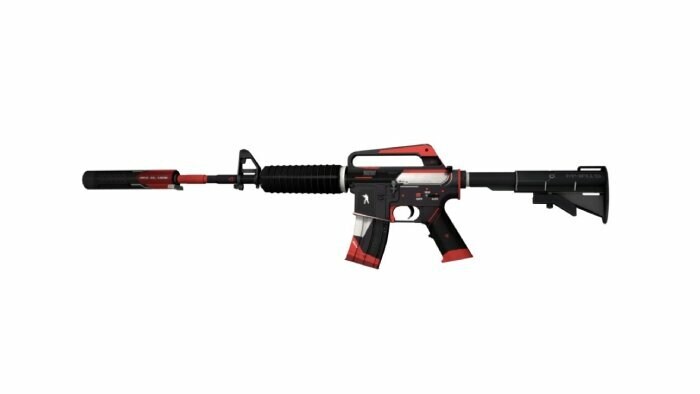 Again, it's one of the cheaper cosmetics, with a regular version costing anywhere between fourteen and a bit over thirty two euros. The StatTrak edition, however, will cost you a lot more, with a Factory New Cyrex skin priced at over one hundred seventeen euros.
Bloodsport (AK-47)
Since we're upping the ante when it comes to prices, let's talk about one of the cooler looking skins that you might like. Bloodsport is basically a whole lot of white decals set against a backdrop of red, black and white. It just screams esports.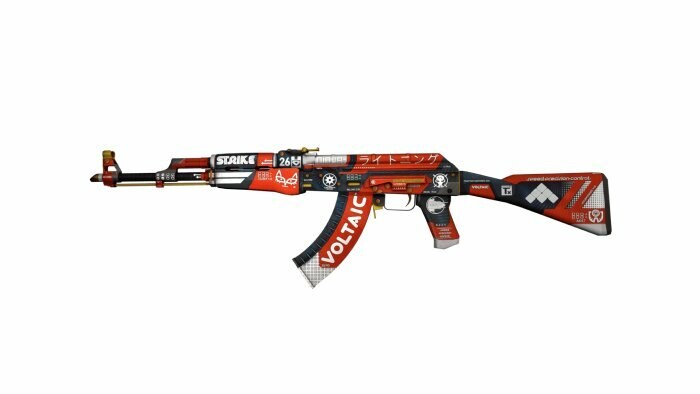 As far as its pricing is concerned, this skin a bit more expensive than the previous ones, starting at over fifty euros for a Battle-Scarred version. The StatTrak edition starts at around one hundred thirty euros for a Well-Worn version, reaching over two hundred euros for a Factory New Bloodsport skin.
Printstream (M4A1-S)
This one seems to be along the lines of Cyrex, but many would find it hotter-looking. It's a combination of black and pearly white that sports some interesting decals that give off that XOXO vibe or something.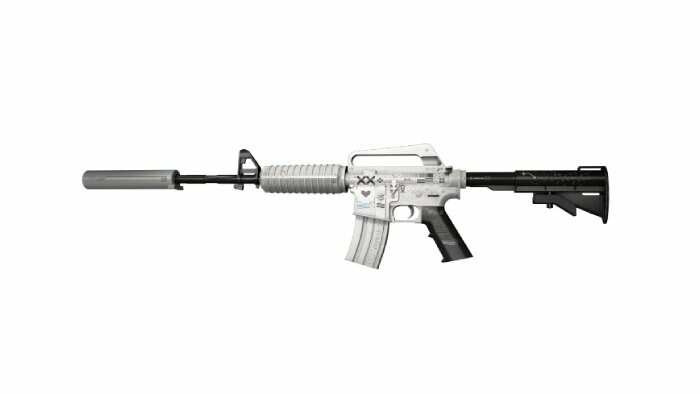 Printstream is probably the first "expensive" skin on this list, as even a regular, Battle-Scarred version costs around eighty euros, while a StatTrak Factory New one will set you back by seven hundred euros or even more. Ouch.
Still, it's a pretty skin, so if you like it and don't mind the price, totally go for it.
Fennec Fox (Desert Eagle)
We just can't shake off the feeling that this skin is what would Okami look like if the main character was a fennec fox instead of a wolf. The resemblance to this cult classic video game is surely there. The Fennec Fox skin will make your Desert Eagle look really pretty. It's as simple as that.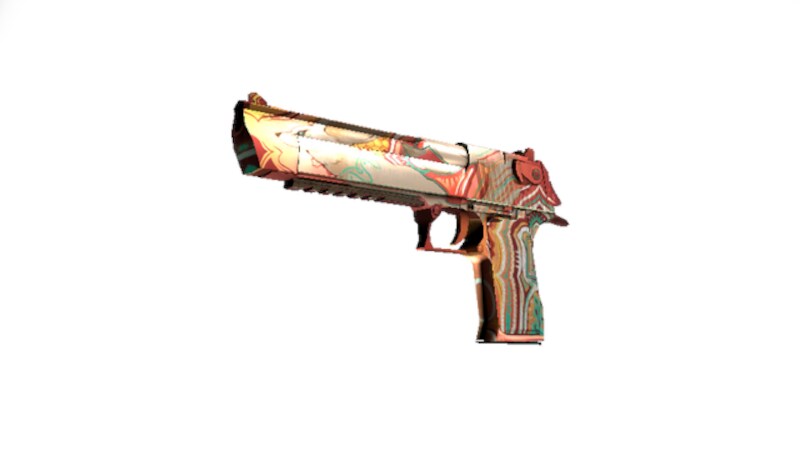 This one is also an the pretty expensive side, as even a Battle-Scarred version costs over two hundred euros, not to mention the Souvenir edition which tends to go for almost seven hundred euros for a Factory New version.
Vulcan (AK-47)
Described as brandishing a sports-inspired look, the Vulcan skin surely looks fantastic and turns your AK-47 into something straight out of Adidas' design boards or something. It's a simple pattern composed of white, black, dark gray and icy blue colors.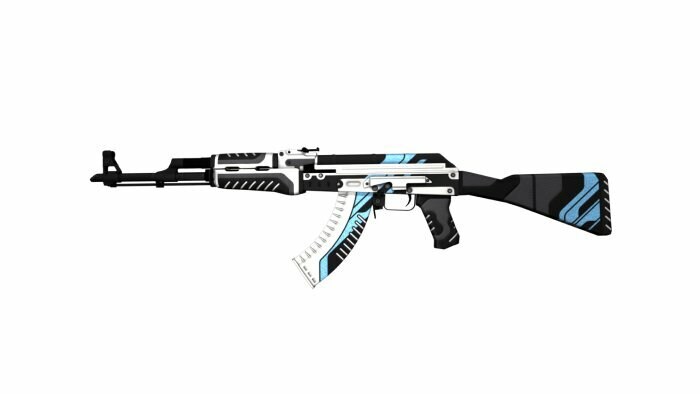 The Vulcan skin is rather expensive. If you want a regular edition of the skin in a Factory New condition, it'll cost you over five hundred thirty euros. A StatTrak Factory New skin costs almost fifteen hundred euros. Choose wisely.
CS: GO get'em!
Alright, so these would be the ten coolest skins we've found recently. Of course you may have your own favorites that are completely different from the ones on our list, but we think these look great and span quite a budget range. So, be sure to pick what you like and flaunt your cool-looking guns!
And don't worry, once Counter-Strike 2 comes, the skins are said to carry over, so you won't looks like a noob during CS2 matches.