Although war is always the source of pain and suffering, especially for families of fallen soldiers and killed civilians, it is also the source of inspiration for books, movies, and even games.
Travel back in time to the WW2 era and discover amazing strategy games set during the time of the deadliest war.
The Best WW2 Strategy Games
Second World War was the largest and deadliest war in human history – it's not surprising it became an inspiration for many successful movies, books, and other works of art and culture. Today we can appreciate and admire the old technology in the form of armored vehicles, rockets, and weapons – all of which are safely stored in museums and galleries. But WW2 is also one among the most liked themes for strategy video games, allowing us to relive the history and command troops and legendary tanks as they battle each other on the battlefields.
Read on to find out the best Second World War strategy games for PC and experience the thrills of a real war.
Company of Heroes 2
| | |
| --- | --- |
| Release date: | 2013-06-25 |
| Genre: | Strategy |
| Developer: | Feral Interactive (Linux) |
Company of Heroes 2 is the sequel to its warmly received predecessor.
It significantly improves the gameplay in various areas, resulting in a much better gaming experience.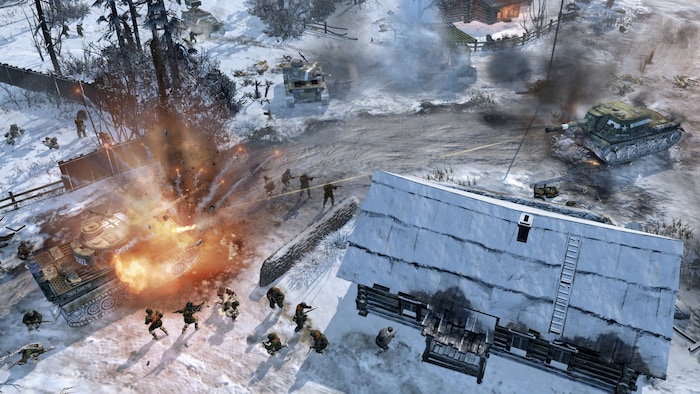 One of the most important changes is the introduction of snow weather effects that affect gameplay – on snowy maps you have to fight not only the enemy units but also the weather. You need to make sure your soldiers feel warm and are not standing in the open during a blizzard or they could suffer severely from frostbite, especially when pinned down by the enemy fire.
Key features
Two playable factions with their own unique playstyle
Advanced game physics
Weather effects affecting gameplay
Steel Division 2
| | |
| --- | --- |
| Release date: | 2019-06-20 |
| Genre: | Indie |
| Developer: | Eugen Systems |
Another WW2 that is definitely worth checking out is the latest installment of the Steel Division series.
The game in single-player mode is divided into two parts.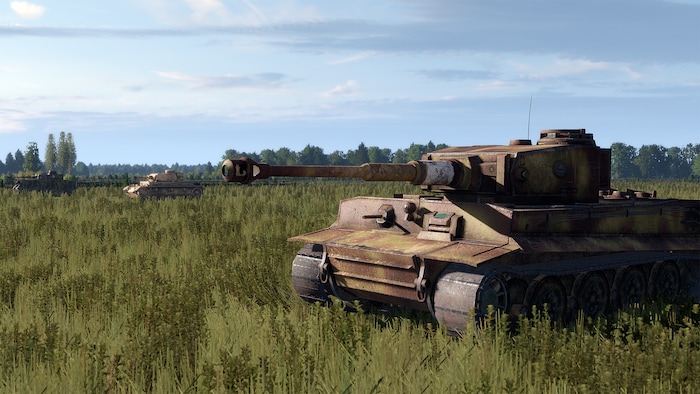 The first one is the tactical turn-based strategy, where you can send your armies to confront the enemy, and the second allows you to play declared battles in real time. What makes the game unique is the scale of battles – encounters are resolved on 1:1 scale battlefields and, depending on the particular map, the size of the battlefield can be as large as 150 x 100 kilometers.
Key features
Large battlefields – over a hundred square kilometers of the playable area
Hundreds of different playable units
Deck building that allows players to create their own custom army
Hearts of Iron IV
| | |
| --- | --- |
| Release date: | 2016-06-06 |
| Genre: | Simulation |
| Developer: | Paradox Development Studio |
Hearts of Iron is a series dedicated to true generals and masterminds of war tactics.
This grand strategy allows players to test their skills as leaders of the player-chosen nation – dominate the world with smart use of your army and advanced diplomacy options.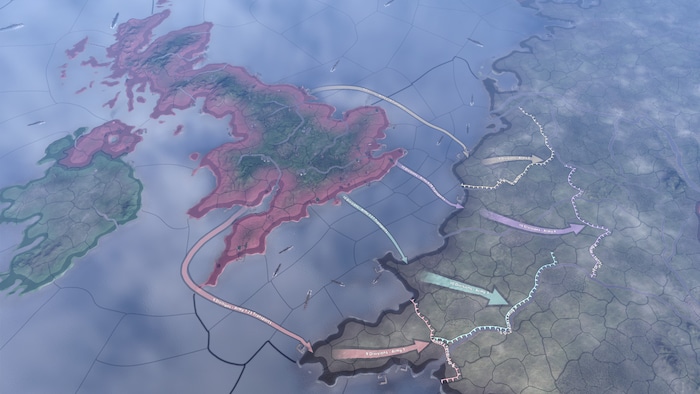 Train and modernize your divisions to make sure your army will be capable of dealing with enemy forces, conquer provinces, appoint ministers, and fight for natural resources – in HoI IV the entire globe is your playground.
Key features
Countless playable nations from between 1936 and 1939
Complex strategy with advanced economy and diplomatics
Action taking place on the entire globe
Panzer Corps
| | |
| --- | --- |
| Release date: | 2020-03-19 |
| Genre: | Strategy |
| Developer: | Flashback Games / The Lords Games Studio |
Panzer Corps is a turn-based strategy with no real-time elements, making it a solid position for those who love to carefully plan their every move without being under constant time pressure.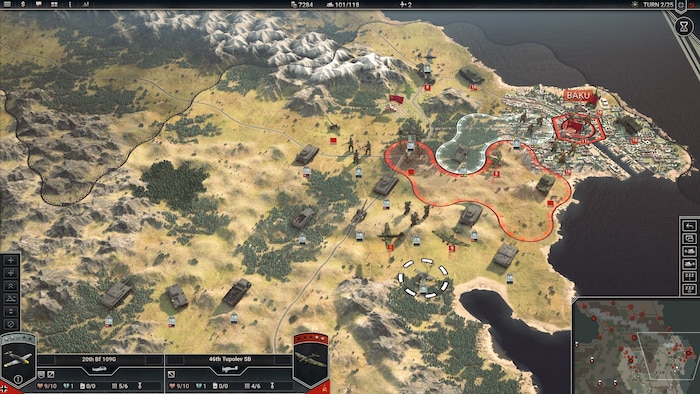 In this respect, the game can be seen as some kind of a puzzle, where you need to find a solution to the problem you are currently facing. The game is played on a hex-tile map, where one type of unit usually takes one tile, but overlapping is allowed. Also, keep an eye on Panzer Corps 2 – the sequel that builds upon existing game mechanics and offers much more pleasurable modern graphics is scheduled to be released in 2020.
Key features
Over 30 nations presented in the game
Almost a thousand of playable units available, including air, ground, and naval
Complex campaign system with the possibility to keep experienced units between missions
Blitzkrieg 3
| | |
| --- | --- |
| Release date: | 2017-06-02 |
| Genre: | Strategy |
| Developer: | Nival |
Blitzkrieg 3 is another game from the classic Blitzkrieg series, but it's drastically different from its predecessors.
The game puts emphasis on multiplayer matches and requires constant Internet connection even during single-player missions.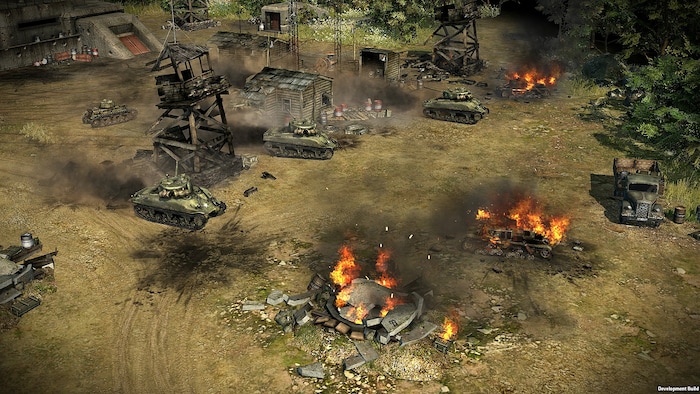 As you win games you will randomly earn new units that are split into different rarities, with rarer units being generally more useful. Then you can use obtained units to compose your own unique army. The game features asymmetric assault mode where you can raid other people's bases and design defenses in order to prevent your own base from being raided. It's also worth mentioning that the game uses neural network AI that can learn and adapt to your playstyle.
Key features
World's first neural network AI for RTS
Asymmetric assault mode with base raiding and defending
Highly focused on multiplayer
Gary Grigsbys War in the East
| | |
| --- | --- |
| Release date: | 2010-12-07 |
| Genre: | Strategy |
| Developer: | 2by3 Games |
War in the East is a little gem you might have not even heard about before, but you should definitely give it a try if you are a fan of grand strategies with complex mechanics.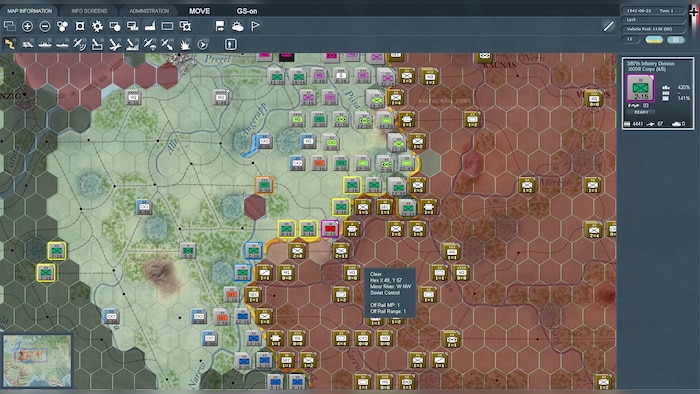 Don't let simplistic graphics fool you – the game makes up for it with deep simulation elements and will surely provide you with tons of hours of strategic fun. The war in the title takes place in most of Europe and Asia, where you will be able to command almost 4000 different types of units, giving you an idea of how massive the game is. The UI can be overwhelming at times, but don't let it discourage you from playing.
Key features
Extremely complex gameplay
Advanced simulation featuring weather, ammunition, supply, logistics, partisans, air warfare, and more
Almost 4000 units, 5 major campaigns, 11 scenarios
Men of War
| | |
| --- | --- |
| Release date: | 2011-02-24 |
| Genre: | Strategy |
| Developer: | Digitalmindsoft |
This title might not be the freshest, but it undoubtedly earned its place among best WW2 strategy games, mainly due to its simulation-driven world and the direct control option that allows players to take control over any unit and manually move it around the battlefield – you can, for example, take direct control over a tank and aim its barrel with your mouse.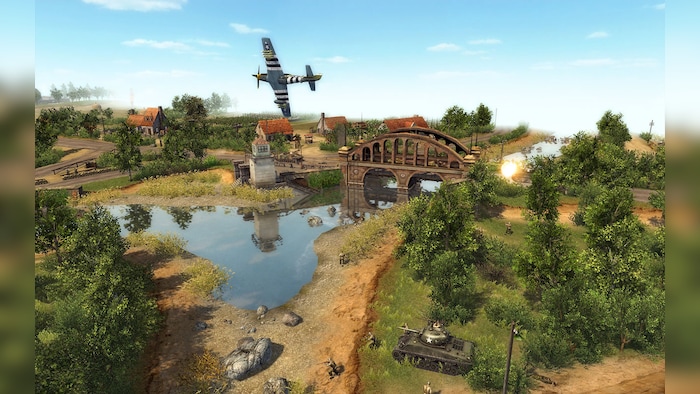 It's also worth mentioning that your units have their own inventories – soldiers and vehicles can store weapons, ammunition, and other useful items for later use.
Key features
Units' inventory management and the possibility to control the unit directly
Destructible environment, fire spreading, accurate line of sight, and more
3 playable nations, one per major campaign, plus 1 exclusive to multiplayer
Sudden Strike 4
| | |
| --- | --- |
| Release date: | 2017-08-11 |
| Genre: | Strategy |
| Developer: | Kite Games |
Sudden Strike 4 is quite similar to Blitzkrieg 3 in some aspects – after all these two franchises competed on the market for a really long time and they are still considered rivals.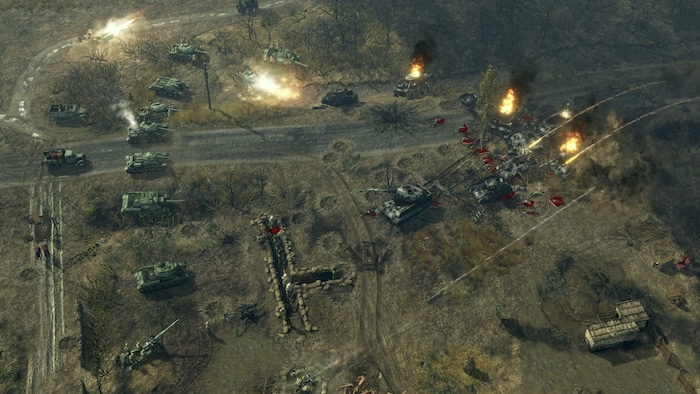 Sudden Strike, however, adds supply management to the strategy mix, creating a new layer of complexity. Here you can't mindlessly rush the enemy positions with your tanks, as all units have limited ammo and fuel you need to constantly fill. As you play the campaign missions you will earn stars you can use to unlock new abilities, such as sandbag cover for tanks or the possibility to open the hatch to increase the tank's view radius.
Key features
Various commanders with unique skill trees
Supply management that requires to take care of fuel and ammo
3 major campaigns – German, Allied, and Soviet
Combat Mission II: Barbarossa to Berlin
| | |
| --- | --- |
| Release date: | 2002 |
| Genre: | Turn-Based Tactics |
| Developer: | Battlefront.com |
This classic game is proof that being old doesn't necessarily mean being bad – it is still a really fun and quite unique game.
It is a turn-based strategy, where you can place your units on the battlefield, and then issue orders that are executed in a real-time fashion.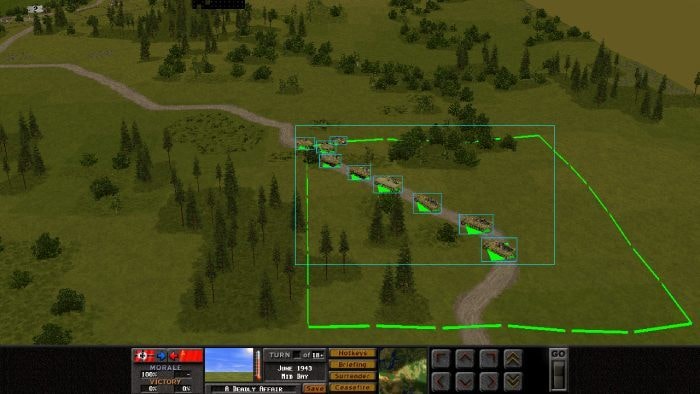 It's quite a rare combination, especially if you take into account that the game is played in the 3D environment – most 3D turn-based strategies are usually played on a flat 2D board, where the map is split into tiles. For this very reason, we recommend at least giving the game a try.
Key features
Turn-based combat in a 3D environment
Real-time simultaneous execution of issued orders
7 playable nations
Order of War
| | |
| --- | --- |
| Release date: | 2009-09-22 |
| Genre: | Strategy |
| Developer: | Wargaming.net |
And the last entry on the list, Order of War from 2009. It is a classic strategy game, where you will be responsible for commanding your army that consists of soldiers, tanks, and other vehicles during large scale real-time battles.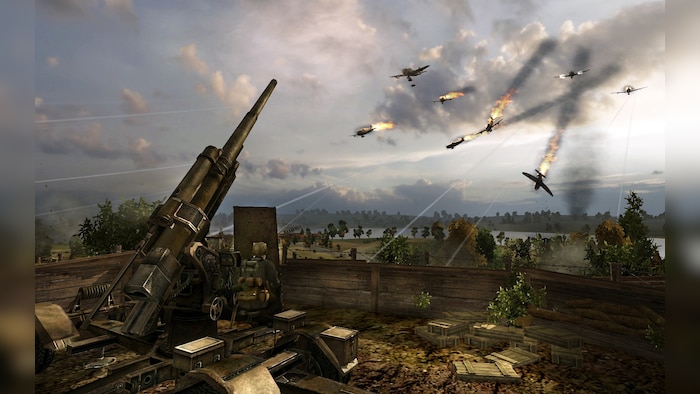 To give you an idea about the scale – you will have up to 1000 units under your control. There is no base building or resource collection, resembling more of Blitzkrieg and Sudden Strike series and forcing you to take care of your units.
Key features
Large scale battles with up to 1000 soldiers, tanks, and vehicles being under your command
2 major campaigns, German and American
A cinematic camera that gives a unique perspective
Summary
Second World War was the deadliest war in human history, and for this reason, it's often an inspiration for authors and game developers. WW2 gave birth to countless movies, books, and even games – some of which you can find on the list above. Pick your favorite one and try your hand at some of the best world war 2 strategy games currently available. Rediscover history and take part in one of the most influential conflicts that shaped the modern world.