Shooters provide adrenaline, genuine satisfaction, and unforgettable combat experience. But if you want the purest shooting fun, check out this list of bullet hell games on Steam.
This genre is hard, extremely challenging, and guarantees enjoyable gameplay for all shooting enthusiasts. Enter the world of manic shooters and prove what you can! Sounds like fun? This list is full of epic video games like Touhou and Neon Abyss. So get ready and get your game going on the highest difficulty levels.
| | Game | Release | Genre | Sale |
| --- | --- | --- | --- | --- |
| | Enter the Gungeon | 2016-04-05 | Adventure | 57% |
| | Mushihimesama | 2015-11-12 | MMO | 50% |
| | Cuphead | 2017-09-29 | Indie | 26% |
| | Risk of Rain 2 | 2019-03-28 | Indie | 56% |
| | Nuclear Throne | 2015-12-05 | Adventure | 12% |
| | Deathsmiles | 2016-03-10 | Action | 36% |
| | DoDonPachi Resurrection | 1999-06-28 | Arcade & Platform | 54% |
| | Just Shapes & Beats | 2018-05-31 | Indie | |
| | The Binding of Isaac | 2011-09-28 | Action | |
| | Neon Abyss | 2020-07-14 | Platformer | 80% |
| | Beat Hazard 2 | 2019-10-16 | Adventure | 91% |
| | The Void Rains Upon Her Heart | 1997-06-26 | Indie | 67% |
| | Furi | 2016-07-05 | Strategy | 74% |
| | Sky Force Reloaded | 2017-11-30 | Shoot 'em Up | 1% |
| | Bit Blaster XL | 2016-01-22 | Action & Shooter | |
| | MOTHERGUNSHIP | 2018-07-17 | Action | |
Touhou Luna Nights
| | |
| --- | --- |
| Release date: | 2019-02-25 |
| Genre: | Adventure |
| Developer: | Team Ladybug |
It's a 2D fantasy Metroidvania from creators of video games like Pharaoh Rebirth and Shin Megami Tensei. If you're a fan of anime-style pixel art and dynamic combat – you'll love this title!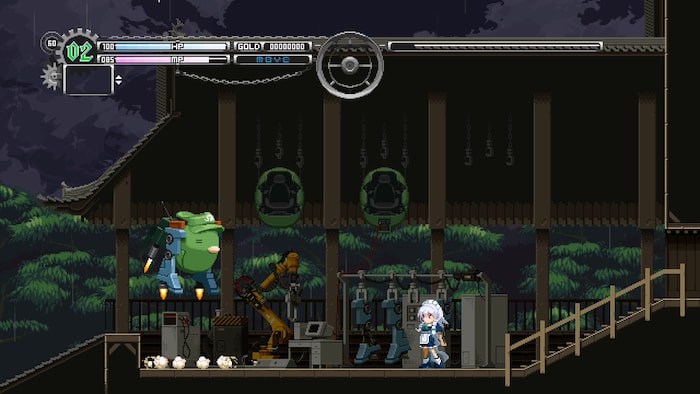 Play as Sakuya Izayoi, the loyal servant of the mighty vampire Remilia Scarlett. Your adventure will begin when you find yourself in an exotic land resembling Gensokyo. It is a series of strange locations inhabited by sinister yokai and various demons hungry for your blood and soul. Run through the levels, set traps, use your extraordinary skills, and lose yourself in a desperate fight for life! Luna Nights also has fantastic NPCs, exciting puzzles, and secrets ideal for all fans of this genre.
Key features
Play the platform Metroidvania from Team Ladybug
Travel to a mysterious land and face hordes of enemies
Practice your skills to create devastating attacks and combos
Play Boss Rush Mode and have fun in adrenaline-fueled combat
Undertale
| | |
| --- | --- |
| Release date: | 2015-09-15 |
| Genre: | Indie |
| Developer: | tobyfox |
You are a lonely kid descending into the world of monsters. Execute your own decisions and decide how your role-playing adventure will turn out!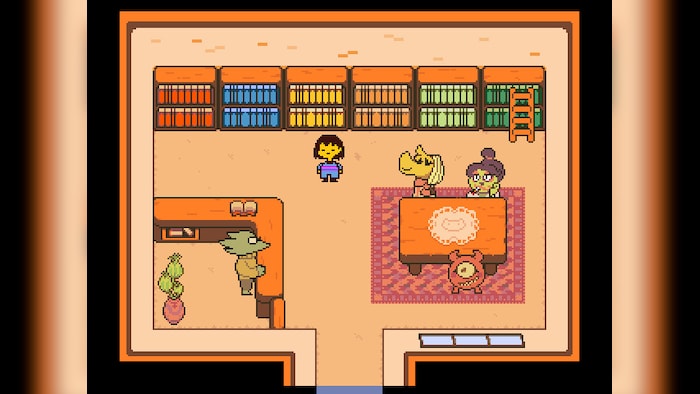 Undertale is a title famous for encouraging players to complete it without engaging in combat or any conflicts. But you are the one who decides how your story unfolds! Explore the underworld, meet bizarre characters and solve puzzles. Discover the mysterious story of the war between monsters and humans and make decisions to witness a unique ending to your heroic adventure. Combat works on the bullet hell system, where you defend your heart against attacks from all sides. And all this in a charming pixel setting that creates an unforgettable impression!
Key features
Play as a lonely kid traveling to the monster underworld
Explore the dungeons and encounter the weirdest characters
Make decisions – fight or play the game peacefully
Solve the strangest puzzles and look for answers in the most surprising places
Enter the Gungeon
| | |
| --- | --- |
| Release date: | 2016-04-05 |
| Genre: | Adventure |
| Developer: | Dodge Roll |
Ready for some action? In this title, you will have enough of it and even more! Enter a forgotten temple and retrieve a priceless gun that can alter the past.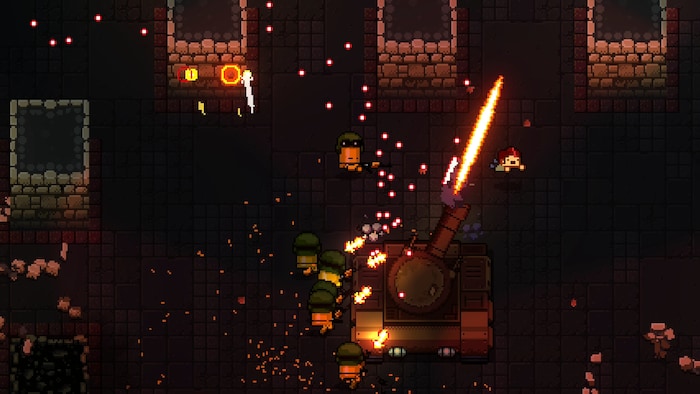 Make your way through a series of procedurally generated dungeons to uncover the ultimate truth behind the mythical gun. Choose a hero and use his unique skills to win! The gloomy dungeons are full of dangers, and deadly bullets always flying in the air. Buy or find weapons, fight bosses, and upgrade your impressive arsenal to create the most powerful guns ever. Use the surrounding elements to your advantage or run straight into a brutal battle. This game is all about action!
Key features
Choose your hero and go underground to find the legendary gun
Explore dark dungeons and find priceless treasures
Use an arsenal of over 200 weapons
Use the elements of the environment to win every battle
Cuphead
| | |
| --- | --- |
| Release date: | 2017-09-29 |
| Genre: | Indie |
| Developer: | StudioMDHR Entertainment Inc. |
It is an exciting 1930s cartoon-style platform video game where you'll manage the actions of one of the brothers who lose a bet against the devil himself. It's also one of the most challenging games on Steam.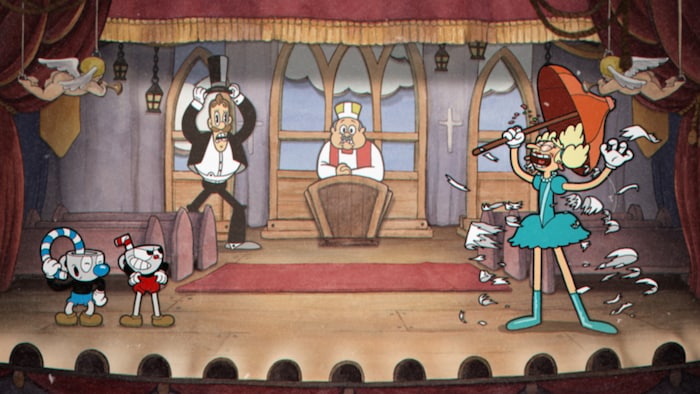 Embark on an adventure to collect debt for the devil. Cuphead is a run-and-gun video game where you will face armies of powerful enemies and almost indestructible bosses. Your only weapon will be your finger – but you can modify your attacks and adjust them to your opponent. Explore, discover the secrets of the Inkwell islands and proceed through the levels of one of the most challenging platform games ever!
Key features
Play as Cuphead or Mugman
Explore the Inkwell Islands and discover their secrets
Fight hordes of enemies and bosses to gain better and better skills
Play solo or in multiplayer for up to two players
Neon Abyss
| | |
| --- | --- |
| Release date: | 2020-07-14 |
| Genre: | Platformer |
| Developer: | Veewo Games |
Time for glorious revenge! Join the Grim Squad and descend into the mythical underworld to challenge the Titans. In this roguelike platformer, you'll learn the definition of action!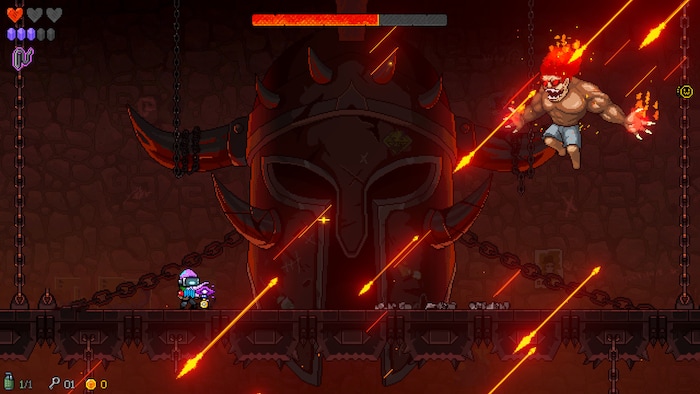 Choose your hero and embark on a series of dangerous challenges in the dark dungeons. Explore procedurally generated locations, discover a new underworld layout after death, and earn different loot each time. Lose yourself in brutal battles with dozens of enemies and powerful bosses. In this game, you can use the mightiest weapons and develop your skills to become a born combat legend!
Key features
Join the Grim Squad and take on an epic challenge
Explore the maze of underground dungeons and fight hordes of enemies
Use powerful weapons and improve your skills
Have fun in engaging mini-games
20 Minutes Till Dawn
| | |
| --- | --- |
| Release date: | 2022 |
| Genre: | Action, roguelike |
| Developer: | flanne |
Looking for a high difficulty level? You just found it! Venture into a forgotten forest in the middle of nowhere and survive 20 minutes of the most challenging battle of your life.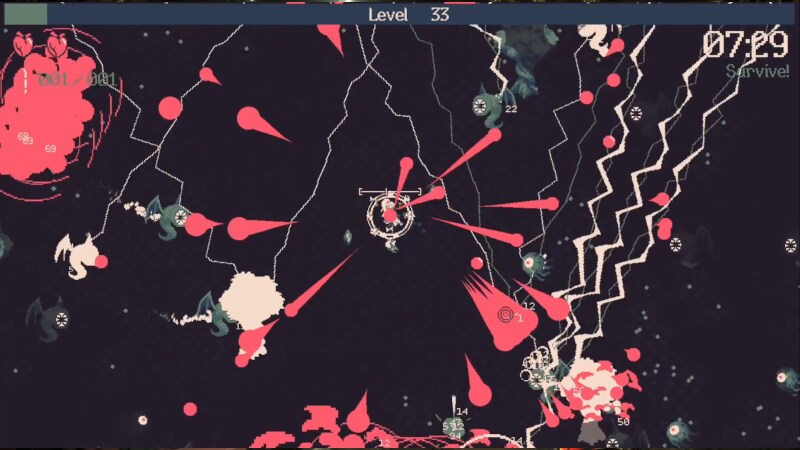 The mission is simple – to defend yourself from 20 minutes of constant attacks by legendary monsters inspired by the works of H. P. Lovecraft. Pick one of the heroes and decide on the nature of the game using their best features. Try a variety of weapons, upgrade them, and discover surprising attacks to eliminate masses of bloodthirsty enemies. But remember – more experience means even stronger enemies and powerful bosses! Will you be able to survive until dawn?
Key features
Play a roguelike action game inspired by the works of Lovecraft
Choose a hero and survive 20 minutes of neverending attacks
Upgrade weapons, unlock perks, and challenge the most powerful bosses
Enjoy the incredibly high difficulty level
The Binding of Isaac
| | |
| --- | --- |
| Release date: | 2011-09-28 |
| Genre: | Adventure |
| Developer: | Edmund McMillen and Florian Himsl |
When Isaac's mother begins to hear the God, a little boy's life changes in a blink of an eye. Faced with the biblical threat, the hero desperately seeks shelter to finally find himself in the mysterious underworld that guarantees survival or death.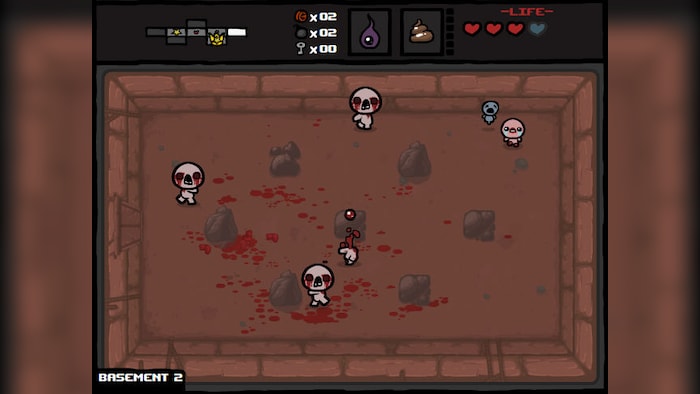 Embark on a journey through the cellar dungeons and discover their long-forgotten secrets. Fight hordes of enemies, use your combat skills, and develop to defeat the most powerful boss on your way. The Binding of Isaac is also beautiful treasures, puzzles, and deadly obstacles – all in the twisted biblical atmosphere of the Old Testament in an entirely new approach.
Key features
Play as Isaac and do whatever it takes to survive
Descend into mysterious dungeons and fight dozens of powerful enemies
Explore dungeons, discover treasures, and use powerful bombs
Collect power-ups to get mighty powers
Vampire Survivors
| | |
| --- | --- |
| Release date: | 2021 |
| Genre: | Roguelike, shoot'em up |
| Developer: | Luca Galante |
Imagine hundreds or even thousands of bloodthirsty enemies – coming at you. And all this in stunning retro graphics, with an incredibly dynamic soundtrack and high replayability for hundreds of hours of exciting gameplay.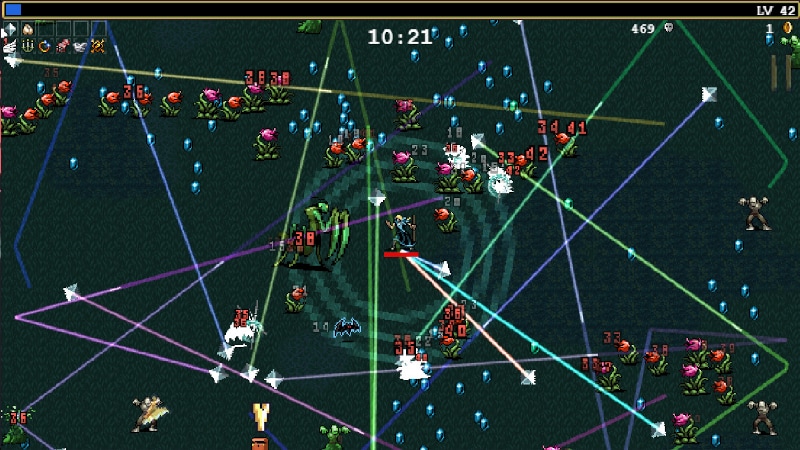 Select your character and start a series of brutal battles with thousands of enemies on one map. There is a lot to choose from – each hero has extraordinary skills, to which you pick your weapons. Enter the arena and lose yourself in pure combat! Move faster than light, watch the pace of the action go wild and collect powerful power-ups to wreak havoc and destruction.
Key features
Fight hundreds of enemies and survive as long as possible
Choose a hero and pick a weapon
Move fast and collect valuable bonuses
Practice your skills and challenge the most powerful enemies
Furi
| | |
| --- | --- |
| Release date: | 2016-07-05 |
| Genre: | Action & Shooter |
| Developer: | The Game Bakers |
It is a magical action video game where you will play as a warrior locked in a massive prison. This title is a true indie masterpiece, with characters designed by Takashi Okazaki, creator of Afro Samurai.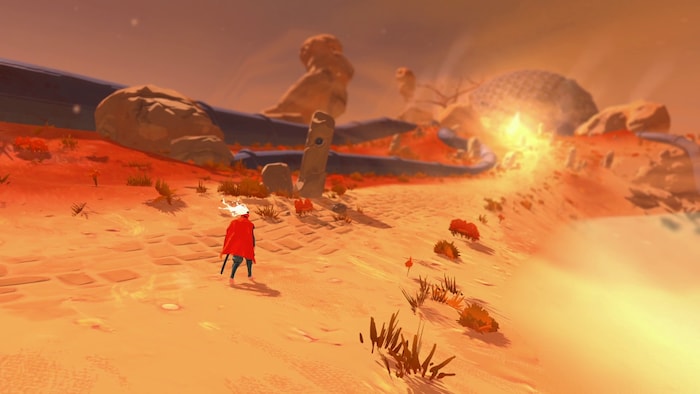 Escape the mythical prison and collect the keys to freedom. However, they are all in the hands of powerful Guardians, and you must defeat each of them to achieve your goal. The gameplay is a series of battles with independent bosses, during which a specific strategy is a must-have. Explore this world and discover answers to the mystery and the will to fight for your dreams.
Key features
Play as a lone warrior escaping from a mighty prison
Battle the nine Guardians to collect the keys to freedom
Explore this world and discover its secrets
Enjoy smooth graphics and a power-fueled soundtrack
Rising Hell
| | |
| --- | --- |
| Release date: | 2019-10-17 |
| Genre: | Indie |
| Developer: | Tahoe Games |
Fancy a real metal adventure? Hell, demons, Satan, and a fiery soundtrack during legendary battles against hordes of enemies – that's what you get in Rising Hell.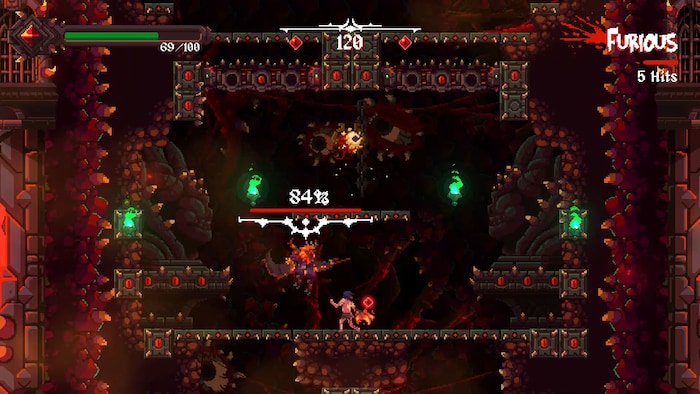 Lead the actions of a demon dreaming of getting out of the underworld. Your task is to climb to find a way out. But not so fast – hordes of enemies will stand in your way, and the everywhere traps will make each battle harder than ever. Discover new skills, jump, dash and collect power-ups to survive. And prepare that every death is brand-new gameplay with a procedurally generated map of your worst nightmares.
Key features
Complete the challenge and get out of Hell
Climb up and avoid deadly obstacles
Develop unique skills and fight powerful foes
Trade your skills and collect power-ups
No other genre gives that kind of thrill, that adrenaline-pumping feeling motivated by the pure will to survive. Surrounded by enemies, you know this is the moment to use all the tricks up your sleeve and continue the battle. If that's what you seek in video games, bullet hell games will make all your combat dreams come true. Feel like an ultimate hero, proceed straight to that final scene and make it an endless series of the most desperate — and unbelievably satisfying — battles for your own life.