There are many games where you can take part in the craziest car chases ever or race for first place in a prestigious competition. But is there a game for people who just want to chill out? Let's see!
There's nothing like getting behind the wheel of any car and just driving around. In these times, we do not always have time to indulge in this sweet pleasure. Some people don't have a driving license at all. But should such meaningless matters get in the way of fulfilling our desires? Definitely not. Whether you have a car or not – today, we invite you to a relaxing drive through the best just drive games where you can go anywhere.
Games where you can feel freedom
City Car Driving
| | |
| --- | --- |
| Release: | 2016-11-03 |
| Genre: | Indie |
| Developer: | Forward Development, Ltd. |
It is a recommendation for inexperienced drivers who want to improve their driving skills in safe conditions. Get ready for realistic weather, unexpected events, and heavy traffic!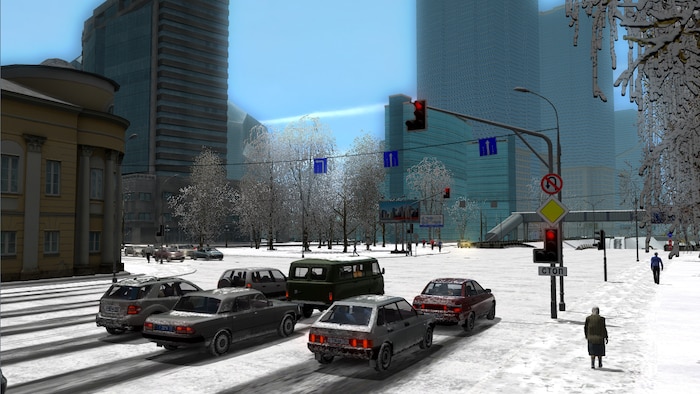 But take it easy. Although City Car Driving is an educational game, you can also turn on the free roam mode. Adjust the vehicle parameters, choose the best settings and enjoy a ride on selected routes. And along the way, you can always learn new stuff!
Key features
Play a realistic car driving simulator
Train on the maneuvering yard and learn the rules
Face unexpected traffic situations
Choose the game mode and drive as you like
BeamNG.drive
| | |
| --- | --- |
| Release: | 2015-05-29 |
| Genre: | Adventure |
| Developer: | BeamNG |
If you love freedom, realism, and exciting gameplay scenarios – you will find it all in this game. See a title that won the hearts of Steam players and join the driving experience that will stay with you forever.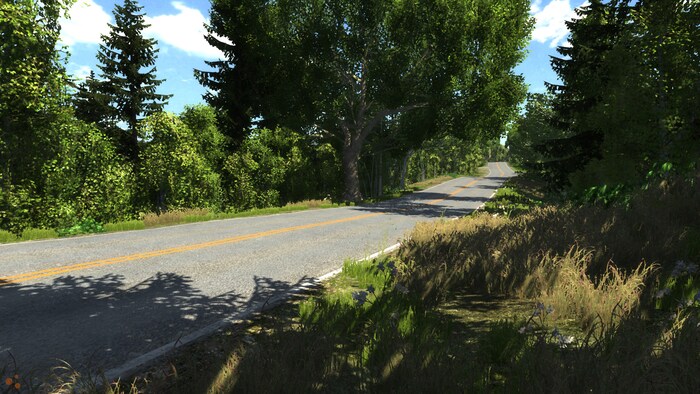 Choose a car, customize the game modes and do what you want! BeamNG.drive offers several car models that you can use and modify however you like. Choose your dream car and discover realistic gameplay possibilities. Would you like a small scenario with specific goals to achieve? Here you are. How about a longer free ride on unlimited desert routes? Yes, please!
Key features
Choose a game mode and have fun
Complete scenarios and challenges or relax
Enjoy impressive community-made mods
Create car models and share your creativity
Driver: San Francisco
| | |
| --- | --- |
| Release: | 2011-09-01 |
| Genre: | Action & Shooter |
| Developer: | Ubisoft |
Play as Tanner, the hero who goes into a coma once again. While the criminal Jericho is still at large, only this man can stop the enemy from completing his worst plans.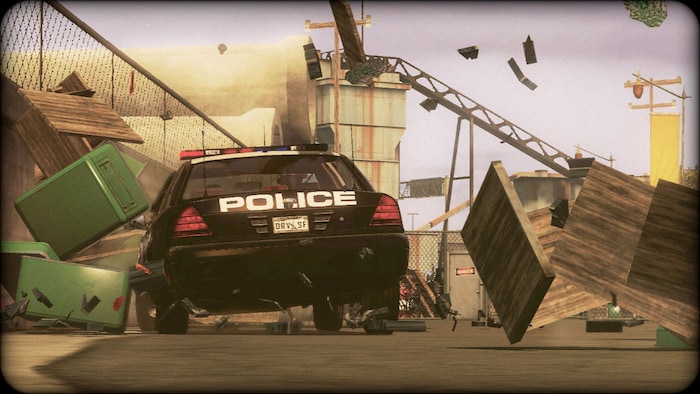 In this game, life and dreams mingle to create an extraordinary reality where you can do anything. Explore San Francisco, complete tasks, and master the art of switching between cars and people. In this game, you will discover over a hundred car models that you can use in the campaign or multiplayer with other players.
Key features
Play as a cop who will do anything to catch the evil Jericho
Explore San Francisco and complete quests
Switch between people and cars
Discover addictive multiplayer game modes and play as you want
My Summer Car
| | |
| --- | --- |
| Release: | 2016-10-24 |
| Genre: | Indie |
| Developer: | Amistech Games |
Have you ever thought of renovating a broken car wreck to go on an epic drive around the town, showered with the jealous glances of your neighbors? Well, that's what My Summer Car is.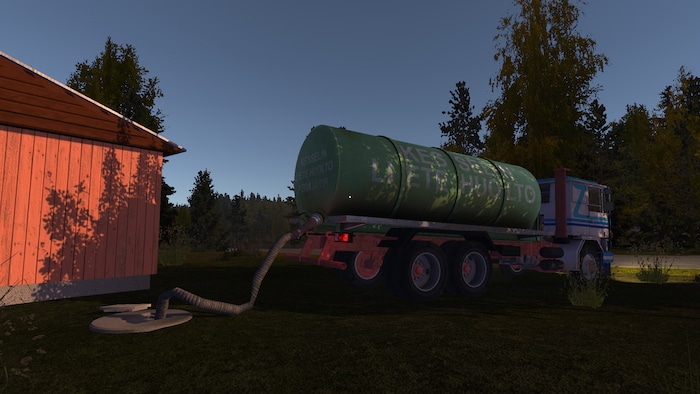 Accept the toughest challenge in your life – renovating an old car. Get ready, as it won't be easy! Each screw has a place, and the vehicle must go through a complete inspection for you to start using it. Fortunately, you do not have to undergo any control, and nothing prevents you from opening one tiny beer while driving. Or ten beers!
Key features
Get your old car ready for summer
Earn cash to buy parts
Drive around and relax
Do what you want and try not to die
Forza Horizon 3
| | |
| --- | --- |
| Release: | 2016-09-27 |
| Genre: | Race |
| Developer: | Playground Games |
It is a fantastic video game for fans of multiplayer titles focused on having fun and competition. Welcome to Australia! It is a world of fast cars and the most beautiful routes – entirely at your disposal.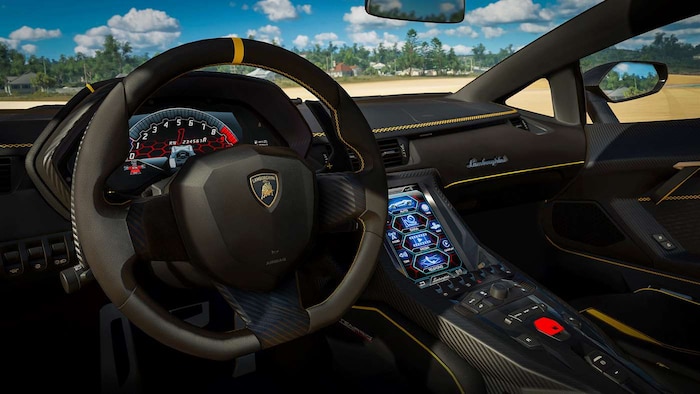 Join the racing festival and play as a driver or a manager of the entire event. Choose from the fastest cars, explore the area or take part in your friends' races. And all this with a great soundtrack and a massive world for you to explore and do whatever you want!
Key features
Attend the Australian racing events
Play as a manager or driver
Modify cars and create your racing events
Invite your friends and play together behind the wheels of the best cars
The Crew
| | |
| --- | --- |
| Release: | 2014-12-01 |
| Genre: | Race |
| Developer: | Ivory Tower in collaboration with Ubisoft Reflections |
Imagine a fully open world of the United States where you can get behind the wheel of a car and ride wherever you want. It is the essence of The Crew!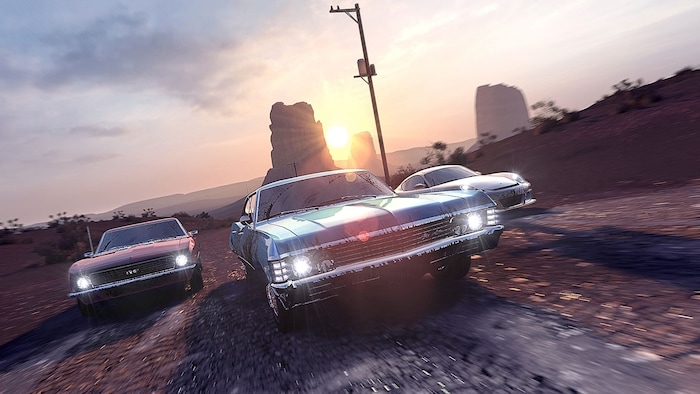 Fancy a free roam with your friends? Or maybe a story campaign with countless exciting tasks? All this and more you can find in this unique racing game. Explore the open world, play scenarios, modify cars or race all day long. The Crew is a dream come true for every driving game fan.
Key features
Discover an open world of exciting gameplay set in the United States
Explore the possibilities and addictive game modes
Choose a car and take part in various attractions and events
Play solo or with your friends
Cars define freedom. Almost always at hand, easy to use and able to take you to the very edge of the world. Available at any time and giving joy that no other activity can provide. However, we don't always have time to travel to the end of the world or smash cars in real life. But car games where you can drive anywhere make it possible! It's simple math – video games plus cars equals endless freedom.