It is said that one of the most popular life simulation games – The Sims – was originally intended to be a building simulator. Well, for some players, that's precisely what it is. Advanced terrain shaping techniques, wall construction, roof building, and interior design are the core and most enjoyable aspects of gameplay for many players.
However, it's worth knowing that there are plenty of games that fully focus on building and offer many more construction possibilities, more realistic physics, and even the opportunity to learn useful skills.
In some of these games, you have to operate building machines; in others, you build and furnish buildings for various purposes, while in some, your task is to construct entire cities. Today, we will have a look at a few of the most interesting and best construction games that will allow you to unleash your architectural imagination (as long as you stick to the project!).
Construction Simulator
| | |
| --- | --- |
| Release date: | 2022 |
| Developer: | weltenbauer. |
This title is a revival of the construction game series that started in 2011 and was created by a German studio that gained popularity with it. The game focuses on faithfully recreating heavy machinery and construction processes from scratch. Interestingly, the various locations and maps in the game are inspired by real locations in Germany and the USA.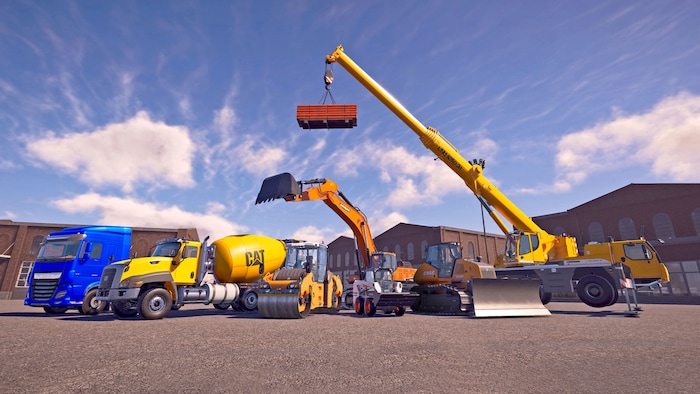 In the game, you play as a construction manager who must oversee the entire process of constructing commissioned buildings – residential houses, office buildings, as well as roads and bridges. You have more than 70 different construction machines at your disposal and about 90 contracts to fulfill. Successfully completing each task builds your reputation and career, allowing you to expand your company and create even more attractive structures.
Not only the locations in the game are based on real-life originals, but also all the machinery, construction elements, and processes have been licensed and faithfully reproduced.
Key features
Continuation of a cult construction game series.
Realistic graphics and gameplay mechanics.
Faithfully reproduced locations and machinery based on real-life objects.
Dozens of various missions to complete.
Megapolis
| | |
| --- | --- |
| Release date: | 2012 |
| Developer: | Social Quantum |
Available on mobile devices, web browsers, and social media, this title is a typical representative of city builders, like CityVille or SimCity. It is the debut project of a Russian developer which has been popular among players for over 10 years.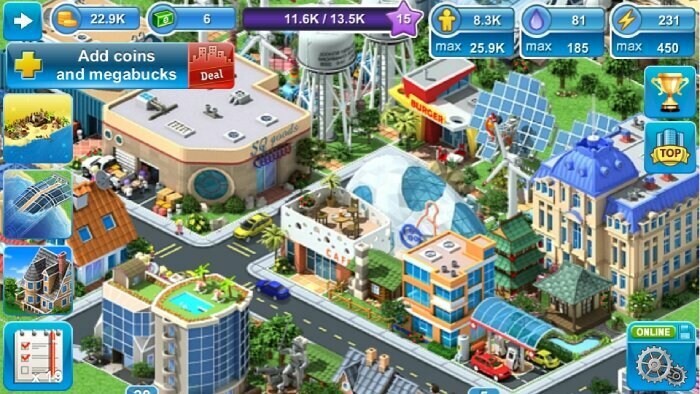 In this game, you play as the mayor of a small town whose task is to create a large, architecturally advanced, self-sufficient metropolis. The development and appearance of the city depend on your decisions. Managing resources (both material and human), strategic thinking, and planning actions are crucial in the game.
Players have at their disposal dozens of residential and service buildings, as well as countless decorations and attractions. It is essential to skillfully place and construct them while maintaining a balance between different elements of the city's infrastructure to ensure the satisfaction of the entire population.
Key features
Classic city builder with elements of strategy and economics.
Large variety of buildings, infrastructure elements, and decorations.
Multiplayer option available.
Countless tasks to complete, allowing city development.
Poly Bridge (series)
| | |
| --- | --- |
| Release date: | 2016, 2020, 2023 |
| Developer: | Dry Cactus |
This indie game, developed by a small studio, combines logical, building, and simulation elements, spiced up with humorous motifs. The game features simple yet visually appealing low-poly graphics. Due to its high ratings and player interest, the Poly Bridge series has spawned three parts.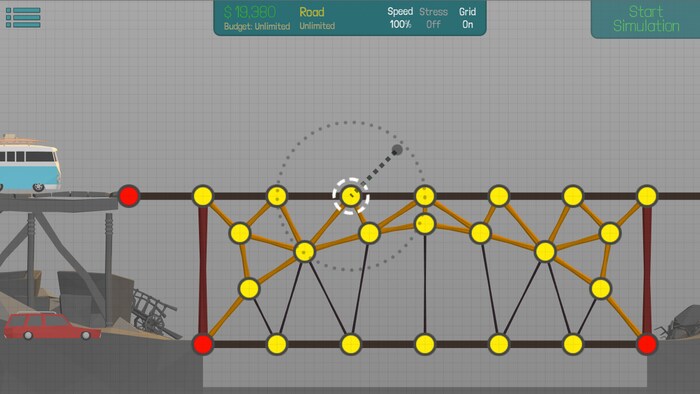 In each of the titles, you play as a road and bridge engineer whose task is to create sturdy constructions, allowing cars to pass through rivers or canyons. The challenge is not easy, as all of your buildings are subject to unforgiving physics, and you have limited resources for their construction. You need to show creativity, calculation skills and learn from your mistakes.
In the most recent parts of the game, it is possible to design your own level modifications and share them with other players via Steam.
Key features
Simple, cartoonish, yet visually appealing low-poly graphics.
Logical elements.
Advanced physics affecting objects in the game.
Possibility to introduce your modifications.
Builder Simulator
| | |
| --- | --- |
| Release date: | 2022 |
| Developer: | Live Motion Games |
It's time for a game that takes building simulation literally and seriously, to the point where an alternative title was not needed! If you want to try your hand at a real construction experience and engage in building various structures from scratch, this title is for you!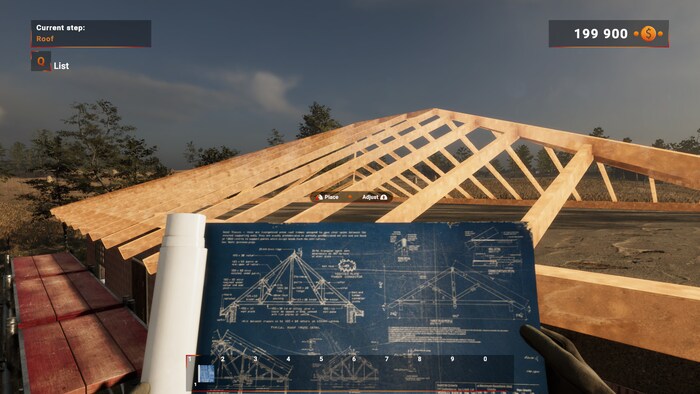 In the game, you play as a builder whose task is to design, build, and finish various buildings, from small residential houses to shops and large industrial facilities. The thrill is added by the fact that you must stay within a specified budget and time frame during the project's realization.
The game is divided into different levels of difficulty – in easy mode, there will be tutorials and various instructions, but by choosing the hard level, you will have to rely on your knowledge and skills, while planning, buying supplies, and executing everything from scratch. What will be the result? That remains to be seen.
Key features
A real building simulator.
Various buildings to design, build, and finish.
Three difficulty levels.
Realistically reproduced tools, machines, and products used on a real-life construction site.
Project Highrise
| | |
| --- | --- |
| Release date: | 2016 |
| Developer: | SomaSim |
An economic strategy game inspired by the classic title SimTower from 1994. In the game, you play as a manager-architect whose task is to design and build a skyscraper.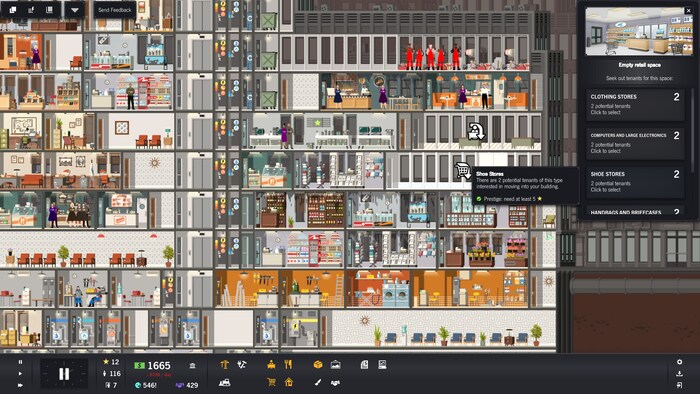 The game does not approach building realistically, but its mechanics provide very enjoyable gameplay. You have to build your building floor by floor, ensuring it is continually filled with new residents and/or employees who will provide you with resources to expand it.
The game allows for a lot of freedom in running a business. You can create a residential or mixed-use building or focus on office and retail spaces. However, it's important to keep track of the residents' opinions to meet their demands and adjust the building accordingly. It's also essential to remember that each group of tenants or employees in the building has its own individual needs – sometimes it can be challenging to satisfy everyone…
Key features
Game inspired by a classic economic strategy game from the 90s.
Building a self-sufficient skyscraper, floor by floor.
Meeting the needs and requirements of residents and employees.
Numerous possibilities and freedom in terms of building purposes.
Conclusion
Building simulators and city builders are undoubtedly enjoyable games that allow for a lot of creativity and fun while developing strategic thinking. They are an excellent choice for those who don't enjoy fast-paced action games or complex RPGs and are looking for something more relaxed. They are also a perfect option for those who have always been drawn to the construction industry! If you want to try your hand as a builder, architect, or construction manager, now you know where to start your adventure!