Have you spent long hours in Minecraft and are looking for a new title similar to your favorite game to mix it up a little? Perhaps you don't want to give Minecraft a try because you find its blocky graphics unappealing, but would like to play a game with similar mechanics? In any case, we have compiled a list of games that do crafting just as well as Minecraft – or maybe even better!
Crafting systems were very common in games for a while. Occasionally they constituted a very important and substantial part of the gameplay. This phenomenon can be attributed to Minecraft's rapidly gained popularity, and the emergent survival game genre. We'll take a look at some games which make crafting a big part of the experience, but before that let's see what Minecraft itself was all about.
The phenomenon of Minecraft
Minecraft, developed and originally released by Mojang, took the world by storm. Although the game has a proper survival mode and can be pointed out as the genre's originator in modern gaming, the survival aspects weren't what made MC such a smash hit. What made Minecraft stand out was almost complete creative freedom granted to its players by means of flexible crafting and building systems. The world of Mojang's game is built out of cubes, which represent different materials, such as stone, wood, or lava. Materials have their own properties, so water flows, wood burns, etc., and players can hold them in their inventory. The materials can be used in two ways, from which everything creative in the game stems from.
The first way is relocating the blocks from the point of acquisition to the place where they are required. The second is arranging specific resources in predefined shapes so you can create functional items impossible to create by just putting a block out in the world. Thanks to a large number of block recipes and easy-to-use-yet-complex systems, Minecraft servers have become home to amazing constructions, such as replicas of real architectural masterpieces, or complete recreations of towns or castles from fantasy franchises. It's this amazing freedom to build any structure and even create systems with moving parts and some computational ability is what made Minecraft a landmark in the industry.
And now that we have discussed what Minecraft is all about, let's take a look at some games which make crafting a big part of the experience.
Crafting related games similar to Minecraft
| | Game | Release | Short info |
| --- | --- | --- | --- |
| | Terraria | May 16, 2011 | Two-dimensional combination of a rogue-like and a crafting-based survival game. Build your base, invite NPCs, explore the world. |
| | Stardew Valley | February 26, 2016 | Turn a run-down farm into a thriving enterprise. Manage your time, plant crops, craft tools, and become the most valued citizen of the nearby town. |
| | Lego Worlds | March 7, 2017 | Experience the joy of playing with LEGOs without ever having to clean up after yourself. LEGO Worlds gives you limitless bricks and space. |
| | Factorio | February 25, 2016 | Set up a factory on an alien world and create efficient and satisfying automated processes. Watch as your plans come to fruition. |
| | Subnautica | January 23, 2018 | Gather resources and fabricate tools necessary for you to survive in an alien ocean. Can you complete your mission and explore the dark depths |
| | Ark Survival Evolved | August 29, 2017 | Work your way from primitive spears to sci-fi assault rifles, ride dinosaurs, and build an impregnable base of operations for you and your team. |
| | Rimworld | October 17, 2018 | Establish a colony on an alien world with the hands of people barely suited for the task. Build a base, explore the world, try to survive. |
| | The Forest | May 30, 2014 | Your plane crashed and you and your son have to survive until their rescue. Use the resources available to you to survive in that weird place. |
| | Raft | May 23, 2018 | Collect flotsam and use it to expand the raft keeping you alive in the middle of an ocean. With time you'll have a spectacular floating fort for you and your friends. |
Terraria
| | |
| --- | --- |
| Release: | 2011 |
| Genre: | Adventure, Indie, Platform |
| Developer: | Re-Logic |
More of an ant farm than a terrarium, actually.
Terraria is one of the highest rated games on Steam, with only a negligible percent of negative opinions against almost 250 thousand positive ones. What makes it so great?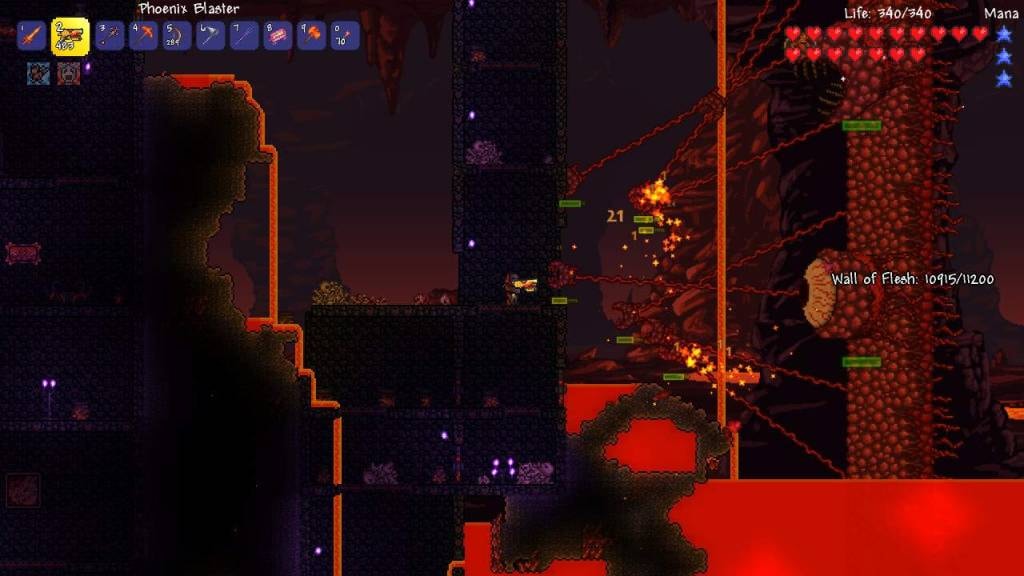 Excellent crafting and clear visual style are definitely the first things that come to mind when you play Terraria. Although it's simplifying things to a great degree, Terraria could be described as a 2D Minecraft, in that it's focused on free-form construction using the material you manage to scavenge in the randomly generated world. There is also a significant aspect of venturing into the Underworld to fight monsters and bosses, all of which yield attractive rewards.
Terraria's protagonist doesn't have to be alone, either, even without multiplayer. You can recruit NPCs for your avatar's fortress, and reap the benefits they offer once you satisfy their demands regarding proper lodging. Terraria has a charming pixel art-based style. It makes the game look quite crisp and pleasantly old-school, although it isn't going to appeal to everyone.
Key features
A massive world that expands in all four directions, each up for exploration.
Sprite visuals that let you relive your SNES memories with friendly 16-bit-style graphics and a 2D world.
Robust crafting with hundreds of recipes across several different crafting utensils.
Dungeons and floating islands waiting to be explored.
Mighty bosses that can be challenged.
Before You Play
It's better in multiplayer,
Involves some combat to get rare resources.
Stardew Valley
| | |
| --- | --- |
| Release: | 2016 |
| Genre: | Indie, Simulator, Crafting, Building, Retro |
| Developer: | ConcernedApe |
It's all about farming.
Stardew Valley is a Western tribute to Harvest Moon. It's a game about managing one's own farm and taking it from "run-down" to "thriving" through hard work. A calming and wholesome experience for any fan of farming games with a pinch of crafting.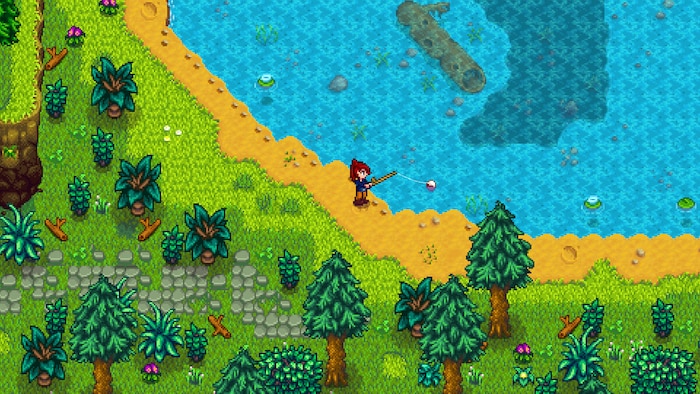 Crafting in Stardew Valley is limited mostly to creating specific items rather than feeding limitless, free-form creativity the way Terraria or Minecraft do. Most items are some form of farming equipment, infrastructure turning produce into high-profit products, elements of decor for your cottage, and the like. The creativity it fosters has a clear purpose, as opposed to the free-form, build-a-Minas-Tirith sandbox of other games on this list.
You also get to interact with the inhabitants of the nearby town, with whom you can build a business, friendly, or romantic relationships. For someone seeking action, there are The Mines, 120 levels of what is basically a dungeon, with weird creatures and treasures. Just be sure all your plants are watered before you go in.
Key features
Day-to-day farm management of massive swathes of land you inherited.
Visit Pelican Town where you can get away from your daily duties and talk to residents, or complete any business.
Stardew Valley has a charming pixel art visual style and a very calming original soundtrack
Dungeon exploration where you can test your luck in the deep tunnels of your mine, looking for treasures and fighting monsters.
Each of the Pelican City inhabitants has a unique personality and character arc for you to discover
Before You Play
Low system requirements,
Encourages planning.
LEGO® Worlds
| | |
| --- | --- |
| Release: | 2017 |
| Genre: | Open World, Building, Sandbox |
| Developer: | TT Games, Traveller's Tales |
No risk of a grievous foot injury.
LEGO Worlds is quite similar to Minecraft – but in a way, Minecraft itself is basically a video game about playing with LEGOs, so of course, a virtual version of LEGO has to be similar to it. And that's what LEGO Worlds is: it's Legos but in a digital form.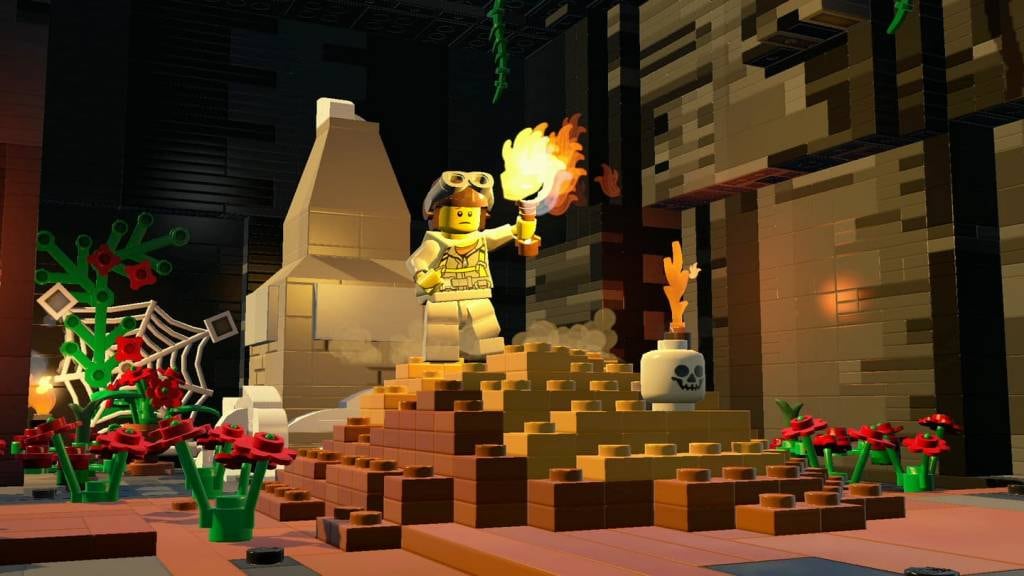 If you can't afford or don't have space, to make massive LEGO dioramas, launch this game. You'll have a virtually unlimited selection of bricks allowing you to create anything you'd be able to build in real life, had you enough parts.
This game is like Minecraft, but with all the charm of real LEGO. Whether you deal with the minutia of detailed models or want to reshape the landscape according to your whims, the game isn't going to tell you "no".
Key features
Infinite bricks and space,
Feels like playing with LEGO, but in a virtual form.
A mix of a Garry's Mod and the Minecraft – The game is a one, big sandbox.
Explore a huge galaxy with various worlds which you can visit or create in this game.
Travel back to your childhood memories to time you played with LEGO.
Before You Play
A great family game
The mix of nostalgia and creative freedom will make you spent hours in this game
Factorio
| | |
| --- | --- |
| Release: | 2016 |
| Genre: | Indie, Strategy, Building, Resource Management |
| Developer: | Wube Software LTD. |
Adapt, engineer, automate.
Creative Minecraft players, with the occasional help of modders, have managed to create interesting machines using that game's flexibility of crafting and a broad selection of tools like logic gates. They have nothing on Factorio, though.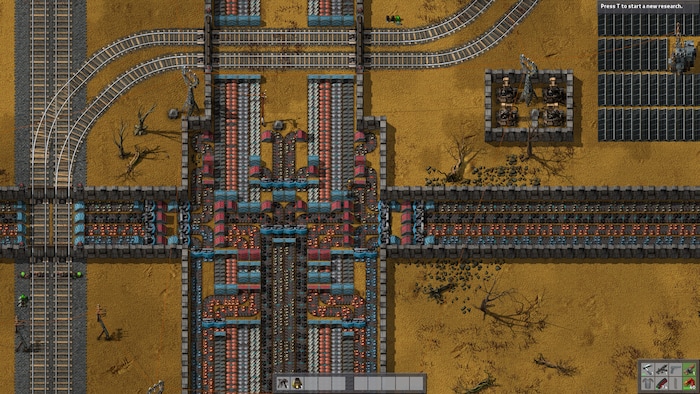 See, Factorio is a game which is all about creating automated supply chains transporting resources to automated factories, generators, etc. Depending on the mode you choose, you may play to accomplish a specific goal, or just play in a sandbox, creating an ever-growing industrial zone covering the entire map.
The especially imaginative and patient players can make factories which work in an incredibly satisfying way, or even create visualizations, such as the entire video for Darude's "Sandstorm", a feat which still amazes the entire internet, but also baffles: why choose Sandstorm, if one could do A-ha's "Take On Me"?
Key features
Mining, logistics and production systems – It is the main aim of the game.
A complex and satisfying game, Factorio seems almost endless at times.
An interesting modding system – you can create your own maps and other elements in order to make the game fit your gameplay.
Immersive gameplay which might take you away from reality for many hours.
Before You Play
This game requires patience and finding a working solution may be frustrating.
Survival games
Tracing the roots of their popularity for the revolutionary Minecraft, survival games ruled Steam charts for quite some time. They are frequently multiplayer affairs, although one can play solo as well, taking in the sights, and conquering the hostile lands without other survivors interfering.
Although it is unlikely you'll get to design Hagia Sophia or build the entire LEGO Movie in either of these games, they still put a lot of emphasis on crafting tools and headquarters. In Conan Exiles you can build bases clinging to cliffsides, hanging upside down from trees etc., because the system is flexible and there are enough parts to make it possible.
Survival games also differ from other games on this list in that there are typically several meters quantifying at least your avatar's hunger and thirst, which you need to be mindful of.
The best survival games with crafting systems include:
Subnautica
| | |
| --- | --- |
| Release: | 2018 |
| Genre: | Adventure, Indie |
| Developer: | Unknown Worlds Entertainment |
Eat your heart out, Captain Nemo.
You crash into an ocean on an alien planet. Do your best to survive, but be mindful of your oxygen supply and terrors hiding in the depths of the ocean.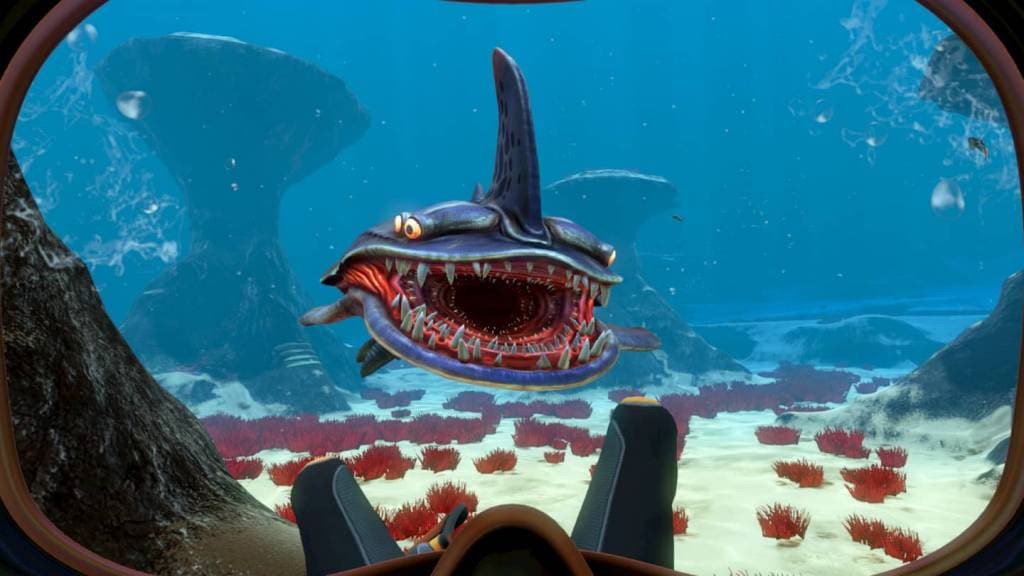 Subnautica is an interesting open-world game combining the survival and adventure themes with crafting in a unique science-fiction experience at the bottom of the ocean of an alien planet. The crafting in this type of game is mostly used in survival as the player has to collect necessary resources to both progress in the game and keep his character alive and going.
Key features
Visually stunning, beautifully designed 3D locations. Excellent in VR.
An underwater survival game with plenty of options
An advanced crafting system: create your own facilities and underwater vehicles
A gripping, interesting story to follow: survive as long as it is possible
Numerous dangerous or strange creatures to encounter
Before You Play
Well optimized, it will present it's best vistas without requiring a monster machine
ARK: Survival Evolved
| | |
| --- | --- |
| Release: | 2017 |
| Genre: | Adventure, Indie, Shooter |
| Developer: | Studio Wildcard |
McGyver vs. Dino Riders.
You wake up on a savage world where dinosaurs and other prehistoric animals roam freely. Build bases, tame animals, make the land your own property.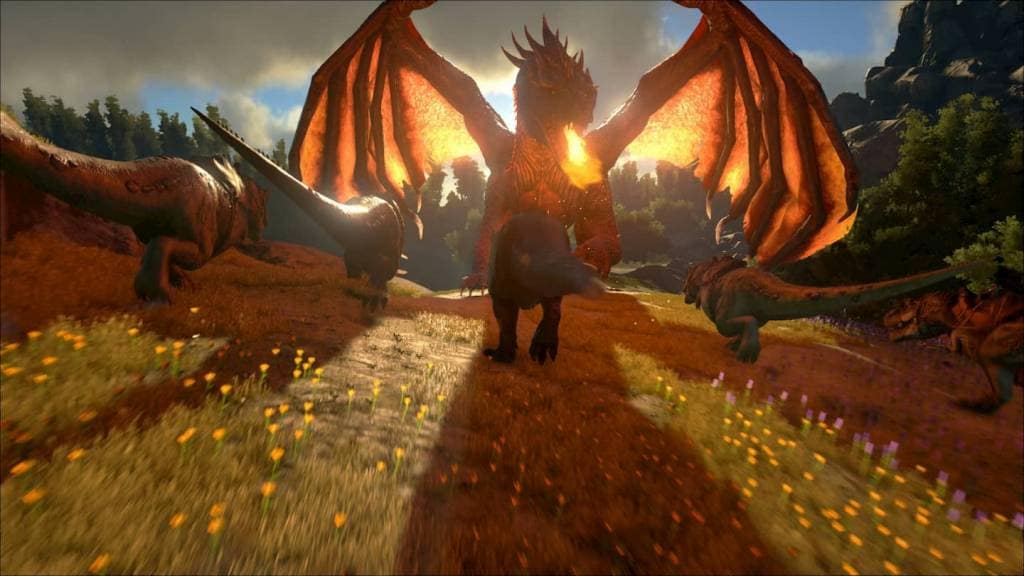 Key features
Tame and ride dinosaurs and other prehistoric mammals and aquatic beasts.
RPG progression – level up to unlock new crafting recipes and improve your stats to survive.
Beautiful graphics and an open-world environment full of lush jungles, roaring waterfalls and wide grasslands.
Stay alive in a hostile world full of creatures and people that want to kill you.
Before You Play
Online interactions may affect enjoyment.
Strong nostalgia vibes from Jurassic Park movies.
Rimworld
| | |
| --- | --- |
| Release: | 2018 |
| Genre: | Indie, RTS, Simulator |
| Developer: | Ludeon Studios |
Alien colony scoping.
You need to help a group of colonist survive on an alien planet, which obviously involves building bases and managing infrastructure.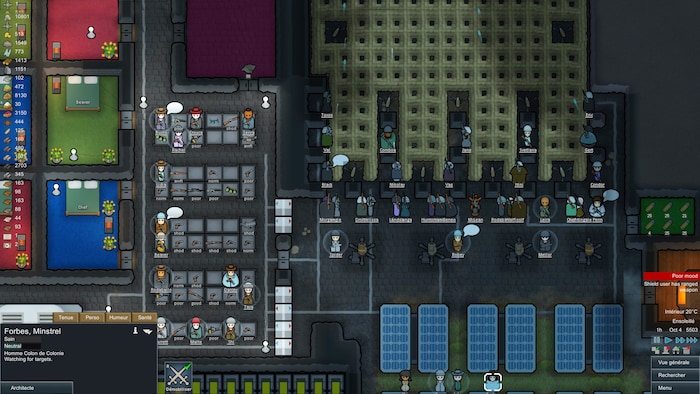 Key features
Interesting AI storyteller
A completely random story where each event, survivor, and element of the game is generated randomly at the beginning of the playthrough.
Huge variety of colonists characters different from each other.
Take care of your team, focus on their morale, health and relations with other characters.
Before You Play
It's a base-building strategy game through and through, with everything associated with the genre.
Only for patient gamers that like games like Factorio or Dwarf Fortress.
The Forest
| | |
| --- | --- |
| Release: | 2014 |
| Genre: | Adventure, Strategy, Indie |
| Developer: | Endnight Games Ltd |
Arboreality check.
This game will make you understand why humanity spent centuries being afraid of forests. Usually not because of cannibals, but the past was weird.

Key features
Evocative visually stunning graphics.
Interesting story and a unique open-world environment.
Chop down trees to build a camp, start a fire to keep warm. Scavenge food to keep yourself from starving. Lay traps and defenses to keep a safe perimeter.
Defend yourself against a clan of genetic mutant enemies that have beliefs, families, morals and that appear almost human.
Use stealth to evade enemies, or engage them directly with crude weapons built from sticks and stones.
Before You Play
Takes a solid turn towards the horror genre, it's good to be mindful of that.
Can be sometimes quite brutal and show drastic scenes.
Raft
| | |
| --- | --- |
| Release: | 2018 |
| Genre: | Adventure, Simulator |
| Developer: | Redbeet Interactive |
Mine Raft Craft.
While Subnautica is eager to take to the ocean floor, Raft asks you to expand your flimsy raft using flotsam floating around you in the sea. Build your own floating castle by using your hook to catch debris floating by.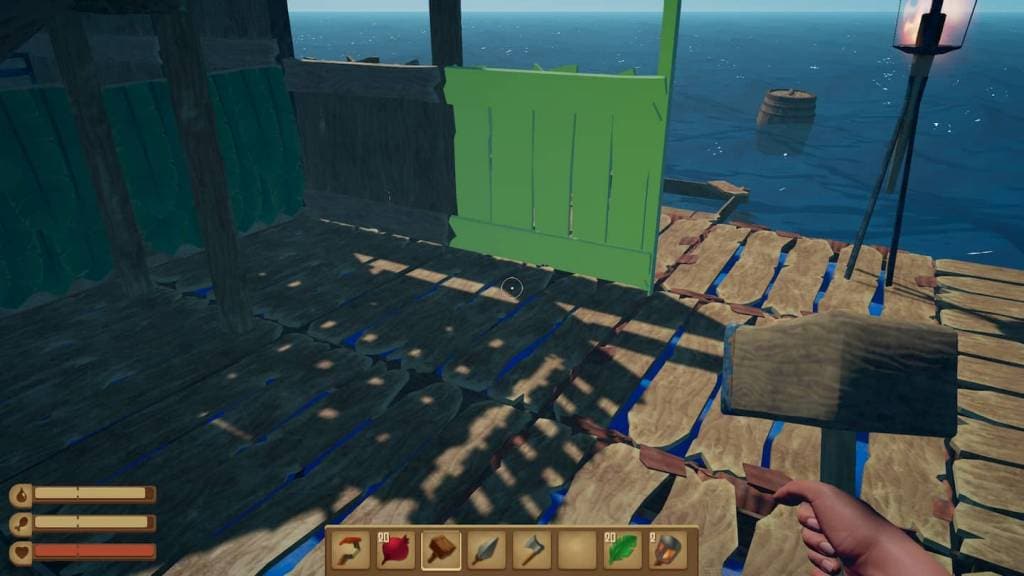 Key features
Craft and build survival equipment, weapons, crop plots and more to help you stay alive.
Expand your raft from simple wreckage to a buoyant mansion.
Research and learn new things to craft in the research table.
Navigate and sail your raft towards new places!
Defend your raft from the dangers of the ocean.
Before You Play
Like with Subnautica: not for someone who is afraid of water.
Excellent multiplayer that enables playing with friends.
Family-friendly game.
This is just the beginning
The titles above are but a few examples of games which share some crafting DNA with Minecraft. There are other games which have other similarities to Mojang's hit, such as voxel-based visual style, but the ones we chose are focused on flexible creation first, survival mechanisms second. If someone is looking for a great game with elements of crafting that will provide him with hours of entertainment and develop his creativity, he should definitely find something for him among the games we have presented.