As the dust has already settled after the rather turbulent launch of Cyberpunk 2077 in 2020, we can safely compare it with one of the top titles in gaming history – the legendary Grand Theft Auto V!
Ladies and gentlemen, this is the moment you've been waiting for! This ultimate battle means three unforgiving tests designed specifically for our successful competitors. Our first fighter is an experienced, proven hero of many gaming sessions with an astonishing legacy of 180 million copies sold worldwide – GTA 5. Today it will face a much younger opponent who, despite a rough start in its promising career, emerges as a worthy contender for the title of the best open-world game of all time – Cyberpunk 2077! But in this comparison, we decided to forget difficult beginnings and bugs – all that matters is what they offer now. Let's begin!
Setting and Atmosphere
What makes an enjoyable open-world video game? Two words – general vibe. The action of both GTA 5 and Cyberpunk takes place in massive cities overrun with crime and degenerates. GTA V's campaign unfolds in Los Santos – an epic Los Angeles parody with an area of approximately 75 square kilometers. Nothing proves Rockstar's hard work over the years like this gigantic, stunningly realistic world.
Players can explore, purchase properties, engage in an impressive choice of mini-games, enjoy exciting combat, and fulfill their lovely dreams of becoming the city streets king or queen. So how can we even compare something this big to the world of a relatively new game from 2020? The answer is simple – Cyberpunk 2077's setting is much better.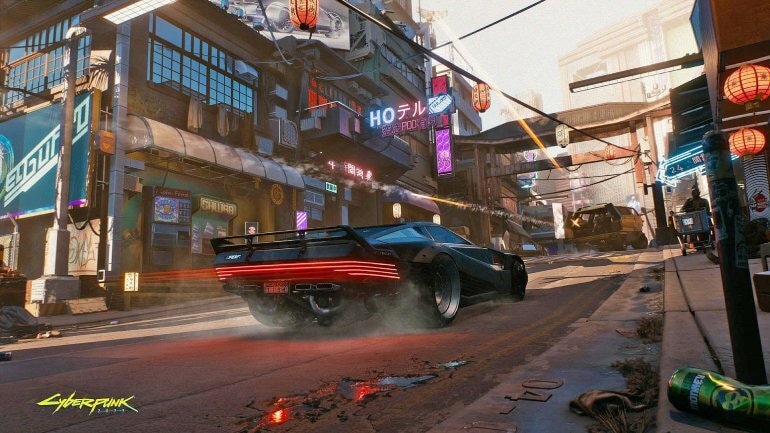 source: https://www.roccat.com/
While Grand Theft Auto 5 shows a pretty ordinary picture of the regular city, the game from CD Projekt Red elevates this aesthetic standard to the undisputed masterpiece. Covering around 100 square kilometers of the Night City and the surrounding areas, Cyberpunk creates infinite combinations of managing the entire adventure. And this place is magnificent. Dangerous? Check. Pretty disgusting? Also, check. But with a futuristic vibe, endless mysterious locations, and monumental buildings, it creates a world everyone wants to see, explore, and simply experience. Such an immersive setting means a paradise for players desiring to play as a wanted mercenary in a not-so-optimistic future. And in this category, Cyberpunk 2077 is the undisputed winner.
Narrative and Characters
The Cyberpunk 2077 vs GTA V comparison doesn't end at the setting, though, as memorable characters are the creme de la creme of any good video game. In the first case, the protagonist is Vincent/Valerie, also known as V. During the campaign, players meet many other exciting heroes struggling with the harsh reality, like Viktor, Yorinobu Arasaka, Judy Alvarez, and Jackie Welles. But the most recognizable is Johnny Silverhand – a rebellious rock star living only in the leading character's mind. Together, they create an explosive duo, especially since Johnny has the charming face of world-famous Keanu Reeves. However, Cyberpunk struggles with one fundamental problem – the characters do not really feel like living people.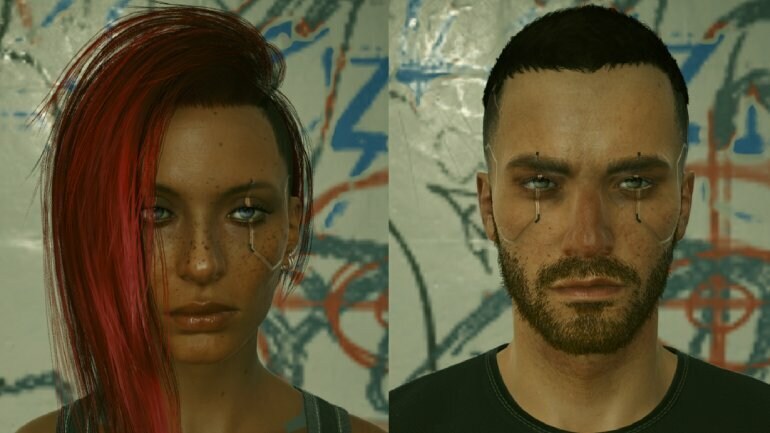 source: https://cyberpunk.fandom.com/
They're brilliant but not as memorable as in GTA 5. In Rockstar's game, players can switch between three playable heroes: Michael, Trevor, and Franklin. Each provides a different backstory and aspiration, which makes the gameplay much more diverse. And, on their way to criminal success, they meet many fascinating and hilarious characters. The fact that many of these encounters are uniquely bizarre makes each quest fun, and some heroes – like Trevor, Lester Crest, or Lamar Davis – have evolved into cherished gaming idols.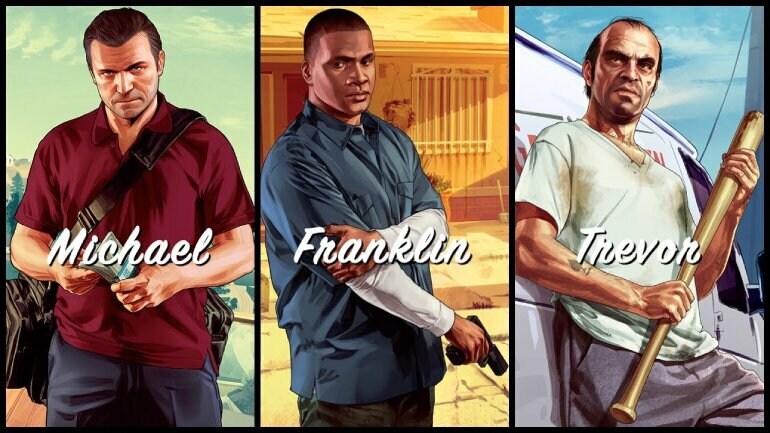 source: https://www.youtube.com/
But the essential differences reach beyond just the protagonists of both titles. As we all know, the devil is in the details. And in this case, GTA 5 also fares much better. Why? The whole city, all NPCs behave incredibly realistically. When you stop a car in the street, aim a gun at a passerby, or try hitting someone, they react adequately. They try to fight, run, or get past the playable hero. In Cyberpunk 2077, the NPCs mostly stand and wait politely to see what happens next.
Gameplay Mechanics and Graphics
Cyberpunk is a perfectly crafted RPG, so every little decision or dialogue choice shapes everything that happens in the future. Players must be careful to avoid doing something they might regret later. As an action-focused video game, Grand Theft Auto 5 features a linear storyline. And although players also make complex decisions, they do not have such a massive impact on the entire adventure as in the CD Projekt Red's game. Cyberpunk 2077 may also be a better choice for players who want a decent selection of weapons. The available arsenal looks amazingly futuristic, and some tools are even bizarre or surprising.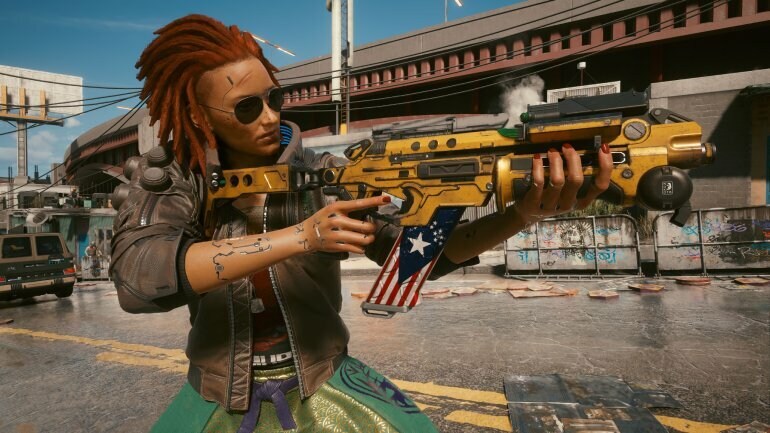 source: https://www.shacknews.com/
Also, Cyberpunk 2077 is a newer game, so it's not surprising that it features much better graphics. Created by a talented team of 500 creative people on the brand new REDengine 4, the game impresses with visible details. Even underwater, many objects or junk make this world worth exploring. We all remember the initial enthusiasm evoked by the character creator, which allows players to combine feminine and masculine features and enables complete freedom in hero design down to the smallest detail. Night City has it all and more. Gorgeous life-like lighting and shading are positively visual magic in this one!
Which Game Is Better?
Is Cyberpunk like GTA 5? These two video games are surprisingly similar, much more than, for example, Cyberpunk and The Witcher 3: Wild Hunt (despite their origins in the same studio!). But the which is better question is only partially correct. Regarding lifelong experience, copies sold, and being a gaming legend, GTA 5 definitely wins. The gameplay is iconic, everyone has heard of the game, and the memorable characters make you want to play it repeatedly. But we should ask which game is the coolest. And now, Cyberpunk 2077 takes the crown. Its anticipated release, initial bug issues, fantastic character creator, and stunning Night City have made it the hottest title in recent years.
As a result of the high system requirements, many people still can't play this game. Which only makes it more desirable!
Cyberpunk is currently the Golden Grail of gaming.
Everyone talks about it and wants it. In such an extraordinary situation, it doesn't make any difference if the game is superior – all that matters is that even after three years, Cyberpunk 2077 is still one of the most heated topics in history.