Dead Island 2 took a bit longer to release than we initially thought. But since it's already here, it's best to enjoy the game in your favorite edition.
New video games come in various versions and editions, often confusing for players just wanting to have some fun. Especially since many websites and online stores tend to give unclear or very chaotic information on such topics. That's why we recommend finding all the knowledge about Dead Island 2 editions in one place. With this overview, the whole process will be nice and easy.
Dead Island 2: Each Edition
Dead Island 2 Pre-Order Bonus
Fans of this survival horror series may want to play it sooner than later. It's completely understandable, as the sequel is simply delicious! Rejoice, as Pre-Order comes with many cool bonus items. By choosing it, you will receive:
Banoi War Club,
Personal Space Skill Card,
Banoi Baseball Bat,
Balanced Weapons Perk.
All in one Memories of Banoi Pack inspired by the first game. Plus, you can get an epic Tricksters' Smile Knife after signing up for the game's official newsletter.
Standard and Pulp Edition
Standard Edition means a physical or digital copy of the game for your platform – including a Pre-Order bonus if you decided to buy the title earlier. Console players can expect a price tag of $69.99, while it is $59.99 for PC users (at the moment of writing the article).
Pulp Edition is a treat for enthusiasts of physical copies. Pre-order it for your platform and get the Memories of Banoi Pack if you made it before the launch! But there's even more, as the Pulp version comes with:
Exclusive Pulp Weapons Pack,
including the Homewrecker Sledgehammer.
The Eye Opener Pitchfork.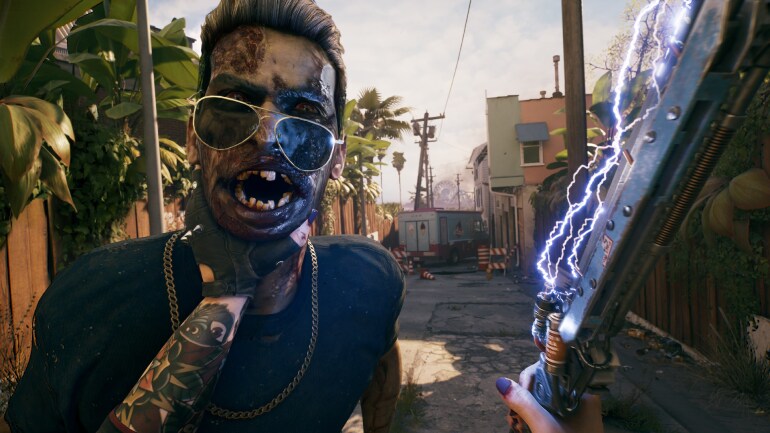 Deluxe Edition
Those who want more can get it in this edition that greatly expands the survival horror fun. By choosing the Deluxe Edition, you will receive:
the base version of the game,
the Golden Weapons Pack,
Character Pack 1 & 2,
The Memories of Banoi Pack pre-order bonus.
This version's price is $74.99 on consoles and $64.00 on PC.
Gold Edition
And this is where the fun begins. The Gold Edition is an opportunity to get some really cool stuff. By purchasing it, you'll get:
All the content from the Deluxe Edition plus two more extras:
The Pulp Weapons Pack,
The sensational Expansion Pass giving you access to all post-launch DLCs.
And you can get it for just $89.99 on a console and $79.99 on a PC(at the moment of writing the article) !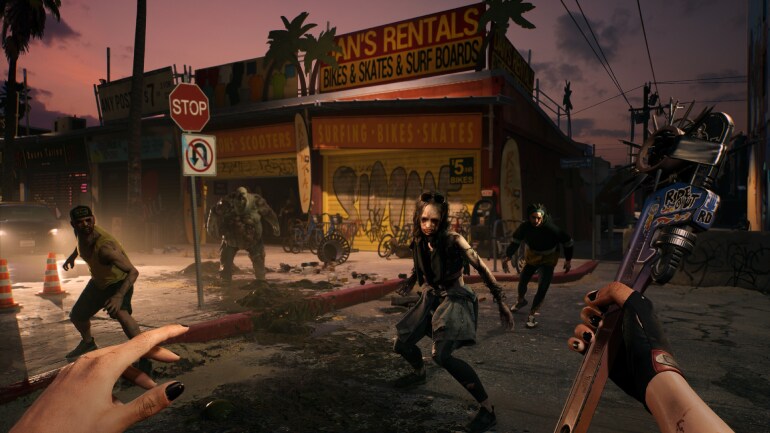 HELL-A Edition
It is the last, largest, and most expensive edition of Dead Island 2, made with loyal fans in mind. It is full of digital and physical items that will help you enjoy this experience to the fullest. Get it and gain access to:
The base version of the game
Golden Weapons Pack
Pulp Weapons Pack
Expansion Pass
Pre-Order Bonus
Character Pack 1 & 2
Steelbook case
Venice Beach Travel Map
6 Slayer Tarot Cards
2 Pin Badges
1 Patch
The retail price here is clear – $99.99.

Comparison and Summary
As you can see, the Standard Edition isn't much cheaper than the others. So if you are wondering what to choose, let us help you.
Let's start with the fact that if you're on a budget, you better stick to the cheapest base game. No need to go broke if you don't even know if you like it.
As for the HELL Edition – is it worth it? This is the choice for die-hard: Dead Island fans who are willing to spend more for whatever they can get their hands on. That leaves us with the Gold and Deluxe Editions. We recommend picking the former as it comes with the Expansion Pass – which means access to all future expansions. This investment is only $16 more expensive and provides long-lasting fun.
Final note: Dead Island 2 is about 20 hours of zombie gameplay, and any new content can make a difference. But overall, all these editions are pretty close to each other in terms of price and offer extremely different things. It's a reasonable approach to players waiting more than a decade for a sequel to their favorite game.