Diablo 4 has just been released to raving reviews, with critics seeing it as a major improvement over its predecessor, Diablo 3, and Blizzard Entertainment's most important opus since World of Warcraft.
However, the premiere is just the start, as the developers seek to roll out more content via Seasons and the Battle Pass. What are they? How do they work? This piece will provide an overview of these features, so if you're interested in more details, dive right in!
Seasons and the Battle Pass are certainly quite baffling for the fans of Diablo 4. After all, they seem to shift the focus from continuing to play as a single character beyond the end-game to encouraging creating new heroes and exploring different playstyles. Both approaches have their merits and Blizzard Entertainment seems to prefer the latter.
As far as the Seasons themselves are concerned, they are a way for the developers to introduce new content and timed events separate from the main campaign. That's right, you'll encounter quests and partake in things which you won't see during the primary storyline. All this will be coupled with various patches and quality-of-life updates to Diablo 4, not to mention various gameplay tweaks and changes which might either go once a season ends or stay awhile if fans like them.
How will Seasons work, exactly? Their introduction is planned for sometime in July, just a couple of weeks after the release of the base game.
Each Season will last a quarter – three months, to be exact – and offer limited-time rewards that you will be able to acquire during that time, also known as the Season Journey.
The rewards range from cosmetic items to Smoldering Ashes, a resource that you can spend on boosting your experience level or to get more gold. There are other bonuses that you can get as well.
The Battle Pass
Each Season is divided into 90 tiers in total. You progress thanks to Favor, an additional resource that lets you level up your Battle Pass.
You can access the first 27 tiers for free.
However, there are 63 tiers left, ones that you can access via a premium version of the Battle Pass.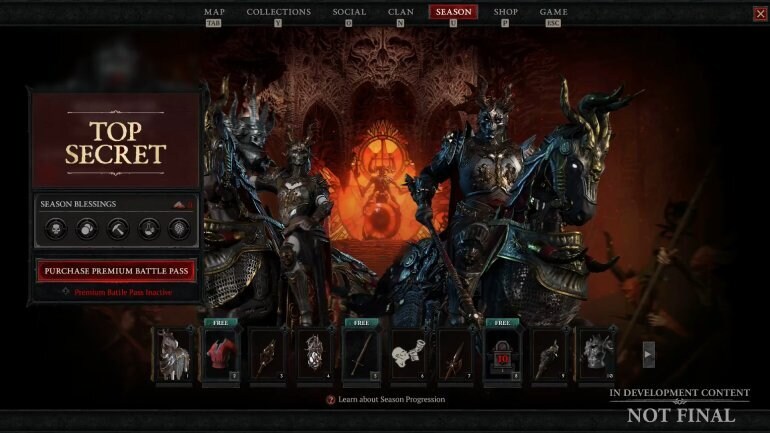 Remember that the Battle Pass does not grant you more powerful items that would give you an unfair advantage for money. All the items and bonuses that you can earn by leveling up serve a cosmetic purpose only, but they're certainly unique.
Battle Pass premium is rumored to cost $9.99.
You can also get the "accelerated" version of the Battle Pass, which is said to cost $24.99. What's the main difference here? Well, it gives you the ability to skip forward twenty tiers and grants you a special cosmetic item. It's definitely something you might want to consider if you're late to the party and might not be able to make up for the lost time to progress through all ninety tiers.
Summary
All in all, it seems that the whole Seasons thing and the Battle Pass provide a fun new way to play Diablo 4 by encouraging leveling up as new characters and providing tons of new content to explore outside of the main storyline, including new or modified gameplay mechanics.
Each Season Journey gives you certain objectives to complete, but you're not required to complete all of them, which does allow for more freedom in how you progress through the chapters.
Whether you want to pick the free, premium or accelerated version of the Battle Pass is all up to you. However, the paid ones will give you special items that you won't find anywhere else. They won't give you any edge, either, they serve a purely cosmetic purpose.
What will the future bring for Diablo 4? Time will tell, but the players can expect some awesome things along the way.