The Elder Scrolls Online allows players to travel and explore the rich fantasy world full of beautiful locations and dangerous enemies in search of wealth and glory. Although the base game offers an incredible amount of content for players to enjoy, there is also a ton of additional DLCs available to make the adventure even more immersive and epic.
Considering how many different expansion packs were already released, it might be difficult to choose the ones that are right for you – but fear not, as we came up with the list that neatly sums it all up.
Get ready for the journey with all the great ESO expansions released up to date.
Chapters:
Morrowind
| | |
| --- | --- |
| Release date: | 2002-04-29 |
| Genre: | RPG |
| Developer: | Bethesda Game Studios |
The first expansion pack takes players back to the isle of Vvardenfell, a familiar place we've last seen in The Elder Scrolls III: Morrowind.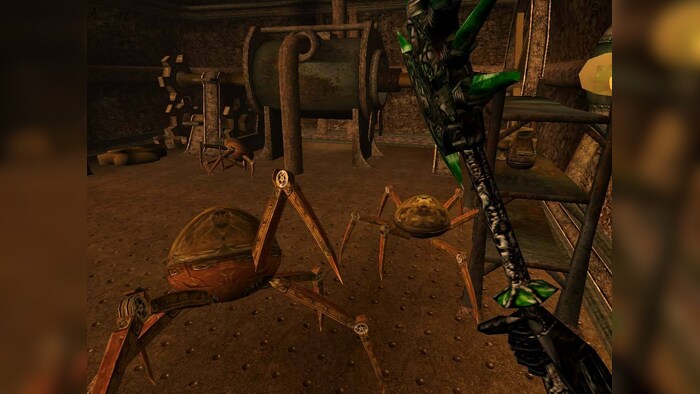 Taking place long before the events from the original Morrowind, it lets you experience an entirely new story that focuses on the Vivec City – help a demi-god and save the city from being destroyed by an incoming meteor. The expansion pack also introduces a new playable class that has a strong connection with nature and can use the help of War Bear ally in combat.
Key features
Warden, a new nature-based playable class
Battlegrounds – new player versus player mode
New 12-player Trial
Summerset
| | |
| --- | --- |
| Release date: | 2018-06-05 |
| Genre: | RPG |
| Developer: | Zenimax Online Studios |
The Summerset chapter will take you back even further than Morrowind did, as the expansion's core location is the titular Summerset, a land of the Altmer that was last seen in The Elder Scrolls: Arena from 1994.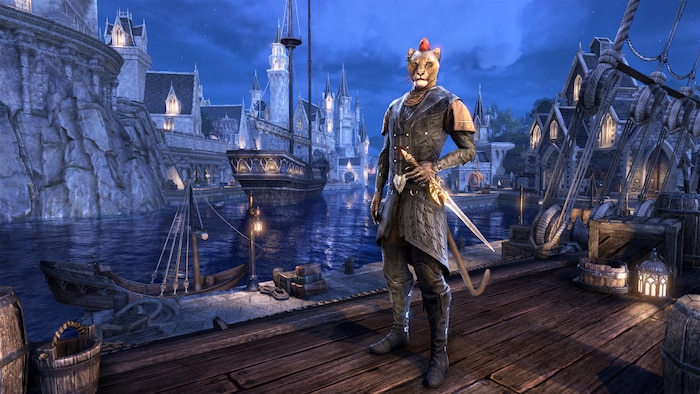 By decree of Queen Ayrenn the land of High Elves is once again open to foreigners, giving you the unique opportunity to explore some of the most beatiful places out there. Once you get there, don't hesitate to join the mysterious Psijic Order – learn their ways to unlock entirely new abilities that will surely come in handy in your future ESO adventure.
Key features
New powerful abilities from Psijic Order Skill Line
Jewelry crafting
An entirely new 12-player Trial
Elsweyr
| | |
| --- | --- |
| Release date: | 2019-06-04 |
| Genre: | MMORPG |
| Developer: | Developer: ZeniMax Online Studios |
If you love dragons, then the third ESO chapter is made for you. Just like with the Summerset, the location introduced in this expansion was last seen in The Elder Scrolls: Arena.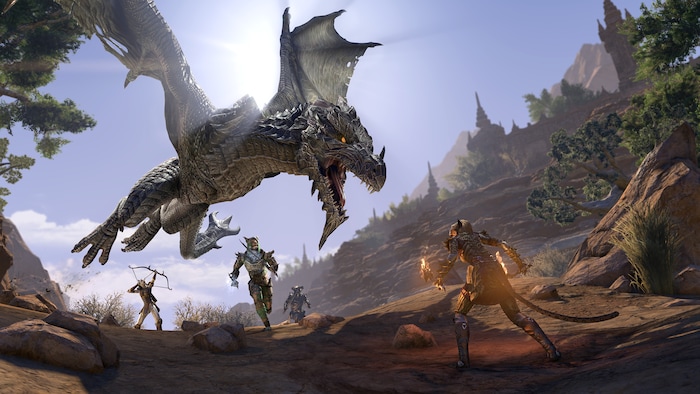 The land of Khajiit opens its arms, so go ahead and discover the mysteries it hides. Challenge dangerous reptiles flying above the warm sands and familiarize with Khajiiti culture. The chapter introduces a new playable class that requires careful positioning and a more tactical approach – a Necromancer, the master of the dead. Use new powers to overcome awaiting challenges, especially the new 12-player Trial.
Key features
Overcome death with a brand-new playable Necromancer class
Dragon-oriented expansion that adds a lot of difficult beasts to challenge
New 12-player Trial
Greymoor
| | |
| --- | --- |
| Release date: | 2020-05-26 |
| Genre: | RPG |
| Developer: | Developer: ZeniMax Online Studios |
Greymoor is the next ESO chapter that lets you explore western parts of Skyrim as known from The Elder Scrolls V: Skyrim, meaning you can expect to see a lot of tundra and snowy landscapes.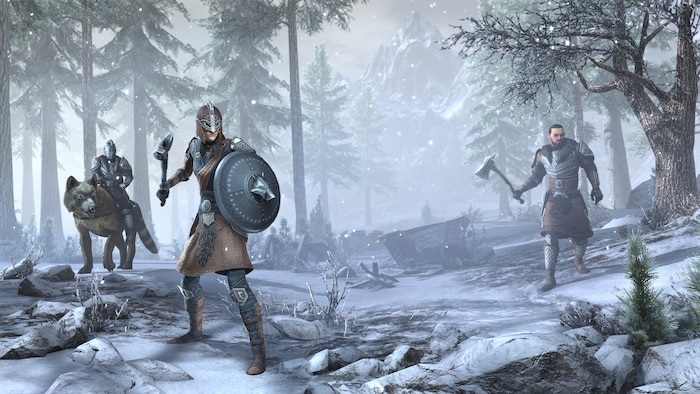 Greymoor focuses on the ancient evil in form of the Vampire Lord – a powerful creature leading hordes of dangerous monsters, threatening the entire continent. You, as a savior of Tamriel, will need to take action and send the evil back where it came from before it's too late. Greymoor introduces a lot of new challenges, including a new 12-player Trial and deadly Harrowstorms.
Key features
Antiquities System – learn Tamriel's lore by recovering lost artifacts
New world events: Harrowstorms
New massive 12-player Trial
DLCs:
The Imperial City
| | |
| --- | --- |
| Release date: | 2015 |
| Genre: | MMORPG |
| Developer: | ZeniMax Online Studios |
The Imperial City is the first ESO DLC that comes with various new additions, such as new dungeons and craftable item sets. One of the most intriguing things introduced by The Imperial City, however, is the new currency called Tel Var Stones.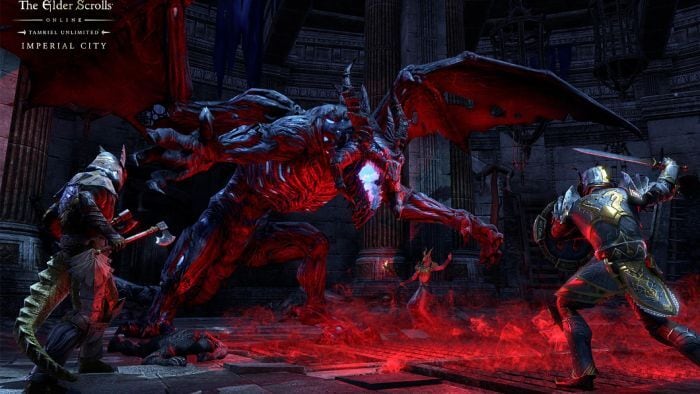 These are special items you can use to purchase certain armor sets and other kind of unique stuff. The more stones you currently have, the higher the multiplier, allowing you to find even more of them. But beware – other players also need the stones, so don't be surprised if they try to kill you trying to steal your hard-earned currency. Manage risk and reward, and find a balance – hold the right amount of stones to increase the multiplier and put the surplus in the bank.
Key features
Two new group dungeons, each with two difficulty versions
Tel Var Stones – a new type of currency that can be exchanged for new valuable items
Lots of new craftable items
Orsinium
| | |
| --- | --- |
| Release date: | 2015 |
| Genre: | MMORPG |
| Developer: | ZeniMax Online Studios |
With Orsinium DLC you will get the possibility to visit the capital of Orsimers, also known as Orcs, and aid King Kurok as he tries to rebuild the ruined city.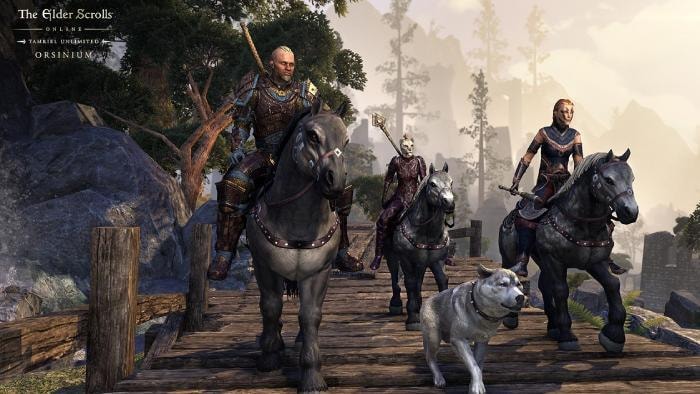 While trying to restore city to its former glory, you will be able to test your skills on the Maelstrom Arena, a new type of solo challenge that offers amazing rewards for those who will be able to complete it and defeat the last boss on veteran difficulty. If you are more of a party-guy, however, you will be glad to hear that there are also two new public dungeons to explore.
Key features
New vast explorable area
The ultimate solo challenge – Maelstrom Arena
New public dwarf- and orc-themed dungeons
Thieves Guild
| | |
| --- | --- |
| Release date: | 2016 |
| Genre: | MMORPG |
| Developer: | ZeniMax Online Studios |
Start your criminal ESO career with Thieves Guild DLC. Join the ranks of the legendary Thieves Guild and learn completely new skills related to theft – find and open special thieves troves, get an increased value of items sold at a fence, get away with stolen goods easier, and more.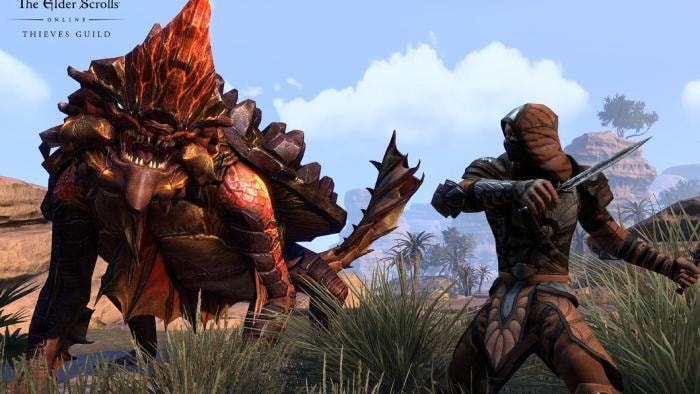 Additionally, you will be able to participate in daily heist missions and do other criminal activities. And if that wasn't enough, there is also a completely new 12-player Trial that only waits to be mastered.
Key features
Join the ranks of the Thieves Guild and complete various criminal activities
A new Skill Line associated with thieves
New 12-player Trial
Dark Brotherhood
| | |
| --- | --- |
| Release date: | 2016 |
| Genre: | MMORPG |
| Developer: | ZeniMax Online Studios |
Continuing on criminal activities, now it's time to go one step further. Become the killer for hire – join the Dark Brotherhood and master the art of assassination.
Learn completely new skills and follow the path of the greatest assassins in Tamriel. Explore the Gold Coast, the western region of Cyrodill that comes back from The Elder Scrolls IV: Oblivion and complete new repeatable quests for profit.
Key features
Join the Dark Brotherhood – the guild specialized in assassinating targets
Learn new assassin-themed skills that will help you develop your killer career
Amass wealth by completing new repeatable quests
Shadows of the Hist
| | |
| --- | --- |
| Release date: | 2016 |
| Genre: | MMORPG |
| Developer: | ZeniMax Online Studios |
Now it's time to talk about the Argonian themed DLC, and that's Shadows of the Hist. Participate in two new challenging dungeons and get unique rewards if you succeed.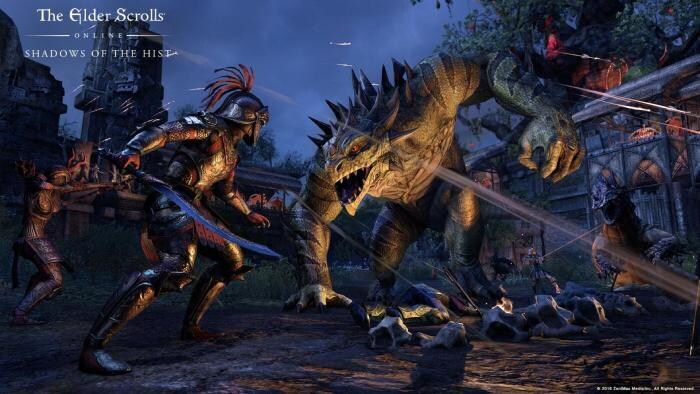 Find new items and collectibles, complete achievements and obtain new titles – are you ready to face whatever lies in the Cradle of Shadows and the puzzle city, Ruins of Mazzatun?
Key features
Argonian-oriented DLC that takes players to new areas
New titles, achievements, items, and collectibles
Two new challenging dungeons
One Tamriel
| | |
| --- | --- |
| Release date: | 2016 |
| Genre: | MMORPG |
| Developer: | ZeniMax Online Studios |
One Tamriel is the first free ESO DLC, made available for everyone in late 2016 as it was released. Although free, it has a tremendous impact on the core gameplay and drastically changed how ESO is played today.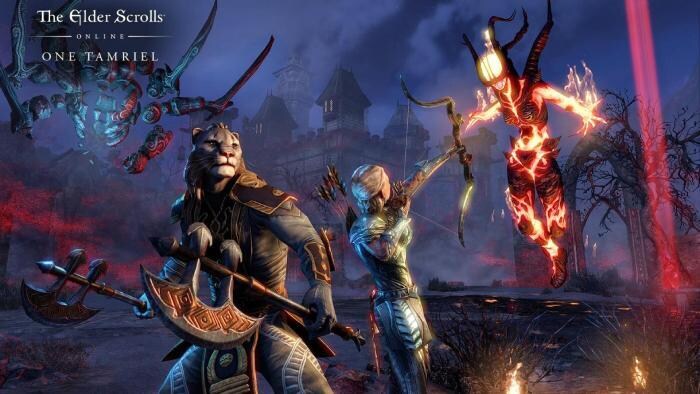 The biggest change is the removal of PvE restrictions in regards to travelling and questing – now you are free to explore the entire continent without worrying about your alliance or level. Among other changes, the expansion also introduced new weapon ultimates and dueling that allows players to challenge their friends, guildmates, or random people – prove yourself and become the master duelist.
Key features
Explore whole Tamriel as you like – no more travelling restrictions, go to any zone you wish
Introduction of player versus player dueling system
New ultimate weapon skills
Homestead
| | |
| --- | --- |
| Release date: | 2017 |
| Genre: | MMORPG |
| Developer: | ZeniMax Online Studios |
Every adventurer needs a place where he could relax after an exhausting day of slaying hordes of enemies and other evildoers.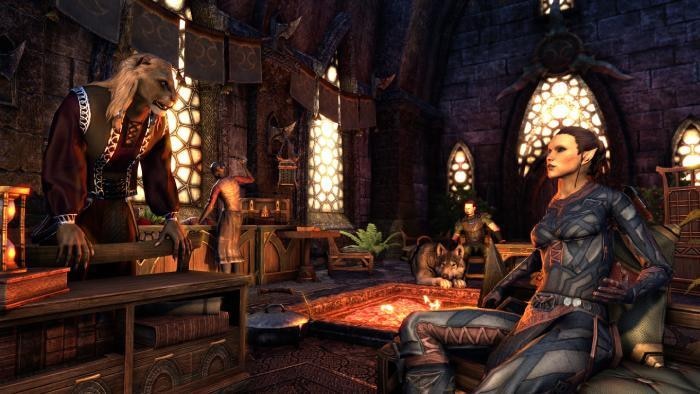 That's what the second free expansion, Homestead, is focused on – it adds dozens of houses where you can stay and enjoy the moment while you're not busy eliminating the creatures roaming the land of Tamriel. Make use of thousands of furniture items to fully customize the interior, then invite your friends so you can share the stories and brag about that awesome loot you've got from your last journey.
Key features
Introduction of housing – find your own place to stay and live in
Thousands of furniture items for maximum customization
Invite other people to your house, thanks to the house guests feature
Horns of the Reach
| | |
| --- | --- |
| Release date: | 2017 |
| Genre: | MMORPG |
| Developer: | ZeniMax Online Studios |
The Horns of the Reach DLC focuses on two new dungeons – Bloodroot Forge and Falkreath Hold – that will test your skills and reward you with unique items if you manage to complete them.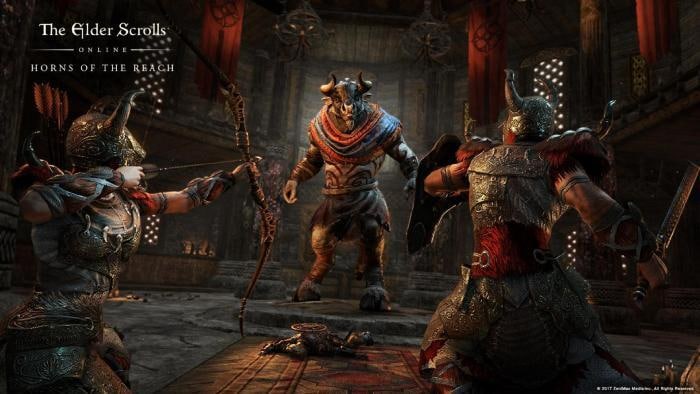 Gather your party and find out together what dangers lie ahead. Do you have what it takes to defeat the enemies and collect the loot? Find new items, get new monster masks and exclusive costumes, and unlock new achievements.
Key features
2 new dungeons
New item sets and monster masks
New achievements and exclusive costumes
Clockwork City
| | |
| --- | --- |
| Release date: | 2017 |
| Genre: | MMORPG |
| Developer: | ZeniMax Online Studios |
Travel to the land of artificial life and explore the Clockwork City, where hybrid creatures roam freely and dangers may wait just around the corner.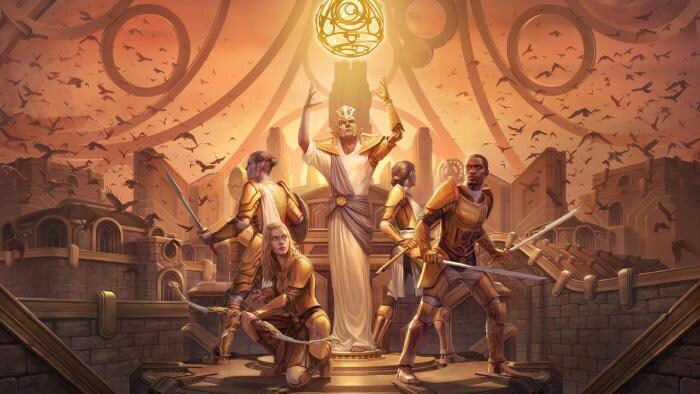 Investigate new Daedric threat and collect new gear as you progress, making your hero even more powerful than ever. Once you are ready, don't forget to try your skills at Clockwork Saints, a new Trial with its own unique rewards for the worthy players.
Key features
Unique locations with unforgettable creatures and architecture
Lots of new gear and items to collect
A new 12-player Trial
Dragon Bones
| | |
| --- | --- |
| Release date: | 2018 |
| Genre: | MMORPG |
| Developer: | ZeniMax Online Studios |
Are you ready to challenge the undead dragon? If the answer is positive, then you'd surely want to try Dragon Bones DLC that lets you venture into Fang Lair, where a necromancer threat is rising.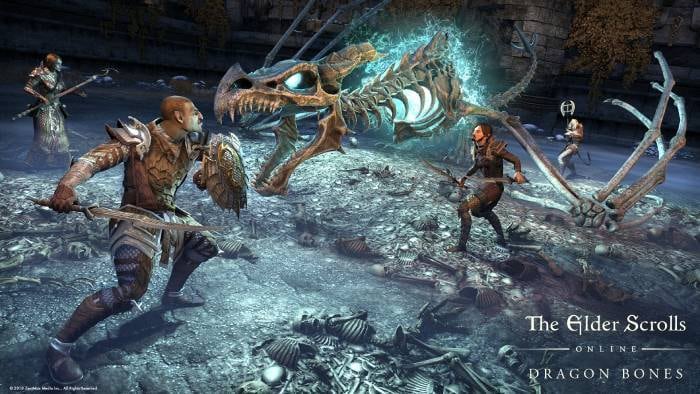 After claiming the victory you may also want to challenge the cultists hiding inside the Scalecaller Peak in a separate dungeon – you need to stop the evildoers before they unleash the deadliest plague in Tamriel's history. The DLC comes with exclusive items, including themed mount and pet.
Key features
Two new difficult dungeons
More gear, items, item sets, and monster masks
Exclusive Fang Lair Courser mount and Small Bone Dragon Construct pet
Wolfhunter
| | |
| --- | --- |
| Release date: | 2018 |
| Genre: | MMORPG |
| Developer: | ZeniMax Online Studios |
Join the Great Hunt in the Wolfhunter DLC, where two completely new dungeons await you and your friends. Gather together and tackle the challenge.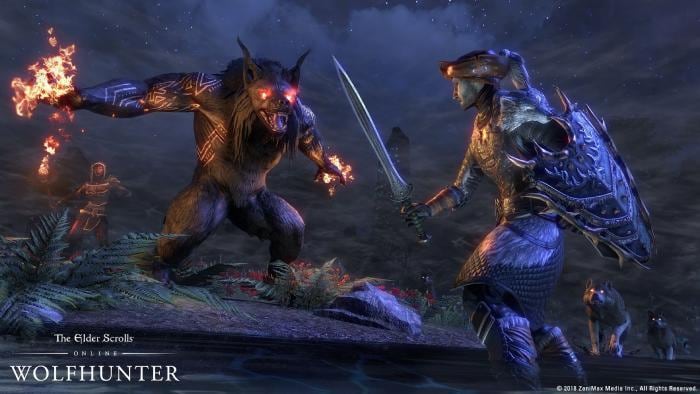 Raid the Moon Hunter Keep and get rid of the pack of werewolves that occupied the place – free the keep and claim your rewards. But don't stop now, as there is also a Great Hunt taking place in the Hircine's realm of Hunting Grounds. Compete with Hircine followers and win the favor of Daedric Prince – are you the fisherman or are you the bait?
Key features
Two completely new dungeons
New outfits, costumes, and housing locations
New item sets, achievements, and monster masks
Murkmire
| | |
| --- | --- |
| Release date: | 2018 |
| Genre: | MMORPG |
| Developer: | ZeniMax Online Studios |
Murkmire will take you to the bogs and muddy places right in the homeland of Argonian race.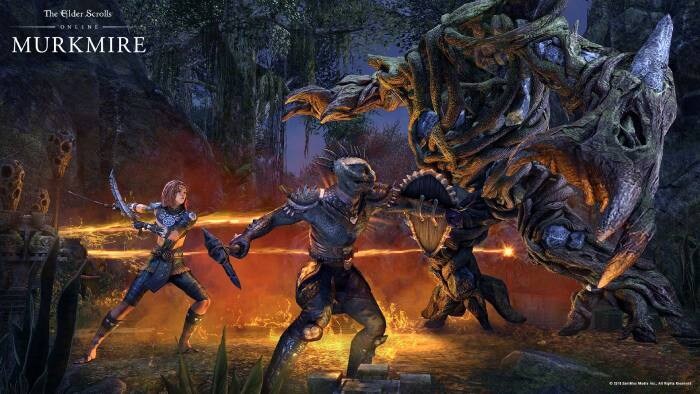 Explore the jungle and face new dangerous challenge in form of Blackrose Prison, a 4-player arena designed to test your skills once more. Bring your friends and see if you can handle it – new item sets will be awarded for the worthy ones. Start your journey and collect the unique loot hidden in the mossy ruins.
Key features
New boggy area to explore
Blackrose Prison – new 4-player Arena
New achievements and powerful items to collect
Wrathstone
| | |
| --- | --- |
| Release date: | 2019 |
| Genre: | MMORPG |
| Developer: | ZeniMax Online Studios |
Wrathstone is an introduction to the Elsweyr chapter and starts the journey that will be continued later.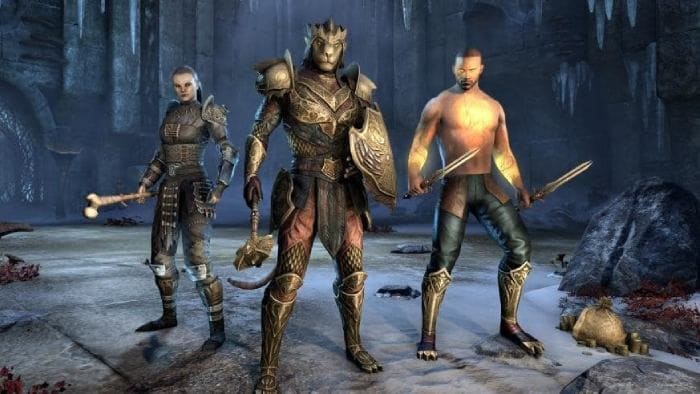 The expansion focuses on giving players new challenges in form of two completely new dungeons, where you will meet both Dwemer constructs and Daedric agents. Find the artifact in the depths of Frostvault and uncover the secrets of Malatar keep. Besides the new dangers, the DLC also comes with tons of new unique items and achievements to earn, so make sure not to miss any.
Key features
First part of the epic adventure that continues in the next expansion
Two new group dungeons: Frostvault and Depths of Malatar
New gear, collectibles, achievements, and relics
Scalebreaker
| | |
| --- | --- |
| Release date: | 2019 |
| Genre: | MMORPG |
| Developer: | ZeniMax Online Studios |
Scalebreaker expansion continues the dragon-related story and now gives the players the opportunity to explore Lair of Maarselok, a place that one of powerful Dragons made its home.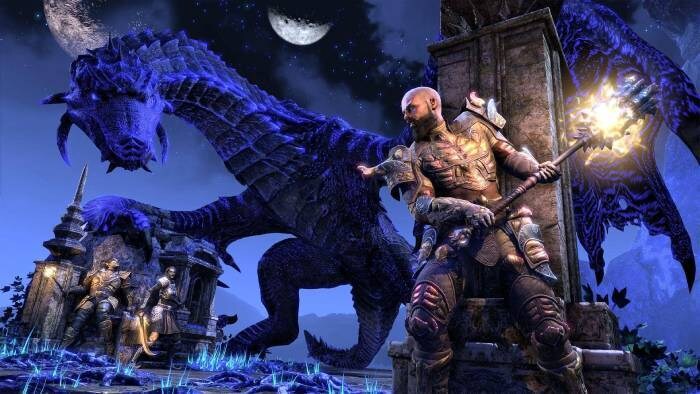 Face the challenge and collect unique loot as you fight through hordes of new enemies. Once you are done with the dragon threat, don't forget to pay Moongrave Fane dungeon a visit, as that's the place where untold riches can be found.
Key features
Continue the epic adventure in the dragon season
Two new dungeons: Moongrave Fane and Lair of Maarselok
Completely new item sets and achievements to collect
Dragonhold
| | |
| --- | --- |
| Release date: | 2019 |
| Genre: | MMORPG |
| Developer: | ZeniMax Online Studios |
The Dragonhold expansion concludes the dragon saga and lets players experience its final events. Discover the new land of Southern Elsweyr and explore the area in search of wealth and glory.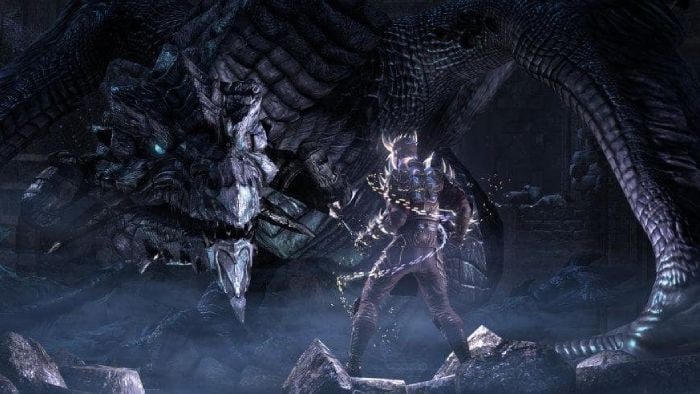 Jump into new public delves and conquer new elite monsters, and after the exhausting battle take a break in one of the new houses available. Similarly to other expansions, here you will also be able to find tons of unique exclusive items that will make your character even stronger – prepare for the new journey, as the final part of dragon saga is not the last stop on your epic adventure.
Key features
The conclusion of the year-long dragon season
New explorable area with new quests, Delves, Dragon Hunt events and World Bosses
Even more items to collect, from powerful sets to valuable collectibles and furnishings
Harrowstorm
| | |
| --- | --- |
| Release date: | 2020 |
| Genre: | MMORPG |
| Developer: | ZeniMax Online Studios |
Harrowstorm introduces players to a new year-long adventure. The first part of the new saga focuses on the dungeons of Icereach and Unhallowed Grave, where you will have to deal with mysterious and supernatural power as well as graverobbers and cruel bandits.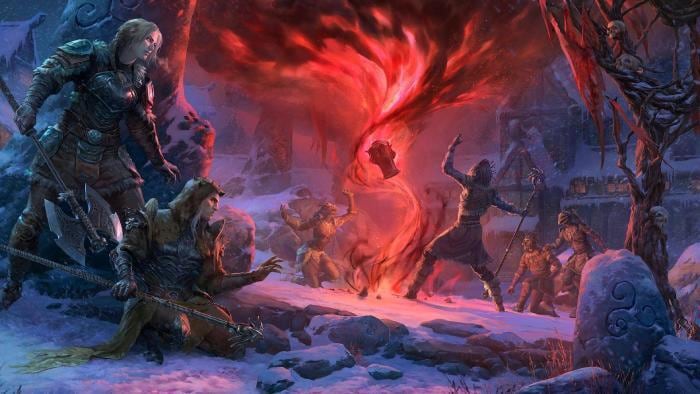 Gather your friends, form your party, and start a new epic journey that starts now. Get new unique loot that includes gear sets and collectibles, and earn new achievements – prove your worth and claim your rewards.
Key features
The first part of dark story that will continue in the next expansions
Two new difficult dungeons
New powerful gear sets, achievements, collectibles, and other things to find
Summary
The Elder Scrolls Online, or ESO for short, is a massively multiplayer online role-playing game (MMORPG) that came out in 2014. It was developed ZeniMax Online Studios and published by Bethesda Softworks. The game is constantly updated and new expansion packs are released on a regular basis, making the title an interesting position for all players looking for a game that offers a neverending epic fantasy adventure.
The game offers a variety of activities to participate in, and there is always something interesting to do in Tamriel. Develop your character, craft unique items, and defeat powerful creatures. Play alone or team up with your friends and experience the content together – the game has a lot of stuff for lone wolves as it has for party players. Amass wealth, join the most influential guilds, tackle the challenges, and visit beautiful places in the huge open world – write your own story.