Like the previous titles in this successful series of sports games, Fifa 23 introduces many new improvements and innovative extras for an even more realistic gameplay experience. So much so that some modes may feel more challenging than before.
If you want to know how to be good at FIFA – fear not. It's time to discover some priceless tips and basics to become an uncontested soccer star! Fifa 23 offers many licensed competitions and leagues like FIFA World Cup Qatar 2022, Bundesliga, and Premier League. This season features 19,000 players and 700 teams with the most up-to-date squads in over 100 realistic stadiums. For the first time, you can also play women's teams and an extensive manager mode! And all of this is fixed in a highly realistic audiovisual setting, delivering rich colors and smooth player movements like never before. Sounds overwhelming? Don't worry – even if you are a beginner, you can still become an absolute FIFA 23 champion! All you have to do is consider our top tips and tricks on how to get good at FIFA.
| | Name | Discount | |
| --- | --- | --- | --- |
| | Fifa 23 | 50% | Read more |
| | Fifa 23 Xbox Series X/S | 58% | Read more |
| | Fifa 23 Xbox One Xbox | 57% | Read more |
| | Fifa 23 Ultimate Edition | 39% | Read more |
| | Fifa 23 Ultimate Team 2800 Fut Points | 10% | Read more |
| | Fifa 23 Ultimate Team 5900 Fut Points | 8% | Read more |
| | Fifa 23 Ultimate Team 12000 Fut Points | 13% | Read more |
| | Fifa 23 Ultimate Team 2800 Fut Points | | Read more |
| | Fifa 23 Ultimate Team 12000 Fut Points | | Read more |
| | Fifa 23 Ultimate Team 5900 Fut Points | | Read more |
| | Fifa 23 Ultimate Team 1600 Fut Points | | Read more |
How to start?
When beginning your first game in Fifa 23 Ultimate Team (FUT), it's best to calmly recognize your opportunities and earn cash to get your investment going. By setting up a team, you will discover players and items packs, from which you will complete the initial team composition. The best choice for beginners or unfamiliar players will be Squad Battles mode. It is a challenging mode where you play matches against the AI ​​to earn rewards. And there is what to fight for because you can find such valuable prizes as golden packs with team members, thousands of coins, or Rare Electrum players. But to receive the glorious rewards, prepare for a tough fight against AI. Fortunately, it is sensitive to fierce counterattacks and unexpected behavior, like quick diagonal runs through the entire pitch to take a shot. The more you dominate it, the better your chance of winning rewards. And if you're not comfortable playing solo, invite a friend to crush your opponent in cooperation.
Completing a team
Once you've played a few matches in Squad Battles, move on to completing your ultimate team. As it turns out, a good squad doesn't have to be expensive. You can find many innovative recommendations for ready-made team strategies online by visiting sites like Futbin. It is crucial, as you must never spend all your accumulated funds solely on players – especially the most expensive ones. Their market price will drop, and you will find yourself left with nothing. So establish the emergency part of the cash to be able to trade at any time. But let's get back to building your dream squad! In Fifa 23, start with the two best formations: 4-1-2-1 or 4-2-2. Each allows different tactics, so you should try both to see what you feel better playing. The rules for selecting players are very similar in both cases. Their stats are visible on the cards, so you can analyze your squad and assemble the perfect team. The rule is simple – offensive players must be great at dribbling, and the defenders provide a lot of speed. If you are looking for excellent defenders, you will find them among the talented Bundesliga players. However, when looking for proven strikers, consider the Luis Muriel or Arnaut Danjuma cards – both are perfect for developing the ultimate team while saving coins.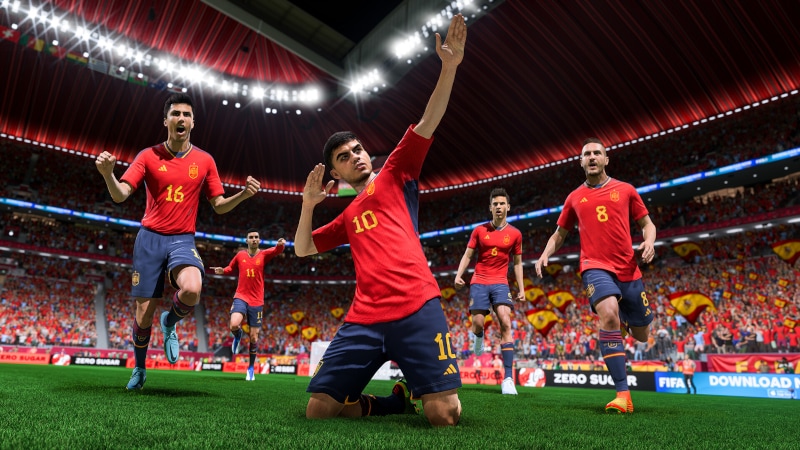 Chemistry
Just like in ordinary life, chemistry gets the job done. Unlike previous installations in the series, FIFA 23 features a three-point chemistry system for each player. It also has no damaging effect on gameplay in this category, as each player can only represent the base level of the card with the lowest chemistry. So what is it all about? The player's chemistry depends on three key factors influencing his overall performance. Pay attention to preferred roles – team members can significantly increase their chemistry or others by standing in their favorite position. You can also earn more points by gathering players from the same club, league, or nationality in your team. The more players share these factors, the greater the chemistry. This rule also applies to managers! Icon and Hero cards, however, automatically receive more Chemistry when playing in a preferred position or sharing the same nationality. As you can see, Chemistry is a vital factor when building a team, especially since it has a tremendous impact on the performance and capabilities of your players.
Moments
It is a perfect method for those who want to earn with little effort. Moments are extraordinary tasks added to the Singleplayer mode in FUT 23. They come with a unique currency — stars — that you can exchange for various packs. Starting the game in this mode, you will receive several complex tasks featuring the most memorable or groundbreaking events of the season or the past. Your goal will be to complete them by making a specific number of shots and actions or ending the game in the last minutes of the match. The initial tasks in this mode are perfect for beginners. So if you are looking for a way to practice your essential skills and earn money simultaneously – it is your best choice.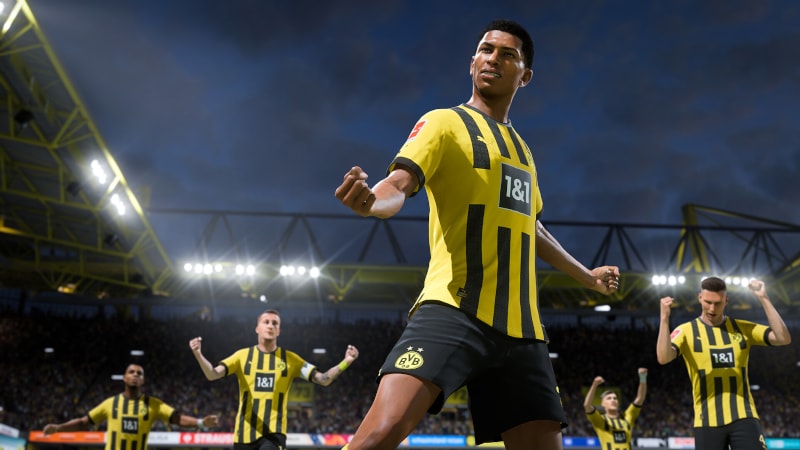 Division Rivals
It is one of the best competitions in FIFA 23, where you can accumulate enough points to qualify for the FUT Champions weekend matches. To play in the Weekend League, collect 1,250 points by winning three to seven matches a week. You don't necessarily have to complete this goal in one week. If you plan to play less often, the points will remain in your account anyway – you can participate in the qualifiers even after a few weeks. But that is not all! The more games you play in Division Rivals, the better your rewards. You can expect standard and upgraded prizes. Claiming them, choose from three options – untradeable players and coin packs or untradeable and tradeable players bundles.
FUT Champions
After gaining 1,250 points in Division Rivals, you can start qualifying for the FUT Champions Weekend. To complete, win at least 4 of the ten matches. If you succeed, begin a streak of twenty matches for the best players to accumulate between one and four points per game. It is a fierce competition for the best of the best – but it is worth participating because the prizes are surprisingly valuable.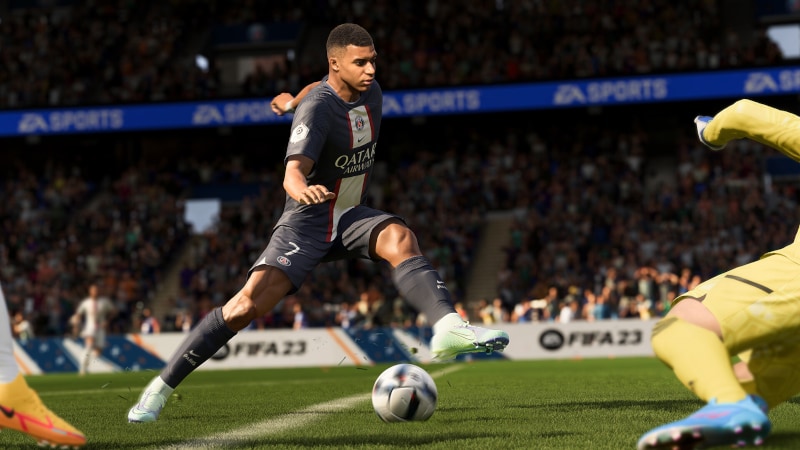 Power shot
It is a new mechanic in FIFA 23 recommended for the most determined players wanting to get better. It is much more powerful than a regular shot, but the aim assist is disabled, and you must perform it manually. And that's not all, as a power shot includes several more requirements that determine its correct execution. Make sure there is plenty of free space around the player to take a quick and long run. Delaying too much can give the opposing team's defenders time to block the ball and thwart your intentions. You also must combine precision with composure to avoid the excitement and press the shot button when the player's foot touches the ball. It is a very complex move, but also tough to defend. So you should start training it during the first matches to surprise your opponents in the following stages of the team's development.
Controller settings
Unfortunately, FIFA is not only about football skills, but also about ideal settings. If you are a beginner or want to make the game easier, we recommend the following gameplay settings. When you want to prepare for fierce online competition, turn on the Competitive Master Switch. This way, nothing will surprise you when starting a game against other players. FIFA Trainer – turn it on if you are a beginner and need a thorough introduction to the game. This option can prove priceless in understanding the tiniest details of a title. It is also worth turning on the timed finishing and next player indicator to improve the power of the shot and better plan the tactics of the entire match.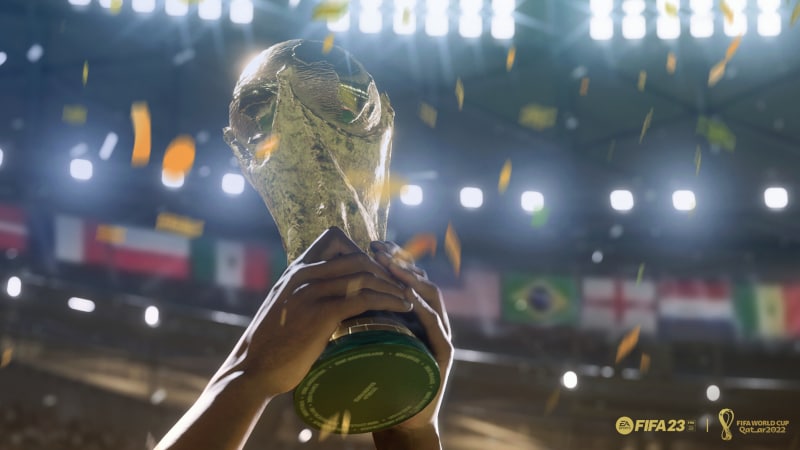 Have fun
Getting better is great, but you can't achieve it without having fun. Experimenting with teams, choosing the least expected players, or the career mode – these are just a few creative ways of enjoying FIFA 23. Relaxing in the game also means less chance of pressing a button nervously during a shot and rage outbursts related to a possible loss. Chill to win. And the money and success will come along the way.