With the release of FIFA 23, EA Sports officially completes its partnership with FIFA, so the latest title in the series has an opportunity to prove itself. And it does!
Many new features are a perfect summary of years of cooperation and an excellent way for us to enjoy our favorite title even more.
FIFA is an exceptionally stable series, introducing slight changes to the proven gameplay every year. As before, we can expect groundbreaking improvements for even better gameplay realism.
But do they make this game better than FIFA 22 and its predecessors? Let's check it out right away by reviewing the latest changes. Welcome to the ultimate FIFA 23 vs FIFA 22 comparison!
Women's clubs
For the first time, you can play the best teams from Division 1 Arkema and Barclays FA Women's Super League, to lead clubs like Chelsea Women, Juventus Women, or Real Madrid Femenino.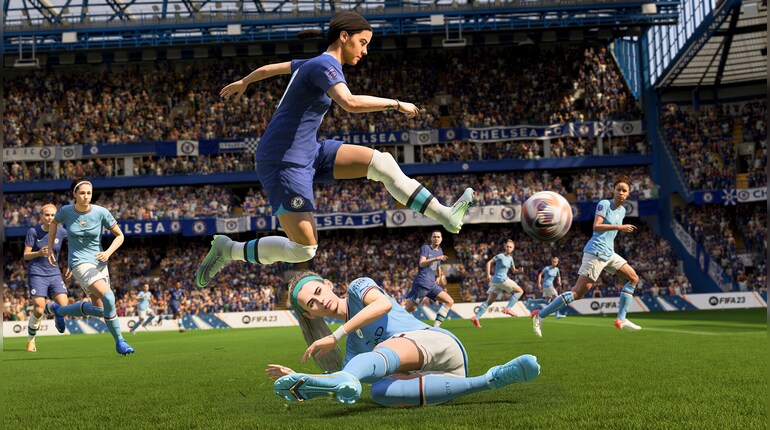 This feature enables a realistic experience in the company of the greatest female soccer stars on the same pitch. And that's not all, as the new graphics technology completely changes the familiar animations of female characters, making them less masculine than in previous installations.
Hypermotion2
The graphics engine provides an even higher authenticity level, introducing over 6,000 new animations for players on the field. Everything looks better than in FIFA 22: dribbling, shots, goalkeeper synchronization, or new artificial intelligence behaviors in defense and attack.
Source: YT EA
The passing of the ball and the goals look much more natural and are a bit slower but balanced and dynamic. Unlike previous installations in the series, FIFA 23 introduces green grass while reducing the impression of floating players, placing them at the point where they stand.
Crossplay
Another massive change is cross-play. Now, users of the same platform generations can have fun together. So if you are a PC, PlayStation 5, or Xbox Series X/S owner, you can play multiplayer with the owners of these devices.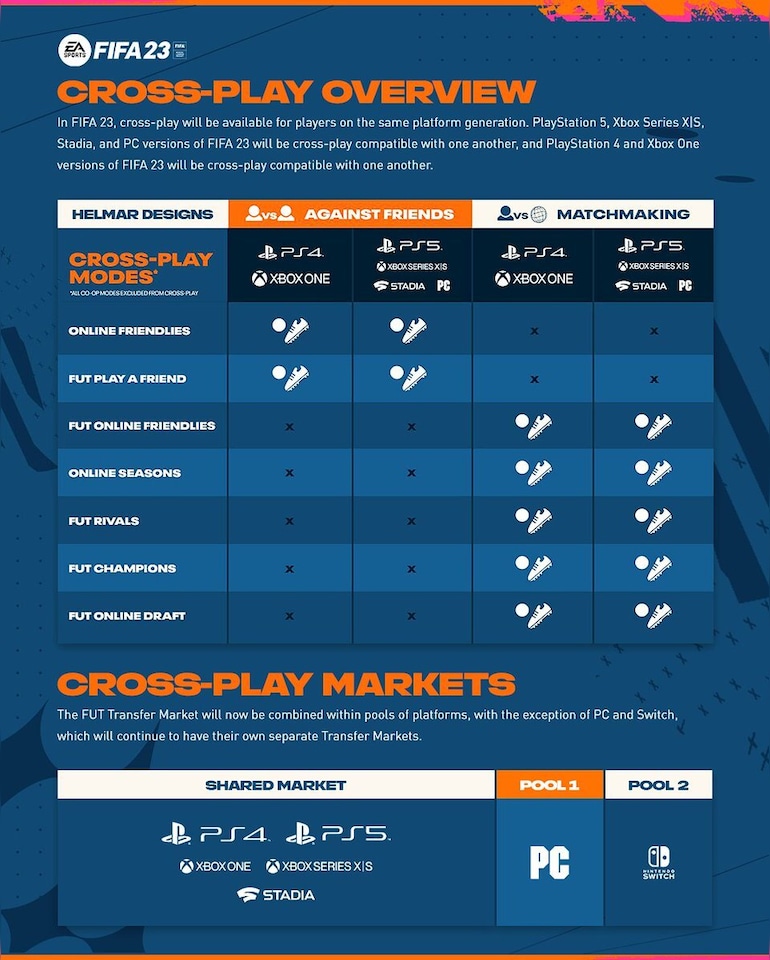 Source: https://www.ea.com/en-gb/games/fifa/fifa-23/news/pitch-notes-fifa-23-cross-play-deep-dive
On the other hand, Xbox One and PlayStation 4 users can enjoy the united gameplay on their respective platforms. Such a strategy is a great way to bring players closer instead of creating separate communities of fans on one platform. FIFA 22 also introduced cross-play, but too late, and its performance was more limited compared to FIFA 23.
Power shots
The new power shot system is an excellent way to show off your skills on the field – especially in multiplayer games. At the same time, it is a highly challenging technique requiring practiced moves and incredible precision. But if you finally master it, you can make the most spectacular goal of your life.
Source: Youtube.com / Kazooie94
Moments
If you are wondering what fares better in the FUT comparison, be sure that FIFA 23 does not disappoint. EA Sports has introduced a new single-player Moments mode, which is addictive like nothing before and enhances the entire experience.
In this mode, you will play a series of challenging tasks to complete objectives, like scoring a certain number of goals or performing a specific action. It is a perfect recommendation for new players desiring to improve their skills and earn money simultaneously. FUT Moments enables earning stars, which you can later exchange for very nice prizes.
Chemistry
EA Sports remarkably refreshed the chemistry mechanics, abandoning the system known from FIFA 22 and previous parts in the series. Each player receives three Chemistry Points, awarded for meeting their specific requirements. One point comes with placing a team member in a preferred position. Another is for the presence of another player of the same nationality, club, or league.
Additionally, if the manager shares the same traits with any players, they also receive an additional chemistry point. What happens if a player doesn't get any chemistry points? Nothing! This system does not give any penalties or negative statistics for the lack of a chemistry point.
Qatar World Cup Mode
Another FIFA 23 feature is the introduction of licensed competitions as part of World Cup Qatar 2022. The free update introduces several addictive competitions like quick matches at a selected stage of the World Cup or an online tournament.Of course, you can also lead the team from the first game to the legendary final.
Source: YT / EA SPORTS FIFA
FIFA World Cup Qatar also introduces new cards, music, and various cosmetic enhancements to ensure immersion and realistic gameplay during this most sensational event of the season.
FIFA 23 vs FIFA 22 – which is better?
Some players claim it is not worth spending cash on new FIFA installations because all are like the previous ones. This statement makes no sense in the case of FIFA 23, which brought more tremendous changes than any past title.
The Qatar World Cup mode, set in the unimaginably realistic Hypermotion2 graphics, is enough to enjoy long hours of exciting gameplay. In this comparison, FIFA 23 fares much better than FIFA 22. And if you do not have any of these games yet, and are wondering which one is worth investing in the most – choose the unimaginably epic gameplay in FIFA 23.