Who among us did not want to play leadership at least from time to time? But such a total leader, on whose decisions the fate and survival of our surroundings, our tribe or people depends. And how much satisfaction is reaching the goal if we start completely from scratch, with only a handful of subordinates, our own idea, and the specter of hard work ahead of us?
Banished is a real-time strategy game with economic elements. After a long journey, we finally find the longed-for piece of land among unexplored lands where we can settle. The group of people we lead is not rich – the only assets we have are clothes on our backs and a couple of wagons with basic raw materials. So there is nothing else but to roll up your sleeves and get to work. We're finally going to be powerful, right?
But even the best games – and Banished is one of them – can get boring after a while. We don't necessarily get bored completely, but we all need a stepping stone from time to time. We need to try something new, just to see what it looks and tastes like and what alternatives it offers. And that is what this article will be about – it will be a compilation of sixteen video games similar to Banished.
Medieval Dynasty
| | |
| --- | --- |
| Release date: | 2020-09-17 |
| Genre: | Simulation |
| Developer: | Render Cube |
Medieval Dynasty is a great game, which is a combination of many genres – a strategic simulator, RPG, and survival.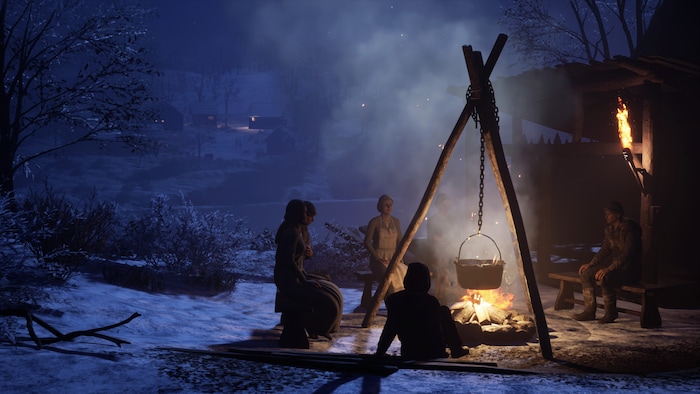 Being a medieval pioneer is by no means easy, so we need to establish and develop a village while providing all the necessary things. We must take care of food by farming and hunting, create tools and weapons to cope with a hostile world and develop characters by entering into alliances and developing trade that allows each side to get rich.
The game is characterized by beautiful, modern 3D graphics that draws the eye to the screen. Several attractions make the game more enjoyable – lots of buildings to build and equipment to craft, interaction with fauna, personalized development tree for your character, reputation system initiating events, and many more. All this is also possible in free play!
Key features
A mixture of many genres
Eye-catching 3D graphic
Realistic day-night and four seasons cycle
A lot of options to choose
Kingdom and Castles
| | |
| --- | --- |
| Release date: | 2017-07-20 |
| Genre: | Indie |
| Developer: | Lion Shield, LLC |
This is a classic strategy in which we will develop our cities from the smallest scratch.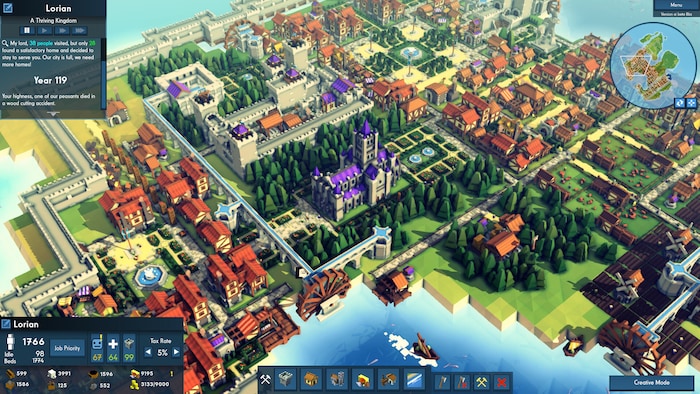 Of course, we must take care of all the needs of our people, starting with the most basic ones, such as food, safety, and clothing. Remember that strategic thinking brings you closer to success; higher taxes increase your income, but you must not overdo it to keep the population in check! Take care of both your spiritual and bodily needs, and most of all – do not forget about the danger that still lurks outside.
You live in lands that are threatened by a Viking invasion, so you will need high walls to hide behind and trained soldiers to man them. The whole game teaches a tactical approach perfectly and forces us to pay attention to details. The dynamic world offers us a seasonal cycle from summer to winter, which makes the game more realistic – at different times of the year we have different needs to meet and we face various challenges. Kingdom and Castles also catch the eye with its aesthetic, fairy-tale graphics, which enhance the pleasure of entertainment. The game is available at an attractive price on Steam.
Key features
Well-developed combat system
A fantasy land, where you make the key decisions
Economic strategy is a classic edition
A dynamic world with a seasonal cycle
Frostpunk
| | |
| --- | --- |
| Release date: | 2018-04-24 |
| Genre: | Simulation |
| Developer: | 11 bit studios |
Frostpunk is another video game like banished, but it belongs to a slightly different genre – the so-called society survival.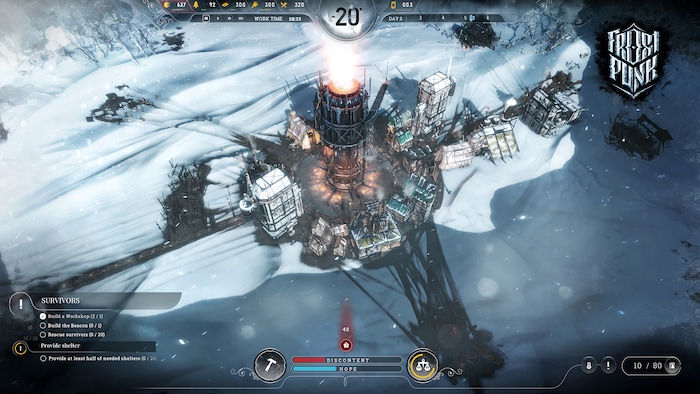 This time we play the role of the leader of the last city on earth and we must take care of both the infrastructure and the citizens. And it is not easy, because the world has become a desolate, overwhelming frost, where survival is a miracle. Will you focus on ensuring the well-being of people and invest money in them, or will you invest in modern technologies that increase the chances of survival, but also enable the exploration of the surroundings (airships)? Or maybe you will try to center all your needs and try to find the golden mean? What you do not decide, remember – there is hardly any way back from the once-chosen path.
The creators have prepared several modes for us, during which we can test our skills. "Serenity" will provide us with quiet gameplay without unnecessary difficulties, "Builders" deprives us of the generator at the beginning of the game, which will add a lot of new challenges, while "Endurance" will be the final test of our management skills in the most hardcore conditions. We can experience all these attractions in the "Infinity" system, which adds unlimited repetition to the game. Explore the icy wastes in any way you feel comfortable, but know that every decision has consequences!
Key features
Various game modes
The frosty atmosphere of a dangerous survival
Ambiguous moral decisions with consequences
Immersive, alternate reality
Northgard
| | |
| --- | --- |
| Release date: | 2017-02-22 |
| Genre: | Indie |
| Developer: | Shiro Games |
Vikings is a very promising topic. We all like to lead warriors in horned helmets to new trophies. What if we have an entire continent to conquer?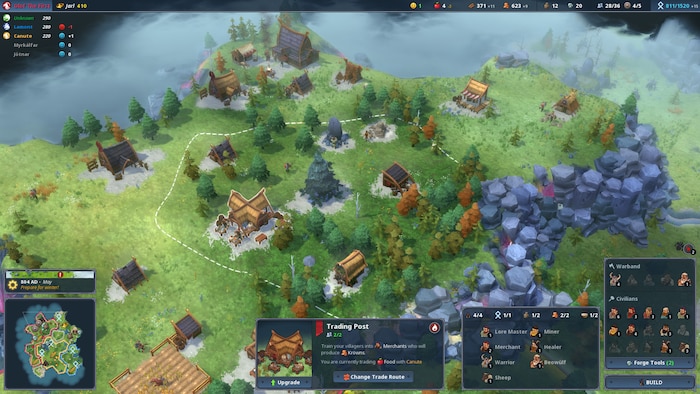 Northgard is a game based on Norse mythology. The title Northgard is a mysterious, unexplored, newly discovered land on which we will try to settle. Of course, there will be a lot of obstacles on our way, both typical and those from the fantasy world – because the new continent is traversed by hordes of bloodthirsty undead with whom we will have to fight. Fast and cunning wolves and monstrous, hellishly strong giants can also give us signs.
It depends on our decisions about how successful the expedition will be. We can make our Vikings farmers, warriors, sailors, or sages – and any caste will come in handy in the emerging settlement. Victory can be achieved not only through brutal conquest, but also through trade and gaining fame. An interesting aspect is also the ability to play in the story mode, where our opponent is computer AI or we can compete with friends in multiplayer mode. Northgard is available on Steam, and the creators take care of their creation – we can download a lot of free updates, significantly enriching and extending the game.
Key features
Viking frosty world with combat
Many different victory conditions
Lots of survival strategy elements
Nice, comic graphic
Surviving Mars
| | |
| --- | --- |
| Release date: | 2018-03-15 |
| Genre: | Simulation |
| Developer: | Haemimont Games |
The Red Planet is open. Do you dare to step on it?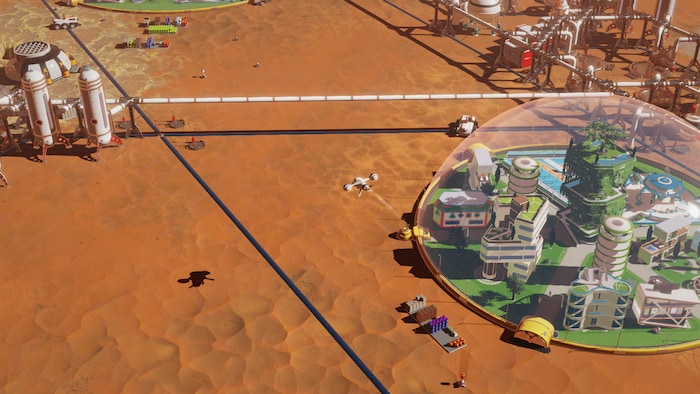 Surviving Mars is another option on our "Games like Banished" list. This is a city management simulator in a science-fiction setting. We are dealing here with most of the typical elements for games from the "city-building" series – i.e. developing a newly created colony, and making decisions at the micro and macro levels of management. Here, however, the original approach is praised, because one of the main things we need to take care of is a constant supply of oxygen – and it is really difficult to do without electricity and high technology.
The colonial system of individuality looks very interesting – for example, your scientists may become alcoholics if they work too long and work too hard! Mars hides a lot of secrets, but not all are safe – some of them are better left buried deeply, as their discovery can do profound damage. Thanks to the very rich play environment of the unexplored planet, each game will bring something new, fresh, and unique.
Key features
Great adventures in space
Possibility to colonize Red Planet
Impact almost everything – from the morale of the inhabitants to the development of technology
Inspiration with the classics of literature; Issac Asimov or Arthur C. Clarke
Factorio
| | |
| --- | --- |
| Release date: | 2016-02-25 |
| Genre: | Indie |
| Developer: | Wube Software LTD. |
Always wanted to prove yourself as a factory boss? Factorio will make it possible for you.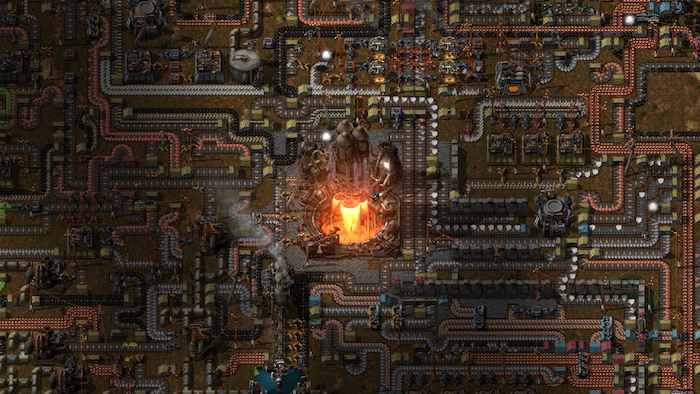 Factorio is a game in which you build and maintain factories, starting from the extraction of raw materials, production, inventing new technologies, automation, and fighting against unfavorable opponents. Getting started seems easy as you'll start by sourcing resources and producing simple components – but if you manage well, you can quickly become a factory tycoon. And then the real fun will begin.
Its inhabitants will not like the intensive exploitation of the planet's resources – a fight will be inevitable. You have to prepare to defend your empire set in this limitless, huge 2D world. The creators are very flexible – if we do not like the scenarios included in the game, we have an easy-to-use map editor that will allow us to implement our own ideas.
Key features
 Old school, two-dimensional graphic style
 Two modes to choose from – single or multiplayer
 The original simulator of a huge factory
 No age restrictions
Rimworld
| | |
| --- | --- |
| Release date: | 2016-07-15 |
| Genre: | Indie |
| Developer: | Ludeon Studios |
Have you ever wondered what it would be like to be on a distant, alien planet? If so, it is fine. RimWorld tells the stories of three survivors of a spacecraft who build a colony on the outskirts of the universe.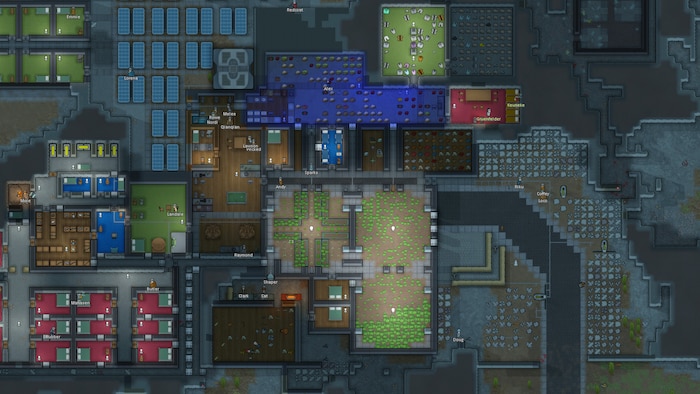 It's the perfect mix of classic science fiction with a feisty wild west atmosphere. RimWorld stands out above all for generating random stories that highlight the horror, tragedy, or comedy of the situation; So depending on the level of development of the game, it can be an invasion, storms, or even unexpected visits. We can choose from three narrators, each with a different story-telling style.
The player will surely like the realism with which the game was created. After all, we do not have qualified commandos at our disposal, but only people who survived the catastrophe; both soldiers and accountants, and even criminals can be there. Managing such a diverse group of people will not be easy, and all the friction between them can even lead to the destruction of the colony from within. You, as the boss of everything, will have to face every, even the most trivial problem, and it is up to you whether the colony will prosper or become just a passing sign of history.
Key features
An amazing generator of equally amazing stories
Generating the world with the most important details
Tactical combat engine
 Unique atmosphere
Caesar IV
| | |
| --- | --- |
| Release date: | 2006-09-09 |
| Genre: | Strategy |
| Developer: | Tilted Mill Entertainment, Inc. |
Ave Caesar! Take control of one of the provinces of the mighty Roman Empire and lead it to greatness so that it overwhelms its neighbors with its splendor.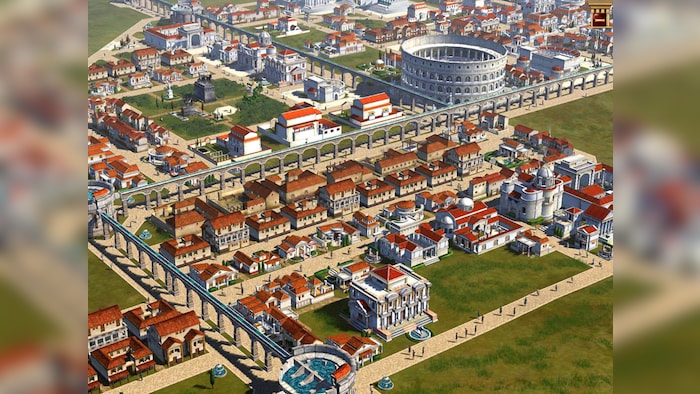 Combine that with your own private interests and climb to the top of the ladder of one of the greatest empires in human history.
Caesar IV is the fourth installment of the classic economic strategy. Here we have a set of important options for every leader, such as the ability to use diplomacy or hire advisers to help us make key decisions. The game is planned for about one hundred hours of gameplay, in which we can use various modes (career, single scenario). The creators have also prepared a rich and diverse game world and resources for us – over 30 types of resources, lots of characters living in our city, and over 100 buildings to be built. Come on, Praetorians!
Key features
A long and rewarding challenge
The atmosphere of ancient Rome is well felt
Many options to choose from
Economic control
Planetbase
| | |
| --- | --- |
| Release date: | 2015-10-15 |
| Genre: | Indie |
| Developer: | Madruga Works |
Choose one of the four available alien planets. But choose wisely; this is where the pioneers under your command will land and try to tame the inhospitable new land. In the beginning, taking care of your basic needs will be a priority.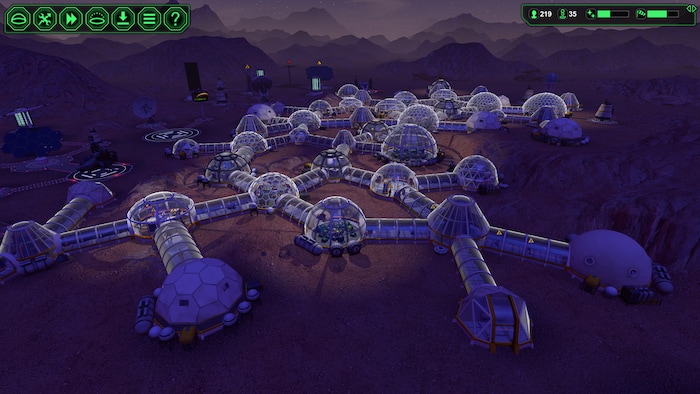 Over time, however, as the colony grows sufficiently, new problems will arise. Efficiently delivering essentials such as food and water can be a challenge. They manage their crew by trying to mask weak spots. You have workers, engineers, medics, biologists, guards at your disposal, and after some time you will learn to create technologically advanced robots that will help you automate certain processes. Build wisely and don't let your efforts be frustrated by unpleasant weather conditions such as meteor showers or gusty winds.
Key features
High-quality 3D graphic
Four different planets for the player to choose from
A satisfying city builder with advanced technology
Possibility to build robots!
Dawn of Man
| | |
| --- | --- |
| Release date: | 2019-03-01 |
| Genre: | Indie |
| Developer: | Madruga Works |
This time we are going to go back to very old times – right up to prehistory. Dawn of Man is a game that starts with the Stone Age and ends in the Iron Age.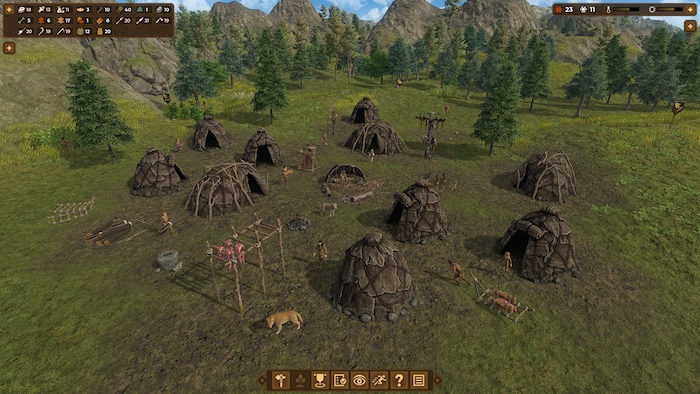 We play the role of the leader of a prehistoric village, who must take care of all the needs of its inhabitants. For primitive humans, the main threats were hunger, cold and wild game; therefore, the basis for us will be to create a safe settlement where you can hide from threats. The harsh winters can also take their toll on us – so you should always be sure that we have enough food to survive. And getting food also has difficulties; an unprepared trip to the mammoth may turn out to be a disaster.
Dawn of Man has nice, three-dimensional graphics, taking into account the changing seasons and building models, depending on the era in which we are.
Key features
Interesting period in human history
The challenges faced by primitive humans
 Exciting hunts for prehistoric animals
A simulator, refined in many respects
Tropico 4
| | |
| --- | --- |
| Release date: | 2011-09-01 |
| Genre: | Simulation |
| Developer: | Haemimont Games |
Being the dictator of the banana republic is a hard piece of bread. We cannot allow ourselves to be weak even for a moment, because political opponents are constantly waiting!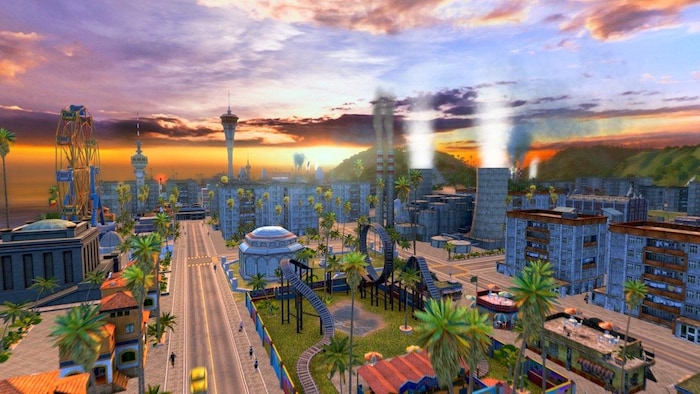 Tropico 4 is a great economic strategy with fancy humor. Follow the national plan with your council of ministers – all in the main campaign's 20 playable missions. Tropical climates have their own rules, so don't be surprised if your plans are hampered or destroyed by an unexpected volcanic eruption or tornado. A real dictator has to look after business – so don't forget that your overseas accounts should be full of money. And remember – one brutal military intervention can do more than even the most sublime negotiation.
Key features
The original atmosphere of a banana republic
Ability to use dictatorial methods
Sarcastic, ironic humor
An extensive campaign
Life is Feudal: Forest Village
| | |
| --- | --- |
| Release date: | 2017-05-26 |
| Genre: | Indie |
| Developer: | Mindillusion |
Another game in our list that is similar to Banished is Life is Feudal: Forest Village. We are moving into the early Middle Ages, where we will have to painstakingly walk along a typical path – from a poor, tiny settlement to a powerful, advanced town.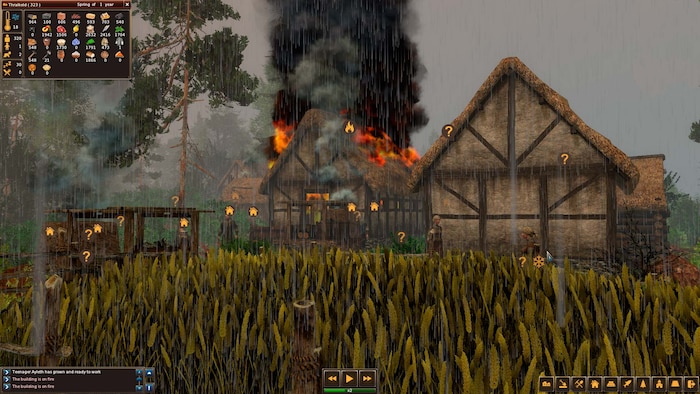 The game reacts lively to our actions – if we clear the surrounding forests, we will chase the wild animals from there. On the other hand, our herds of cattle can become a tasty morsel for desperate, hungry wolves. Over time, our simple huts will transform into more complex ones, and we will also start using more modern technologies, such as mills. We should also take care of the morale of our settlers, because their productivity, and thus the speed of development, largely depends on them.
Life is Feudal: Forest Village is mostly isometric, but we have the option to switch to any subject and admire our village from this perspective. In addition, it is made more pleasant by the aesthetic, refined graphics.
Key features
 A vividly responsive world
 An important survival aspect
Need to think about every move
The ability to observe the world from the perspective of subordinates
Cities Skylines
| | |
| --- | --- |
| Release date: | 2015-03-10 |
| Genre: | Economy |
| Developer: | Colossal Order Ltd. |
How many times have you said in your mind "I would have done it better". Whether it is about the bus schedule or the operation of traffic lights in our city – we all have our ideas worth testing. And very good, because Cities: Skylines is here to help!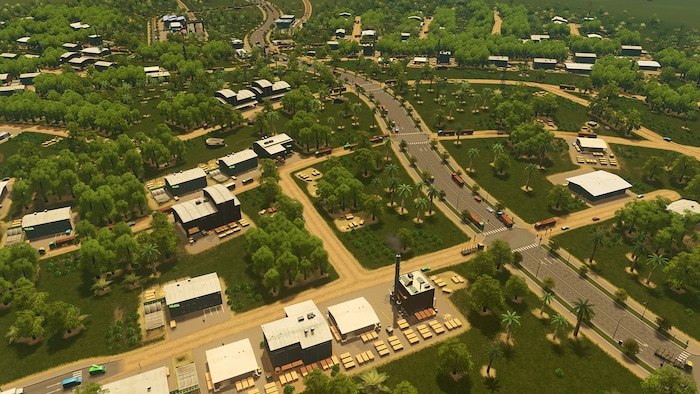 Design a city from scratch, leaving not even the smallest detail to chance. All elements of the city must be properly developed and work well together – education, electricity, security services, fire brigades, and a lot of smaller organizations and institutions that make up the urban ecosystem. Getting started may seem easy, but the higher the level we reach, the more difficult challenges we will face. However, do not give up and become the head of your dream metropolis, which you will design according to your preferences!
Key features
Detailed simulation of local traffic
A modern take on the classic city simulation
Almost unlimited expansion possibilities
Modification options
Rise to Ruins
| | |
| --- | --- |
| Release date: | 2014-10-27 |
| Genre: | Indie |
| Developer: | Raymond Doerr |
In the game, we manage a village that we will develop and defend against attacks by nearby creatures and other dangers. Moreover, we were offered opportunities well beyond the traditional capacity of a community leader; we have the option of influencing the terrain or hitting enemies with lightning.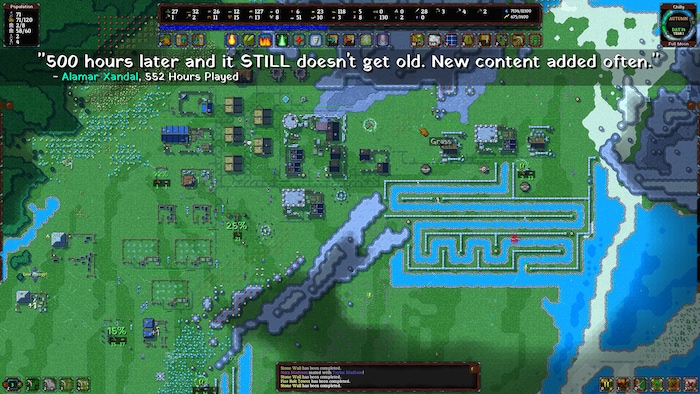 The graphics look simple but satisfying. 2D models look bright and transparent, and the entire gameplay enjoys well-chosen music.
Key features
Independent city builder strategy
Classic, old-school 2D graphic
Ability to influence the topography
A rich world with potential
Total Battle
| | |
| --- | --- |
| Release date: | 2018-12-18 |
| Genre: | Strategy |
| Developer: | SCOREWARRIOR LIMITED |
Run your settlement from the first house and first citizens and build a great city that no neighbors can resist.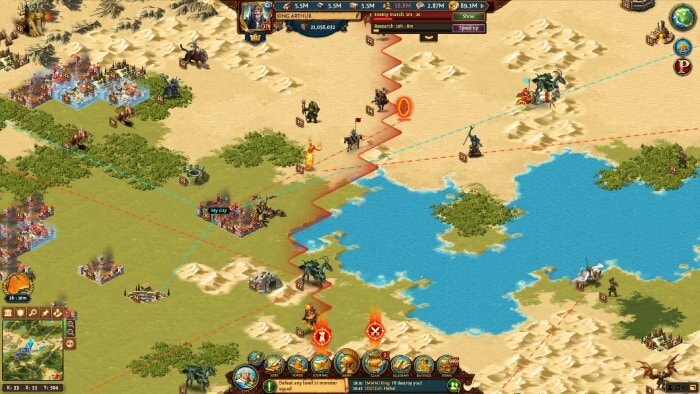 Grow the economy to a thriving power and make others envy you. Create your own army by assembling both traditional units and mythical creatures with great possibilities. Enter into powerful alliances, but also remember that looting raids on adjacent granaries can bring rewarding loot!
Key features
A browser, f2p game for everyone
The graphics are commendable
Possibility of cooperation and competition with other players
There is no boredom – there is always something to be done.