This somewhat silly brawler in the vein of Super Smash Bros. is free and wickedly fun to play.
Thanks to all this, the game garnered some very good reviews and is popular among players who cherish it for its mechanics, a wide selection of zany combatants to play as, great audiovisuals and art style, the cross-play feature and the "fun factor" in general.
But what if 2D fighting platformers are not your thing? What if you are a bit fed up with Brawlhalla and would like to try out something else in this vein? We've picked a bunch of titles that you might like. Okay, they are not necessarily fighting games – at least not all of them. There are some competitive titles of a different kind, there are some suggestions of a platformer variety. Without further ado, let's read on, shall we?
Games similar to Brawlhalla
Shovel Knight: Treasure Trove
| | |
| --- | --- |
| Release: | 2014-06-26 |
| Genre: | Action & Shooter |
| Developer: | Yacht Club Games |
This retro-style 8-bit action-adventure/platform game has captured the hearts of gamers all over the world. Overwhelmingly positive reviews on Steam speak for themselves!
In Shovel Knight, you play as the titular character, wielding the fabled Shovel Blade, and embark on an epic quest to rescue your beloved, defeat the villainous Order of No Quarter and its evil leader, a sorceress known as The Enchantress.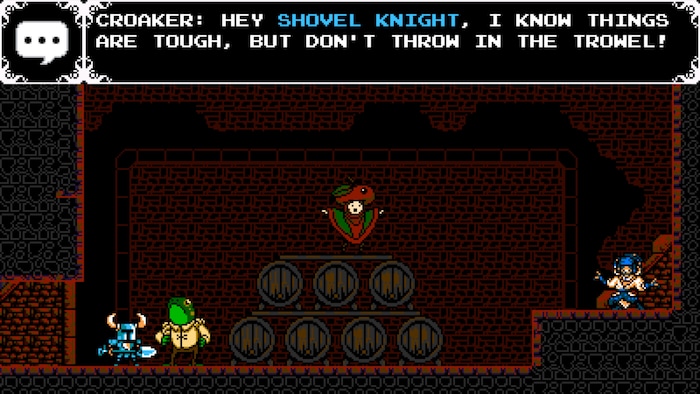 Platformer? Check. Fighting? Check. Still, at its core the game is vastly different from Brawlhalla. Why is it on this list, then?
It's because of a mode called Showdown. It lets four players duke it out via local play on various arenas as one of the four knights – Shovel Knight, Plague Knight, Specter Knight and King Knight – or other characters known from the Story Mode.
Fight for gems and defeat your opponents in one-on-one duels, 4-player free-for-alls or cooperative team showdowns. Various game modes offer pretty much endless fun. Be sure to give Shovel Knight a try!
Key features
Tons of fun thanks to the base game and its expansions
Incredible art style and retro aesthetic
Frenetic multiplayer combat in Shovel Knight Showdown
Hacking and slashing all sorts of baddies with a shovel
Rivals of Aether
| | |
| --- | --- |
| Release: | 2017-03-28 |
| Genre: | Fighting |
| Developer: | Dan Fornace |
Rivals of Aether is one of Brawlhalla's direct competitors. It is an indie fighting game depicting a conflict between civilizations which invoke the powers of the elements – Fire, Water, Air and Earth – to vanquish their foes once and for all.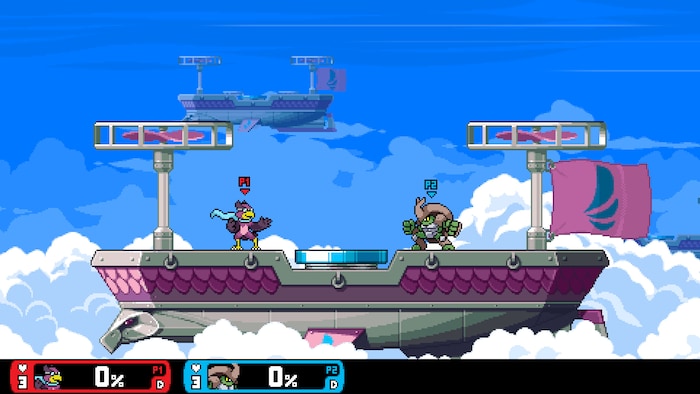 Each of the playable characters, known as the Rivals, has a distinct story and set of abilities, which means that they all play differently and finding a perfect warrior for yourself will take a lot of time, trials and errors.
Available modes include the Story Mode where you discover the mysteries of the war on planet Aether, the Abyss Mode where you cooperate with your friends to defeat shadowy creatures, and the Online Versus mode where you take on the challengers from all over the world.
Just like Shovel Knight, Rivals of Aether requires a purchase, it's not a free-to-play game like Brawlhalla. But it's surely worth its price!
Key features
Wonderfully pixelated art style
Various combatants with a wide range of abilities
Several game modes to choose from, competitive and cooperative
Shovel Knight is one of playable characters
Lethal League Blaze
| | |
| --- | --- |
| Release: | 2018-10-24 |
| Genre: | Indie |
| Developer: | Team Reptile |
It's a bit different take on the brawler genre, one that owes a lot to the classic game of dodgeball. In Shine City, however, the anti-gravity ball game is an illegal sport, so it's played in the underground by the titular Lethal League.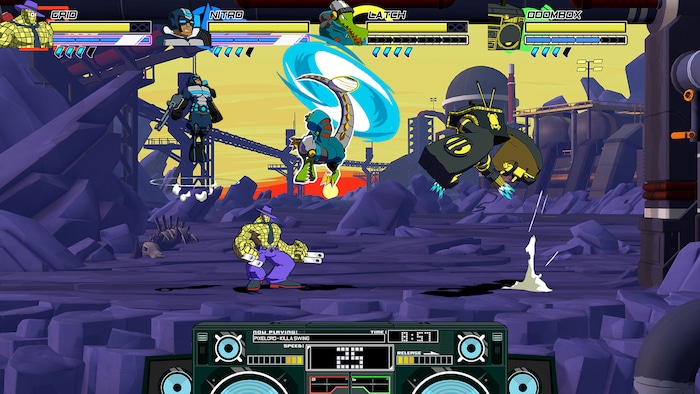 The gameplay is really fast-paced. The goal is to hit your opponents with the ball, so that only one player – you, of course – remains on the field. The thing it quickly gets really, really tricky. The ball speeds up with every hit, so it gets more and more difficult to either avoid it or hit it again.
Coupled with stylish graphics and music, Lethal League Blaze seems like a great pick for a party game. It supports up to 4 players. Definitely give it a go if you're interested in a brawler that is different from the rest of the pack, but just as – perhaps even more! – intense.
Key features
A fast-paced, futuristic dodgeball game
Plenty of stuff to unlock
Various game modes to try out
Remote Play support
Broforce
| | |
| --- | --- |
| Release: | 2015-10-15 |
| Genre: | Adventure |
| Developer: | Free Lives |
Here's something that is not a brawler, but a run-and-gun platform game that seems more like Contra or Metal Slug instead. Still, it's plenty of fun, either solo or co-op.
As a member of the titular Broforce, you play as one of the bros, overly masculine (or feminine, as there are she-bros as well) commandos who are parodies of the most famous action heroes and heroines of the 80s and the 90s. Expect hilarious takes on the likes of Rambo, Terminator, Judge Dredd, RoboCop, Ellen Ripley, John McClane, Chuck Norris and the like. Each character has their own special abilities, signature moves and weapons.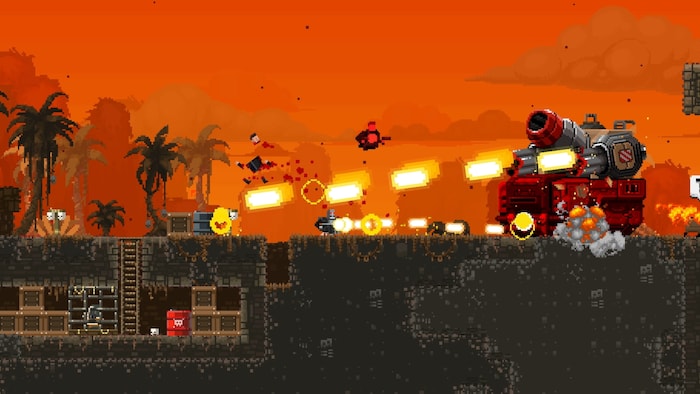 The game features pixel art and destructible terrain, meaning you can blow stuff up and basically demolish entire levels with your gunfire. You can complete the game with your buddies (co-op supports up to 4 players) or duke it out in a whole slew of competitive modes. You choose! Broforce is a fun romp and if you're looking for some retro-style action games, this is one of the best picks, hands down.
Key features
Loads of epicness: pretty much every classic action hero in one game!
Co-op and competitive modes
Destructible pixel environments
A level editor for those creatively inclined
Superfighters Deluxe
| | |
| --- | --- |
| Release: | 2018-11-30 |
| Genre: | Action & Platform |
| Developer: | MythoLogic Interactive |
Alright, we're back to typical brawlers. This one is a yet another interesting take on the genre, though, as it mixes hand-to-hand combat, shooting and platforming in 2D.
The levels are semi-randomized and they're littered with items and weapons that you can use to defeat your opponents. Don't have a weapon? Well, knock one from your enemy's hands and use it against them!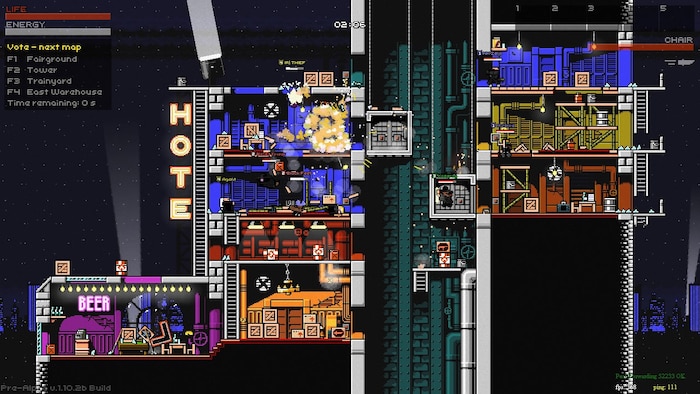 There are several modes to choose from. You can complete the game's campaign with up to 4 players. You can launch the Survival Mode and see how long you can hold out against enemy waves (again, 4 players can play together in this option).
You can also duke it out with up to 8 players in the Versus mode. Superfighters Deluxe is a yet another fun game that you should definitely try out if you're looking for a more original brawler to put your hands on.
Key features
All-out battles where everything is permitted
Co-op and versus modes
Semi-randomized arenas = surprises during every match
There can be only one!
Sonic & SEGA All-Stars Racing Transformed Collection
| | |
| --- | --- |
| Release: | 2013-01-31 |
| Genre: | Arcade & Platform |
| Developer: | Sumo Digital |
Okay, we admit this might be a very controversial pick. But hear us out: while this has more to do with Mario Kart than Brawlhalla, it's very much a brawl racing game with an interesting twist.
As it turns out, your kart can transform into a plane or a boat mid-race to handle various sections of the tracks featured in the game. Cars handle pretty much the same as in the previous games. Boat mode, however, requires you to take turbulence and waves into account. Planes can fly around freely, both horizontally and vertically. It's crazy!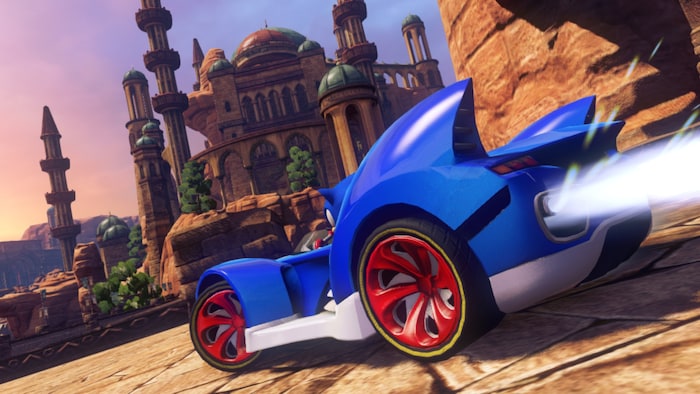 The game features various characters from all sorts of Sega's franchises, such as Sonic the Hedgehog, Jet Set Radio and Space Channel 5. Each has their own special abilities to ensure victory on all of the game's 25 available tracks and arenas. You can play solo, with up to 4 players locally or even 10 players online.
Key features
Over 20 characters from famous Sega franchises
25 tracks and arenas to conquer
The transformation-based gameplay is just insane
Pretty much one of the best arcade racers around!
And that would be all, folks! These are the best Brawlhalla alternatives we have found. Naturally, there are more titles that could fit the bill, but you definitely should check these out first. Have fun!