Even if you didn't play Crash Bandicoot ever before, it's more than likely that you've already heard about it at some point in your life, because it's a successful franchise that started back in 1996 and is still being developed.
Crash Bandicoot is a series of fun arcade platform games, where the titular Crash must navigate through increasingly difficult levels full of opponents, deadly traps, and other fancy obstacles in order to reach the final objective and thwart Doctor Neo Cortex's plans. Sounds fun? Certainly, but once you know the series in and out, you may be wondering if there are other similar games to try. And you know what? There are actually plenty of them.
Check out some of the best games similar to Crash Bandicoot on the list down below.
Rayman Legends
| | |
| --- | --- |
| Release year: | 2013 |
| Genre: | Platform |
| Developer | Ubisoft Montpellier |
| Game modes | Single-player, multiplayer |
Although no game is exactly like Crash Bandicoot, a few come pretty close – take a look at Rayman Legends, for example.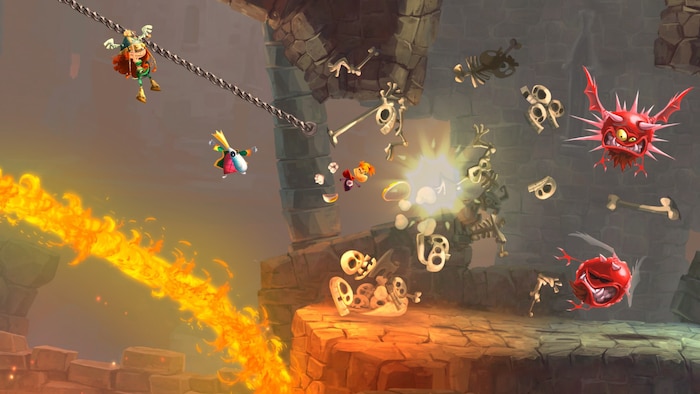 The main difference between Crash and Rayman is the fact, that Rayman is a side-scroller, while Crash is full 3D with a third-person camera, but the rest is quite similar. You get that playful atmosphere, colorful graphics, well-designed levels full of collectibles to catch and obstacles to pass, and great, chilling music that perfectly matches the visuals. It's a wonderful game and a must-play too, especially if you are Bandicoot's fan.
Key features
Fun platform experience in the most family-friendly way possible
The gameplay focused on jumping through increasingly difficult levels
Colorful stylized visuals and astounding music
4-player co-op and an endless online challenge mode with leaderboards
A Hat in Time
| | |
| --- | --- |
| Release year: | 2017 |
| Genre: | Platform, action-adventure |
| Developer | Gears for Breakfast |
| Game modes | Single-player, multiplayer |
If you're looking for a game that's a blast for the eyes, then A Hat in Time could be an amazing Crash Bandicoot alternative.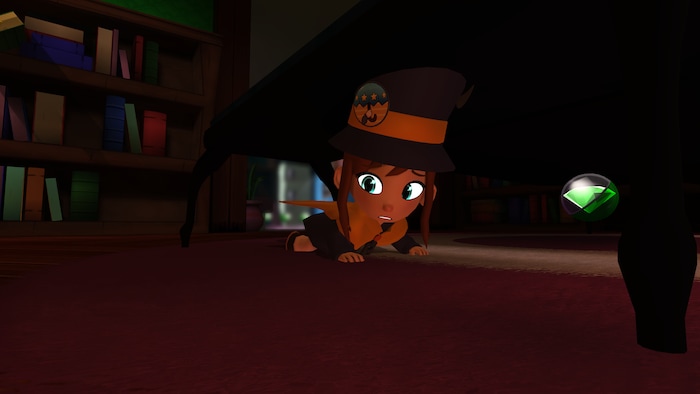 A Hat in Time tells the story of an adorable space-traveling young girl whose spaceship was damaged on her way home, forcing her to land on a nearby foreign planet. The damaged spaceship also dropped there a ton of Time Pieces – small curious items capable of rewinding time, used by the spaceship as fuel. Now the girl's mission is to collect the scattered pieces and continue her journey home, but it's easier said than done – such artifacts are sought after, so it's more than likely that she won't be the only one who looks for them.
Key features
A cute indie platformer with an open-world environment
Various fantasy lands to explore and conquer
Colorful visuals and playful atmosphere with funny dialogues
Lots of collectibles and upgrades
Ori and the Blind Forest
| | |
| --- | --- |
| Release year: | 2015 |
| Genre: | Platform-adventure, Metroidvania |
| Developer | Moon Studios |
| Game modes | Single-player |
While it's not that much like Crash Bandicoot due to having Metroidvania elements and favoring the artistic value over frantic gameplay, it's still a game that you will probably enjoy a lot.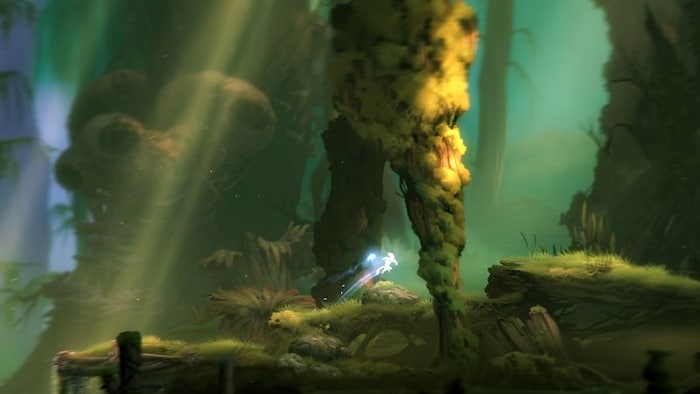 Ori and the Blind Forest focuses on the adventures of the titular Ori, a small spirit who tries to restore life in the withered forest of Nibel. It's a beautiful platformer that is as much of a game as it is a piece of art. The game can be quite challenging at times, but it has an easy mode for those who prefer more peaceful and relaxed gameplay, which also makes it easier to adore the game's stunning visuals and incredible score.
Key features
Metroidvania-styled game with lots of secrets to discover
Top-notch graphics with astounding visual and lighting effects
Unlockable abilities that can prove to be helpful during the journey
Amazing score that further improves the entire experience
Spyro Reignited Trilogy
| | |
| --- | --- |
| Release year: | 2018 |
| Genre: | Platform |
| Developer | Toys for Bob |
| Game modes | Single-player |
If you love Crash Bandicoot, you've probably already heard of Spyro. But did you know that there's also the remastered edition available since 2018?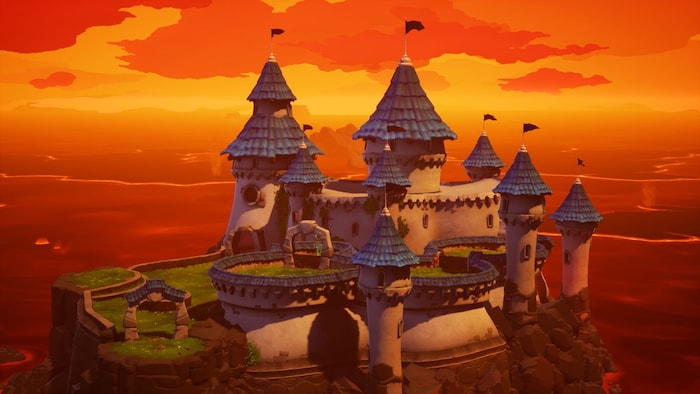 A legendary series about an adorable and loved-by-many little dragon marks its return and it does it with style. Spyro Reignited Trilogy is a remastered edition of three popular Spyro games from years 1998-2000. The gameplay is more open-ended and encourages exploration, as opposed to Crash's fast-paced rush through mostly linear levels and it's also worth noting Spyro's limited ability to fly, which opens some interesting ways to enjoy the game – and there's a lot to enjoy, from well-done level design to colorful visuals.
Key features
A remastered Spyro trilogy that managed to perfectly capture the spirit of the original games
Open-ended gameplay with vast levels that encourage exploration
Great and polished visuals
Lots of scattered collectibles to find
Sonic Generations
| | |
| --- | --- |
| Release year: | 2011 |
| Genre: | Platform, action-adventure |
| Developer | Sonic Team |
| Game modes | Single-player, multiplayer |
Finally, if you're looking for games like Crash Bandicoot, you should definitely check out Sonic games, such as Sonic Generations – a modern take on classic adventures of a famous hedgehog.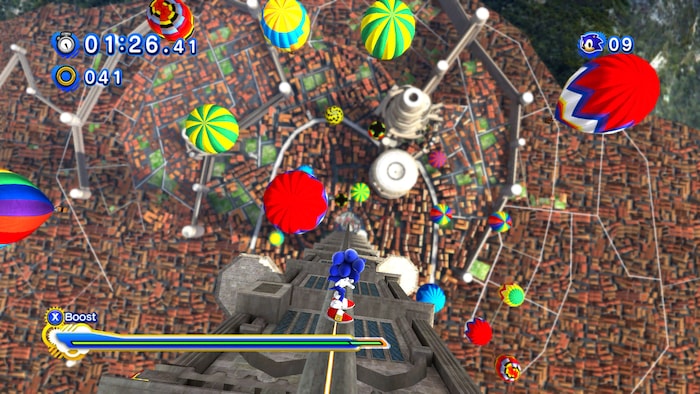 Sonic Generations consists of two different playing modes – classic and modern. Classic is a traditional 2D side-scrolling experience, while modern offers 3D navigation through mostly linear levels full of collectibles and obstacles, which is quite similar to what Crash Bandicoot games usually offer. If you love Crash, chances are quite high that you will also find the fast-paced Sonic's gameplay appealing.
Key features
A cool mixture of 2D and 3D platform action
Dynamic and fast-paced gameplay, for which Sonic games are known best
Several challenging bosses to defeat
Iconic environments from Sonic's universe
Crash Bandicoot is a well-known franchise that started back in 1996 and it's still popular, thanks to new games that are still being released once in a while. One of the newest entries in the series, Crash Bandicoot N. Sane Trilogy, allows players to relive the past in a remastered version of the iconic trilogy of Crash Bandicoot video games from the Golden Era of arcade platformers, such as Mario, Sonic, Rayman, Spyro, Kao the Kangaroo, or Croc.
If you're looking for the best games like Crash Bandicoot, take a look at some of our recommendations above – you will surely find something that will suit your taste there.