Returning to retro is always in fashion and Cuphead is a bright example of this phenomenon. An action-packed platform game set in the 1930s graphic style did its job well and was an incredible success, not only in its niche genre.
What exactly made this title so great? Well, as the players admit on Reddit and Steam, the difficulty of Cuphead is its most prominent feature. They just love to be tortured by this game. Are you wondering if there are any other games similar to Cuphead able to arouse such intense emotions in you? Fortunately for everyone, there are many great games similar to Cuphead that you can find below.
It is also worth mentioning that if you have enjoyed playing the original Cuphead game, there is a DLC called The Delicious Last Course, that adds more adventures of Cuphead and Mugman that are joined by Ms. Chalice.
| | Game | Release | Developer | YT | Sale | |
| --- | --- | --- | --- | --- | --- | --- |
| | Dead Cells | 2017-05-10 | Motion Twin | | 61% | Read more |
| | Undertale | 2015-09-15 | tobyfox | | 22% | Read more |
| | Furi | 2016-07-05 | The Game Bakers | | 86% | Read more |
| | Shovel Knight Treasure Trove | 2014-06-26 | Yacht Club Games | | 43% | Read more |
| | Enter The Gungeon | 2016-04-05 | Dodge Roll | | 68% | Read more |
| | Hollow Knight | 2017-02-24 | Team Cherry | | 31% | Read more |
| | Ori And The Will Of The Wisps | 2020-03-11 | Moon Studios GmbH | | | Read more |
| | Ori And The Blind Forest | 2015-03-11 | Moon Studios GmbH | | 49% | Read more |
| | Hollow Knight Silksong | 2023 | Team Cherry | | | Read more |
| | Blazing Chrome | 2019-07-11 | JoyMasher, Thais Weiller | | | Read more |
5. Hollow Knight & Silksong
| | |
| --- | --- |
| Release: | 2017-02-24 |
| Genre: | Action & Shooter |
| Developer: | Team Cherry |
Both titles introduce the player to the enchanted, beautiful world of insects. Just like Cuphead, these two are action-packed 2D platform games.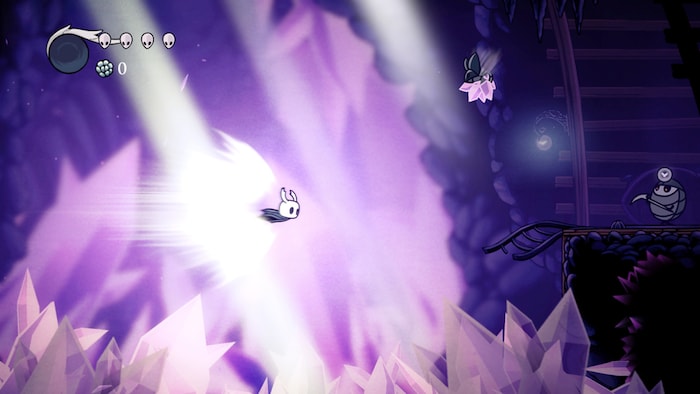 Hollow Knight and Silksong are excellent mystery games, and their main goal is to explore strange caves and ruins. In the meantime, the main character meets many insect-like creatures. The action is intense, spectacular fights fierce, and the development of events very satisfying. These two are both games similar to Cuphead in terms of difficulty, with many players on Reddit claiming to have experienced similar strong emotions through the gameplay.
Key features
Enter the world of insects and become the bravest little hero
Explore wild passages and forgotten caves
Take part in the acrobatic action-packed combats
Meet bizarre creatures and discover secrets
4. Shovel Knight
| | |
| --- | --- |
| Release: | 2014-06-26 |
| Genre: | Action & Shooter |
| Developer: | Yacht Club Games |
The debut of the independent Yacht Club Games studio in an old-fashioned 8-bit form. It is a very engaging platform adventure set in the fantasy world and enriched with elements of classic computer RPG.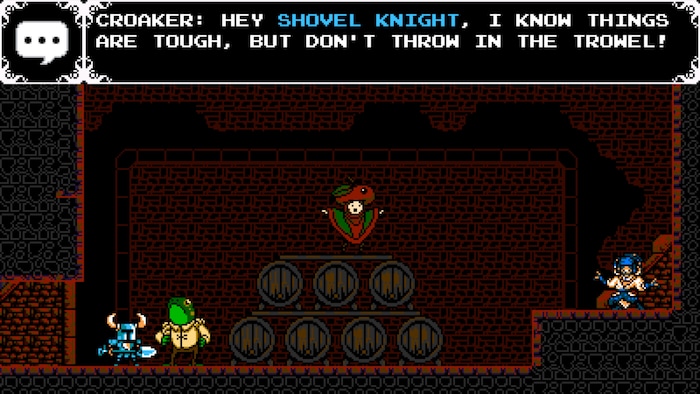 The main character is the heroic Shovel Knight. Armed with the legendary Shovel Blade, he sets off on a dangerous journey full of adventures. Although his goal is to kill the evil sorceress and save his beloved, he will be troubled by various obstacles on his way. Just like in Cuphead, there is a clear reference to retro productions here, that can evoke a strong feeling of nostalgia. Both titles share a similar power of holding the player's attention and ensuring exciting gameplay for hours, but the difficulty level of Shovel Knight is slightly lower.
Key features
Explore a variety of locations
Interact with the elements of the environment
Search for treasures and hidden secrets
Play in co-op with your friends
3. Undertale
| | |
| --- | --- |
| Release: | 2015-09-15 |
| Genre: | Indie |
| Developer: | tobyfox |
The indie title developed by Toby Fox and released in 2015 for PC and in 2017 for PS4. Play as a kid who accidentally found himself in the world of monsters!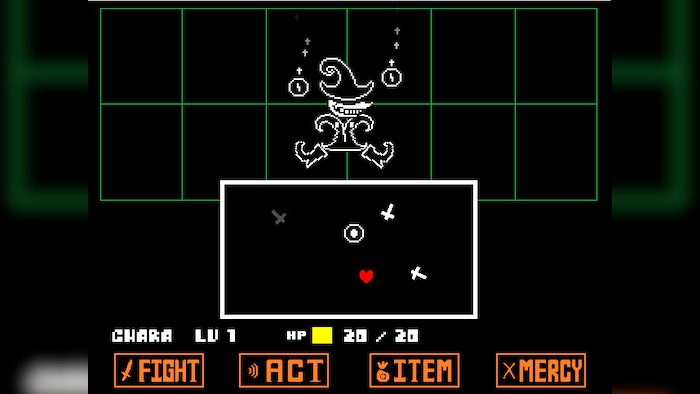 Undertale is full of unpredictable plot twists. Like Cuphead, this is a retro-style production that requires a lot of attention from the player. Conversations with NPCs result in various consequences that affect the rest of the story. Even the smallest decision can lead to an unexpected outcome but at the same time, it is definitely a production full of fun. Check our Undertale review
Key features
Go underground and explore the world of monsters
Fight or try to end the game by avoiding the combat
Solve puzzles
Repeat the game to see a different story development
2. Ori and the Blind Forest & Will of Wisps
| | |
| --- | --- |
| Release: | 2015-03-11 / 2020-03-11 |
| Genre: | Action |
| Developer: | Moon Studios |
A fabulous platform-adventure game with RPG elements. The main character is a little forest spirit, Ori, who sets out on an epic journey to save his home.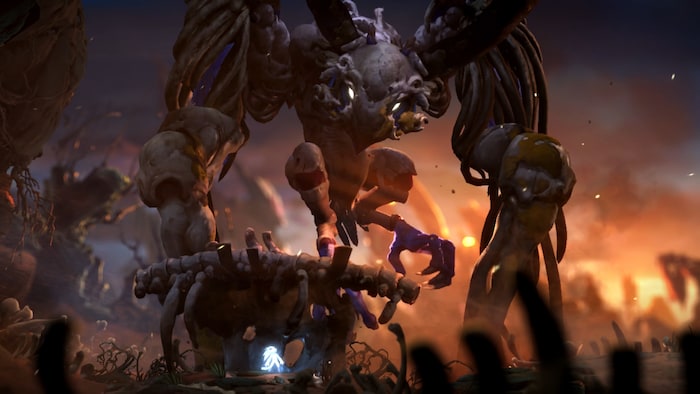 Although there are no dialogues in the game, there is a magical audiovisual setting that introduces an unusual atmosphere of mystery. The game is about exploring large locations full of hidden passages and puzzles. This gameplay may seem easy, but it is far from the truth. As in all games like Cuphead, the player will occasionally hit a task with a very high difficulty level. The sequel, Ori and the Will of the Wisps is also a great game that shares some similar features with Cuphead, just as the original game.
Key features
Explore and discover secrets
Be clever and quick
Solve puzzles and learn the story of this world
Learn and develop new skills
1. Dead Cells
| | |
| --- | --- |
| Release: | 2017-05-10 |
| Genre: | Action & Shooter |
| Developer: | Motion Twin |
Roguelike platform game with Metroidvania elements by the French studio Motion Twin, released in 2018 for PS4, Xbox One, and PC. The gameplay takes place in a huge, gloomy castle that you have to explore.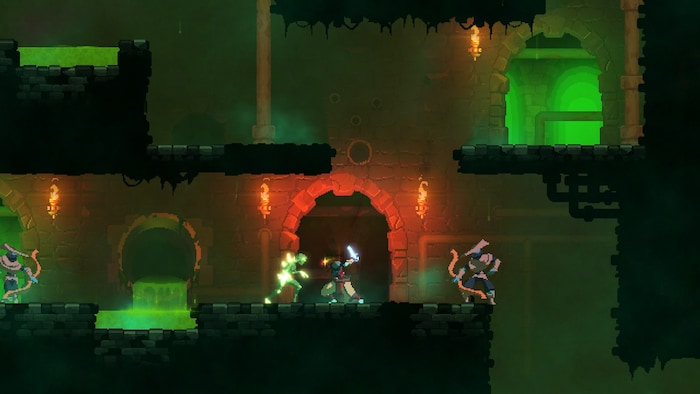 The visited location includes many different levels, hidden rooms, and secret passages. Each level offers a rich content of enemies to defeat and weapons to win. Weapons can also be found or purchased, and stay alert because some of these items can be extremely powerful. Dead cells is a pretty difficult game for an average player, which, like in the case of Cuphead, makes it a kind of game that you just love and hate at the same time.
Key features
Explore vast corridors and towers
Unlock new skills
Slash your way through the hordes of strong enemies
Collect powerful items and try to survive