Real-time tactics games in the vein of recently reinvigorated Desperados, or the classic Commandos series have always been exceptionally niche games with few followers, but that only served to make each spiritual follower that much more noticeable.
With Desperados 3 bound to reinvigorate the interest in this series, it's a good idea to take a look at other games with the same (or very similar) playstyle. Without prolonging the inevitable, here come the games which share quite a lot with both the classic and the new Desperados games.
| | Game | Release | Genre | Developer | Sale | |
| --- | --- | --- | --- | --- | --- | --- |
| | Commandos 2 Hd Remaster | 2020-06-24 | RTS | Pyro Studios | | Read more |
| | Commandos Pack | 2002-08-30 | Strategy | Pyro Studios | 77% | Read more |
| | Shadow Tactics Blades Of The Shogun | 2016-12-06 | Indie | Mimimi Productions | 94% | Read more |
| | We Are The Dwarves | 2016-02-26 | Indie | Whale Rock Games | 97% | Read more |
| | Robin Hood The Legend Of Sherwood | 2002-11-01 | RPG | Spellbound | 71% | Read more |
| | Desperados III | 2020-06-16 | Strategy | Mimimi Games | 92% | Read more |
| | Desperados Wanted Dead Or Alive | 2001-07-23 | Strategy | Spellbound | 74% | Read more |
| | Hard West | 2015-11-18 | Adventure | CreativeForge Games | 91% | Read more |
| | Hard West 2 | 2022-08-04 | RTS | Ice Code Games | 50% | Read more |
| | Partisans 1941 | 2020-10-14 | Strategy | Alter Games | 95% | Read more |
| | Door Kickers 2 Task Force North | 2020-11-03 | Action | KillHouse Games | | Read more |
The Commandos series
| | |
| --- | --- |
| Release date: | 1998 (original game) – 2003 (latest suitable release) |
| Genre: | Strategy |
| Developer: | Pyro Studios |
Commandos is a game series the Desperados took inspiration from, and it's quite clearly apparent from the gameplay: both games work in an exceptionally similar way to tell very different stories in very different contexts. Commandos, as the name might suggest, takes place during World War II and follows the actions of a single (fictional) unit of British commandos as they perform their duties.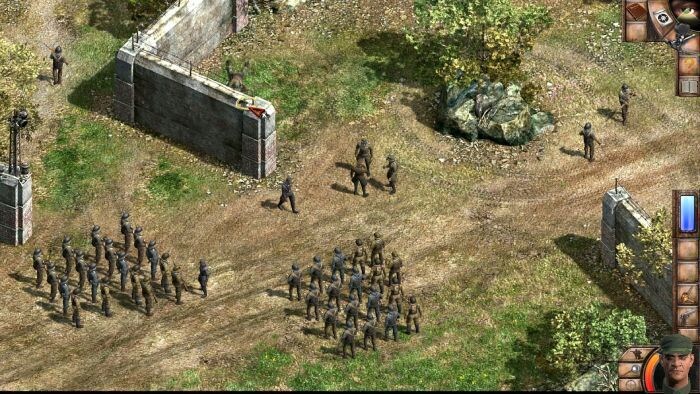 Each of the soldiers under your command has a different set of abilities, such as sniping, setting up traps, or impersonating enemy officers. The key to success lies not in going in guns blazing, but instead in avoiding notice and coordinating the use of abilities. In other words: exactly what you know from Desperados, but in a grimmer, less upbeat style than its gunslinging spiritual successor.
Key features
The predecessor of the Desperados series
Takes place during World War II and features a squad of British commandos
Commandos: Strike Force is a first-person shooter instead of a real-time tactics game
Four releases following the real-time tactics style
Robin Hood: The Legend of Sherwood
| | |
| --- | --- |
| Release date: | 2002-11-01 |
| Genre: | RPG |
| Developer: | Spellbound |
Robin Hood plays almost exactly like Desperados and Commandos, but instead of the dusty towns of the 19th century Wild West, or cloudy World War II Europe, it takes place in the verdant jolly 12th century England. It doesn't do anything revolutionary to the story: Robin Hood returns from the crusades to see his home grabbed by the Sheriff of Nottingham, and Prince John usurped King Richard's throne.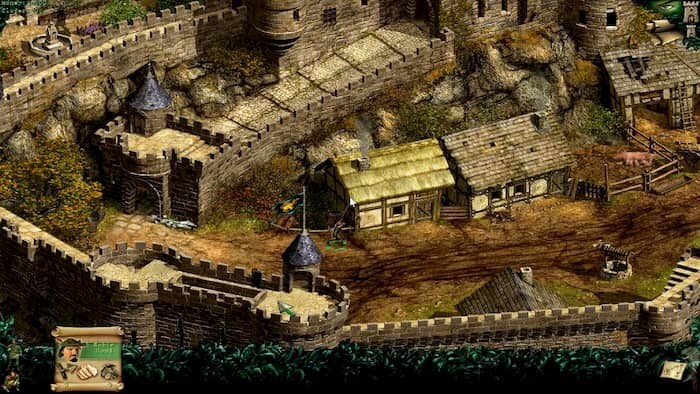 There are several mission types, and the campaign is less linear than it could be expected, which is a neat feature. You'll get to recruit all the famous characters to your merry band, including, of course, Little John and Friar Tuck, and you'll visit all the locations you know by name from countless retellings of Robin Hood's story. It's worth a shot if you don't mind it being from 2002.
Key features
Tells the story you already know, but now can play through
All the classic characters are there, including the Merry Band
Non-linear campaign
You need to gather funds to pay the ransom for King Richard
Shadow Tactics: Blades of the Shogun
| | |
| --- | --- |
| Release date: | 2016-12-06 |
| Genre: | Indie |
| Developer: | Mimimi Productions |
Shadow Tactics: Blades of the Shogun is a fantastic game upholding the legacy of the Commandos and Desperados, and bringing the real-time tactics gameplay to modern standards. The story is set in a fictionalized Edo period of Japan, and deals with a mysterious Kage-sama threatening the Shogun's province with prolonged war. Thankfully, there are several people who can serve the Shogun in this.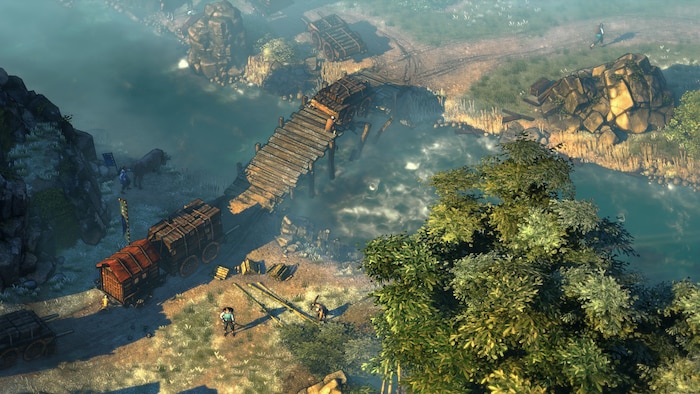 Although it's not immediately obvious, Shadow Tactics features a fully 3D environments with free camera rotation, making the levels more complex. The game encourages saving often, going as far as to have a timer showing the time since last quicksave, and it does come in handy. Shadow Tactics is so good that its developer Mimimi was picked to developed Desperados 3, a match made in heaven.
Key features
Set during the Japanese Edo period
Interesting characters
Has full Japanese audio if you want a more authentic experience
You can replay previously completed the mission at any time
We are The Dwarves
| | |
| --- | --- |
| Release date: | 2016-02-26 |
| Genre: | Indie |
| Developer: | Whale Rock Games |
We Are the Dwarves doesn't follow the formula exactly, but still cleaves quite close to the concept. It doesn't have a large cast, either, just three dwarves, each with a different specialization: tech-savvy Forcer, melee-focused Smashfist, and sneaky Shadow. The three of them will delve into the Endless Stone in search of a new place for their people to live in and thrive again.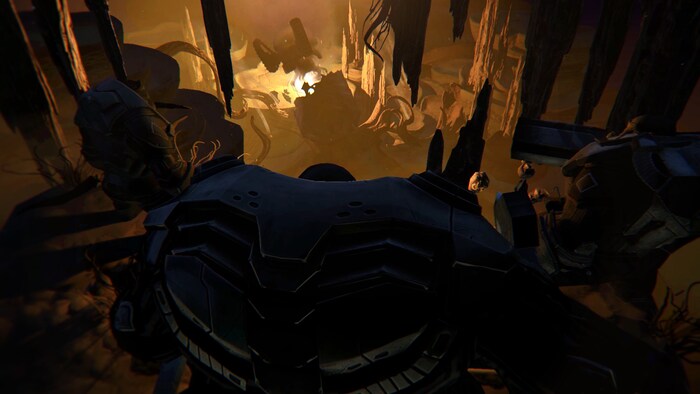 There are familiar elements, such as cones of vision and hearing radius, or queuing up each character's abilities, but there are also things beyond it. For one, there's a progression system and you can buy new talents from each dwarf's skill trees, improving them in a direction you find more interesting. The setting is also quite unique, but it's better to discover its nuances on one's own.
Key features
Three distinctive characters
You control the direction of the dwarves' progression
Unique setting
Discover a new place for your clans to live in
Plan and execute
The genre is woefully underpopulated, with very few games trying to emulate the playstyle. Hopefully with Shadow Tactics, Desperados 3, and Commandos (both the remastered and fresh, coming from Kalypso and Claymore), more titles like these will start appearing.