When a video game focuses on the conflict between heroes and villains, we're usually the ones who are tasked with stopping the evildoers. But what if a game allowed you to become the villain instead? Well, some developers tried this approach and they came up with some successful products, including the good old Dungeon Keeper, where it's your job to maintain the dungeon and stop noble heroes from getting through.
If you liked Dungeon Keeper and its sense of humor combined with a fresh type of gameplay, you'll surely be interested in checking out similar games.
Games similar to Dungeon Keeper
Take a look at the list down below to learn about some of the best games like Dungeon Keeper.
Evil Genius
| | |
| --- | --- |
| Release year: | 2004 |
| Genre: | Economy |
| Developer: | Elixir Studios |
When speaking of cool games similar to Dungeon Keeper, Evil Genius is usually one of the first titles that comes to mind, and it's not without a reason.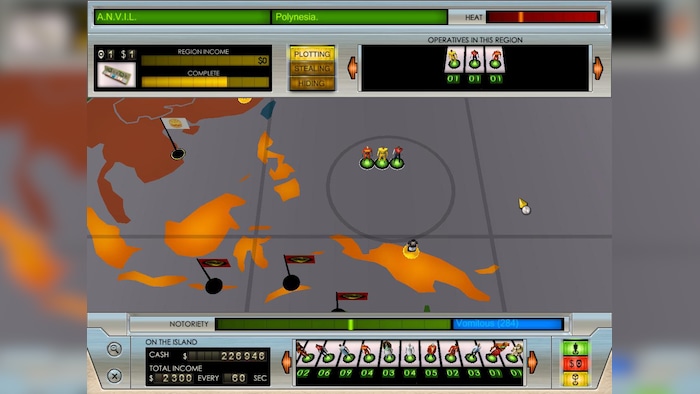 Evil Genius is a parody of classic spy movies, in which you take the role of one of the supervillains who just want to conquer the world and bend it to their will. Think of Dr. Evil from Austin Powers movies, and you'll get the idea.
Gameplay-wise, you will be tasked with building and maintaining your very own evil lair, where you will be able to conduct research, train thugs, and plot against mankind. If that sounds appealing, you may also want to check out the more recent sequel, Evil Genius 2 – it plays mainly the same, but it comes with updated graphics, which could be a deciding factor for some players.
Key features
A real-time strategy that lets players become the titular evil genius
Three different evil geniuses to choose from, each with their own unique playstyle
Room for some creativity when it comes to designing the evil lair
A humorous and lighthearted atmosphere
War for the Overworld
| | |
| --- | --- |
| Release year: | 2015 |
| Genre: | Indie |
| Developer: | Brightrock Games |
If you're looking for a Dungeon Keeper's spiritual successor, it would only be natural to recommend War for the Overworld.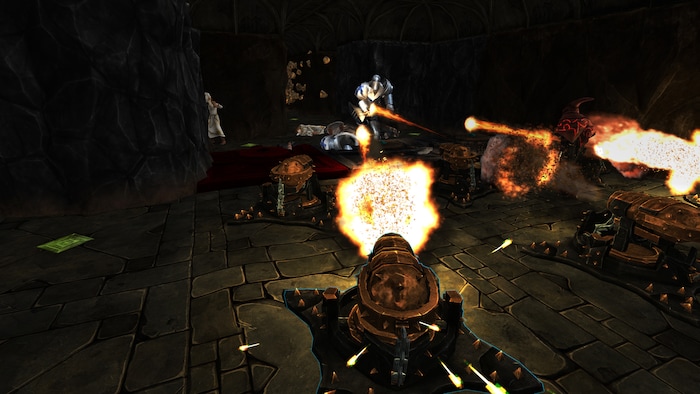 Although War for the Overworld is quite similar to Dungeon Keeper, both in terms of gameplay and the setting, it's still different enough to not be considered simply a bland clone of something else, but a full-fledged game with its own unique soul.
Instead of invading dungeons, you will have the opportunity to build your own – dig the tunnels and create a deadly maze filled with traps and other dangers to make sure that no hero makes it through alive. It may be a little bit less humorous than Dungeon Keeper, but it's worth giving a try nonetheless.
Key features
Addictive gameplay focused on designing and maintaining a fantasy dungeon
Over 60 elements to make your dungeon more challenging, from unique rooms to potions, traps, and rituals
Several game modes, including campaign, skirmish, and survival
Map Editor that makes it easy to create custom scenarios, resulting in virtually infinite fun
Empires of the Undergrowth
| | |
| --- | --- |
| Release year: | 2017 |
| Genre: | Indie |
| Developer: | Slug Disco Studios |
If we had to recommend something like Dungeon Keeper, but with an incomparably fresh setting, it would probably be Empires of the Undergrowth.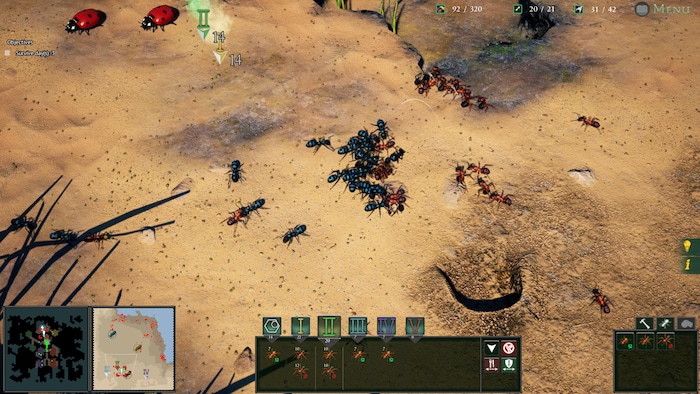 There aren't many games where you can manage an ant colony, which makes this one a real indie gem. Instead of building a deadly maze for righteous heroes, you will be tasked with growing your humble ant empire.
It may sound simple, but it's surprisingly fun – you will have to command your ants to dig tunnels and face numerous challenges as you discover new areas. Some of them may be hiding dangerous enemies in form of beetles or arachnids, so proceed with caution. It's worth noting the game's interesting narrative – the whole game can feel like you're watching a documentary movie at times.
Key features
A unique and fresh game focused on an ant colony management
Addictive and moderately challenging gameplay
An interesting narrative from the perspective of a documentary filmmaker who comments on player's actions
Good action music that makes the experience of fighting for the colony's survival more intense
Dungeons 3
| | |
| --- | --- |
| Release year: | 2017 |
| Genre: | Strategy |
| Developer: | Realmforge Studios |
Dungeons 3 is another game similar to Dungeon Keeper that is worth giving a go – it's a third installment in the Dungeons franchise and comes with a number of significant improvements.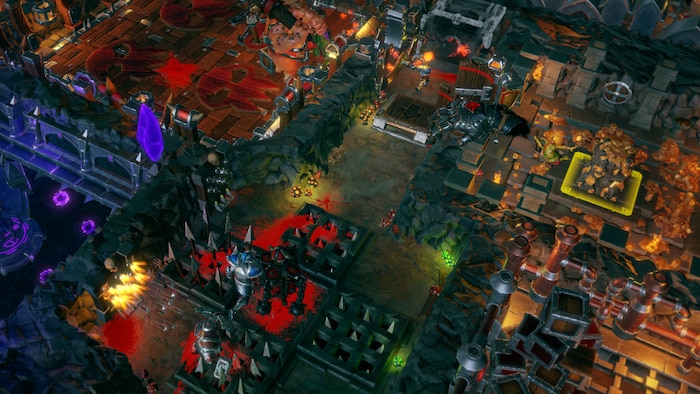 Dungeons 3 is a great dungeon builder, where the core gameplay is quite similar to what you could have experienced in Dungeon Keeper. However, there are some important differences you need to be aware of before starting your adventure as a dungeon lord.
The major difference is the existence of the overworld, which means that you won't be sitting exclusively in your dungeon, but you will also have to go "outside", where a lot of missions and objectives await you. For those who like to push their skill to the limit, there is also a skirmish mode with randomly generated maps for a virtually endless challenge.
Key features
Addictive gameplay focused on designing a perfect dungeon
A great sense of humor and constant breaking of the fourth wall
Top-notch voice acting and beautiful fantasy graphics
Lots of unlockable perks that make progressing a fun experience
Orcs Must Die! 2
| | |
| --- | --- |
| Release year: | 2012 |
| Genre: | Indie |
| Developer: | Robot Entertainment |
For the last game on the list, we've got a game, where for once you will be able to join the good side – do you have what it takes to stop the evil orc hordes?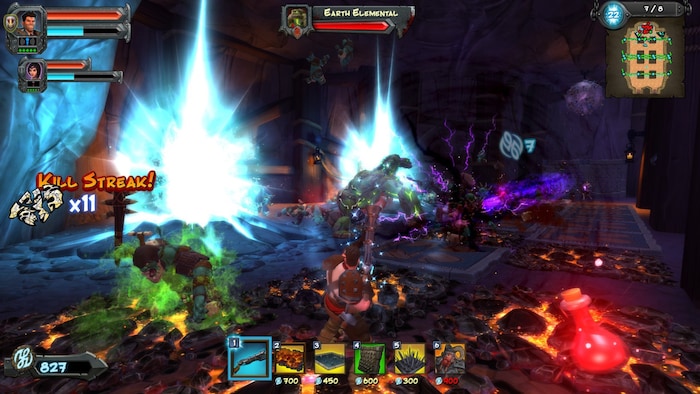 Orcs Must Die! 2 is not a Dungeon Keeper clone, but it's a title that will surely bring some joy and excitement if you loved DK. Once again you will be tasked with filling halls and corridors with deadly traps, but this time you will be playing the good ones.
The game is different from other titles on the list in that it allows you to control your hero from a third-person perspective and join the battle yourself – your traps alone may not be enough of a defense against the seemingly infinite number of incoming enemies, so you need to jump into action and take care of them ugly greenskins with the use of one of many unique weapons.
Key features
Dungeon management simulation combined with third-person action
Simple yet addictive gameplay with lots of viable strategies to try
A wide choice of weapons to utilize during combat
Lots of replayability potential and a special nightmare difficulty for the most competitive players
The Best Games Like Dungeon Keeper
Dungeon Keeper is a classic game that lets players design, rule, and manage their very own dungeon. A seemingly simple idea quickly became popular and got the community interested in trying out different strategies and checking out alternative solutions to beat increasingly difficult challenges.
As time was passing by, more and more Dungeon Keeper clones started to appear on the market, trying to take a piece of dungeon management genre-flavored cake for themselves. Among many shameless copies and DK-wannabes, some titles clearly stood out and were different enough to be considered worthy Dungeon Keeper alternatives.
If you're looking for such games, please take a look at the list above. We tried our best to bring you some of the most interesting games similar to Dungeon Keeper. Pick your favorite and give it a shot – you'll be surprised by how fun some of these titles are.