From Software became recognized for its legendary epic titles like Demon's Souls and Bloodborne. Their challenging action RPGs are famous for their high difficulty level and unique dark atmosphere. And then everything changed in 2022.
For the first time, From Software released an easy game. Well, maybe not easy, but now players have the freedom to decide how to lead their adventure. Because in Elden Ring, we have an open world, which we can explore as much as we want! Yes, death happens often, and better get used to it – as it is in all soulslike and soulsborne titles from these creators. But the fun activities, collectibles, adventures, characters, and various bosses are everywhere. It is a gigantic and almost impossible world to explore.
And at the same time, it does not lack the familiar atmosphere of darkness, despair, and unexpected death at every turn. These features make the Elden Ring perfect for everyone – experienced fans and new players. Are you done with the Elden Ring and don't know what to do next? Prefer something else? No matter what brought you here – make yourself comfy and have a look.
Challenge your skills and embark on unforgettable quests with these games comparable to Elden Ring
Dark Souls series
| | |
| --- | --- |
| Release: | 2011-2018 |
| Genre: | Action |
| Developer: | FromSoftware |
It's a series of all the games from From Software, starting with Demon's Souls and ending with Dark Souls 3 from 2016. If you are looking for video games that laid the foundations for a spectacular Elden Ring gameplay, start with these titles.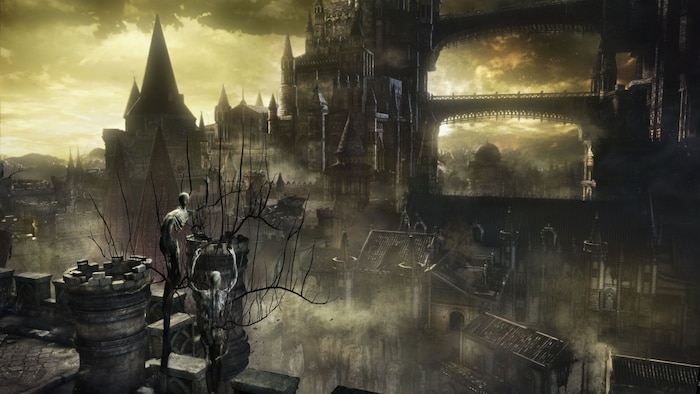 Dark Souls series is famous for establishing its souls-like genre in gaming. These are action role-playing games where you create your hero choosing from various classes to enter a gloomy world overrun by some evil forces. Your task is to explore abandoned ruins to find story pieces or enemies and earn the souls needed to develop your character. Opponents lurk at every step, and the battles are challenging and complex. It's easy to die here, so you better watch out!
Key features
Play a series of games that laid the foundations for the Elden Ring gameplay
Create a hero and change your life in the darkest fantasy worlds
Explore, discover forgotten treasures and gain experience
Confront mighty bosses and unravel new parts of the story
Sekiro: Shadows Die Twice
| | |
| --- | --- |
| Release: | 2019-03-22 |
| Genre: | Adventure |
| Developer: | FromSoftware |
It is an award-winning action game from the creators of Elden Ring and Dark Souls where you will discover a revenge-driven adventure set in 16th-century Japan. It is a recommendation for players hungry for classic From Software gameplay focused on the story and stealth elements in the Assassin's Creed style.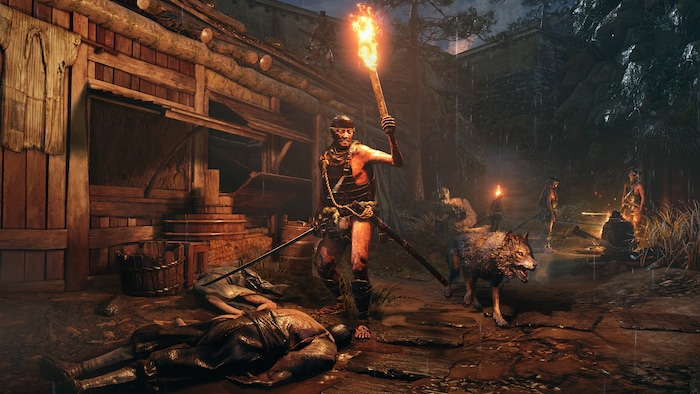 Play as Sekiro, a one-armed warrior seeking vengeance against his mortal enemies. Explore the fantasy world and make decisions that will determine the development of your unique legend. Your hero will travel with two supernatural features – a prosthetic arm and immortality. Unfortunately, the latter is limited, which will require exceptional combat skills. Sneak, fight and confront dozens of powerful bosses. And perhaps at the end of this journey, you will regain your once lost honor.
Key features
Play an action game set in 16th-century Japan
Manage the actions of Sekiro – a revenge-driven hero with one hand
Explore breathtaking locations and discover the new chapters of your story
Confront the most powerful bosses and make decisions
NiOh & NiOh 2
| | |
| --- | --- |
| Release: | 2021-02-05 |
| Genre: | Action RPG |
| Developer: | Team NINJA |
This soulslike action RPG from Team Ninja takes you to feudal Japan to deal with the massive outbreak of powerful yokai. In each of the parts, you will play the role of a hero who will gain more and more deadly combat experience during a dangerous adventure.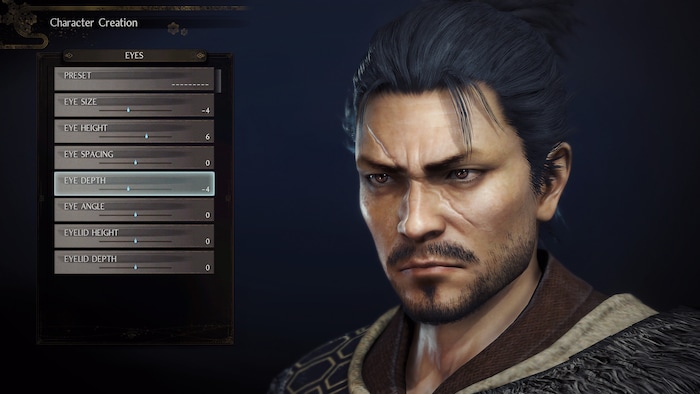 As you discover all the details of how to fight the ancient demons in NiOh, you become a living part of the story in the second installment. Explore the mystical land and follow the plot scraps to discover your destiny. Never stop training, as deadly threats may lurk at every turn. Train your dodges and attacks, switch between stances and work your combat style to crush each boss. NiOh — just like games from the Dark Souls series — will allow you to summon other players for help. In NiOh 2, you can invite two other players to the game and embark on an adventure in cooperation mode.
Key features
Play a soulslike adventure set in feudal Japan
Discover pieces of the story and learn your destiny
Fight and gain experience
Defeat powerful bosses to earn rewards and develop your hero
The Witcher 3: Wild Hunt
| | |
| --- | --- |
| Release: | 2015-05-18 |
| Genre: | RPG |
| Developer: | CD PROJEKT RED |
If you are looking for a game like Elden Ring, but with a much better plot and a real living world – play The Witcher 3. It's a captivating story about a professional monster slayer, set in a fantasy version of the Slavic world torn by wars.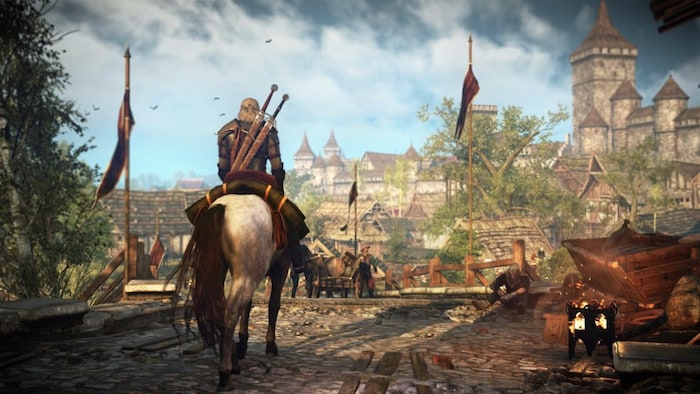 But The Witcher 3 isn't just about killing monsters. It is also hundreds of hours of political intrigue, mysterious quests, and exploring one of the most spectacular worlds in gaming history. Discover the richness of this magical land, meet its people, and determine your path. In this game, combat and decision-making are equally important, the latter of which can lead you to one of the thirty-six possible game endings. It is a recommendation for players who do not want to limit themselves to killing bosses but want to immerse themselves in the game world.
Key features
Play as a professional monster killer
Discover numerous storylines and decide which to follow first
Explore a massive world and complete challenging tasks
Discover the darkest secrets of this land and the fate of its people
The Elder Scrolls V: Skyrim
| | |
| --- | --- |
| Release: | 2016-10-27 |
| Genre: | Adventure |
| Developer: | Bethesda Game Studios |
It is the fifth installment in the legendary The Elder Scrolls series, where you will play as a prisoner climbing the ladder of a dragon slayer career. Like the Elden Ring, this title presents a dark and dying world where you will defeat challenging enemies to discover your destiny.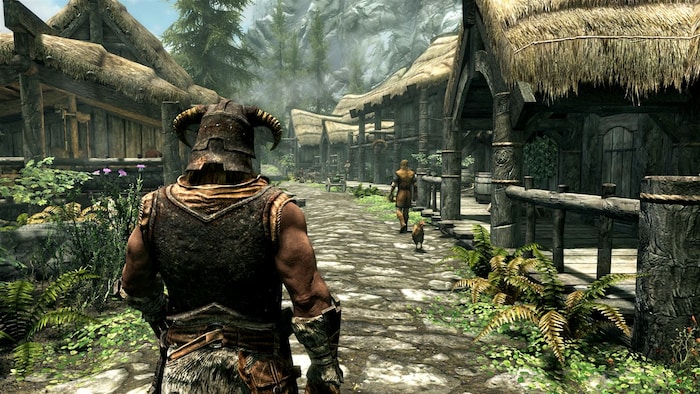 Create a hero and set off on a journey through the open world of Skyrim to decide your fate. At the very beginning of the game, you will discover a multitude of main and side quests that you can undertake at any time. The TES series focuses on the freedom of choice and the magical atmosphere that accompanies players from the very first second of the game. Develop your character in any direction, discover new opportunities to defeat mighty dragons, and build a reputation in one of the best RPGs ever!
Key features
Play the fifth installment of the acclaimed The Elder Scrolls series
Create a hero and discover your dragon slayer destiny
Explore and complete quests
Fight and gain experience to unravel new plot pieces
Bloodborne
| | |
| --- | --- |
| Release: | 2015-03-24 |
| Genre: | Soulslike |
| Developer: | FromSoftware |
Welcome to the grotesque world of the 19th-century city of Yharnam, ruined by demonic beasts and a mysterious plague. It is the epic production made by From Software studio and released in 2015 for PlayStation 4.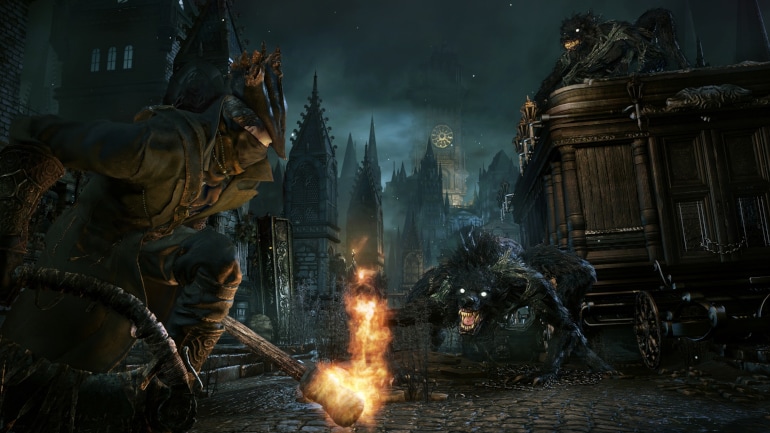 If you want to get away from medieval climates for a while, Bloodborne will make it possible. It's time to rise as one of the Hunters, able to turn the grim fate that has overtaken the gloomy metropolis. When a mysterious plague turns people into bloodthirsty beasts, it seems that all hope is dead. Do whatever it takes to uncover the mystery of the tragic events and restore this place to its former peace. In this dark production, you will explore gigantic ruins, fight dozens of bosses and develop your fighting skills. Be careful because danger lurks at every turn in this game.
Key features
Play as one of the fearless Hunters
Explore a massive city and discover scraps of its history
Use two types of weapons in combat
Play solo or in multiplayer for up to five players
Middle-earth: Shadow of War
| | |
| --- | --- |
| Release: | 2017-10-10 |
| Genre: | Adventure |
| Developer: | Monolith Productions |
It is a fantastic game recommendation for fans of grand adventures in the world of The Lord of the Rings. Welcome to the second installment of Middle-earth: Shadow of Mordor, which has won the hearts of players worldwide!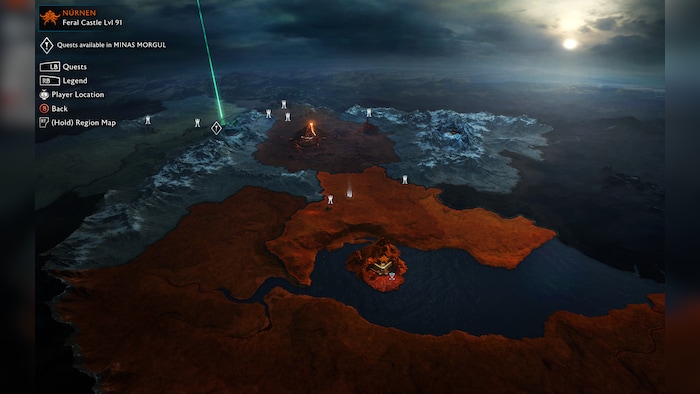 When Talion and the ancient ghost became one, it was clear that they might be able to overthrow Sauron. To achieve this goal, they must create a new ring. However, it will not be an easy mission, and hundreds of bloodthirsty enemies will stand in their way. Explore the world of Middle-earth, discover entirely new locations, fight bosses from Tolkien's books, and assemble an army. This title has a much more heroic gameplay atmosphere than any other game like Elden Ring!
Key features
Play the second installment in the series of action games set in the Lord of the Rings universe
Play as Talion and discover the secrets of Sauron
Explore the open world, ride mounts, and enjoy parkour
Fight powerful enemies to learn the following story chapters
Ghost Of Tsushima
| | |
| --- | --- |
| Release: | 2021-08-20 |
| Genre: | Adventure |
| Developer: | Sucker Punch Productions |
Play as a 13th-century revenge-driven samurai who lives to stop the brutal invasion of the Mongols. It is an exciting action video game like Elden Ring, focusing on stealth and an extensive storyline.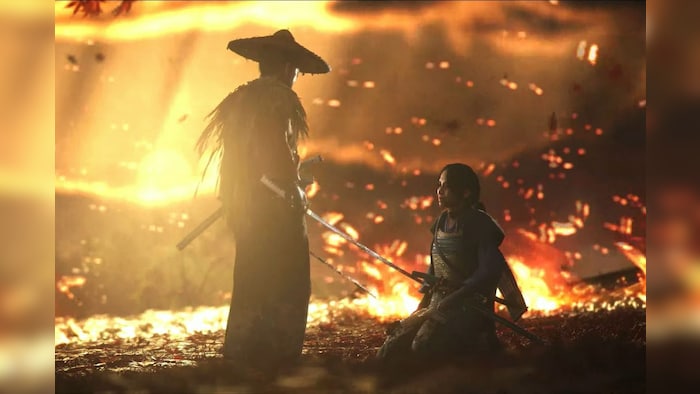 When the Mongols invaded the village, only you survived. But to stop the enemy, you must learn your extraordinary skills. Explore a beautiful open world, meet its people, and complete tasks. Combat plays a vital role in Ghost of Tsushima, so better develop your skills. Its outcome often depends on your talent for stealth, which will be extremely useful in eliminating many enemies.
Key features
Play an epic game set in 13th-century Japan
Explore the world and learn about Japanese culture
Lose yourself in the immersive storyline and take revenge on your enemies
Develop your stealth and combat skills
Monster Hunter: World
| | |
| --- | --- |
| Release: | 2018-08-09 |
| Genre: | Action |
| Developer: | CAPCOM CO., LTD. |
This video game is a tasty treat for those who enjoy slaying monsters. Travel to the New World and become a professional Hunter to explore the mysteries of the exotic land and fight its most powerful predators.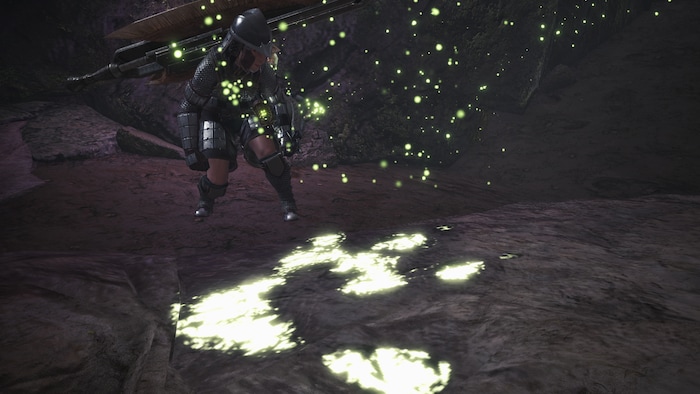 Explore the New World and choose your weapon type to become the champion in your profession. Follow the footsteps of wild beasts and eliminate them to acquire valuable resources. This beautiful world is full of secrets and dangerous monsters! Develop your hunting talents, use various strategies and become the most skilled Hunter ever!
Key features
Play one of the most praised games on Steam
Explore the New World and discover its secrets
Become a professional monster hunter
Train your skills and get better in combat
Shadow of the Colossus
| | |
| --- | --- |
| Release: | 2018-02-06 |
| Genre: | Adventure |
| Developer: | Bluepoint Games |
Break the law of your people and travel to the distant Forbidden Lands to make a pact with the ancient Dormin spirit. To resurrect your dead friend, you will have to go on a heroic journey through dark wastelands forgotten by people and time.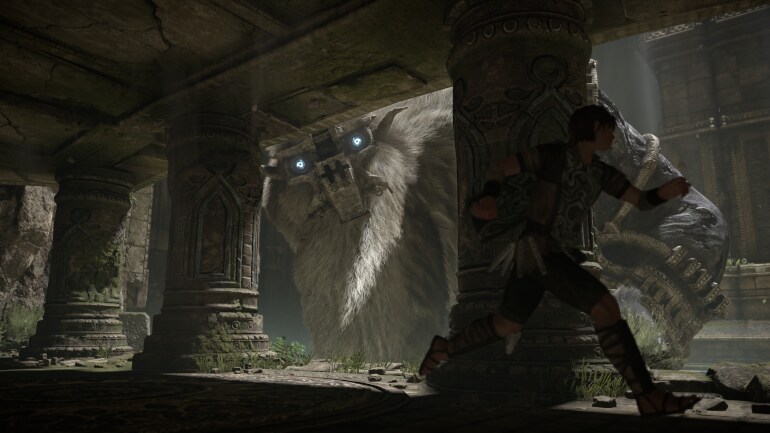 The mysterious Pact with Dormin is a task for a born hero. To resurrect your companion, you must kill sixteen giants inhabiting the forgotten Forbidden Lands. Go on a journey with your loyal horse Agro and track down each of the gigantic beasts. Explore various lands and ruins, discover the secrets of this world and stay on the path of destiny. And when you feel the earth tremble, arm yourself with your weapons and deadly determination! Shadow of the Colossus is an engaging story about desperation and struggling with fate.
Key features
Play as a traveler wanting to resurrect his loved one
Make a pact with a mysterious force and embark on a journey to kill sixteen colossi
Explore a forgotten land and don't die
Discover your opponents' weak points and defeat them in spectacular combat
Games similar to Elden Ring are challenging. Probably the hardest ever. So why are we doing this to ourselves? Why are we playing them with such enthusiasm? In each of these games, it is easier to find accidental death than any reward. It is easy to get lost in the open world, and the story is usually quite gloomy.
It is all based on human motivation to look for a goal. No matter what, it must be something. And the more challenging, the better! We can receive various things: praise from fellow players, a gold medal, or satisfaction. The prize also does not matter because what counts – surprise, surprise – is the very masochistic process of achieving the set goal. And From Software knows this perfectly well, delivering delicious worlds filled with jobs for the most determined players. So if you're feeling a mysterious draw to games like the Elden Ring, enjoy it!