Roguelike is a genre that gamers either love or hate. Challenging levels and constant death can be a thorn in the side on the turbulent path to progress. But as it turns out, a lot depends on who develops the game.
By releasing Hades in 2020 for PC and Switch, Supergiant Games has earned respect from players worldwide. It's a classic action roguelike but surprisingly innovative!
Yes, you die in this game. But unlike other titles in the genre, each death brings new insights into the lore of this world, leaving you wanting more and more. Combined with witty humor, original graphics, and flawless gameplay, Hades delivers tons of fun for fans of other genres. If you crave adventures like this, there's a lot more content that you might enjoy. Explore this list of games like Hades and pick something for your next action-packed gaming night!
Transistor
| | |
| --- | --- |
| Release date: | 2014-05-20 |
| Genre: | Indie |
| Developer: | Supergiant Games |
You don't have to look far to find a similar Hades-like gaming experience! This time, in a sci-fi action RPG from the same developers.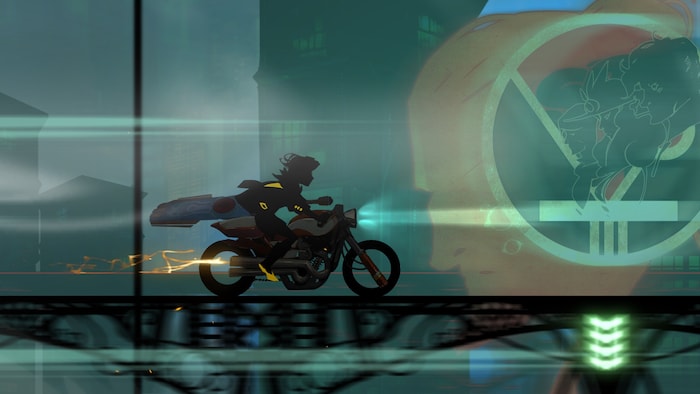 Start at the core of all the action to embark on the adventure as a lone hero with a weapon of mysterious origin. To discover its true destiny, you must find its owners and survive the chase of hostile powers. Like Hades, this highly dynamic title delivers adrenaline-fuelled gameplay with an incredibly extensive storyline. Plus, epic music and fantastic visuals!
Key features
Play a role-playing action game from the creators of Hades
Immerse yourself in a mysterious intrigue and learn the purpose of a mighty sword
Explore the city and chat with other characters
Enjoy beautiful cyberpunk audiovisuals
Rogue Legacy
| | |
| --- | --- |
| Release date: | 2013-06-27 |
| Genre: | Adventure |
| Developer: | Cellar Door Games |
It's an old-school roguelike platformer with RPG features, where permadeath doesn't mean losing all your valuable attributes. You'll love it if you're up for an adventure in an epic fantasy world!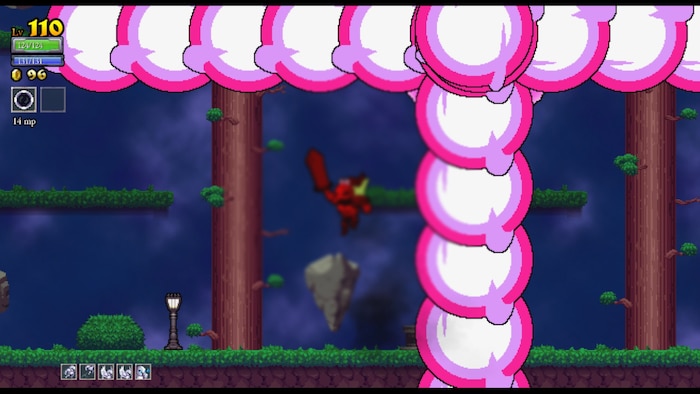 The king is ill, and only a mysterious cure from the cursed Hamson Castle can save his life. Play as members of his family to embark on a perilous journey to this dark location. The gameplay focuses on exploring randomly generated rooms, fighting numerous enemies, and collecting gold. Death is possible, but the successor will inherit some of the skills when it happens.
Key features
Play an engaging platformer for retro lovers
Travel to the cursed castle and save the king
Explore, collect equipment and develop your skills
Inherit the genetic defects of your predecessors
Dead Cells
| | |
| --- | --- |
| Release date: | 2017-05-10 |
| Genre: | Action & Shooter |
| Developer: | Motion Twin |
You are a Prisoner who finds himself in a bizarre location. To escape, you'll have to slash your way through hordes of enemies and discover the meaning of your existence.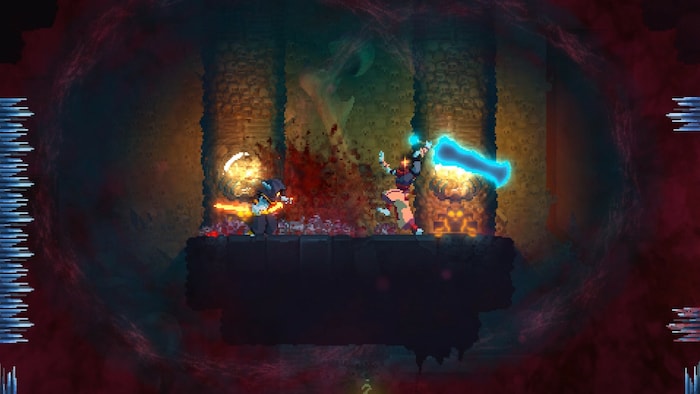 Dead Cells is a graphically stunning roguevania for PC, PS4, and more with an incredibly high difficulty level. Explore gloomy dungeons, collect new cells, switch weapons, and fight. Every defeated boss and the good decision is a chance to unlock new abilities! But be careful – when you die, you lose your cells and start the adventure again. Fortunately, it allows you to keep skills and unlocked upgrades to play again with slightly better stats.
Key features
Have fun in a unique combination of roguelike and Metroidvania
Explore the hostile world and try to escape from the mysterious island
Collect cells to develop your hero
Plan unique tactics to defeat powerful bosses
Spelunky
| | |
| --- | --- |
| Release date: | 2013-08-08 |
| Genre: | Adventure |
| Developer: | Mossmouth, LLC |
It is the famous indie platformer from 2013 for those who like to blow things up and become unimaginably rich. Looking for a unique combination of Hades and Indiana Jones? It's your best choice!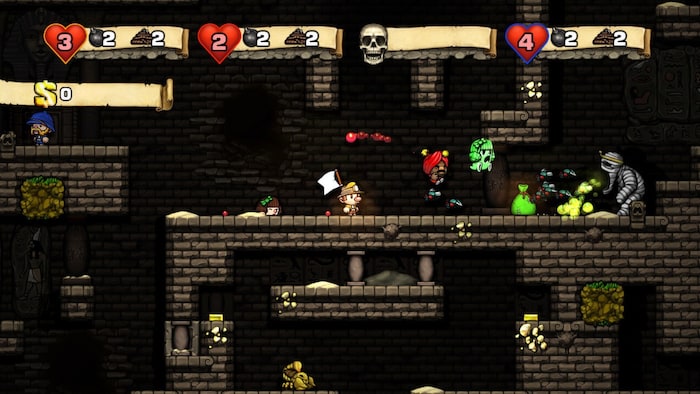 Play as an adventurer traversing the maze of randomly generated dungeons. Each playthrough is a unique experience with different enemies, objectives, treasures, and hundreds of collectibles. Your goal is to get rich and make choices to collect even more gold. But there is also death, which happens more often than not. And every death means starting the adventure from the beginning! Luckily, this game is so rich in mysteries, hidden secrets, and unique encounters that there is no time to get bored.
Key features
Become a fearless treasure hunter
Explore randomly generated dungeons and fight
Find as many treasures as you can
Lose yourself in discovering endless collectibles and secrets
The Binding of Isaac
| | |
| --- | --- |
| Release date: | 2011-09-28 |
| Genre: | Adventure |
| Developer: | Edmund McMillen and Florian Himsl |
Take on the role of a little boy whose mother has gone crazy and wants to offer him as a sacrifice to God. You must run and confront a million personal fears to gather the courage and defeat your mother in thirteen possible endings. Or die.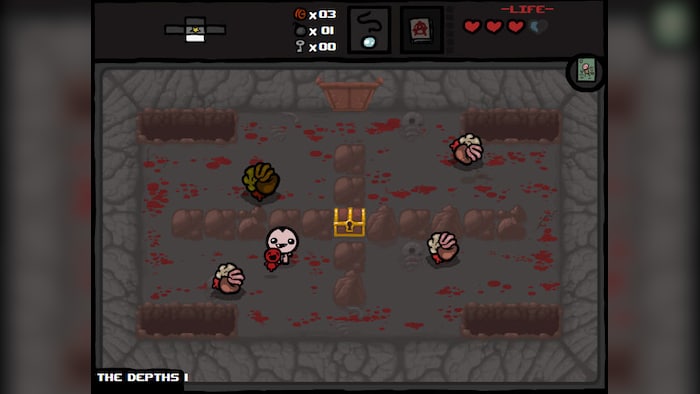 Explore the dungeons hidden in the basement of your house and discover their shocking secrets! You will encounter powerful enemies, bosses, and shops to buy equipment upgrades. Each floor means a fight with a new boss and a chance to progress or eventual death. Solve puzzles, fight, collect power-ups and become stronger to win the final battle! You will love this game if you liked Hades, as it also features religious content and fun gameplay with a disturbing backstory.
Key features
Experience adrenaline-fueled bible-inspired gameplay
Explore basement dungeons and try to survive
Fight bosses and become more powerful
Collect new weapons, artifacts, and power-ups
Hyper Light Drifter
| | |
| --- | --- |
| Release date: | 2016-03-31 |
| Genre: | Adventure |
| Developer: | Heart Machine |
It's one of the most enigmatic Hades-like recommendations on Steam, that will throw you into an alien world where words don't matter. Embark on a journey to find a cure for your sickness and lose yourself in a reality where ancient myths and forgotten technologies are one.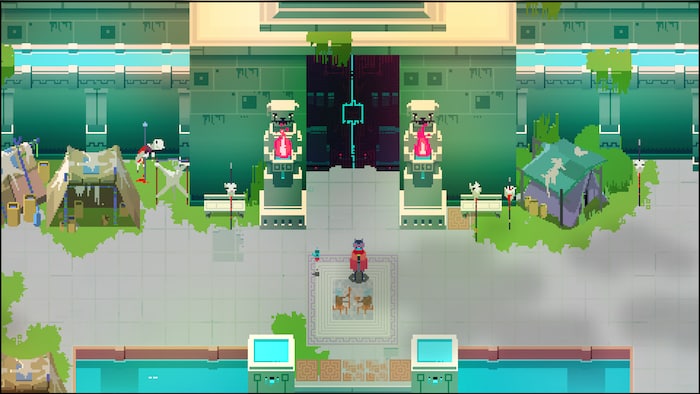 Manage an arsenal of futuristic weapons to embark on the epic journey and survive. Your goal is the most dangerous lands filled with enemies and traps. Unlock special skills to defeat them all and discover your destiny! Hyper Light Drifter is an immersive title with a magical soundtrack and breathtaking graphics guaranteeing an unforgettable aesthetic experience.
Key features
Enter a ruined world that combines advanced technology with a forgotten past
Explore, go anywhere you want, and discover dark secrets
Develop skills to defeat hordes of enemies
Enjoy the spectacular audiovisual setting
Darkest Dungeon
| | |
| --- | --- |
| Release date: | 2016-01-19 |
| Genre: | Indie |
| Developer: | Red Hook Studios |
Like Hades, Darkest Dungeon is a dark roguelike with a unique visual setting. It is also an excellent recommendation for those looking for more challenging adventures.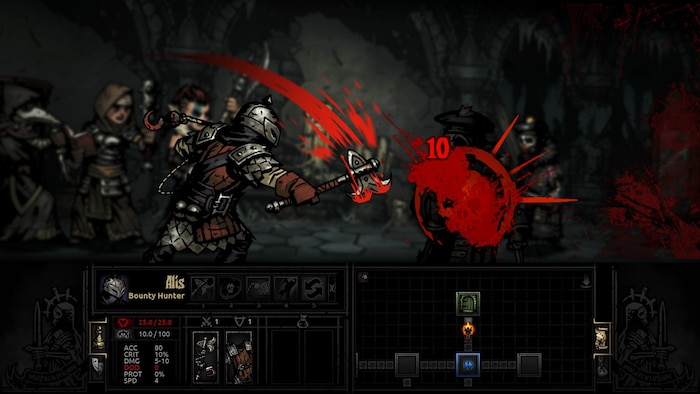 Assemble a team of the bravest adventurers and travel to the evil-infested dungeons to discover the secret of its origin. Get ready for a gothic vibe, mighty enemies, and turn-based combat where every death is final. But enemies are not your only threat! Team members are sensitive to drastic encounters, and the slightest mental decline can lead to ultimate failure.
Key features
Play a grim tale from Red Hook Studios
Explore dark dungeons and discover their secrets
Fight in a turn-based system
Have fun with an adventure where sanity matters
Nuclear Throne
| | |
| --- | --- |
| Release date: | 2015-12-05 |
| Genre: | Adventure |
| Developer: | Vlambeer |
Discover a disturbing vision of the future where only mutants survived the apocalypse. Choose your strange hero and do whatever it takes to make him rule the wasteland.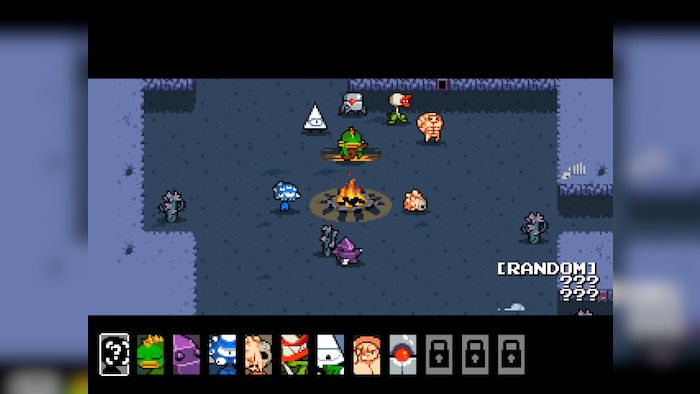 Nuclear Throne is a roguelike action game with bullet-hell features. Choose your first hero and unlock more as you progress through the game. Each character can use two weapons, and all treasures generate randomly. To continue the adventure, defeat everyone on the stage, and advance to the next level. On your way, you will also find valuable rads that can make you stronger!
Key features
Choose from twelve weird heroes
Venture to the wasteland and start a fight for ultimate power
Collect new equipment and become better
Unlock new abilities and develop your hero
Celeste
| | |
| --- | --- |
| Release date: | 2018-01-25 |
| Genre: | Adventure |
| Developer: | Matt Makes Games Inc. |
Play as red-haired Madeline and reach the top of the gigantic Celeste mountain. No one knows what secrets hide up there, and only a treacherous climb can bring you closer to discovering them all.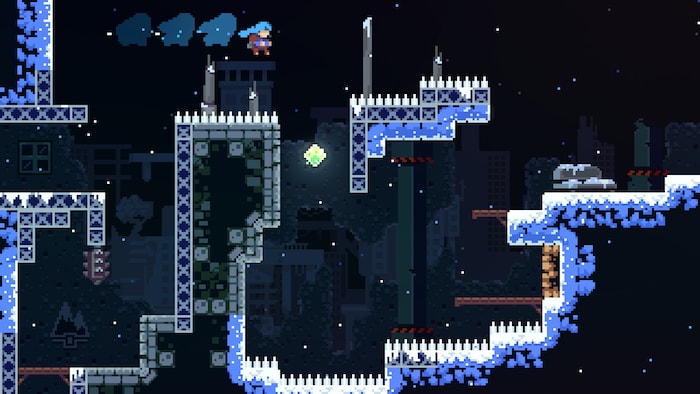 Celeste is a classic side-scroller where you'll traverse levels filled with traps and challenging puzzles. Your only task is to continue this journey. Along the way, you'll meet a variety of NPCs, uncover bits of secrets, and use some of the heroine's unique abilities, like jumping great distances or becoming immortal. It's an excellent recommendation for players looking for an alternative to games like Slay the Spire or Hades!
Key features
Play a challenging game about a girl climbing a giant mountain
Overcome obstacles and proceed to the following levels
Discover the mysteries of the mountain and chat with other heroes
Use your unique skills to make your journey a little easier
Enter the Gungeon
| | |
| --- | --- |
| Release date: | 2016-04-05 |
| Genre: | Adventure |
| Developer: | Dodge Roll |
This game is exactly like Hades but with a massive arsenal of unbelievably powerful and ridiculous weapons. Travel to an alien planet and start your adventure to find a legendary gun that can alter the past!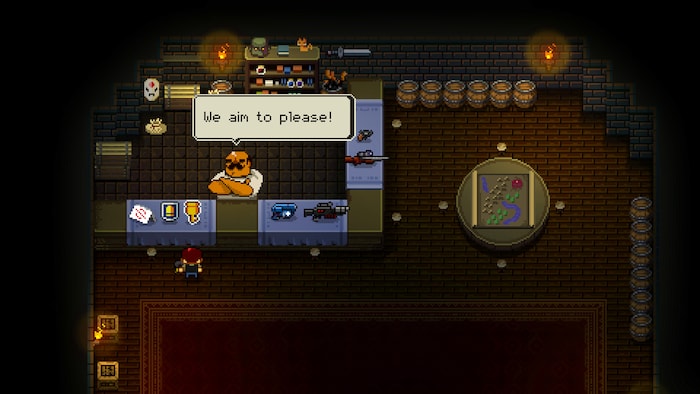 Choose your hero and enter procedurally generated dungeons to fight against hordes of enemies. You can use his skills to make a plan or throw yourself into battle madness. Enjoy a wide selection of weapons, manipulate the environment to your advantage, and show no mercy to get an ancient gun. And now, you can pet your dog!
Key features
Play a spectacularly dynamic game about a legendary gun
Explore procedurally generated dungeons and fight
Use the surroundings to win
Pet your dog and choose from a massive arsenal of deadly weapons
Roguelike is a uniquely fun genre providing a different experience each time. It goes straight to the gameplay, features high replayability, and rewards quick learning (although it takes some sanity and patience). There is also a story, but you discover parts of it along the way. Every success means a reward and a huge ego boost for fans of challenging titles. Give it a try if you liked Hades because whatever adrenaline-fuelled gameplay it delivers, it's one of the most relaxing video game genres out there.