Hitman – a video game series about the infamous Agent 47, a perfect assassin, who mastered the art of silent killing.
Adventures of a genetically enhanced human with extraordinary physique and intelligence enjoy unabated popularity among players across the world, setting new standards for stealth-oriented games. But what if one already knows Hitman games and he'd like to try something else now?
Here are some of the best games like Hitman – do you know them all?
Death to Spies
| | |
| --- | --- |
| Release year: | 2007 |
| Genre: | Stealth, third-person shooter |
| Developer: | Haggard Games |
| Game modes: | Single-player |
Let's start with one of the classic titles – it may look a bit outdated for today's standards, but don't let the game's visuals fool you.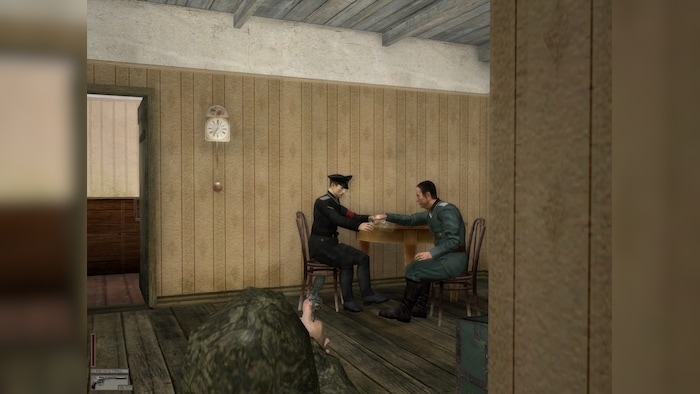 Death to Spies will take you back to the Second World War era, where, playing as one of Soviet's counterintelligence agents, you will be tasked with eliminating a number of important figures and stealing valuable documents, preferably in the stealthiest way possible. This is emphasized by the fact that you are entirely on your own behind the enemy lines – you are greatly outnumbered, thus going all-in would attract unnecessary attention, ultimately leading to raising alarms and busting your operation.
Key features
Addictive combination of stealth and third-person shooter set during Second World War
Gameplay that favors a silent approach and staying low
Missions based on real-world operations
Authentic choice of weapons and vehicles from the WWII era
Thief: Deadly Shadows
| | |
| --- | --- |
| Release year: | 2004 |
| Genre: | Stealth |
| Developer: | Ion Storm |
| Game modes: | Single-player |
Speaking of old classics and Hitman-like games, it just wouldn't be fair to not include one of the first Thief installments on the list.
Thief is an amazing game in itself and introduces a number of interesting gameplay changes when compared to its predecessors, including the possibility to freely walk the City's streets between missions.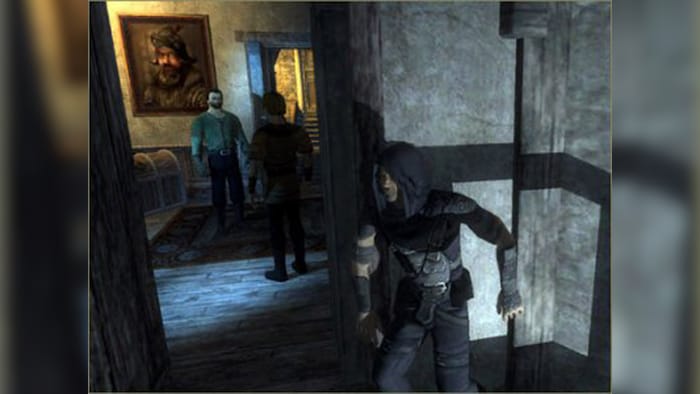 The title will take you to a world that adds little mystical and fantasy twists to the otherwise realistic late medieval setting, where creatures such as zombies and gargoyles happily roam desecrated undergrounds. Think twice before fighting them, though – you're not a warrior so use your scarce resources sparingly and keep a low profile unless combat is unavoidable.
Key features
An interesting story in a believable fantasy setting
Stealth-oriented gameplay that encourages silent play
An open-world environment that can be navigated freely between missions
An impressive arsenal of trusty thieves' tools
Metal Gear Solid V: The Phantom Pain
| | |
| --- | --- |
| Release year: | 2015 |
| Genre: | Action-adventure, stealth |
| Developer: | Kojima Productions |
| Game modes: | Single-player, multiplayer |
If you're not a huge fan of classics, there are also some newer games similar to Hitman available to play right now – this includes MGSV: TPP.
Metal Gear Solid V is a part of an old video game franchise that started back in 1986 and remained a console-exclusive for a long time.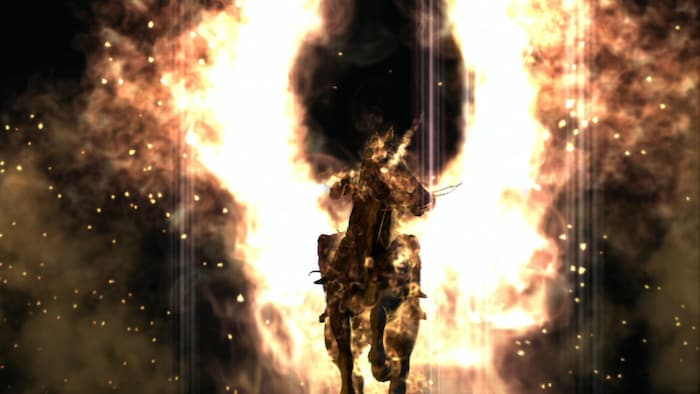 With MGSV things have changed and players finally got an opportunity to enjoy one of the bigger installments in the series not only on their consoles but on their computers, too. The game focuses on the character of Venom Snake as he seeks revenge on people responsible for the final events of Ground Zeroes.
The game features an open world which makes gameplay more varied and doesn't force one to resort to stealth tactics alone. You can go full Rambo, but since we're talking about games like Hitman, you're probably more interested in the silent way – and that's how MGS 5 is intended to be played.
Key features
An open-world environment that can be roamed freely
An amazing story full of twists and surprises
Open-ended gameplay that gives players some freedom when it comes to choosing their approach to play a mission
A wide assortment of tools and weapons to utilize on the battlefield
Dishonored 2
| | |
| --- | --- |
| Release year: | 2016 |
| Genre: | Action-adventure, stealth |
| Developer: | Arkane Studios |
| Game modes: | Single-player |
Get ready to revisit Dunwall and explore the city of Karnaca, as you help Corvo Attano on his quest once more.
Dishonored 2 continues the story of its predecessor and allows players to once more play as the Empress' protector, Corvo, or – which is an interesting change – his daughter, Emily.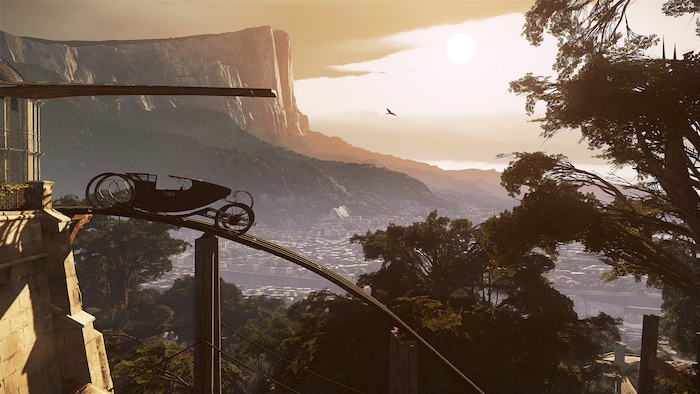 What makes the game unique is the fact, that you can complete it without ever killing a man – but why would you want that if you're here and looking for games similar to Hitman? With that being said, you may also be interested in checking out the first Dishonored, as it had a bit smaller maps and arguably better atmosphere – which could prove to be more Hitman-like and thus more relevant to our today's topic.
Key features
Unique locations inspired by the real-world Southern European countries
Nonlinear gameplay that allows players to tackle the challenges in a variety of ways
A set of upgradeable deadly weapons and tools
Several supernatural powers to utilize during play
Sniper Elite 4
| | |
| --- | --- |
| Release year: | 2017 |
| Genre: | Tactical shooter, stealth |
| Developer: | Rebellion Developments |
| Game modes: | Single-player, multiplayer |
For the final game on the list, we've got a game that's not just about stealth – it's about silently eliminating the targets.
Although one could have thought that the Sniper game wouldn't have much in common with the Hitman series, there are actually more similarities than first meets the eye.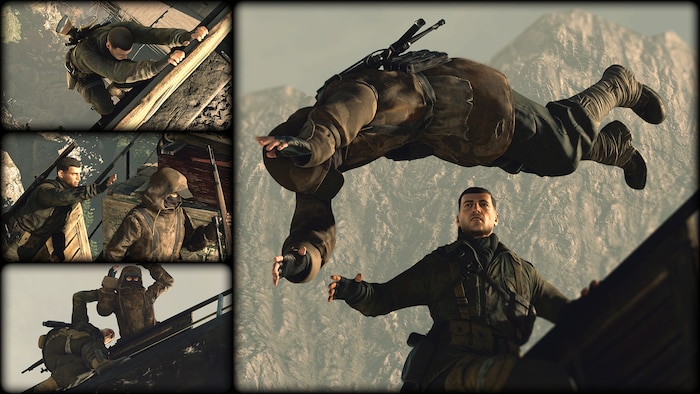 Sure, in Sniper Elite 4 your main tool to neutralize opponents is a sniper rifle, but there's nothing stopping you from getting close and personal – you can still aim for melee assassinations with the use of your trusty knife. It will be harder and you won't get these amazing X-ray slow-motion replays showing how the fired bullet pierces the enemy's skull, but it's an option nevertheless.
Key features
Set during Second World War and after the events of Sniper Elite III
Stealth-oriented gameplay that emphasizes the use of a sniper rifle
Advanced sniping simulation, where muzzle velocity, gravity, wind, and even the protagonist's breath all play a vital role in the bullet's final trajectory
A stunning X-ray slow-motion kill cam system that shows the fired bullet as it penetrates the enemy's internal organs
Hitman is a great game and it's quite hard to find a game that's exactly the same. Each game that comes close features some important differences that can make the final experience quite different – which might be a good thing since it's usually nice to play something new and fresh, rather than a copy-paste version of our favorite title.
We did our best and picked the coolest games similar to Hitman. We believe that they're different and varied enough, that everyone will find something enjoyable among them.
If a good Hitman-like game is what you're looking for, check some of the best games like Hitman on the list above. Do you have your favorite?