So, you've finished Hogwarts Legacy. The titular school for young wizards no longer holds any secrets for you. But what if you're still itching for more magical adventures and wondering what to play next? This is where we come in. We've prepared a handy list of similar titles that will most likely scratch that itch.
Hogwarts Legacy turned out to be one of the best Harry Potter games ever released, period. The first actual action RPG in the franchise, it takes you to the iconic place where adepts of magic hone their wizardry. The story itself takes place long before Harry was even born, which gave the developers an opportunity to present a tale free from the narrative constraints of the original novel series.
Which criteria did we take into consideration when picking our recommendations? Well, since Hogwarts Legacy is an action RPG, there are certain games from that genre on the list. Others are built around magical arts. HL is set in a school, so we took that into account as well, giving you titles where you either run a wizardry academy or are a student of such.
Either way, get ready for a dose of fantastic new games like Hogwarts Legacy that you will most likely love.

Spellcaster University
| | |
| --- | --- |
| Release date: | 2019-09-24 |
| Genre: | Simulation |
| Developer: | Sneaky Yak Studio |
Wouldn't it be fun to run your own Hogwarts? Spellcaster University lets you do just that: manage your own magic school. The world's your oyster and you're free to do whatever you want!
For example, you can train your students in demonic arts and necromantic powers. But if you're not the type who enjoys all that nightmarish stuff, you can pick something more family-friendly, such as shamanism or druidism. There's plenty of customization options here, you can build your university as you see fit, populate it with magical creatures, etc. No two playthroughs are the same.
Aside from determining the futures of your students, you will need to fend off Orcs and bureaucrats. Which one is worse? We don't know, but our guess is the latter. Aspiring directors, grab your copy and test your mettle!
Key features
A fantastic title for all those who wanted to be wizardry school directors
Tons of customization options and stuff to put in your school
You're responsible for the future of your students as well
Repel attacks by Orcs and bureaucrats alike
Forspoken
| | |
| --- | --- |
| Release date: | 2023-01-24 |
| Genre: | Action |
| Developer: | Luminous Productions |
The other latest big action RPG, Forspoken is probably the most similar game to Hogwarts Legacy on this list. A mixture of an open world with exciting traversal options and the ability to cast a flurry of destructive spells surely might sound interesting!
Forspoken tells the story of a young New Yorker named Alfre "Frey" Holland (played by Ella Balinska) who ends up in a fantasy world by the name of Athia. It is ruled by malevolent Tantas, tyrant matriarchs who oppress this land. As you may have already guessed, it will be up to Frey to end this madness, all with the help of some interesting allies and magical powers.
What's amazing about the game is the fluidity of traversal. You can jump and dash around the area and travel anywhere you wish. Of course, you get experience points to level up your character. You can craft new items, apply nail polish for some upgrades, boost the power of your cloak and learn new skills. The game definitely shows the technical capabilities of the current generation, so if you're looking for something visually astounding, this one might be a great pick.
Key features
Amazing open world that you can freely traverse
A talking bracelet
You need to take down evil matriarchs known as the Tantas
It looks gorgeous
Black Book
| | |
| --- | --- |
| Release date: | 2021-08-10 |
| Genre: | RPG |
| Developer: | Morteshka |
Want something Slavic-tinged? Black Book puts you in the shoes of a young witch named Vasilisa who seeks the titular artifact. Legends say it grants wishes and Vasilisa happened to have lost the person she was going to marry. 
So, she sets out on an epic quest during which you will perform exorcisms and face various demonic entities. In order to do so, you will need to collect spell cards and unlock new skills to become more powerful and be able to eradicate this hellish vermin.
The game's lore has been designed with the help of expert anthropologists, so expect lots of influences and elements from Northern Slavic mythology. Black Book is a little gem that fans of magic-themed games should at least consider.
Key features
Based on Northern Slavic mythology and prepared in cooperation with expert anthropologists
You play as Vasilisa, a young witch
Card-based battles with demons
Unique visual style
Witchbrook
| | |
| --- | --- |
| Release date: | TBD |
| Genre: | Simulator |
| Developer: | Chucklefish |
Looking for some more coming-of-age stories? The upcoming Witchbrook game should totally appeal to you then. This lovely pixelated social sim mixed with RPG will most likely capture your heart, actually!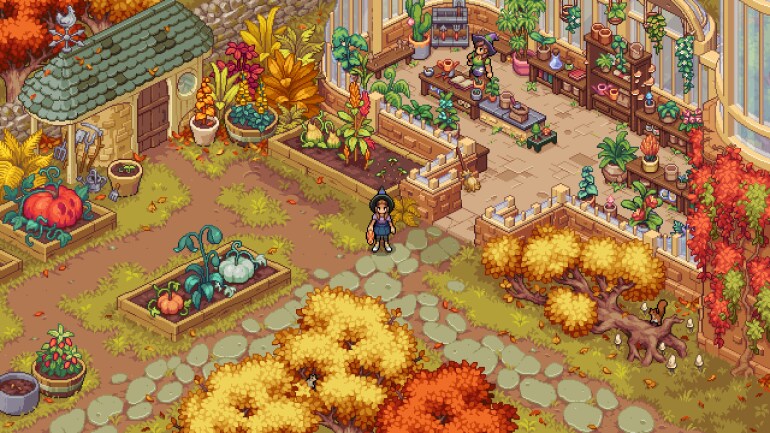 The game will take you to the lovely little town of Mossport. Your task is to carry on your family legacy. Your ancestor was the resident witch here, so you need to take up the mantle and embark on a magical adventure during which you'll discover your powers, meet new friends and even find love.
Learning new spells, flying around on your broom, customizing your character and taking part in Mossport's social life surely sounds pretty exciting. If you loved the whole school aspect of Hogwarts Legacy, you'll be pleased to pick up Witchbrook, as it seems to crank that up to 11. As mentioned above, this game is yet to be released, but be sure to add it to your wishlist!
Key features
Wonderful pixelated graphics
A social sim with magic
Plenty of room for customization
You even to get to fly around on a broom
Pillars of Eternity
| | |
| --- | --- |
| Release date: | 2018-05-08 |
| Genre: | RPG |
| Developer: | Obsidian Entertainment |
And now for something a bit older. Pillars of Eternity is a classical RPG from true veterans of the genre. If you missed Baldur's Gate, Planescape: Torment or Icewind Dale, you'll surely love this more recent addition to the role-playing canon.
The story is set in the world of Eora. A nation called Dyrwood is plagued by something strange: infants are born with no soul. Your character discovers they are a Watcher: someone who can interact with souls and see the past. These powers will help you find out how to deal with the whole "hollowborn" issue.
The game is a traditional, party-based, isometric RPG in the vein of the classics mentioned above. You can create your character by choosing from various available races, classes, and backgrounds. This will have an impact on your interactions with NPCs. An interesting feature of the game is that you don't gain experience for killing enemies, this is done via completing quests. This means Pillars of Eternity sort of favors non-violent solutions to problems.
All in all, it's a fantastic RPG that you should definitely check out.
Key features
A fantastic addition to cRPG classics in the vein of Baldur's Gate
Still, it has a pretty unique approach to leveling up
Side quests that are usually something more than just "fetch an NPC this and that"
Made by some of the genre's biggest legends
Wizard of Legend
| | |
| --- | --- |
| Release date: | 2018-05-15 |
| Genre: | Indie |
| Developer: | Contingent99 |
Looking for more pixelated gems? Wizard of Legend is another gorgeous representative of this artwork style. It's also a fantastic game in its own right, especially if you're looking for something that you can complete in the cooperative mode.
Wizard of Legend is all about quick moves and decimating your opponents in the most effective fashion. The key to success here is using spell chains to create deadly combinations that your enemies won't be able to resist. Of course, you unlock new spells and even minions who will do all the heavy lifting for you.
Wizard of Legend offers a couch co-operative mode which lets you take on the challenges offered by the game with a friend. It's definitely a fast-paced, clever action game that'll test your quick thinking skills and reflexes. If you're itching for more magical combat, this one's a great choice.
Key features
Another pixelated masterpiece on this list
Dynamic combat
Spells can be combined to create some pretty impressive combos
You can play it with a friend via the couch co-op mode
WANDS
| | |
| --- | --- |
| Release date: | 2017-12-11 |
| Genre: | Shooter |
| Developer: | Cortopia Studios |
Another unique game on this list, WANDS is pretty much a spellcaster dream come true: a VR title that is essentially a first-person shooter but with magic and all. Doesn't that sound amazing?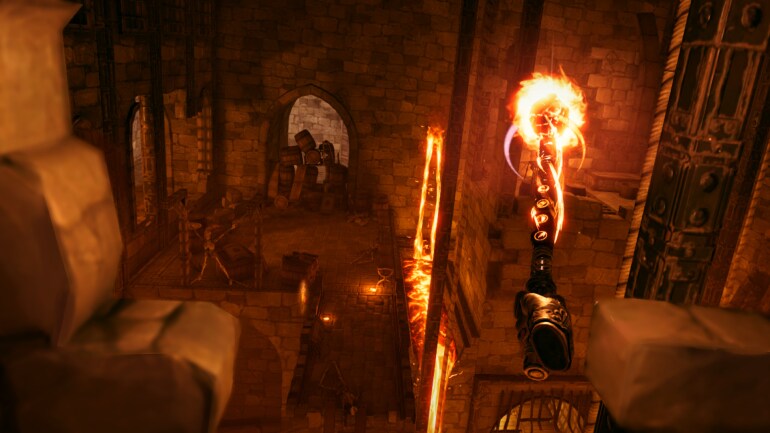 WANDS simply pits you against other players in online magic duels. Your weapons? A selection of wands and spells that you can cast in order to obliterate your opponent.
The game boasts beautiful battle arenas (as per the developer's description) and a friendly community. You can also play against an AI opponent. All in all, WANDS is one of the most unique games for aspiring wizards on the market. Just make sure you have any VR gear before you play it.
Key features
Wizardry duels in VR!
Plenty of spells to choose from
Various detailed arenas
You can play either against AI-controlled bots or human opponents
Potion Craft
| | |
| --- | --- |
| Release date: | 2021-09-21 |
| Genre: | Simulation |
| Developer: | niceplay games |
The final game on our list is also something that might very much appeal to the fans of the Harry Potter series. After all, potion-making is also a crucial part of the Hogwarts experience!
You know, there was this game, Last Call – a bartender simulator where you could prep all sorts of drinks for the customers. Potion Craft is sort of along these lines, but it's set in a medieval-style world of alchemy and sorcery.  Your task is to collect the ingredients, mash stuff, boil it, and so on in order to concoct the best potions and then sell them to the local populace.
The game is very relaxing and fun. Its visual style is also pretty darn stunning, so if you love unusual stuff that looks great, too, be sure to check out Potion Craft.
Key features
It's basically a sandbox-style alchemist simulator
Concocting new potions is surprisingly fun and relaxing
There's plenty of room for creativity
It's basically a sandbox-style alchemist simulator
And that is all, folks! These are the best games that we think will be perfect for your next choice the moment you're done with Hogwarts Legacy. They come in all shapes and sizes, so you shouldn't have a hard time picking something you think is amazing. Have fun!