A rush of adrenaline in your veins. A vast selection of deadly weapons. And unlimited opportunities for regular slaughter. This is what Hotline Miami is like. One of the most brutal games ever, receiving overwhelmingly positive ratings on Steam since 2012.
Hotline Miami is not a pretty game. Everything is rather messy – from ruthless acts of violence to graphics hard to describe as art. Both the simple plot and the top-down view are very similar to the first Grand Theft Auto. So, where does this fame come from? Well, it's just remarkably enjoyable gameplay. Dipped in '80s style, with fast-paced action and a wide arsenal of weapons to choose from.
The intriguing plot tempts us to play more and more. To discover what it is all about, and at the same time feel a little adrenaline from the game in which the hero can die from just one shot. Whoever played remembers! And who hasn't – should definitely try. We know many players are still looking for games like Hotline Miami that could give similar gameplay excitement. If you are such a player, then check out this list!
Heat Signature
| | |
| --- | --- |
| Release year: | 2017 |
| Genre: | Action, Stealth |
| Developer: | Grasshopper Manufacture |
Stealth and action game for PC, where absolutely anything can happen. There is no story, no specific quests, and no monotony. You are a space thief, and your task is to break into the space station to eliminate its crew and collect the loot.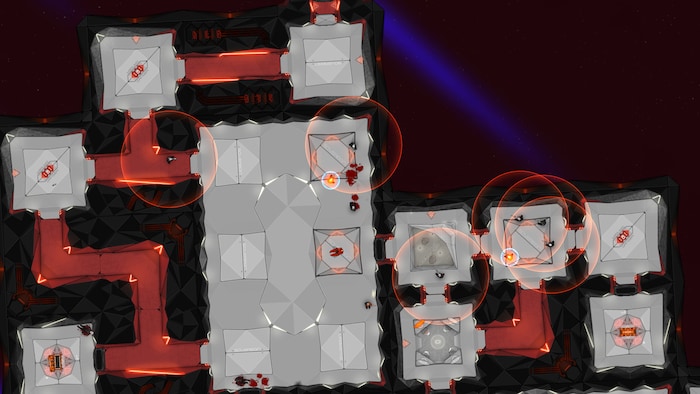 Heat Signature takes place in space. You travel by ship from one station to another, then break into it and complete the task. Get ready for some action because there will be many opponents on your way. The developers put the fun of the gameplay over unnecessary lengths. And delivered you some nice tricks to use! Like the ability to stop time. This way, when multiple guns are aimed at you, you can work out your next move. Will it be successful? It depends.
You can shoot the window by accident, and the vastness of space will absorb you. Or you can use the gadget in the wrong way and accidentally commit gory suicide. Yay, gadgets! Grenades are just the beginning of a great range of possibilities here. You also have devices that will drag items from other rooms. Or a gadget that will swap you with your enemy standing spot. And if that is not enough, in this game, you have the option of saving your friend's character, if he is also playing. That's it. We can't reveal too much. You have to see for yourself!
Key features
Play a game where you create your character's story
Break into the decks of space stations and complete tasks
Stop time to develop a plan of attack
Use gadgets that can lead to an unusual development of accidents
Killer7
| | |
| --- | --- |
| Release year: | 2005 |
| Genre: | Adventure |
| Developer: | Grasshopper Manufacture |
Among the video games like Hotline Miami, this one is by far the strangest. Play as Harman Smith. The guy is a professional killer who fights evil. A bit like Hitman but with one tiny detail. Our hero has seven highly qualified personalities.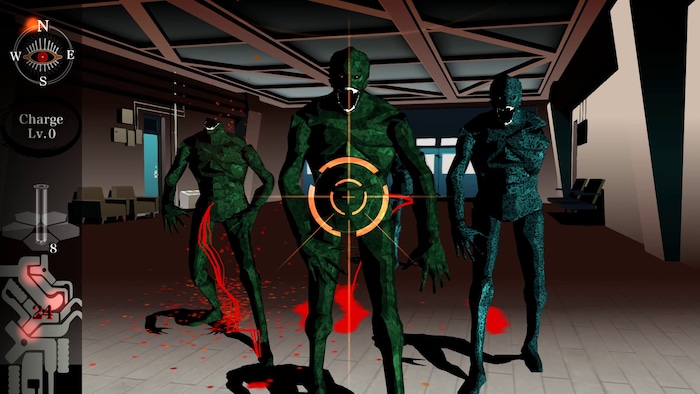 A terrorist organization with a cheerful name – Heaven Smile – attempts to take control over the world. As a man chained to a wheelchair and armed with weapons, you can do little. But in the company of other personalities, only you will be able to stop wicked antagonists.
Each of your personalities is a completely independent character, armed not only with weapons but with deadly and unique skills as well. You can play as a former Mexican wrestler or a blind boy who uses echolocation. When the bizarre creatures of the Heaven Smile stand in your way, you must use your skills wisely. And all this set in crazy, anime-like graphics, the animations of which are extremely weird.
Key features
Play as a contract killer blessed with seven independent personalities
Run, sneak, solve puzzles, and fight
Use the unique skills of each personality to your advantage
Defeat bosses and discover new secrets of your own story
PAYDAY 2
| | |
| --- | --- |
| Release year: | 2013 |
| Genre: | Action & Shooter |
| Developer: | OVERKILL - a Starbreeze Studio. |
Have you ever seen these spectacular movie bank robberies? A few guys with guns and faces hidden behind caricatured masks resembling presidents? In PayDay 2, you can be such a guy.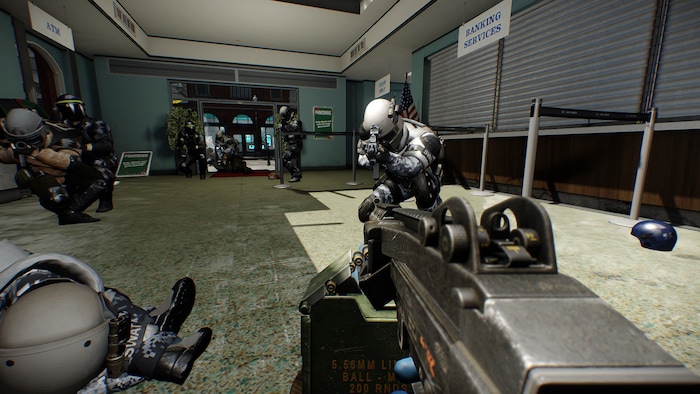 The action takes place in Washington DC. The game can be played alone or in cooperation with up to four players, and the success of the mission depends on close interaction between team members. The CRIMENET system will give you a series of tasks, and each of them will be unique and very illegal.
Armed with the best weapons, sneak around, watch your opponent's every move and eliminate him with one precise shot. These will not be easy as very qualified agents of the best secret services will stand in your way. Since the release date, Overkill has introduced over seventy updates making this gameplay even more exciting. Always wanted to modify the appearance of your mask or clothes? Now you can. If you want, you can even play as John Wick himself.
Key features
Become one of the professional criminals on the streets of Washington
Play in whatever style you like
Sneak, plan raids and eliminate enemies
Modify the look of your mask or outfit
Play solo or in cooperation
DEADBOLT
| | |
| --- | --- |
| Release year: | 2016 |
| Genre: | Action & Shooter |
| Developer: | Hopoo Games, LLC |
Have you ever considered taking the job of Death? In this stealth platformer, you can! But you won't be a typical hooded Grim Reaper. You will be the coolest professional masked killer ever.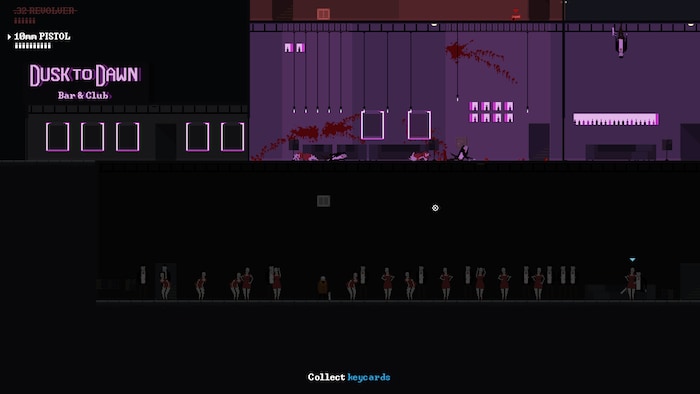 A wave of living dead floods the earth. However, these are not typical mindless zombies but clever creatures armed with very deadly weapons. And with very murderous intentions. It is your job to take care of this situation. Armed with knives and guns, run the levels of the game, choosing any playstyle you wish.
You can sneak and eliminate enemies by surprise. And you can also just run into them, driven by fury. Remember, it is extremely easy to die in this game, and it has only one level – hard! Fortunately, the acquired weapons, of which there are more than thirty types in the game, will help you complete the purge.
Key features
Play as Death and get rid of the zombies invasion
Sneak to eliminate your opponents by surprise
Collect weapons while running through levels
Train your skills to eliminate multiple enemies in a murderous rage
Furi
| | |
| --- | --- |
| Release year: | 2016 |
| Genre: | Action & Shooter |
| Developer: | The Game Bakers |
An action game and an excellent proposition for fans of hack-and-slash titles. If you are looking for dynamic combat set in the reality of a magical fantasy world, you should definitely check out this production.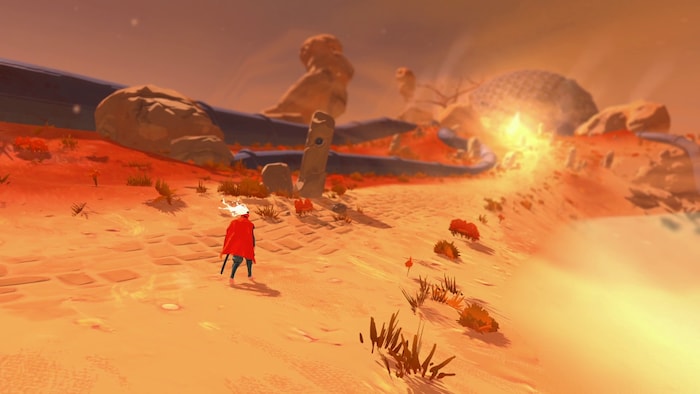 You find yourself in an enormous prison. Your goal is to regain freedom, but it won't be an easy task. To get out of jail, you have to defeat hundreds of guards standing in your way. Armed with powerful abilities, a sword, and a firearm, slash your way towards once lost freedom. Explore, discover new elements of your own history and the reality that surrounds you. Each fight will be a unique one-on-one battle, and each opponent will show a different fighting style. In Furi, any monotony simply does not exist.
Key features
Fight hordes of enemies to escape the prison
Explore and discover the story of this world
Learn your opponents' fighting styles and use this knowledge to gain an advantage
Use firearms and a sword to eliminate one boss after another
Mother Russia Bleeds
| | |
| --- | --- |
| Release year: | 2016 |
| Genre: | Fighting |
| Developer: | Le Cartel Studio |
A 2D pixel fighting video game in which you will travel to the 1980s Soviet Union. Get ready for a brutal battle full of blood, drugs, and violence, entirely led by your pure lust for revenge.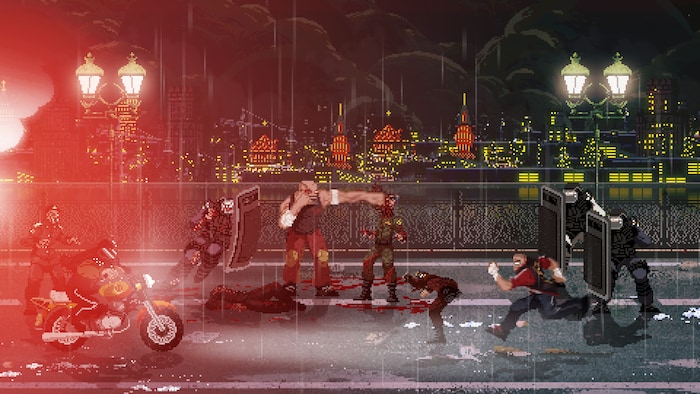 Wrongly accused and sentenced to death, you break out of prison. All you desire is vengeance and slaughter. So you go to the streets of Mother Russia to face hundreds of opponents. As a former boxer, you know a little something about beating people up. So use both the strength of your fists and the items you find along the way.
There are many enemies in this game, but you can fight both solo or in the company. In multiplayer mode, you can play with your friends, who will play as your prison mates. And remember that in the loss of health situation, you can always support your strength with nutritious drugs!
Key features
Play as an ex-boxer who is escaping from prison to get revenge for injustice
Fight with fists or use found items
Regenerate your strength by consuming the drugs you find
Play solo or in multiplayer for up to four people
Hatred
| | |
| --- | --- |
| Release year: | 2015 |
| Genre: | Action & Shooter |
| Developer: | Destructive Creations |
If you're familiar with the Postal series, then know that Hatred gives a surprisingly similar gameplay experience. No specific plot, just killing, rage and destruction. You just want to run around the city killing every passerby you see? In that case, Hatred will perfect for you.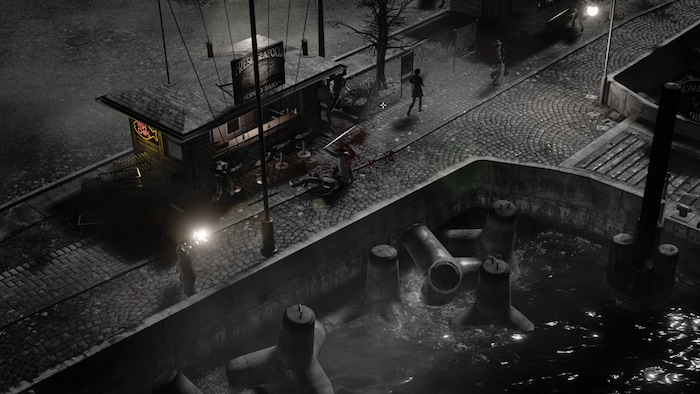 The leading character hates the entire world and all people. Yes, that is the entire storyline of the game! So, he goes to the streets of the town to execute literally every living person. In this game, you have quite a wide arsenal of weapons to try, in which you will not only find a gun or a firearm but also a rocket launcher.
Your job is simple – run and kill. Hatred is a very climatic game due to its unique graphics. The gameplay is observed isometrically, and the graphics are black and white and gloomy. It suits the psychopathic mood of the main character perfectly.
Key features
Play a game with no storyline
Set off to the town, driven by the raging desire to kill all citizens
Use a wide arsenal of weapons
Enjoy the dark climate of unique graphics
Violent video games are the subject of many discussions and are undeniably controversial. It is not a genre for everyone. To play such games, it is good to have some common sense and realize the reality on the screen is not real. These games are for entertainment, a way to hang out, and for some – even an art experience.
Among the games like Hotline Miami, we have presented titles that will surely delight connoisseurs of fighting games. There are propositions with an extensive plot, even a mystery or intrigue. And there are these with no story at all. Instead, they focus on the sheer pleasure of killing. And it is a special and wonderful pleasure that makes you feel very alive! And you'll find everything here: action, fast-paced gameplay, epic combos, shooting everything around, and even stealth. It is a real playground for anyone who likes to practice their dexterity and smooth deadly moves. Have fun!