Single-player games are fun, but sometimes we want to play together with friends. For example, there is It Takes Two – a game from the creators of A Way Out that, just like its predecessor, focuses entirely on cooperation between two players. There is no single-player mode available and the gameplay revolves around helping out each other and progress as a team.
Best Games like It Takes Two
If you're interested in this kind of fun and casual-friendly games, you may want to take a look at some of the best games similar to It Takes Two on the list down below.
A Way Out
| | |
| --- | --- |
| Release: | 2018-03-23 |
| Genre: | Adventure |
| Developer: | Hazelight Studios |
What could be a better way to open the list of the best It Takes Two alternatives than starting with a game that was made by the same people?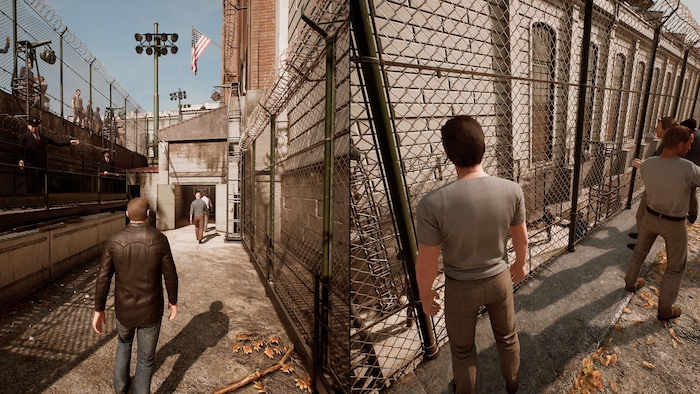 A Way Out is an action-adventure game that follows the story of two prisoners as they try to break out of prison, but it's easier said than done. Each player will be able to control one of the two presented characters, and the objective is to cooperate and work together through a series of missions that will eventually lead to leaving the facility – a successful escape, however, will just mark the beginning of the journey.
Although A Way Out has a few humorous elements hidden inside, it lacks the light-hearted atmosphere of It Takes Two and it clearly aims to create a more serious and mature experience. If that's what you're looking for, you should definitely check this game out.
Key features
An addictive action-adventure game for two people
An engaging story that follows two convicted prisoners during and after their escape
A bit of freedom in form of choosing the roles for each mission – tasks are usually not tied to characters
The story-driven linear gameplay formula
Moving Out
| | |
| --- | --- |
| Release: | 2020-04-28 |
| Genre: | Puzzle, action |
| Developer: | DevM Games, SMG Studio |
On a more humorous side of the spectrum, there is Moving Out – a simple game about moving out all the furniture and home appliances from houses as fast as possible.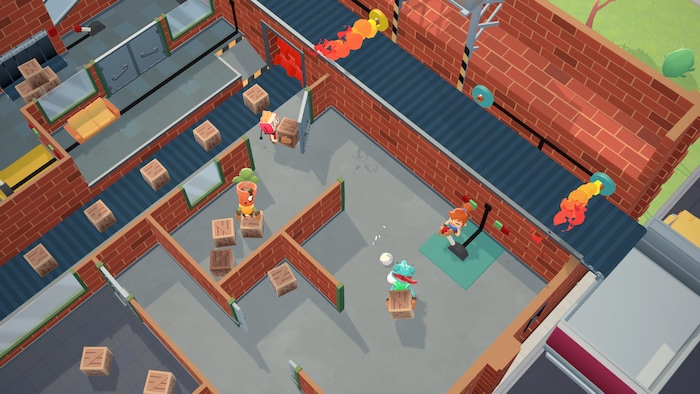 Moving Out is a fun action game that is played from a bird's eye view. As a part of a two-man team, you will be responsible for helping people move out by taking out the furniture and storing it all in your van. The game sacrifices realism in favor of a fast-paced arcade experience – you can, for example, simply jump through the window, shattering it into pieces during the process, to get into the house. This type of gameplay combined with colorful visuals and simple physics results in a one-of-a-kind party title that you wouldn't want to miss.
The game comes with an optional single-player mode, but it wouldn't be surprising if we told you that it gets infinitely more fun if you bring a friend.
Key features
A great party game for two people
The existence of simple physics makes it possible to throw objects around, which can result in some ridiculous and funny situations
Colorful low-poly visuals and casual-friendly atmosphere
The single-player mode is available for those who don't have anyone to play the game with
Minecraft Dungeons
| | |
| --- | --- |
| Release: | 2020-05-26 |
| Genre: | Adventure |
| Developer: | Mojang |
This is another interesting It Takes Two alternative – if you liked Minecraft and you are a fan of dungeon crawlers, you will most likely enjoy your time in Dungeons.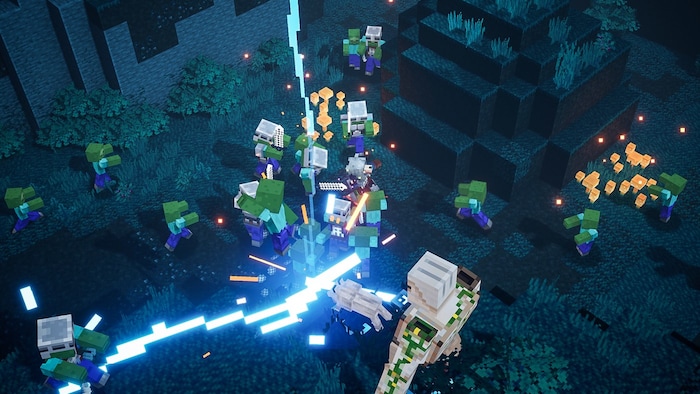 Minecraft Dungeons is a dungeon crawler game based on the overwhelmingly popular sandbox title. Here, however, instead of having open-ended gameplay in a virtually infinite world, you will be faced with randomly generated dungeons filled with ferocious creatures that jealously watch over their treasures.
Defeat waves of monsters, as well as demanding bosses, and steal their valuables, such as rare equipment pieces, to become more powerful, and tackle more difficult challenges with ease. And don't forget to bring friends – Minecraft Dungeons allows parties of up to four players to enjoy the game together.
Key features
An addictive dungeon crawler in a Minecraft world
Numerous monsters based on their counterparts from the original game
Procedurally generated worlds and randomly generated enemies for virtually unlimited replayability
Multiplayer for up to 4 players
Brothers: A Tale of Two Sons
| | |
| --- | --- |
| Release: | 2013-09-03 |
| Genre: | Adventure |
| Developer: | Starbreeze Studios AB |
Among other unique games, like It Takes Two, one can't forget about this fantastic adventure – it's a great co-op option to try, but only if you have Nintendo Switch.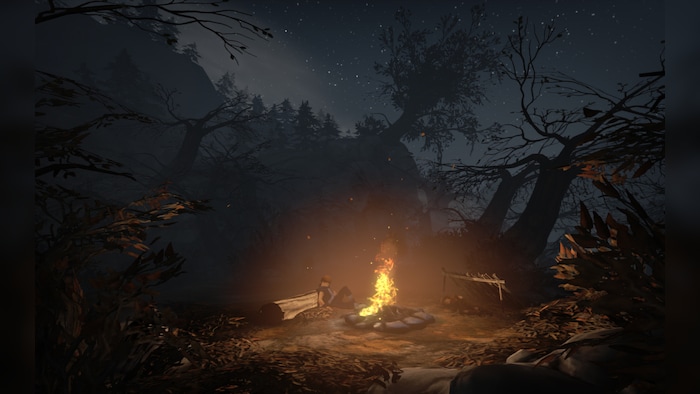 Brothers: A Tale of Two Sons is an adventure game that focuses on the story of two brothers tasked with collecting the cure for their ill father – it's all about their fantasy journey filled with all kinds of dangers. To overcome the challenges, brothers will have to closely work together and cooperate.
Before you get the game, it's worth noting that it plays differently depending on the platform. Only the Nintendo Switch version comes with a proper co-op multiplayer – other platforms are more of a single-player co-op experience, where each of your two gamepad sticks controls a different character. It would still be possible to play with someone if you just shared a gamepad, but it's rather inconvenient and certainly not the way the game was intended to be played.
Key features
An adventure game with a casual-friendly atmosphere
The gameplay focused on exploration and solving simple puzzles by utilizing the strengths of each of the two playable characters
A beautiful story-driven experience in a fantasy world
Designed to be played as a single-player game, unless you get yourself the Nintendo Switch version
Portal 2
| | |
| --- | --- |
| Release: | 2011-04-18 |
| Genre: | Adventure |
| Developer: | Valve |
The list of the best games like It Takes Two wouldn't be complete without adding Portal 2 to it – it's probably one of the best co-op experiences up to date.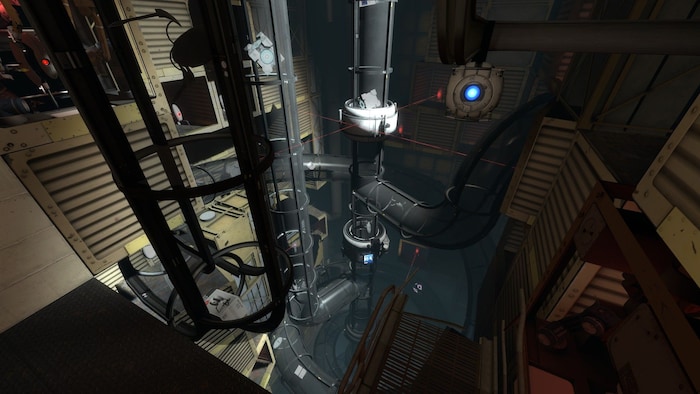 Portal 2 is a puzzle-platform game where your main objective is to use your portal gun to create orange and blue portals and creatively use them to escape the increasingly difficult test rooms. Usually, only one orange and one blue portal can exist at any given time, and both players and objects can freely enter either of them to exit from the other one.
Portal 2 is great as it is, but the multiplayer mode deserves a special mention, as it comes with a set of entirely new levels that were made exclusively for the co-op play, where two players must cooperate to achieve success. As opposed to the single-player mode, where you can create two types of portals on your own, in the co-op mode each player is able to use only one portal type, either orange or blue. This means that if you want to use portals to get from point A to point B, you need to communicate with your friend and tell him where you want him to make his portal.
Key features
An addictive 3D puzzle-platform video game with overwhelmingly positive reviews
Fun and challenging difficulty level that sometimes requires thinking out of the box
Humorous dialogues that help to build the atmosphere
Comes with a complete single-player campaign as well
Overcooked 2
| | |
| --- | --- |
| Release: | 2018-08-07 |
| Genre: | Indie |
| Developer: | Ghost Town Games Ltd. |
If you're in need of a solid party game like It Takes Two for up to 4 players, make sure that Overcooked is not overlooked.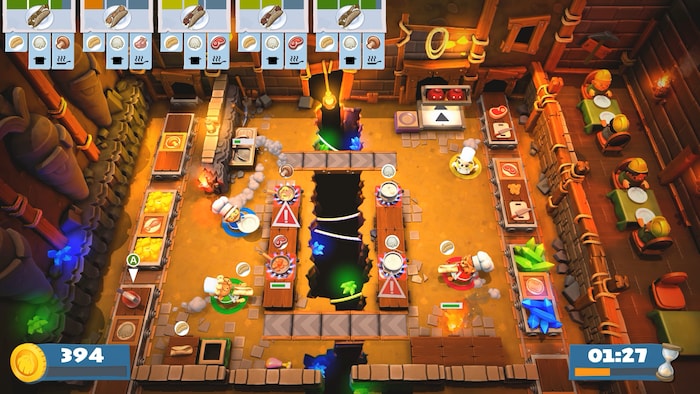 Overcooked 2 is a cooking simulation game and a sequel to the original Overcooked. The game comes with various gameplay improvements over its predecessor, but the core remained untouched – you will be responsible for preparing and serving a variety of dishes to your impatient customers. Overcooked puts emphasis on cooperation – there's always so much to do and the room layouts are often shifting their shapes and there can even be some movable platforms that make certain areas temporarily unavailable, forcing players to rely on their partners. Instead of doing everything yourself, throw that tomato to your friend and let him chop it while you take care of doing the dishes. Stop running around and trying to be everywhere – work together and you'll be much more efficient.
Key features
A fun and simple cooking simulation game that puts emphasis on teamwork
Fast-paced gameplay that revolves around preparing and serving various dishes
Casual-friendly and joyful atmosphere – a perfect game to relax
Alternatively, can be played in single-player mode
Lovers in a Dangerous Spacetime
| | |
| --- | --- |
| Release: | 2015-09-09 |
| Genre: | Indie |
| Developer: | Asteroid Base |
If you liked the light-hearted atmosphere of It Takes Two, you will have a great time in this one. Just make sure to bring 3 other players with you – this game is best played with a full 4-man party, but a duo should also do the trick.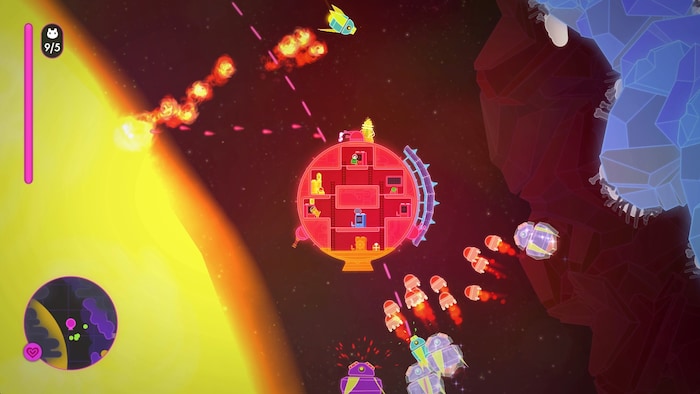 Lovers in a Dangerous Spacetime is a fun and colorful mix of action and platform genres, where players take control of a spaceship and must utilize its systems to safely reach the destination. Although it sounds rather simple, it can quickly turn into chaos, but certainly not in a bad way. What makes the task hard and challenging is the fact that each player can control only one of the ship's systems at a time. The ship has a few guns on each side, an engine, and a protective shield – players need to cooperate and move around the ship in order to neutralize incoming dangers and navigate through a 2D space maze.
Key features
A colorful adventure from a space shooter genre
Frantic, fast-paced gameplay focused on cooperation between players
Easy to learn and doesn't get boring fast
Can be played either alone or by up to four people
Resident Evil 6
| | |
| --- | --- |
| Release: | 2013-03-22 |
| Genre: | Horror |
| Developer: | CAPCOM |
Resident Evil is probably not a game you would've expected to find on this list, as it was originally designed to be a single-player title. It does, however, come with a pretty fun co-op mode.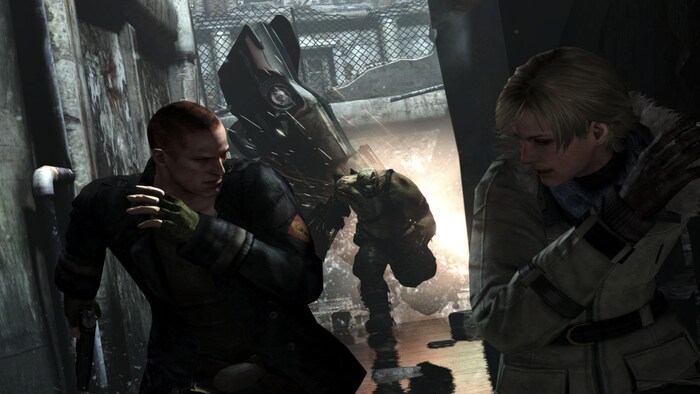 Resident Evil 6 is a third-person shooter from a popular horror video game franchise. Although it's a solid single-player experience that is definitely worth playing, it's not the focus of today's list. The game's co-op mode allows players to easily team up and tackle the challenging campaign together. It doesn't force too much co-op play and teamwork is not as crucial as it is in other co-op titles – the game gives both players much more breathing room, which makes it a good choice if you're afraid that you won't be a good co-op partner. Treat the co-op mode as a single-player mode that can actually be played by two players simultaneously.
It's also worth mentioning that there is a split-screen mode available, which makes RE6 a perfect option to play with your friend or your important one while sitting comfortably on the couch.
Key features
A third-person shooter from the popular horror series
Good visual effects and a solid portion of scary elements
Casual-friendly co-op mode that doesn't require too much teamwork, resulting in a more laid-back experience
Split-screen mode available
Sackboy: A Big Adventure
| | |
| --- | --- |
| Release: | 2020-11-11 |
| Genre: | Platformer |
| Developer: | Sumo Digital |
If the visual style of It Takes Two is one of the game's most important elements for you, Sackboy won't be a disappointment.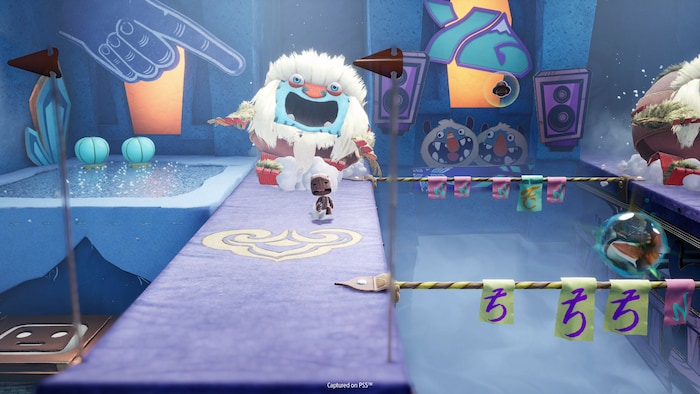 Sackboy: A Big Adventure is a platform video game that stands out from the crowd thanks to its stylized visuals with vivid colors as well as its simplicity when it comes to gameplay. The game focuses on exploration with a bit of combat and simple minigames, while the co-op mode adds some extra stages that were designed with teamwork in mind. Teams of up to 4 players can explore levels together and experience this beautiful little masterpiece as a group. Customize your character and use a variety of attacks to progress further. Master your moves and chain them into more powerful combos to show off your expertise.
If you have the PlayStation console, this game should easily become one of your co-op priorities.
Key features
Simple gameplay formula with a light-hearted and joyful atmosphere that is further reinforced by the chill soundtrack including some old-school hits
An experience that can be considered a beautiful journey and a piece of art
Lots of visual customization options for the player's character
Local and online co-op for up to 4 players with some exclusive stages that require teamwork to complete
Unravel Two
| | |
| --- | --- |
| Release: | 2018-06-09 |
| Genre: | Adventure |
| Developer: | Coldwood Interactive |
For the final game on the list, we've got Unravel Two – a peaceful co-op adventure with some really unique gameplay mechanics.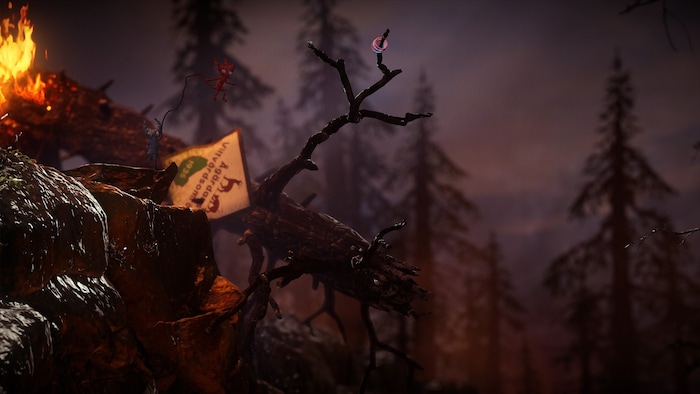 Unravel Two is a puzzle-platform title and the sequel to the original game from 2016. It focuses on the adventures of two yarn creatures that are tied together, which is an important gameplay element that will help you complete a variety of challenges. The creatures can use that thread that connects them to help each other get to seemingly unreachable places. Players can tie knots, use the thread as a lasso or a rope, or allow their partner to safely descend to lower platforms. Although the game was designed with co-op in mind, it can still be played solo, where the player can control both characters by himself.
Key features
An addictive puzzle-platform game with a light-hearted atmosphere
Unique gameplay mechanics that revolve around the creative use of the thread that connects the playable duo
Polished visuals and beautiful music – a little piece of interactive art
A fun local co-op experience – an excellent choice for a casual couch session with your friend
The Best 10 Games Similar to It Takes Two
It Takes Two video game is a great choice to play with friends to relax and casually spend some time together. You can, however, get too much of a good thing – once you beat the game, you may be interested in finding some alternatives or similar games to keep yourself entertained. For this reason, we decided to create a list of games that were primarily designed to provide players with a fun co-op experience.
If you're looking for some of the best games like It Takes Two, check out our list above – you'll surely find something that you'll enjoy. Bring your friends and have a great time.