Mario Kart is a world-famous classic among cart racing games. It is reliably funny, engaging, and always family-friendly. So we can safely say that releasing Mario Kart Deluxe is one of the best Nintendo decisions!
Mario Kart 8 Deluxe is an improved version of the addictive Wii U game from 2014. Like all installations in the series, it features hilarious playable characters, varied gameplay modes, intriguing locations, and a dynamic soundtrack spicing up every race. And there's Mario – one of the most recognizable manly men ever!
Combining all this with many multiplayer options and proven mechanics, we get a title perfect for everyone. Inspiring to the point that people worldwide create cosplays of Mario Kart characters to compete in city street races.
But sadly, Mario Kart 8 Deluxe is only available on Nintendo Switch. What to do in this tragic situation? Simple – play games like Mario Kart on other platforms!
Co-op Games Like Mario Kart Deluxe 8
Sonic All-Stars Racing Transformed
| | |
| --- | --- |
| Release date: | 2013-01-31 |
| Genre: | Arcade & Platform |
| Developer: | Sumo Digital |
It is probably the best Mario alternative on this list, generating massive fanbase excitement in all comparisons of both games. However, while Mario is purely a kart racer, this one mixes its features with a more traditional approach.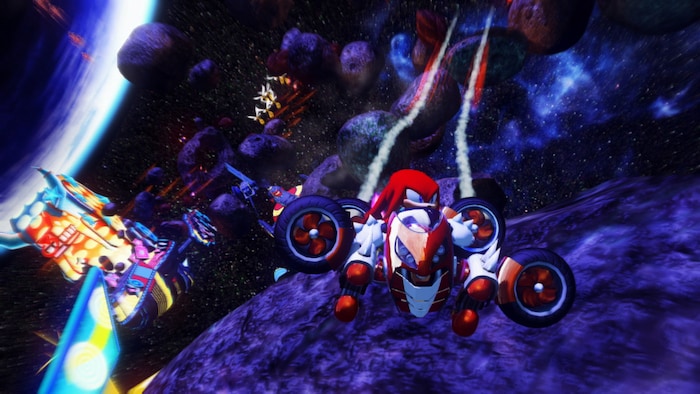 Choose from legendary characters from the Sonic the Hedgehog universe and use every method to win! Just like in Mario Kart 8, you can enjoy effective weapons to slow down your opponents and have the destructive fun of your life. There is also a unique feature – all vehicles transform into a boat or plane. Managing these abilities, you can achieve spectacular racing results in this hilarious game for the whole family.
Key features
Play an exciting racing game set in the Sonic universe
Try every vehicle and character to select your favorite
Use your imagination to slow down the other players
Transform your car in single-player or multiplayer
Crash Team Racing Nitro-Fueled
| | |
| --- | --- |
| Release date: | 2019-06-21 |
| Genre: | Racing |
| Developer: | Beenox |
Nitrous Oxide is the best racer in the universe. So when he challenges the entire Earth, Crash and Dr. Neo Cortex decide to work together to save the world.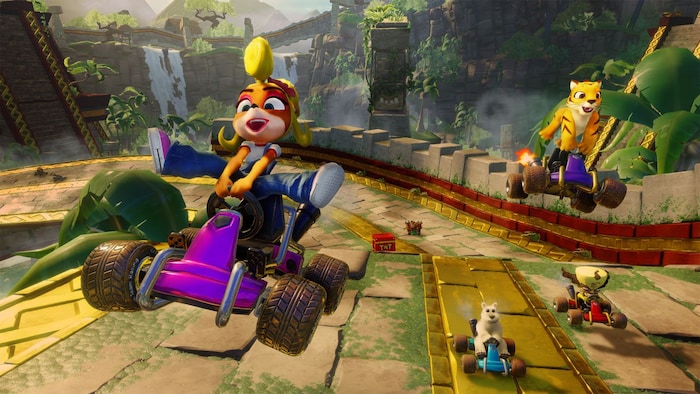 Crash Team Racing Nitro-Fueled is an adrenaline-fueled title for players of all ages where you can customize the vehicle and choose from many exciting gameplay modes. Start your engines, pick your favorite hero, awaken your inner racing champion, and win! It's one of the most story-driven recommendations on this list, featuring 31 unique tracks set in hilarious audiovisuals typical for the series.
Key features
Help Crash save the world
Choose your hero and the best vehicle
Personalize cars to race on 31 racetracks
Play solo or in multiplayer with up to four players
Need for Speed: Hot Pursuit
| | |
| --- | --- |
| Release date: | 2020-11-06 |
| Genre: | Racing |
| Developer: | Stellar Entertainment Limited |
Need for Speed is a recommendation for those who want something less cartoony and more realistic. This particular title is the massive success of Criterion studio, known for developing the thrilling Burnout series. And it's available on multiple platforms like Xbox 360 or PlayStation 3!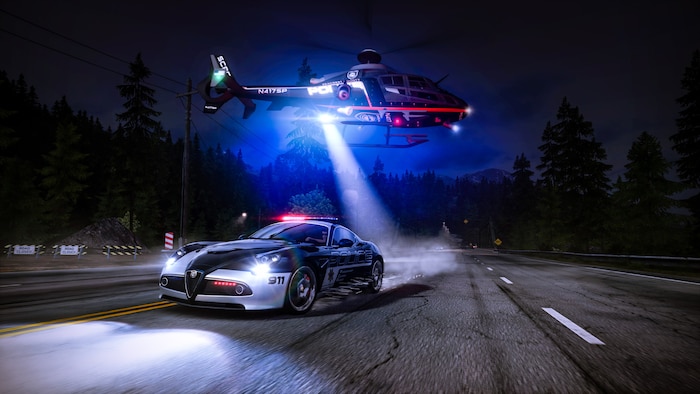 Ride over 100 miles of Seacrest County roads to escape as an illegal driver or become a chasing cop. Get ready for 80 licensed car models, a thrilling single-player campaign, and spectacular views. As in Mario Kart 8 Deluxe, one of the goals is to slow down the other race participants. Plus, Hot Pursuit introduces the innovative Autolog, comparing all your scores with your friends' stats. Play solo or in multiplayer with up to eight players to become a master of breaking the most challenging records! Cheered by the reliable Need for Speed soundtrack featuring songs by artists like Thirty Seconds to Mars, Funeral Party, and Bad Religion.
Key features
Play the sixteenth installment in the legendary racing series
Become a cop or road criminal
Compare results with Autolog
Play solo or in multiplayer with up to eight players
Mario Party 10
| | |
| --- | --- |
| Release date: | 2015-03-12 |
| Genre: | Co-op |
| Developer: | Nintendo |
We don't all have to like racing games – but we all love Mario! So why not play something else in the same universe? Mario Party is fantastic entertainment for the whole family or gatherings with friends that will keep you glued to the screen for hours of pure fun.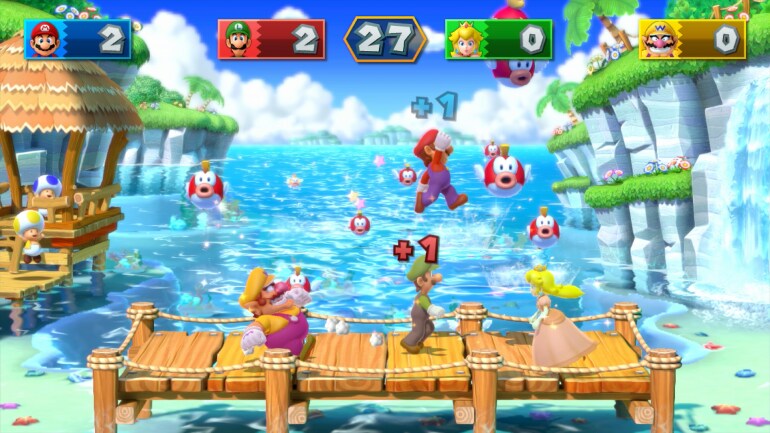 Mario Party 10 is a five-player multiplayer recommendation, where one person plays as the evil Bowser while the others do whatever they can to avoid his attacks and reach the finish line. Playing as the iconic characters from the Mario universe, you can lose yourself in this game or choose from many other mini-games. You decide what is better – cooperation or fierce competition!
Key features
Have fun with a thrilling party game set in the Mario universe
Play as iconic characters and enjoy tons of mini-games
Lose yourself in the immersive Bowser party mode
Play solo or in multiplayer with up to five people
Trailblazers
| | |
| --- | --- |
| Release date: | 2018-05-08 |
| Genre: | Racing |
| Developer: | Supergonk |
Among games like Mario Kart, this one is the most creative. Travel to a futuristic, extraordinary world to participate in the craziest races on truly challenging tracks where all that matters is… your painting skill?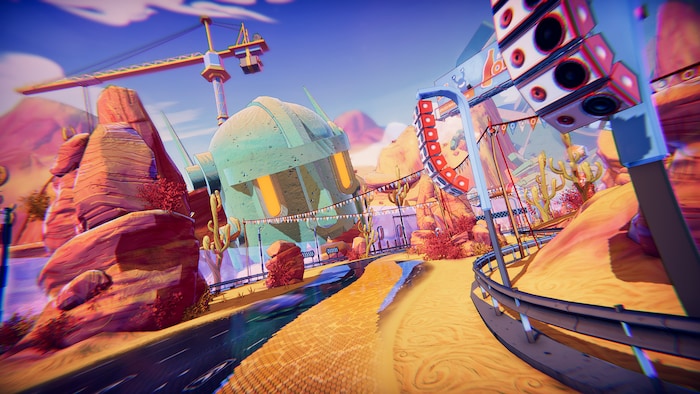 Trailblazers is an action racing game where players compete in teams online or split screen. The rule is simple – win the race! But to achieve this goal, you must use your team's color to paint stripes on the racetrack. Such a line will significantly increase your and your party's speed whenever someone drives over it. Trailblazers is quite a challenging title as the enemy team can always paint over your dye with their color to gain an advantage. It's a dynamic and thrilling game you can play solo or in exciting multiplayer!
Key features
Choose one of the vehicles and start the ultimate race
Enjoy futuristic sceneries set in a bizarre world
Paint stripes on the track to ensure victory for your team
Play solo or in fierce multiplayer
Computer games like Mario Kart Deluxe don't always mean racing or cartoon recommendations. It all boils down to one of the essential factors – always replayable and unlimited fun. The main features of all these titles are perfectly balanced competition, cooperation, and fair distribution of strengths, thanks to which no one feels left with an undeserved loss. This combination makes these games ideal entertainment options for any gathering occasion – but they are evenly great for relaxing solo fun!