Monster Hunter: World took the world by storm, and it introduced a whole batch of PC gamers to this magnificent franchise. By all means, MHW deserved to become a bestseller, it's a fantastic game, but it's not the only video game with juicy and engaging monster hunting!
We're here to shed spotlight on titles which capture some aspect of MH magic in their own way, but you can expect many very huntable monsters, indeed! Let's dive in and prepare for a hunt!
Wild Hearts
| | |
| --- | --- |
| Release date: | 2023-02-17 |
| Genre: | Action RPG |
| Developer: | Omega Force |
| Monster type: | Beastial demigods of nature |
Wild Hearts is quite possibly the most Monster Hunter-like non-MH game released recently.
It covers quite a few of the same checkmarks, but also adds a few of its own touches to make things more interesting in its own way, mostly via the Karakuri: mechanical installations your character can conjure thanks to a magical attunement to the land, once thought lost forever.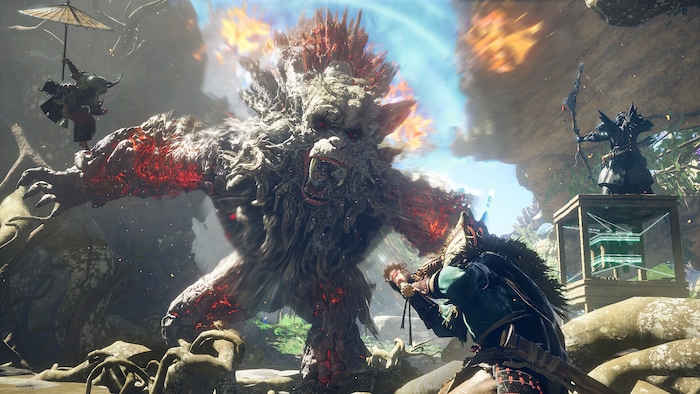 All the important bits are in: giant monsters using natural magic, creative weapons, complex gear, and a very strong visual identity, strongly inspired by feudal Japan. Wild Hearts also has a strong edge over Monster Hunter and, in fact, most games in the list: it features cross-play between Steam, Epic Games Store, Origin, Xbox and PlayStation, which makes playing with friends so much easier!
Key features
Fascinating Karakuri system letting you summon diverse range of useful constructions
Excellent monster and location designs
Cool weapons
Cross-platform and cross-launcher multiplayer
Dauntless
| | |
| --- | --- |
| Release date: | 2019-09-26 |
| Genre: | Action RPG |
| Developer: | Phoenix Labs |
| Monster type: | Huge highly energetic beasts |
Dauntless is the low-risk option you could check out, because it's Free-to-Play now and for the foreseeable future.
As a Slayer (or Slayers if you play with friends) you'll be using an arsenal of half-magical half technological weapons to take down dangerous Behemoths across a true archipelago of floating islands. The game isn't as challenging as MHW, but it's still very fun to play.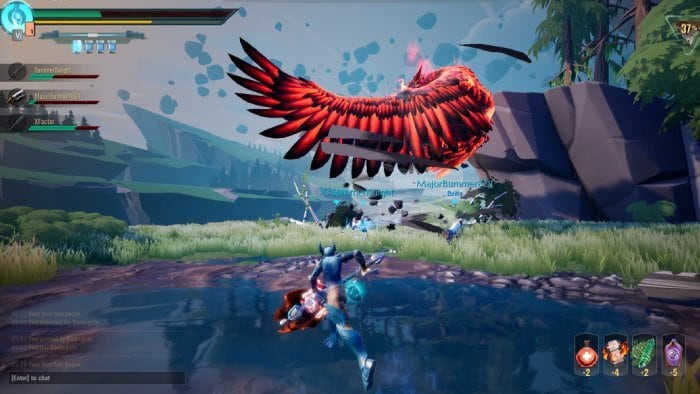 Like in Monster Hunter, the weapons have their own quirks, such as the guns which gets buffed if you reload close to the monster, or chain blades, which help you close the distance easily. Of course, there's a lot of gear to craft from harvested beast-parts, and there's a pleasant degree of visual customization on top of that, because why bother playing, if you can't look cool?
Key features
Stylized, cartoonish graphics
Crossplay multiplayer
A lot of cool animalistic monsters
Seven weapon types for different playstyles and skill levels
Monster Hunter: Rise
| | |
| --- | --- |
| Release date: | 2022-01-12 |
| Genre: | Action |
| Developer: | CAPCOM CO., LTD. |
| Monster type: | Inspired by yokai, folklore, and more |
It's a no-brainer, really, but if you crave an experience similar to Monster Hunter World, then another MH game will do that for you!
Monster Hunter Rise is smaller in scope, true, and its gameplay is way faster, because Rise originates on Switch, and when you're hunting on the go getting bogged in half-an-hour-long hunt might not jive well with your commute schedule.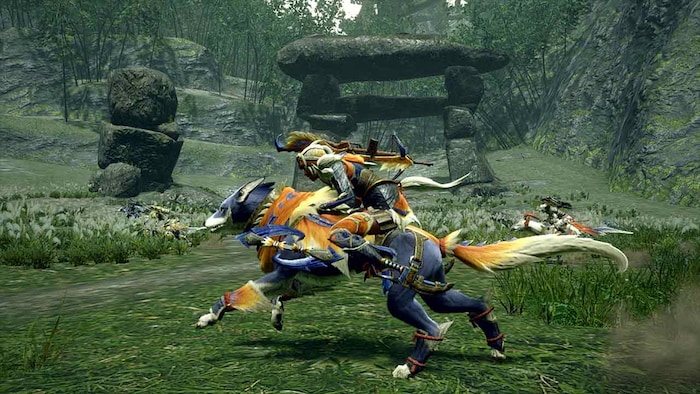 Despite that, Rise is still a complex and satisfying Monster Hunting game. Its best gimmick are wirebugs: handy little insects which not only serve as grappling hooks for quick movement, but also enhance your weapon movesets. The maps are smaller, but traversal is very entertaining, partially because this time in addition to a cat helper, you also get a large dog you can ride to battle.
Key features
14 weapon types, each with unique playstyles
Switch skill system allowing you to customize a weapon's moveset to your liking
Vastly improved movement thanks to wirebug and mountable fighting dogs
Amazing Sunbreak expansion with a new region, more gear, and new subsystems
Bloodborne
| | |
| --- | --- |
| Release date: | 2015-03-24 |
| Genre: | Action RPG |
| Developer: | FromSoftware |
| Monster type: | Disease-ridden Lovecraftian abominations |
There's much to be said about Bloodborne's themes and story, but we're here to talk about killing big monsters, and Bloodborne is quite adept on that front as well.
Your Hunter (that is the name your player character is referred to) gets to murder their way through an unhealthy number of monsters seemingly drawn from the worst fever dreams of H.P. Lovecraft and Zdzisław Beksiński.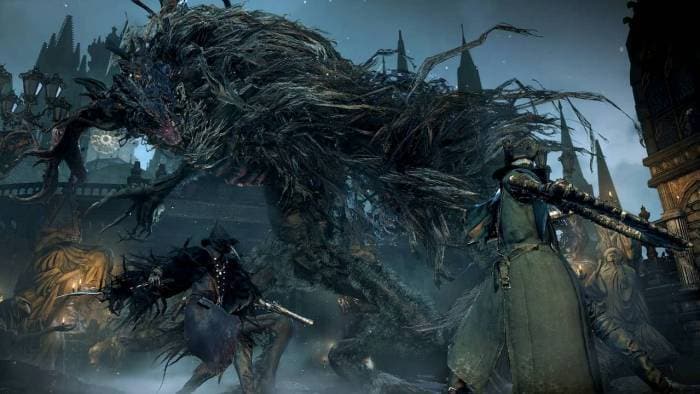 Bosses have their weaknesses which might make defeating them slightly less harrowing if you spend some time preparing before you step into the area where your mortal combat will take place. A necessary note is that, like all FromSoftware games, Bloodborne is unforgiving, which, depending on your approach, may result in substantial frustration before you figure out how to kill your first boss.
Key features
Disturbing design of monsters you kill
Interesting weapons
Gothic horror atmosphere
Excellent combat system
Dragon's Dogma: Dark Arisen
| | |
| --- | --- |
| Release date: | 2016-01-15 |
| Genre: | Adventure |
| Developer: | CAPCOM |
| Monster type: | Beasts drawn from broadly European mythologies |
Dragon's Dogma is one of those games that mixed a few elements and supported it with a surprisingly deep and weird story arc.
It must be said though, that the juice of the game is still in fighting monsters. Weighty and impactful combat model makes you FEEL when your attacks hit. Landing a fully charged Arc of Deliverance on a swooping griffin feels absolutely amazing.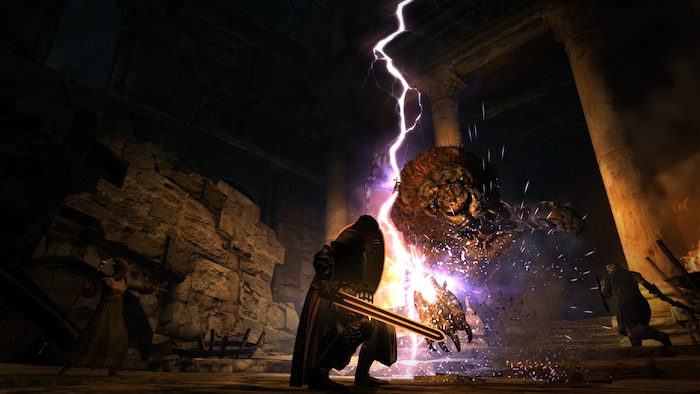 Climbable monsters are another great feature. In Monster Hunter you need to land on a creature's back to start wearing it down. In Dragon's Dogma, you can grab onto it at any time and just climb up to strike a weak spot or tire the monster out. As a result, killing humongous beasts feels truly empowering. Especially if you customize your character to look like Guts from Berserk.
Key features
Hard-hitting melee and ranged combat
Great monster designs
9 diverse character professions
An intriguing story
God Eater 3
| | |
| --- | --- |
| Release date: | 2019-02-08 |
| Genre: | Action |
| Developer: | Marvelous Inc. |
| Monster type: | Demonic beasts known as Aragami |
The God Eater series is no stranger to huge monsters, and its third installment continues the trend.
Step into a devastated world, where combat-enhanced young people of undecipherable age fight monstrous Aragami with melee weapons which are also guns. Yes, it is a Japanese game, and it's immediately clear, as the characters look like they were dragged straight out of shounen manga.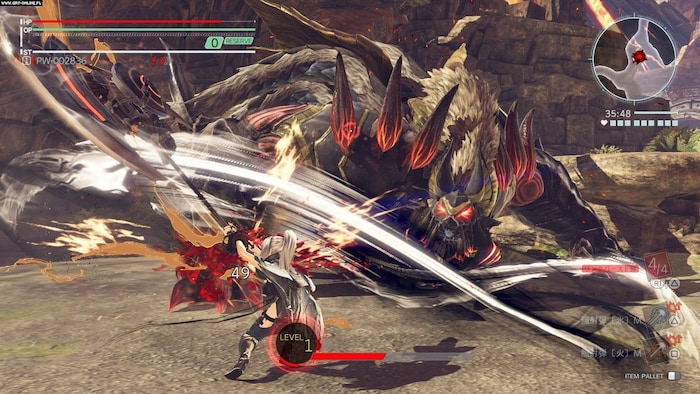 Individual hunts are substantially faster and slightly less methodical than in MHW. The weapons are also quite outrageous, although that's parred for the course for many Japanese action games. God Eater is like a flashy middle-ground between Monster Hunter World and Devil May Cry all set in a post-apocalyptic environment.
Key features
Melee weapons which turn into guns
Creatively designed Aragami monsters
Engaging co-operative multiplayer
Spectacular and powerful burst moves
Horizon: Zero Dawn
| | |
| --- | --- |
| Release date: | 2020-08-07 |
| Genre: | Adventure |
| Developer: | Guerrilla |
| Monster type: | Mechanical beasts |
Horizon Zero Dawn is set in a post-apocalyptic world, where humanity is little more than a bunch of tribes and the Earth is ruled by a huge variety of animalistic mechanical creatures.
The game's protagonist Aloy is one of the best hunters in the game, a skill tested rather frequently by the robotic beasts which roam the world.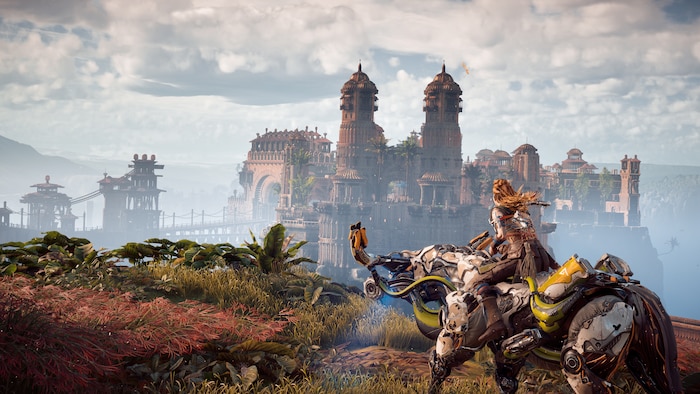 It has all the right features: traps to trick enemies into, beasts with weak spots to exploit, different weapons to use on hunts, and collecting pieces for sale and crafting. HZD is perfect if you want a specifically single-player experience and not feel pushed toward online play, or working with NPCs. The game looks amazing, from concepts for beasts and humans to technical execution of it all.
Key features
Unique creatures to hunt
Interesting take on a post-apocalyptic setting
Stunning world
Great voice acting
Hunt: Showdown
| | |
| --- | --- |
| Release date: | 2018-02-22 |
| Genre: | Action |
| Developer: | Crytek |
| Monster type: | 19th-century horrors |
Hunt: Showdown revolves entirely around tracking and hunting down horrifying monsters, and trying to get the prize before another group of hunters grabs it for you.
Set in the 19th-century environment, H:S is a first-person shooter, rather than a TPP slasher. It doesn't take away from its values as hunting game, it only ramps up the tension and deepens immersion.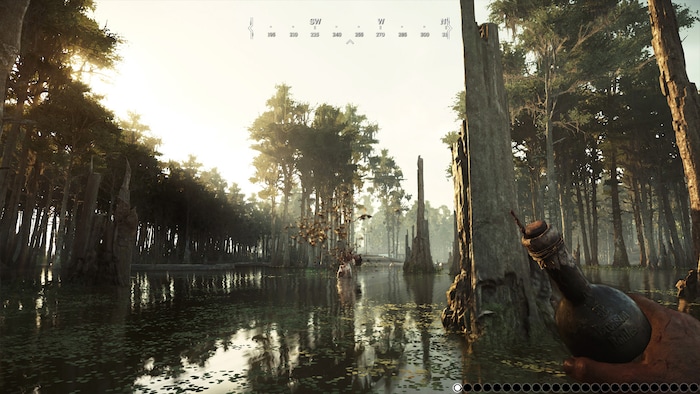 The monsters are, honestly, better suited for a horror game by their sheer design. There are messed-up demonic spiders, twisted humans, swarms of worms, and other gruesome beings which would haunt your nightmares. Stylistically it has a lot in common with tabletop games like Hunter: the Vigil, or shows like Supernatural, so if you fancy this style, give it a shot.
Key features
Monsters straight out of nightmares
Competitive multiplayer
Unusual setting: 19th century USA
Hunt monsters with authentic period weapons
The Witcher 2 & 3
| | |
| --- | --- |
| Release date: | 2011-05-17 |
| Genre: | Adventure |
| Developer: | CD PROJEKT RED |
| Monster type: | Otherworldly and endemic beasts and monsters |
Geralt of Rivia is perhaps the most famous professional monster slayer other than Devil May Cry's Dante.
The Witcher 2 was where the series really started caring about proper preparation, and thing carried over into TW3 as well. Geralt takes on numerous monsters, some of them quite large and intimidating, and taking them down is significantly easier if you take the time to study.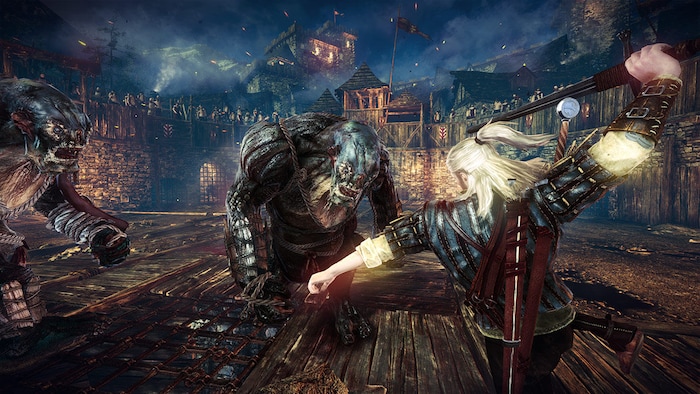 Lore about the monsters reveals their abilities and vulnerabilities, which helps you choose the right sword, use a relevant oil, set up traps, and skillfully deploy witcher magic. Because of that, it is not surprising to see Geralt make an appearance as a fully playable character in a special quest in Monster Hunter: World, including some monsters which hopped the world at the same time.
Key features
Fantasy setting with monsters drawn from European myths and legends
Interesting story
Killing monsters with swords, alchemy, and magic
Crafting system using parts of defeated monsters
Toukiden 2
| | |
| --- | --- |
| Release date: | 2017-03-21 |
| Genre: | Action & Shooter |
| Developer: | KOEI TECMO GAMES CO., LTD. |
| Monster type: | Demons drawn from Japanese mythology |
If you fancy hunting giant, seemingly intelligent monsters in an alternative history version of Japan, you might take a shine to Toukiden 2.
It could be described as Monster Hunter, but with oni and yokai. The otherworldly beings have invaded the real world and had the full run of it for the past ten years. Now you get to fight back using a creative arsenal of weapons.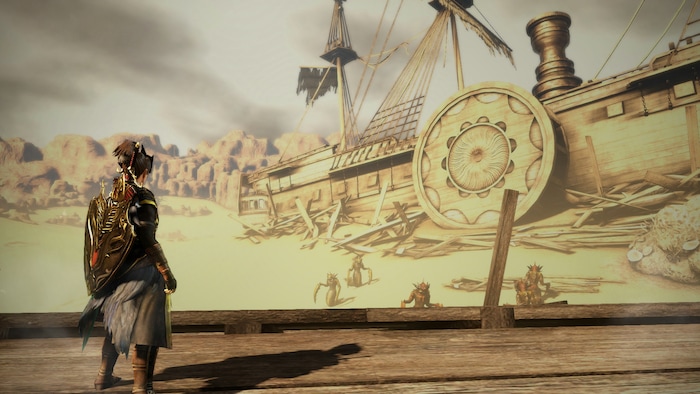 You also get a Demon Hand, a magical tool you can use for traversal and obliterating pieces of demons your weapons couldn't smash. If you fell in love with Monster Hunter's deep mechanics, you're probably not going to be all over Toukiden 2, but if it's big monsters and cool weapons that you seek, you're in for a treat.
Key features
You get to cleanse the post-apocalyptic Earth of demonic Oni
Your Demon Hand helps you travel and fight demons
Open world uniting multiple hunting grounds
Craftable and upgradeable weapons
Spoils of the hunt
This concludes our list of games similar to Monster Hunter World in some way, we've got an RPG or two, some known franchises, some new contenders, it's a full buffet!
Before the end, it's worth it to mention games which did not make it into the main body of the article, but should be remembered. There was Evolve, now sadly shut down, which put a four-person team of hunters against an evolving monster in asymmetric multiplayer. There's also the excellent Shadow of the Colossus, which has giant monster fights but framed in a rather sad story.
Hopefully, your hunting senses are already tingling in response of some of the games listed here, and you're already getting the bear traps and the swords out!