Monster Hunter: World took the world by storm, reaching more than double the sales of the previous top seller in the franchise, Monster Hunter Portable 3/Freedom 3. By all means, MHW deserved to become a bestseller, because it's a fantastic game by any metric. But we have to say at this point that it's not the only video game with juicy and engaging monster hunting!
We're here to discuss titles, which either focus on the monster and overall creature hunting or have them among their features. We also include games that present immersive and challenging fights against creatively designed huge enemies. Either way, they bear a substantial similarity to one or more characteristics of Capcom's Monster Hunter: World.
Let's dive in and prepare for a hunt. Entries are arranged in alphabetical order.
The Best Games Like Monster Hunter: World
| | Game | Release | Genre | Developer | Sale | |
| --- | --- | --- | --- | --- | --- | --- |
| | Dragons Dogma Dark Arisen | 2016-01-15 | Adventure | CAPCOM | 89% | Read more |
| | God Eater 3 | 2019-02-08 | Action | Marvelous Inc. | 19% | Read more |
| | Horizon Zero Dawn Complete Edition | 2020-08-07 | Adventure | Guerrilla | 78% | Read more |
| | Hunt Showdown | 2018-02-22 | Action | Crytek | 39% | Read more |
| | The Witcher 2 Assassins Of Kings Enhanced Edition | 2017-11-05 | Adventure | CD PROJEKT RED | 82% | Read more |
| | The Witcher 3 Wild Hunt GOTY | 2015-05-18 | RPG | CD PROJEKT RED | 64% | Read more |
| | Toukiden 2 | 2017-03-21 | Action & Shooter | KOEI TECMO GAMES CO., LTD. | 50% | Read more |
| | Elden Ring | 2022-02-22 | Action RPG | FromSoftware | 53% | Read more |
| | Scarlet Nexus | 2021-06-25 | Action RPG | Bandai Namco Studios | 76% | Read more |
| | Monster Hunter Rise | 2022-01-12 | Action | CAPCOM CO., LTD. | 74% | Read more |
| | Dark Souls III | 2016-04-11 | Adventure | FromSoftware, Inc. | 30% | Read more |
| | Demons Souls Remake (PS5) | 2020-11-12 | Action RPG | Bluepoint Games | 49% | Read more |
| | Code Vein | 2019-09-27 | Action | BANDAI NAMCO Studio | 87% | Read more |
| | God of War | 2022-01-14 | Action | Santa Monica Studio | 59% | Read more |
Bloodborne
| | |
| --- | --- |
| Release date: | 2015 |
| Genre: | Action RPG |
| Developer: | FromSoftware |
| Monster type: | Disease-ridden Lovecraftian abominations |
There's much to be said about Bloodborne's themes, story, and the execution thereof, but for the purposes of this article they mean little. We're here to talk about killing big monsters, and Bloodborne is quite adept on that front as well.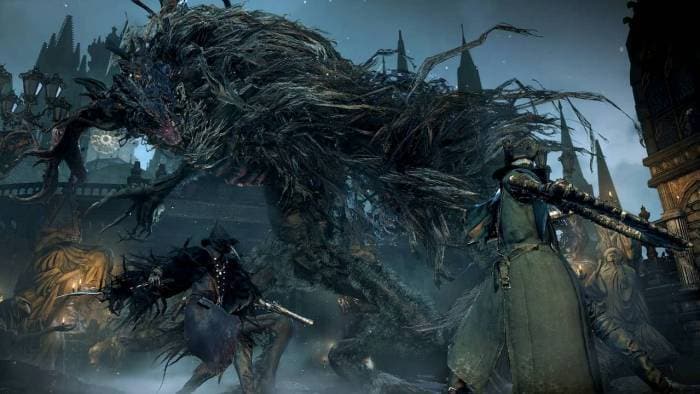 Your Hunter (that is the name by which the player character is actually referred to) gets to murder his or her way through an unhealthy number of monsters seemingly drawn from the worst fever dreams of H.P. Lovecraft and Zdzisław Beksiński (check his work out, it's amazing). Bosses have their weaknesses which make defeating them slightly less harrowing and necessitates a degree of preparation before even stepping onto the area where your mortal combat will take place.
A necessary note is that, like all FromSoftware games, Bloodborne is quite difficult and unforgiving, which, depending on your approach to playing games, may result in substantial frustration before you figure out how to kill your first boss.
Key features
Disturbing design of monsters you kill
Interesting weapons
Gothic horror atmosphere
Excellent combat system
Dragon's Dogma: Dark Arisen
| | |
| --- | --- |
| Release date: | 2012 |
| Genre: | Adventure |
| Developer: | CAPCOM |
| Monster type: | Beasts drawn from broadly European mythologies |
Dragon's Dogma was an experiment, and it paid off. It was one of those games that mixed few elements and supported it with a surprisingly deep and weird story arc, which definitely motivated the adventure even more. The game is a really solid action RPG with a lot of influences from lore and history.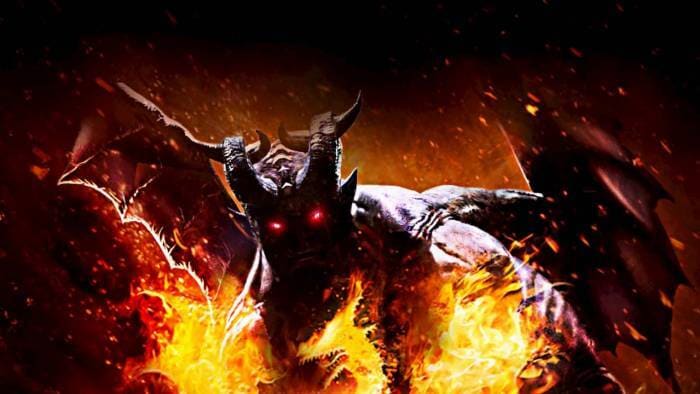 It must be said though, that the juice of the game is in fighting monsters, something the game is very good at, thanks to several synergizing aspects such as excellent creature designs – hydra, chimera, cyclops and other creatures seem plausible and accurate. The designers clearly went through European iconography when they created the beasties. Weighty and impactful combat model makes you FEEL when your attacks hit. Landing a fully charged Arc of Deliverance on a swooping griffin feels amazing, even the time itself seems to stop in awe of this mighty strike.
Climbable monsters are another great feature. In Monster Hunter you need to land on a creature's back to start wearing it down. In Dragon's Dogma, you can grab onto it at any time and just climb up to strike a weak spot or tire the monster out. As a result, killing beasts like the humongous Hydra, or the badass red dragon antagonist feels like an empowering achievement. Bonus points if you customize your character to look like Guts from Berserk, in such case Dragon's Dogma is basically a spin-off from the Fantasia arc of the manga.
Key features
Hard-hitting melee and ranged combat
Great monster designs
9 diverse character professions
An intriguing story
God Eater 3
| | |
| --- | --- |
| Release date: | 2018 (2019 worldwide) |
| Genre: | Action |
| Developer: | Marvelous Inc. |
| Monster type: | Demonic beasts known as Aragami |
The God Eater series is no stranger to huge monsters, and its third installment continues the trend. Step into a devastated world, where combat-enhanced young people of undecipherable age fight monstrous Aragami with melee weapons which are also guns. Yes, it is a Japanese game.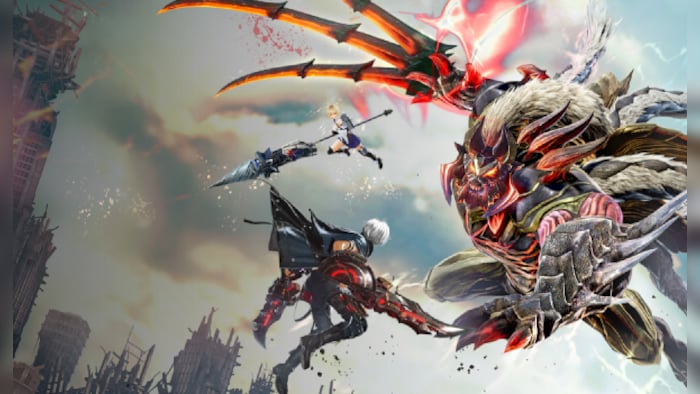 Two main points of divergence from the Monster Hunter formula are characters look like they were dragged straight out of shounen manga and individual hunts are faster and slightly less methodical than in MHW. The weapons are also quite outrageous, although that's par for the course in many a Japanese action game. God Eater is like a flashy middle-ground between Monster Hunter World and Devil May Cry all set in a classic post-apocalyptic environment known from many Japanese anime and mangas.
Key features
Melee weapons which turn into guns
Creatively designed Aragami monsters
Engaging co-operative multiplayer
Spectacular and powerful burst moves
Horizon: Zero Dawn
| | |
| --- | --- |
| Release date: | 2017 |
| Genre: | Adventure |
| Developer: | Guerrilla |
| Monster type: | Mechanical beasts |
Horizon Zero Dawn was somewhat of a herald for the era of prosperity and quality that were PlayStation 4 exclusives. Set in a postapocalyptic world, where humanity was reduced into separate tribes and the Earth is ruled by a huge variety of animalistic mechanical creatures. The game's protagonist Aloy is one of the best hunters in the game, a skill tested by the largest of the robotic beasts.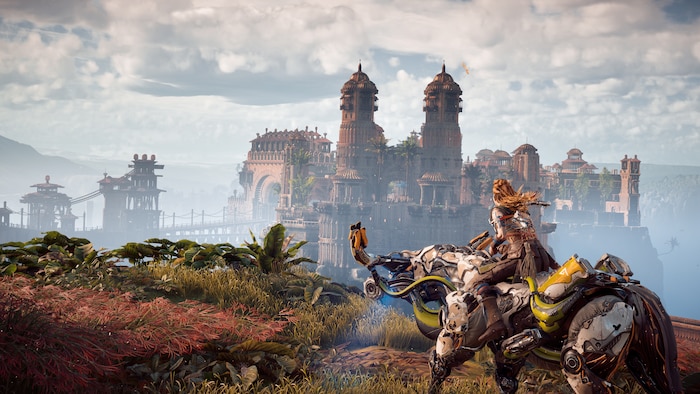 It has all the right features: traps to trick enemies into, beasts with weak spots to exploit, different weapons with which to hunt, and collecting pieces for sale and crafting. HZD is perfect if you want a specifically single-player experience and not feel pushed toward online play, or working with NPCs. The game looks amazing, from concepts for beast and humans to technical execution of it all.
Key features
Unique creatures to hunt
Interesting take on a post-apocalyptic setting
Stunning world
Great voice acting
Hunt: Showdown
| | |
| --- | --- |
| Release date: | 2019 |
| Genre: | Action |
| Developer: | Crytek |
| Monster type: | 19th-century horrors |
Hunt: Showdown is based entirely around tracking and hunting down horrifying monsters, and trying to get the prize before another group of hunters grabs it for you.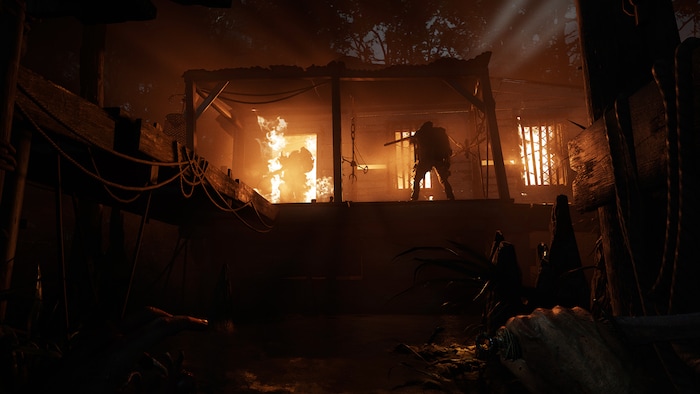 Set in the 19th-century environment, H:S is a first-person shooter game, rather than a creative slasher. It doesn't take away from its values as hunting game, it only ramps up the tension and provides an interesting background to place it squarely in reality many players are going to be more or less familiar with.
The monsters are, honestly, better suited for a horror game by their sheer design. In a way Hunt: Showdown flips the script, making humans hunt the monster, even if the entities themselves can still put up quite a fight. Stylistically it has a lot in common with tabletop games like Hunter: the Vigil, or shows like Supernatural, so if you fancy this style, give it a shot.
Key features
Monsters straight out of nightmares
Competitive multiplayer
Unusual setting: 19th century USA
Hunt monsters with authentic period weapons
The Witcher 2 & 3
| | |
| --- | --- |
| Release date: | 2011 (The Witcher 2), 2015 (The Witcher 3) |
| Genre: | RPG |
| Developer: | CD PROJEKT RED |
| Monster type: | Otherworldly and endemic beasts and monsters |
Geralt of Rivia is perhaps the most famous professional monster slayer other than Devil May Cry's Dante. While the first Witcher was light on difficulty and preparations, difficulty ramped up for The Witcher 2 and available options somewhat expanded in the third, and the most popular, installment of the series.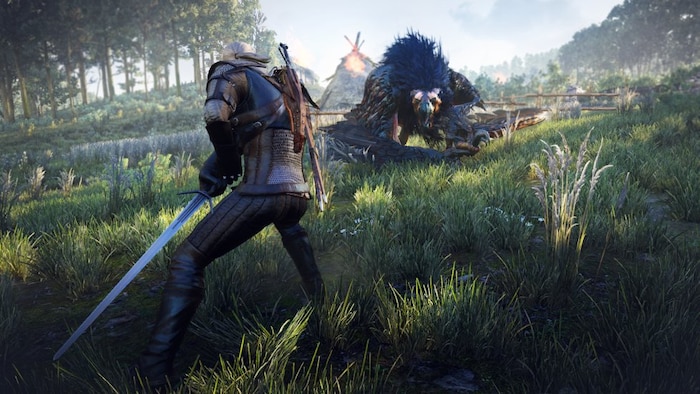 Over both games Geralt takes on numerous contracts for monsters, some of them quite large an intimidating, and taking them down is significantly easier (still not necessarily easy, however) if you take the time to prepare. Discover in-universe lore about the monsters, including their abilities and vulnerabilities, and then act accordingly. Choose the right sword to fight them, use a relevant oil to increase damage, set up traps, dodge and use witcher magic.
TW2 even required you to meditate before battles in order to drink elixirs or apply oils instead of letting you use them midway through combat. The third game added a crossbow with which the While Wolf can knock flying enemies out of the sky, fire a bolt to start a fight from afar, or lure an enemy into a trap. Combining the background known from the books of A. Sapkowski and CDPR's games, with fantastic gameplay and visually stunning creatures, makes this series the ultimate monster hunter alternative. Because of that, it is not surprising to see Geralt make an appearance as a fully playable character in a special quest in the Monster Hunter: World game.
Key features
Fantasy setting with monsters drawn from European myths and legends
Interesting story
Killing monsters with swords, alchemy, and magic
Crafting system using parts of defeated monsters
Toukiden 2
| | |
| --- | --- |
| Release date: | 2016 (2017 worldwide) |
| Genre: | Action & Shooter |
| Developer: | KOEI TECMO GAMES CO., LTD. |
| Monster type: | Demons drawn from Japanese mythology |
If you fancy hunting giant, seemingly intelligent monsters in an alternative history version of Japan, you might take a shine to Toukiden 2. It could be described as Monster Hunter, but with oni and yokai.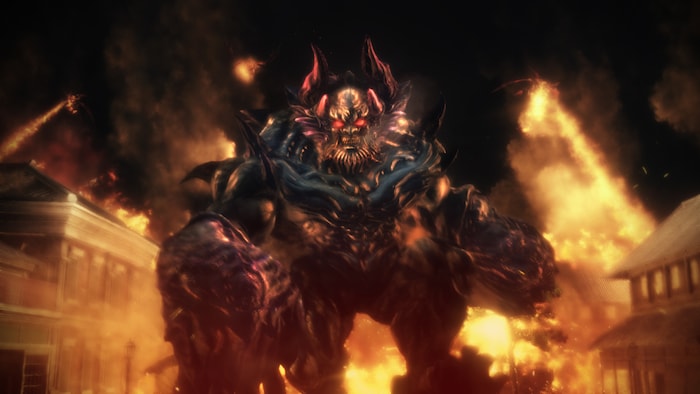 Ther otherworldly beings have invaded the real world and had the full run of it for the past ten years. Now you get to fight back, using a creative arsenal of weapons with which to cut off demon limbs, and a Demon Hand, a magical tool you can use for traversal and obliterating pieces of demons your weapons couldn't smash. If you fell in love with Monster Hunter's deep mechanics, you're probably not going to be all over Toukiden 2, but it's big monsters and cool weapons that you seek, you're in for a treat.
Key features
You get to cleanse post-apocalyptic Earth of demonic Oni
Your Demon Hand helps you travel and fight demons
Open world uniting multiple hunting grounds
Craftable and upgradeable weapons
Finishing blow
Before the end, it's worth it to mention games which did not make it into the main body of the article, but should be remembered. There was Evolve, now sadly shut down, which put a four-person team of hunters against an evolving monster in an asymmetric multiplayer. There's the excellent Shadow of the Colossus, which has giant monster fights but framed in a rather sad story.
And there's also Dauntless, which is essentially a Western take on the Monster Hunter formula and possibly the closest match out of all the game in this article. Dauntless is scheduled for a full release in 2019, and despite cartoony aesthetic, it seems to have a lot of the depth attributed to the Monster Hunter series.