Japanese role-playing games, or JRPGs for short, are a specific kind of RPG that often come with simple but adorable 2D visuals, turn-based combat, party management, and – most importantly – an incredibly rich story in a fantasy world.
Although there are some exceptions and some JRPGs are trying to introduce new and unique gameplay mechanics to make the experience fresher, Octopath Traveler is what you can consider a true, classic JRPG.
Games like Octopath Traveler
If you're wondering if there are other games similar to Octopath Traveler, check out the list down below – we did some research and collected a variety of interesting titles for your convenience.
Romancing SaGa 3
| | |
| --- | --- |
| Release year: | 1995 |
| Genre: | RPG |
| Developer: | Square, ArtePiazza |
Romancing SaGa 3 has everything that you would expect from a great Japanese role-playing game, and adds a little extra.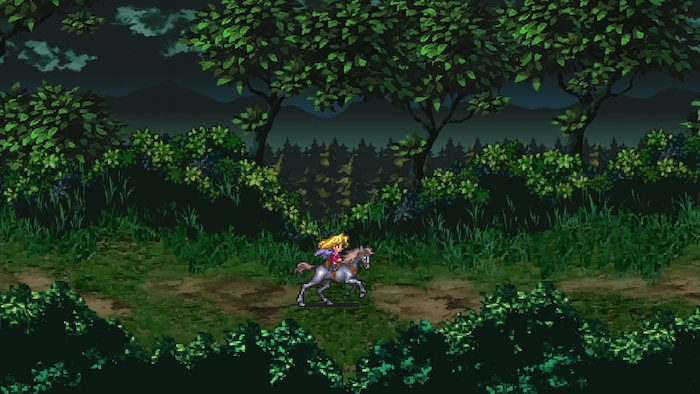 Romancing SaGa 3 will take you to a fantasy world that stands before a catastrophic event that occurs every 300 years and takes all innocent newborn lives. Your mission will be to find a way to stop the deadly cycle and strip the evil forces from their powers. The game was originally released in 1995, but due to popular demand it received a remake over two decades later and finally became available worldwide, so now it's a better time than ever to pick the game up and try it if you didn't already.
Key features
Fantasy setting with a rich and well-written story
Intuitive turn-based combat with lots of different skills and abilities to make use of
Great replayability value due to a huge amount of freedom when it comes to forming a party
Important player choices and numerous side quests to complete
FINAL FANTASY IX
| | |
| --- | --- |
| Release year: | 2000 |
| Genre: | Adventure |
| Developer: | SQUARE ENIX |
There's no chance that you didn't hear about the Final Fantasy series, especially considering the fact that you are here because you are looking for JRPGs like Octopath Traveler.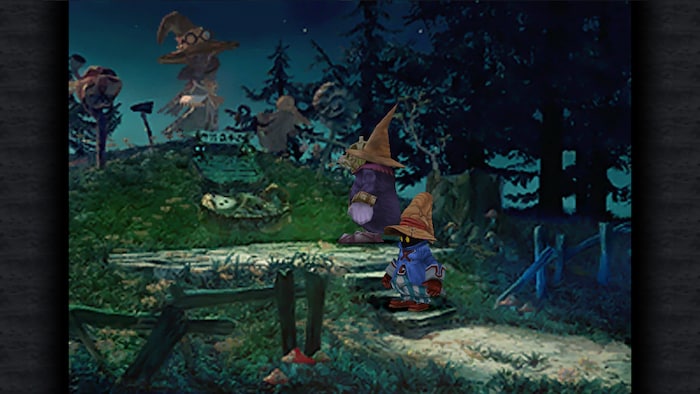 Final Fantasy is undoubtedly one of the most if not the most popular JRPG franchise of all time. The series started back in 1987, and new Final Fantasy games are still being developed and released on a regular basis. FFIX was originally released in 2000 and was available exclusively on consoles, but it appeared on the Steam platform in 2016, making it possible for PC players to give it a try as well. If an amazing and complex fantasy story is what you're looking for in a game, then you can't go wrong with this classic masterpiece.
Key features
An addictive and complex story that will keep you engaged for hours to come
An alternate version of classic JRPG turn-based combat, Active Time Battle, where having a good strategy is important
Endless customization options, thanks to the existence of item-specific abilities
A new dimension of gameplay with 3D modeled characters
Cosmic Star Heroine
| | |
| --- | --- |
| Release year: | 2017 |
| Genre: | Indie |
| Developer: | Zeboyd Games |
Among the more recent games similar to Octopath Traveler we've got Cosmic Star Heroine, where instead of a fantasy world we'll have the opportunity to explore a sci-fi one.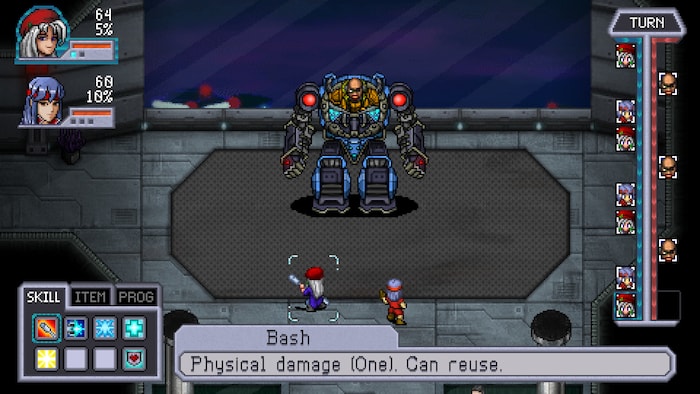 Cosmic Star Heroine focuses on the story of agent Alyssa as she investigates the secret project called Lumina and learns more about the reasons behind its construction. During her adventure, she'll have to fight against a variety of enemies, but she's not alone – up to three other characters can be chosen to assist her on her way, which greatly increases her chances of surviving and succeeding in her mission. The game features some mechanics that are rarely seen in this kind of game, such as the lack of a separate battle screen – encounters are resolved on the screen on which you're moving your team around.
Key features
Great turn-based combat that favors clever usage of skills and abilities
Up to 11 playable characters, of which 4 can be chosen to form a party of adventurers
Spectacular visual presentation with the game's top-notch 2D pixel art in a sci-fi setting
4 difficulty settings – the perfect game for both newcomers and experts of the JRPG genre
The Legend of Heroes: Trails in the Sky
| | |
| --- | --- |
| Release year: | 2004 |
| Genre: | RPG |
| Developer: | Nihon Falcom |
Back to fantasy games. If you're looking for a game like Octopath Traveler but a simple copy-paste clone won't suffice, you have to take a look at The Legend of Heroes.
There are many things to praise in The Legend of Heroes, from stylized visuals to an amazing story, but what makes the game particularly fun is its combat system. Instead of a simple turn-based approach, where the characters are standing still and you just have to choose each of your characters' attacks or other ability, The Legend of Heroes allows you to move your characters around during fights – that's because the battles take place on small grid-based battlefields. This opens up a lot of various strategy options, which will be crucial especially during difficult boss encounters – smart positioning does matter and often it can be a deciding factor when it comes to choosing the winner.
Key features
An addictive story set in a modern fantasy universe
Well-thought turn-based combat system with fights that take place on the grid-based arenas
Great stylized 3D visuals
Lots of hidden secrets and collectibles for completionists
Persona 4
| | |
| --- | --- |
| Release year: | 2008 |
| Genre: | Role-playing, social simulation |
| Developer: | Atlus |
The list of games like Octopath Traveler wouldn't be complete without including Persona 4 – a title that is even considered by some the best game of all time.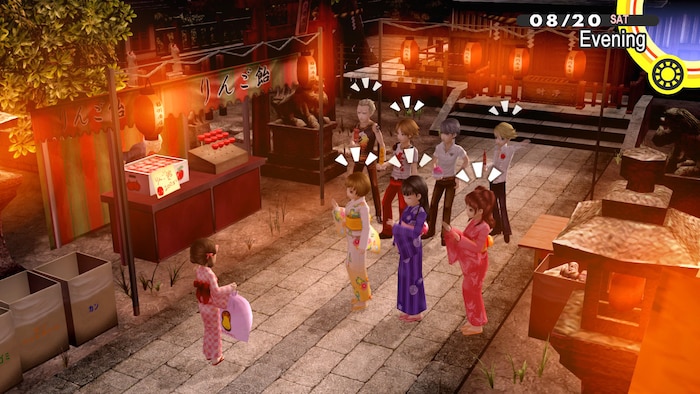 Although Persona 4 hides some dark secrets when it comes to the story, it's also filled with a bright and joyful atmosphere, energetic music, and funny dialogues, making the entire experience a pleasant adventure, which isn't as scary as one could have imagined if his opinion was based entirely on certain screenshots. Everything feels like a good anime series, and this fact is further emphasized by the game's visuals that combine a colorful 3D environment with beautiful 2D anime character drawings that appear during conversations.
Key features
Top-tier story and addictive gameplay – a recipe for a great source of entertainment
Classic JRPG turn-based combat with lots of different skills to use during battles
Casual atmosphere with funny dialogues and a fitting soundtrack
Optional Japanese dubbing for the ultimate anime experience
Tokyo Mirage Sessions™ #FE Encore
| | |
| --- | --- |
| Release year: | 2015 |
| Genre: | Role-playing |
| Developer: | Atlus |
There are more games that look and feel like a real anime series. Another interesting choice would be Tokyo Mirage Sessions that is available exclusively for Nintendo Switch and Wii U consoles.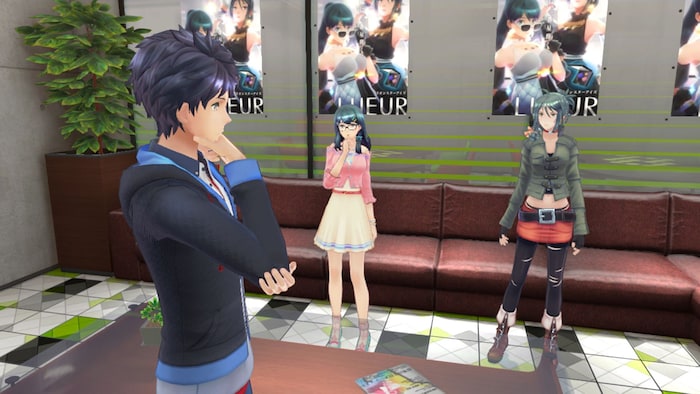 Tokyo Mirage Sessions ♯FE is a classic JRPG experience with some interesting gameplay twists, so it doesn't feel like a generic clone of something else. The game takes place in modern-day Tokyo, where the protagonists have to face mysterious creatures from a different world. TMS is a crossover that combines two other popular Japanese series, Shin Megami Tensei and Fire Emblem – if you know either one, you're in for a real treat. The game features turn-based combat and exploration of a 3D environment, but – just like in most games from this genre – it shines the most when it comes to the story. If you own Nintendo Switch or Wii U, you should really consider giving this game a chance.
Key features
Setting that combines modern-day Tokyo with alternate dimensions
Turn-based combat, world exploration, character progression, and more
Anime aesthetics and Japanese dubbing for a more joyful experience
Funny dialogues and a chilling atmosphere
Bravely Default
| | |
| --- | --- |
| Release year: | 2012 |
| Genre: | RPG |
| Developer: | Silicon Studio |
Speaking of console exclusives, there's also Bravely Default for Nintendo 3DS. If you have the console, consider yourself lucky because there's an amazing journey ahead of you.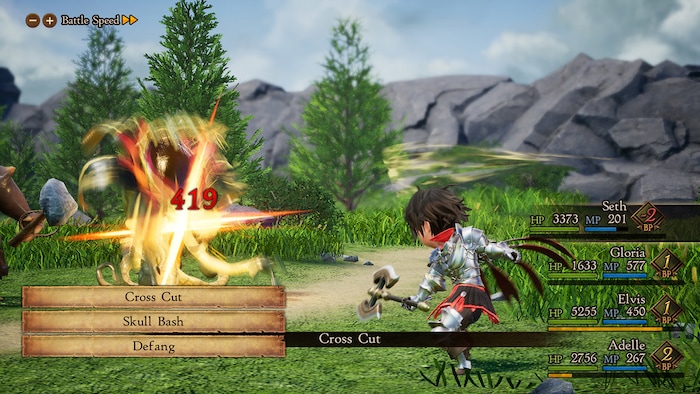 Bravely Default is a role-playing game, where you will be tasked with restoring balance to the fantasy world of Luxendarc. It has exploration, a turn-based combat system, and a great story, so pretty common stuff in this genre, but the built-in social interaction system is where the game really starts to shine. Using 3DS' StreetPass, players can interact with others in order to work together and speed up the progress of the game. For example, people you meet in real life can become villagers in your in-game settlement, where they'll provide a speed boost that helps to restore the damaged village to its former glory faster.
Key features
Great JRPG adventure in a fantasy world, where magic is just as common as regular combat tools
Intuitive and satisfying turn-based combat
Social features that allow players to work together and help each other to boost their progress
Character progression, boss fights, party customization, and more
DRAGON QUEST XI S: Echoes of an Elusive Age
| | |
| --- | --- |
| Release year: | 2017 |
| Genre: | RPG |
| Developer: | Square Enix |
Considered by some not only the best entry in the Dragon Quest franchise but also the best modern JRPG, we just had to include it on the list.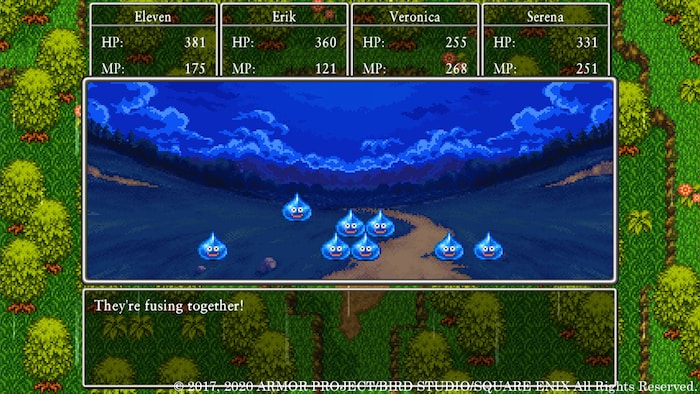 Although Dragon Quest XI looks drastically different from Octopath Traveler, the core idea remains the same, which means that you can expect a lot of world exploration, memorable fantasy characters, and turn-based combat that requires a bit of strategizing. The game has amazing visuals – while sometimes it could mean that developers had to put more effort into the game's appearance, leaving them with little to no time to come up with an interesting story and addictive gameplay, in the case of DQ XI no development area seem to be left behind. The game is polished on all fronts and you're not going to be disappointed if you give it a go.
Key features
Fantasy adventure with a story full of interesting twists
Turn-based combat with a customizable party of adventurers, each with his own unique skills and abilities
A vast explorable world filled with all kinds of wonders and treasures, but also dangerous enemies
Gorgeous 3D stylized visuals full of bright colors
I am Setsuna
| | |
| --- | --- |
| Release year: | 2016 |
| Genre: | RPG |
| Developer: | Tokyo RPG Factory |
I am Setsuna is a perfect game, if a solid fantasy story is what you're expecting from a good Octopath Traveler alternative.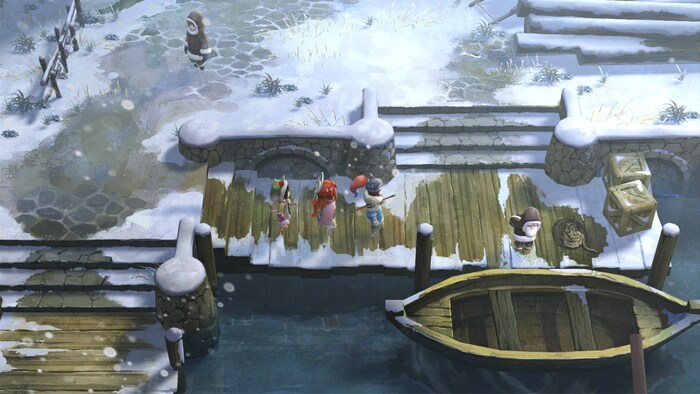 I am Setsuna revolves around the titular girl named Setsuna – a maiden who's meant to be sacrificed to appease demonic forces that threaten the very existence of the snowy island's inhabitants. The story will take her through the unknown, forcing her to face dangerous opponents as she gets closer to her destination. The game features a variation of a turn-based combat system called Active Time Battle, which you may already know from the Final Fantasy series. It makes the encounters smoother and more dynamic without sacrificing the strategy part, which results in a more enjoyable experience overall.
Key features
A great but sad fantasy story about the sacrifices that are needed to maintain peace
Smooth Active Time Battle system inspired by Chrono Trigger and Final Fantasy series
Charismatic characters that are not easily forgotten
Beautiful piano soundtrack
CHRONO TRIGGER
| | |
| --- | --- |
| Release year: | 1995 |
| Genre: | RPG |
| Developer: | Square |
Finally, as we already mentioned Chrono Trigger, it would be only natural to put it on the list. Let's take a look at the game that was frequently cited by players and critics alike as one of the best video games ever made.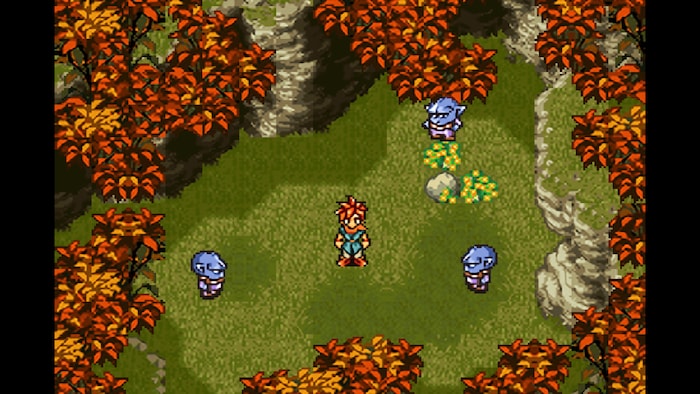 Chrono Trigger is an iconic JRPG and despite being quite dated it's still among the best role-playing games, even when taking into account the latest releases. Just like with most JRPGs, the strongest point of Chrono Trigger is its story that focuses on the adventures of Crono, a young hero who travels time to secure a peaceful future. The game features a combat system similar to the one known from the Final Fantasy series, where turn-based battles have an added real-time component, requiring players to not only make smart moves during fights but also to make them fast.
Key features
Epic fantasy journey that revolves around time travel
Active Time Battle for more fluid and dynamic combat experience
Character progression, equipment and party management, exploration, simple puzzles, and more
New Game Plus mode for increased replayability and additional fun
Octopath Traveler – The Best Alternatives
Japanese role-playing games are a very specific kind of role-playing genre, which means that if you're looking for games similar to Octopath Traveler, you're basically most likely looking for some great JRPG experience.
Although each JRPG is a unique game with its own spirit and gameplay mechanics, almost all JRPGs have some things in common. These include putting an emphasis on the storyline, allowing players to form a team of usually up to 4 different characters, and having a turn-based combat system or some kind of its variation like it was in the Final Fantasy series, that added individual cooldown timers for each character.
Octopath Traveler is an amazing game that draws a lot of inspiration from similar games, including the genre's classics, so it shouldn't be too surprising that there are some games that may feel oddly familiar. Check out our list of the best games like Octopath Traveler and you'll surely find something that will give you a comparable level of entertainment there.