The history of gaming knows many extremely bad multiplayer RPGs, but RuneScape is not one of them. However, finding something similar can be a hard nut to crack!
RuneScape is a legend among free-to-play titles on Steam, enchanting players with an epic high fantasy world filled with activities and quests. Equipped with a giant map, an extensive skill tree, and fantastic graphics, it has become a must-have for all genre fans. But we know that even playing such an iconic title, you might want to try something different. And this is where the obstacles begin. Plenty of MMORPGs look OK but are almost dead, unsupported, require uninspiring farming, or hide massive microtransactions to progress. Luckily, you don't have to look further – bid farewell to all these games and check out this list of proven recommendations similar to RuneScape!
7 Games like Runescape
Ultima Online
| | |
| --- | --- |
| Release year: | 1997 |
| Developer: | Origin Systems |
This 1997 game inspired other notable titles like EverQuest and Legends of Aria. And it's an excellent choice if you want to experience the very origins of your favorite MMO genre.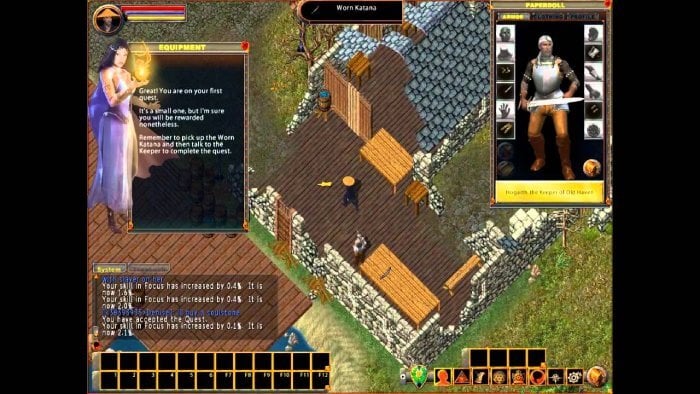 Enter the world of Britannia and create your dream hero by choosing from many available character classes. Play how you want and enjoy unlimited freedom! But stay alert – the gameplay mechanics are unpredictable, as each death means a complete loss of equipment, and many players play as thieves or assassins. It's dangerous out there!
Key features
Play the game that contributed to the rise of the genre
Choose from the available classes and create your dream hero
Use many gameplay mechanics that make you unpredictable
Build yourself a house, craft, explore and feel unlimited freedom
Tibia
| | |
| --- | --- |
| Release year: | 1997 |
| Developer: | CipSoft |
It is a free-to-play classic, released in 1997 for PC in 2D graphics. But you can always opt for a Premium Account, unlocking many fun new features!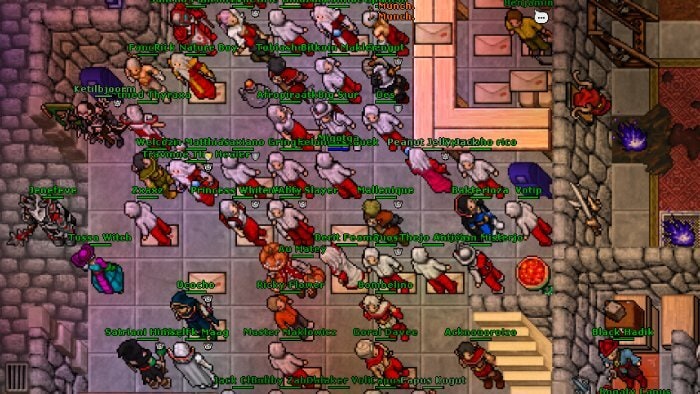 Create a hero and enter the land of Tibia to experience fantastic adventures and meet new friends (or enemies). Set the goal of your journey and create the entire adventure! Or wander a giant map and enjoy the legendary role-playing fun. Improve your character, select a class at the eighth development level, and join PvP fights in this absolutely addictive MMO recommendation.
Key features
Play the incredibly popular MMORPG released in 1997
Design a hero and choose a class at the eighth level
Explore, trade, fight, forge alliances, and collect treasures
Choose Premium to unlock more gameplay possibilities
World of Warcraft Classic
| | |
| --- | --- |
| Release year: | 2019 |
| Developer: | Blizzard |
It is a unique World of Warcraft MMO version featuring the original 2006 gameplay from before The Burning Crusade expansion release. If you miss the good old WoW or haven't played it and want to try the first edition – this is your game.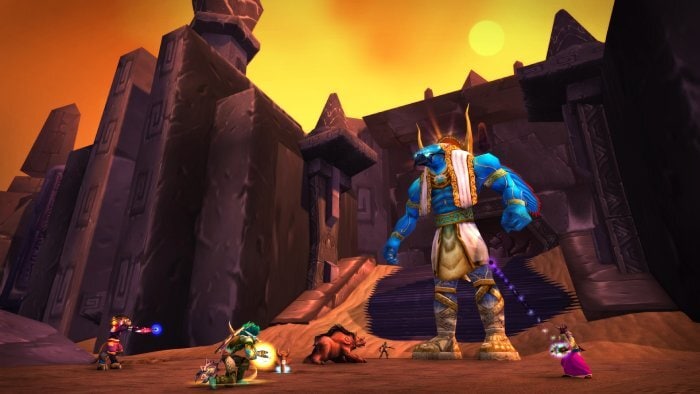 Choose one of the battling sides (Horde or Alliance) to play as one of eight legendary races and nine classes. And then embark on an adventure! Explore a massive map, uncover the details of a brutal conflict, develop your skills, and enjoy the company of other players. WoW is free-to-play up to level 20, but to continue your journey choose one of the many subscription options.
Key features
Play one of the most popular MMOs on this list
Explore Azeroth and discover the details of the conflict between opposing factions
Choose from eight races and nine character classes
Play with other players or become a lone wolf
Neverwinter
| | |
| --- | --- |
| Release year: | 2013 |
| Developer: | Cryptic Studios |
Do you love Dungeons & Dragons? Don't know what it is? Never mind, this tabletop-inspired recommendation is the ultimate choice for all fantasy enthusiasts!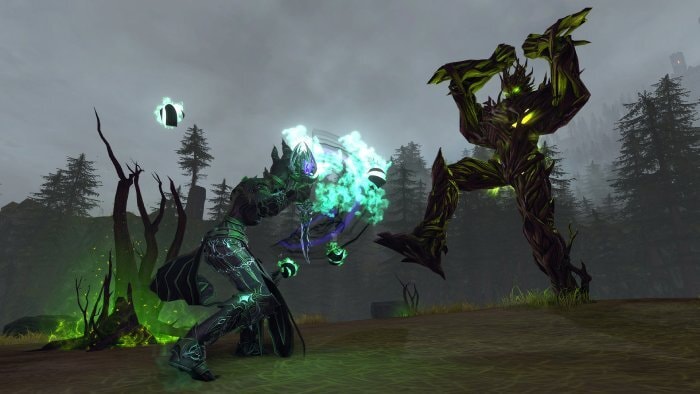 Lose yourself in a realm of heroic battles, living legends, and glory. The city of Neverwinter needs your help, and dark forces are preparing another attack. Create your perfect alter ego, ally with other players, develop your skills, and become the hero this world deserves!
Key features
Discover the classic free-to-play MMORPG on Steam
Choose from five classes and customize your hero's appearance down to the smallest detail
Embark on an epic adventure and cooperate with other players
Lose yourself in a captivating storyline concealing many legendary secrets
Albion Online
| | |
| --- | --- |
| Release year: | 2017 |
| Developer: | Sandbox Interactive |
Conquer the land of Albion! Join other explorers and create your adventure, however, you want in an open fantasy world designed by players for players.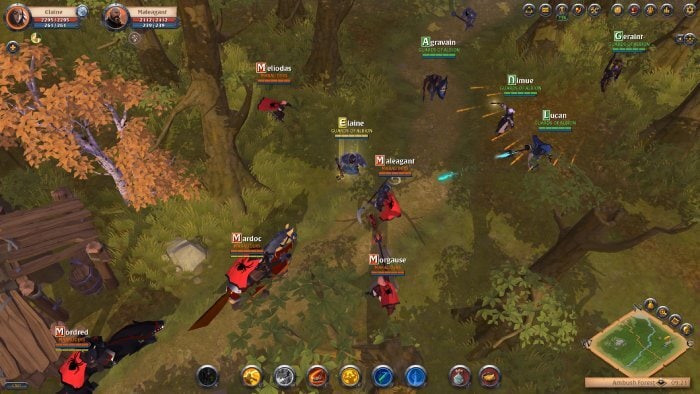 Players have created everything you see in this game. Explore the prosperous land and conquer a chosen territory to develop it and make a profit. You don't have to choose character classes – you are what you wear and own. But prepare yourself, as many monsters and other players may want to claim your property!
Key features
Have fun in an immersive free-to-play MMORPG on Steam
Explore the mighty land and claim your territory
Team up with other players or fight in PvP
Earn progressively better equipment and enjoy a realistic player-designed economy
Diablo 3
| | |
| --- | --- |
| Release year: | 2012 |
| Developer: | Blizzard Team 3 |
The forces of darkness return to Sanctuary to wreak havoc and destruction. Join other heroes capable of banishing evil from this world once and for all!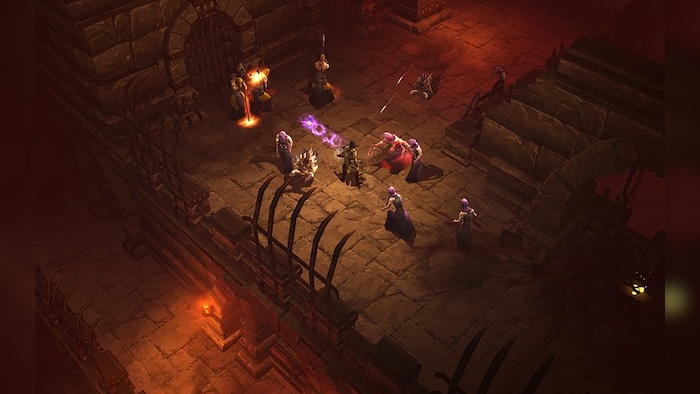 Diablo 3 is a hack'n'slash RPG, where as one of the available heroes, you will traverse the unpredictable world of Sanctuary to fight its monstrosities. Adjust the difficulty level, learn your skills, and earn unimaginable riches! Each adventure means new character development opportunities you can enjoy solo or in multiplayer.
Key features
Play the third part of the sensational hack'n'slash RPG from Blizzard
Choose a class to learn all its epic skills
Explore a dangerous world to fight and collect treasures
Play solo or in multiplayer
The Elder Scrolls Online
| | |
| --- | --- |
| Release year: | 2014 |
| Developer: | ZeniMax Online Studios |
This title gathered all the best from the single-player TES series and imported it to the multiplayer version. But set a thousand years before the Skyrim game!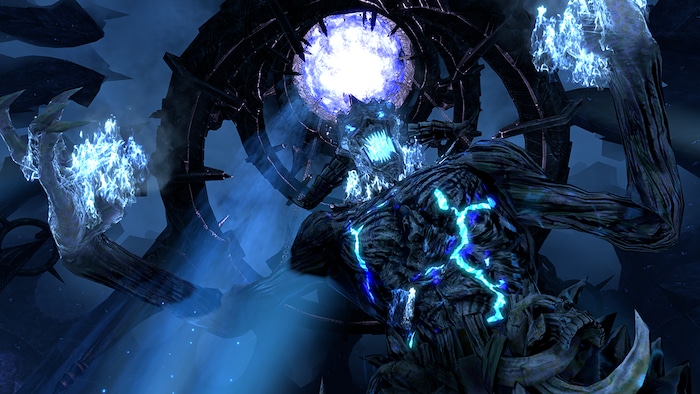 Discover a new piece of Tamriel's dramatic history and decide what kind of hero you want to be. Explore faraway lands, engage in conflicts, forge valuable alliances, and enjoy a professionally designed MMO game. The title features an extensive character creator and enemy scaling, so this beautiful world welcomes all new players.
Key features
Play the MMO version of your beloved The Elder Scrolls series
Explore Tamriel solo or team up with other players
Enjoy the essence of the best RPG in a magical setting
Decide on the following stages of your non-linear adventure
Playing an MMORPG is a unique experience unlike any other in gaming. Like in single-player RPGs, you design a character, level-up, and explore the map in search of adventures, battle opportunities, and new story details. With one tiny difference – there are other people. And even when playing solo, the players can always feel uplifted because somewhere in this dangerous world other participants experience a similar story and fight the same dangers. New players can count on the more experienced ones to help them through the darkest moments of their adventure because the MMO only looks like an unforgiving PvP struggle when, in fact, it's all about us being in this together.