Management-oriented games can come in a variety of flavors, but there's one certain management sub-genre that gained a lot of attention in recent years – factory management simulators.
They are surprisingly addictive, allowing players to design and build their own factories in order to start mass production of a variety of goods. Satisfactory is a perfect example of such a game, but there are several similar ones for you to try. Check out some of the best games like Satisfactory on the list down below.
Factorio
| | |
| --- | --- |
| Release date | 2016-02-25 |
| Genre | Indie |
| Developer | Wube Software LTD. |
| Game modes | Single-player, multiplayer |
When it comes to factory management games, Factorio will always have its place among titles that are worth being recommended.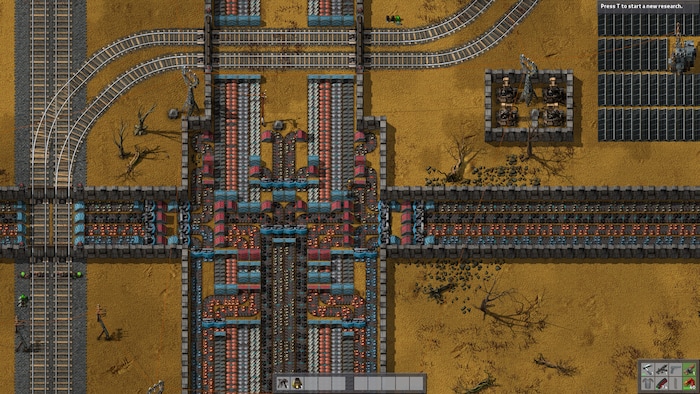 Although it wouldn't be fair to call Factorio just a 2D version of Satisfactory, especially considering the fact that Factorio came first, the similarities are all over the place, and the core idea is very similar. As the one who crashed on the alien planet, you will be responsible for constructing assembling machines, conveyor belts, and such, where the ultimate goal is to build a rocket from all sorts of smaller necessary components and leave the hostile environment. Keep in mind, however, that the factories produce pollution, and local creatures don't seem to like it too much – prepare defenses and make sure that the incoming attacks won't harm the production process. However, if you prefer a more relaxing experience, there's an option to turn the raids off.
Key features
Addictive and surprisingly complex top-down factory simulation game
Infinite randomly-generated worlds for more varied and unpredictable gameplay experience
Well-made polished visuals with detailed and smooth animations
Multiplayer for virtually as many players as your server can handle
Factory Town
| | |
| --- | --- |
| Release date | 2019-03-12 |
| Genre | Erik Asmussen |
| Developer | Erik Asmussen |
| Game modes | Single-player |
Usually, in factory management simulators it's only you and your creations. Factory Town takes the gameplay to another level and adds NPCs to the mix.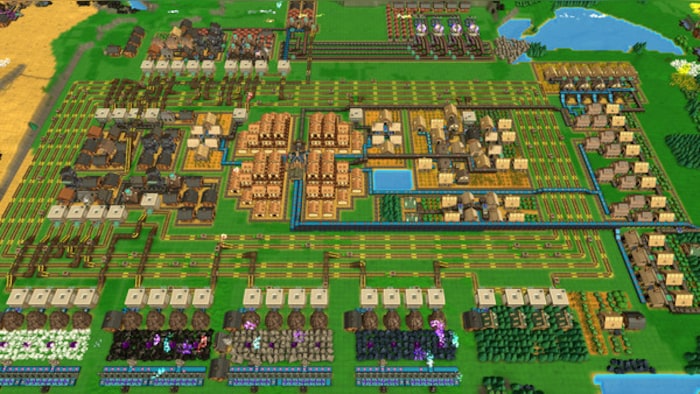 Factory Town is an indie game that further explores the possibilities and still undiscovered niches within the factory management genre. While it allows you to design, create, and optimize the manufacturing process, it also introduces non-playable characters, as seen in other real-time strategies. As your town expands, you will have more and more people at your disposal – use your men to gather resources and craft a variety of goods to sell on the market, and then spend all these hard-earned coins on new technologies to increase the overall efficiency of your town's processing capacity.
Key features
An interesting mix of a real-time strategy with management simulation
Tons of items to make and game-changing technologies to unlock
Simple yet adorable 3D low-poly graphics with a relaxing atmosphere
Sandbox, map editor, and Steam Workshop for extra customizability
Infinifactory
| | |
| --- | --- |
| Release date | 2015-06-30 |
| Genre | Indie |
| Developer | Zachtronics |
| Game modes | Single-player, multiplayer |
If you prefer puzzle games, then there's also one for you on the list – Infinifactory turns factory management into a series of increasingly difficult challenges.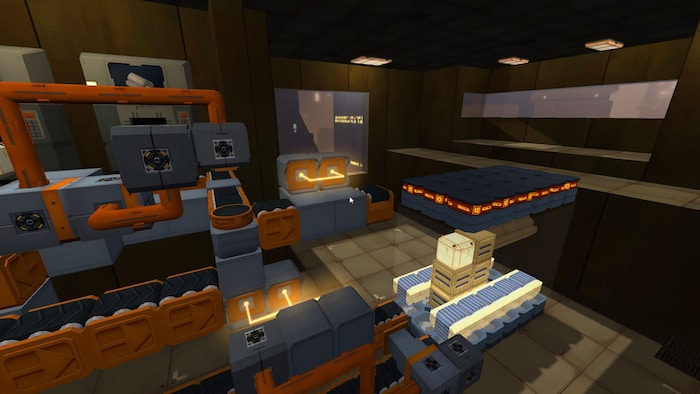 Infinifactory presents players with a set of quite complex challenges to solve, where the objective is to place various interactive blocks in order to complete given tasks. Easier said than done, especially if you take into account that the environment is 3D and you are free to place the objects almost anywhere you want, which means that there is usually more than one solution to each of the tasks. One of the coolest features of the game is undoubtedly the built-in ranking system that allows you to compare your solution to solutions of other players, giving you an incentive to spend more time on optimizing your factory designs to get a better score and outsmart the others.
Key features
A difficult puzzle game that will test your planning skills
Numerous increasingly challenging levels to try and master
3D environment makes puzzles more complex, requiring a thorough understanding of what's going on
Rankings and leaderboards for easy comparison of achieved scores between players
Autonauts
| | |
| --- | --- |
| Release date | 2019-10-17 |
| Genre | Indie |
| Developer | Denki |
| Game modes | Single-player |
If you found the NPC concept from Town Factory interesting, you may also want to check out Autonauts, where NPCs are replaced by programmable robots.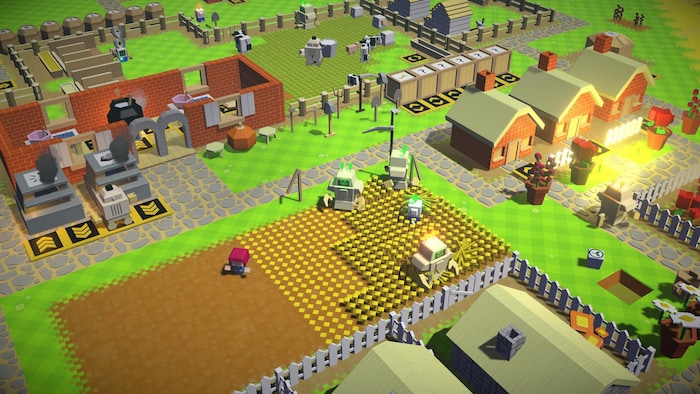 Autonauts is surely a one-of-a-kind game. It does not only focus on automating the production process, but it also introduces programmable bots that will be immensely valuable during play as you try to make everything more efficient and optimized. Don't worry, if you're not a programmer, though – programming the bots doesn't require any prior programming knowledge and it's very intuitive, thanks to the simple Scratch-style interface and clear, logical instructions. It's definitely a game worth trying because it's so unique and niche – if you enjoyed Satisfactory, then you won't be disappointed.
Key features
Management simulation game focused on optimizing the production process
Programmable bots that can be easily assigned to a variety of customized tasks
Sandbox nature with a playful and chilling atmosphere
Colorful low-poly graphics
Kubifaktorium
| | |
| --- | --- |
| Release date | 2019-07-03 |
| Genre | Indie game, Early Access |
| Developer | Mirko Seithe |
| Game modes | Single-player |
For the last game on the list, we've got Kubifaktorium – a voxel-based title, where the main objective is to build and oversee a growing colony.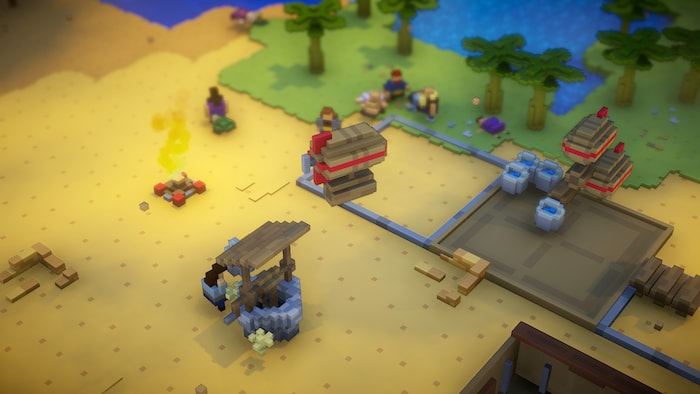 Kubifaktorium seems to combine a variety of different games and takes what's best about them to create something entirely new and fresh. Your goal here is to create, develop, and manage a new settlement, where townsfolk and machines work together in order to ensure the town's self-sustainability. The game may appear to be hard at first, but it's not as difficult as one would think, because everything is intuitive and has a logical explanation in the game's world. All of that combined with the game's relaxing atmosphere and stylized visuals is more than enough to recommend it if you loved Satisfactory.
Key features
Settlement building simulator with automating elements
Addictive gameplay with plenty of items to craft and constructions to build
A joyful atmosphere with colorful and detailed low-poly visuals
Mod-friendly – choose your favorite mods for an even better and richer experience
Factory management simulators, like Satisfactory, allow players to test their planning skills as players try to find the most optimal solutions to mass-producing a variety of items. There's something oddly satisfying in being able to build huge multi-purpose factories and make each small and seemingly irrelevant part do its job in a greater project, so it's not a huge surprise that the genre gained a lot of praise and attention from both players and critics alike.
If you didn't find anything cool enough for your taste on our list of games like Satisfactory, there are also some other titles that deserve an honorable mention, such as Production Line and Automation Empire. There is also Opus Magnum – a fun puzzle game, where instead of focusing on making different factories and machines work together to craft the desired product, you will have an opportunity to see what's actually happening inside one of such factories.