Sea tales, adventures, ship voyages, pirates, and teamwork. Does such a good video game really exist? Yes! Welcome to Sea of Thieves. And there are even more titles in this genre, as you will see in a moment.
There is nothing like the smell of cannon fire in the morning. The pirates-related themes have always been a great way to success. And Rare studio knew it perfectly well, creating one of the favorite cooperative pirate games – Sea of Thieves. After all, an open-world multiplayer with complete freedom of action can't turn out bad. Pirate voyages quickly gained recognition. Fortunately, this is not the only game that can provide a similar gameplay experience. Seeking games like Sea of Thieves? Wanting to buy something with similar mechanics, but set in a different reality? Then be sure to check out our list.
Games like Sea Of Thieves
Blazing Sails: Pirate Battle Royale
| | |
| --- | --- |
| Release year: | 2020 (early access) |
| Genre: | Action, adventure |
| Developer: | Get Up Games |
A PC online game that can be described as a worthy successor to Sea of ​​Thieves. There are pirates in it! All is set in a cartoon style, and you can fight with other players to the last death.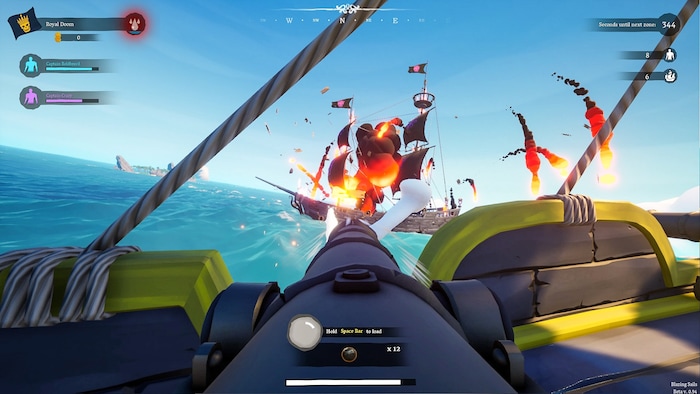 Create a pirate character and choose a ship that will prove to be victorious on the battlefield. Blazing Sails is a Battle Royale game, so you can expect action, fierce fights, and great cooperation between players. Find people for the crew and join the battle that will show you what real pirate life is like! Fire at the enemy, repair the ship, plan maneuvers or just throw yourself into chaos.
You can respawn after each death, but your ship will be more and more damaged. Ah, and what is a pirate adventure without treasures? Explore, travel, and discover valuable items to share with the entire crew. If you are looking for a game similar to Sea of ​​Thieves, Blazing Sails is your absolute sure-fire.
Key features
Create your pirate character and his impressive ship
Find people for the crew and play co-op against other players
Explore nearby islands to find treasures and new weapons
Fight, shoot, sink ships, and win battles
Naval Action
| | |
| --- | --- |
| Release year: | 2019 |
| Genre: | Adventure |
| Developer: | Game-Labs |
MMO game that is a very realistic sea battle simulator. Players take on the role of ship captains representing a given faction or country, and then start a fierce fight for dominance in the Caribbean.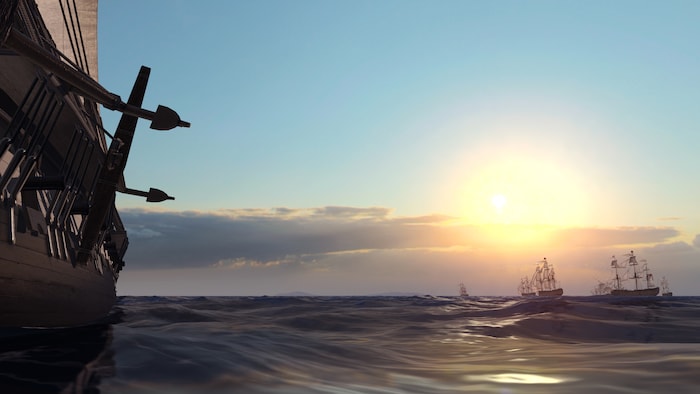 Become the captain of your ship! Play Naval Action and see what sea battles really looked like. You can represent one of the most powerful countries in Europe or even a pirate faction. The world map displays an extremely realistic sandbox. All islands and their harbors are marked.
Travel across the Caribbean, craft your own ships, trade, and earn money. But most of all, fight! The game is famous for its surprisingly realistic representation of what sea battles looked like. When steering your ship, you need to pay attention to stuff like the wind and sea drifts. This requires multitasking, as you will likely be under enemy fire in the meantime. Shoot them with the cannon! Or just crash into their ship! Well, unless it is bigger, better not then.
Key features
Become the captain of the ship and set off to fight for domination over the waters of the Caribbean
Explore, discover new ports, and trade to earn money
Try crafting, thanks to which you will be able to build ships
Take part in spectacular and realistic sea battles
Blackwake
| | |
| --- | --- |
| Release year: | 2020 |
| Genre: | Action & Shooter |
| Developer: | Mastfire Studios Pty Ltd |
A multiplayer action game in which sea battles are the very core of the gameplay. It is a title in which there are no happy shanties or nice boat trips around colorful islands. Instead, there is brutal combat, hard work, ships crashing, chaos, and cooperation.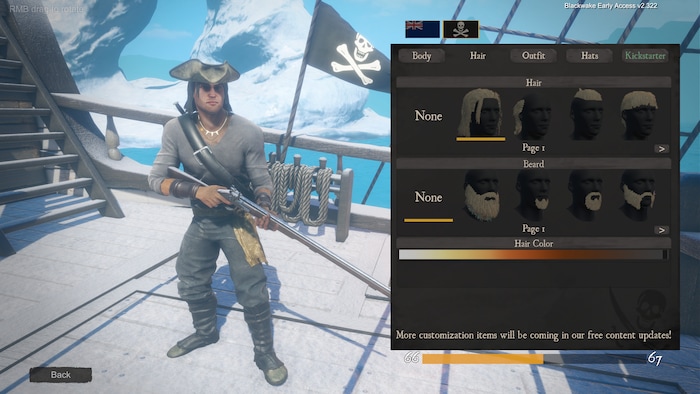 Blackwake is a game that can be described as a sea Counter-Strike. When the first enemy ships rise on the horizon, better prepare for an intense battle. Play as a ship captain or crew member and do what you can to prevent your opponents' plans.
Shoot the cannon or pistol, repair holes in the ship, don't fall overboard, and don't let the screams of your dying mates distract you. Obey the captain's orders because ignoring them may meet with harsh reactions from the entire crew and the captain. Sea, chaos, explosions, and spectacular deaths – this is how you can sum up this fantastic gameplay!
Key features
Become a crew member or take the position of captain of the entire ship
Be useful, work, and try to repair the damages
Fight, fire the cannon, and show no mercy
Work with your crew to make your ship the last survivor in these violent sea waters
King of Seas
| | |
| --- | --- |
| Release year: | 2021 |
| Genre: | RPG, action |
| Developer: | 3DClouds |
A role-playing game with an open world and a rich storyline, in which the player learns the secrets of the pirate profession. It is a single-player game that will be perfect for all fans of detailed 3D graphics and an extensive story full of quests.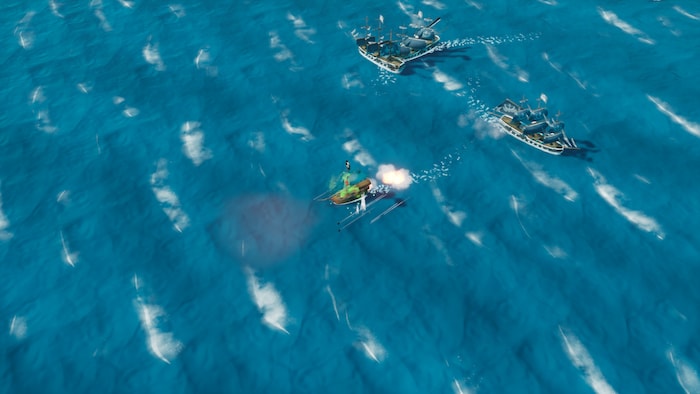 As a result of unfortunate events, the young heir to the throne must leave his kingdom and embark on a journey to fight evil. On his way, he will meet many funny characters and many tasks to be done. It is a game of exploration and sea voyages, where you can explore all mysterious parts of the map.
The world is generated procedurally, which means that there is absolutely no room for monotony here. Also, to completing the main quests, you can engage in other activities, like trading or sea battles. Want a cool storyline in your pirate game? Play King of Seas!
Key features
Go on a journey that will change your life forever
Follow the main storyline and create your adventure
Explore the map to discover new fascinating locations
Trade, go on treasure hunts, and fight in spectacular battles
Skull & Bones
| | |
| --- | --- |
| Release year: | 2022 |
| Genre: | Action-adventure |
| Developer: | Ubisoft |
You are going a full pirate in this video game. The production was developed by Ubisoft, which, after the experience gained with Assassin's Creed: Black Flag, decided to create an independent title devoted to the adventures of pirates of the Indian Ocean.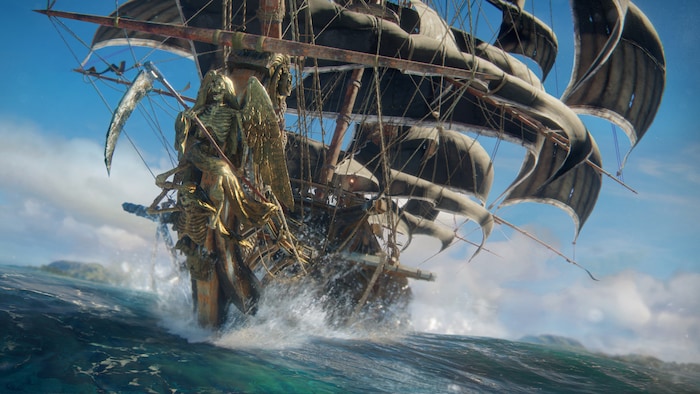 Among the games similar to Sea of Thieves, this one probably best describes the reality of pirate life. Play as one of the pirates and lead your ship through the stormy waves! Reach the glory you deserve by defeating your opponents.
Develop your ship and expand your fleet. Skull & Bones is a tactical game, so you should also plan your attacks. You have many tricks up your sleeve. You can outsmart your opponent, make a direct boarding attack, or fire at him until he is finally defeated. Choose one of the game modes that suit you best and go for the golden fame no one has ever dreamed of before.
Key features
Enter the game as a novice pirate and build your reputation
Expand your fleet with new ships and equip them as you want
Engage in naval battles or treasure hunts
Play single-player against AI or go to battle with other players
Assassin's Creed IV: Black Flag
| | |
| --- | --- |
| Release year: | 2013 |
| Genre: | Adventure |
| Developer: | Ubisoft Montreal |
Games similar to Sea of Thieves include the fourth installment of the famous Assassin's Creed. Naval battles set in the blue Caribbean, secret intrigues, and mysteries. For some, the gameplay may even resemble the Pirates of the Caribbean movie series.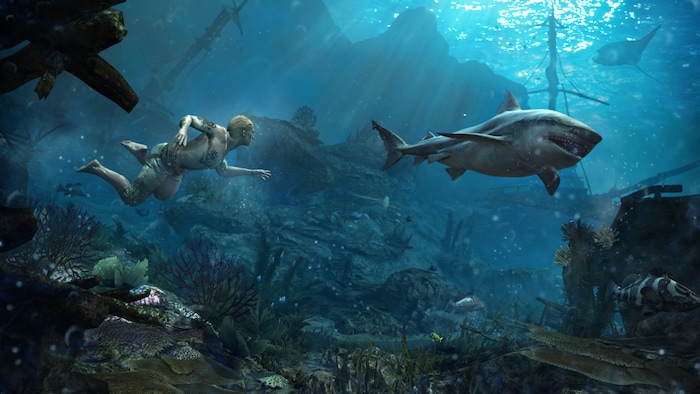 Assassins Creed IV is an action game in which, just like in Sea of Thieves, there is an option to play in cooperation. Meet the main character, Edward Kenway, who gets involved in a conflict between the Assassins and the Templars. Therefore, he throws himself into the embrace of adventure, exploring exotic islands and mysterious locations.
As it happens in the titles of this franchise, there is no lack of spectacular jumps and aerial acrobatics. Apart from that, sailing and sea battles play a significant role. Explore, go on adventures and get your own ship! Each dangerous trip will be delightful, thanks to the crew singing shanties. And in your spare time, you can try whale hunting.
Key features
Sail, explore, and discover new seas and islands full of treasures
Slash and shoot to win every battle
Lead your pirate ship and command your crew
Play in cooperation with friends up to eight players
Sid Meier's Pirates
| | |
| --- | --- |
| Release year: | 2004 |
| Genre: | Adventure |
| Developer: | Firaxis Games |
A remaster of the game from the 1980s, in which players relive their pirate adventures in the universe created by Sid Meier. Expect adventures, RPG elements, action, and an open world full of new lands to explore.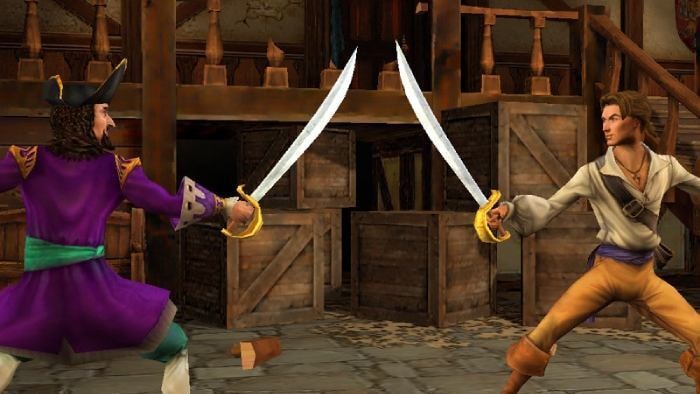 Sid Meier's Pirates, just like Sea of ​​Thieves, lets you do whatever you want. At the same time, the title offers a multitude of possible activities that you may or may not undertake. Play the role of a pirate and explore! Discover new ports, meet interesting characters, and complete quests for colonial governors. Or go to the tavern, gather your crew, and listen to the rumors.
Who knows, maybe someone will give a valuable tip or share a precious map? And if you are in a romantic mood, you can always flirt at a local ball and receive some gifts at the same time. Oh, and sea battles! Of course, there will be no lack of brutal battles. In Sid Meier's Pirates, you can do whatever you want and for as long as you want!
Key features
Gather your crew, get a ship and go on an adventurous journey across the seas
Make friends with governors, complete tasks, and make their daughters fall in love with you
Discover new harbors, meet the citizens and gain valuable information
Fight in epic naval battles and win loot and treasures
There is nothing like the fresh sea breeze, the specter of adventures to come, the wind in sails, and the captain swearing somewhere in the background. Unless you are the captain. If you hear curses somewhere in the background, you probably are not doing your job very well.
Games like Sea of Thieves are true gems on PC, but also other different platforms. There are titles here where cooperation matters. There are also those where the main point is to simply have fun. Or those focused on realism and historical accuracy. But as players, we love them all because they are pirate games. Also, action is often set in an open world where we are allowed to do whatever we want. And that means complete freedom. Freedom, eh? Ye better stop talking and be who you arrrrrrr! A pirate!