Middle-earth: Shadow of War is an open-world action RPG set in Tolkien's legendarium.
It was released in 2017, so chances are you already played it and did everything there was to do. In this case, you may be interested in checking out some similar games that should keep you busy and entertained for hours to come. If you're looking for some cool Shadow of War alternatives, we've got you covered.
Horizon Forbidden West
| | |
| --- | --- |
| Release: | 2022-02-18 |
| Genre: | Action |
| Developer: | Guerrilla Games |
Forbidden West does everything Zero Dawn did, but so much better.
The game is larger, more impressive and definitely more gorgeous than its predecessor. If you are itching to hunt down some more ferocious Machines, you are in for a real treat.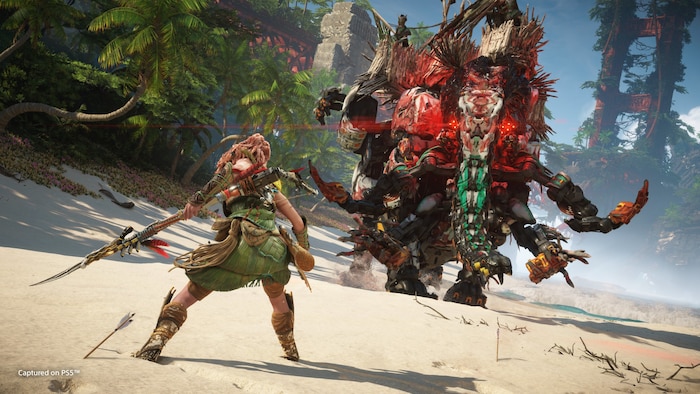 You once again play as Aloy, a young huntress and an outcast who saved the world once already. However, a new threat emerges in the titular Forbidden West and our heroine sets out to put an end to it.
This means the usual stuff: exploration of a vast open world (larger than in the previous game), including the underwater realm, crafting, battling the Machines (including incredible duels with the largest of cybernetic beasts), climbing, gliding and so on. There's plenty of stuff to do and gorgeous locales to traverse. Forbidden West is just as amazing as the previous game, if not even more.
It's just too bad it's available only on PlayStation 4 and 5 right now. Still, judging by the predecessor, this one might also end up on PCs one day, although this might take a few more years, sadly.
Key features
More impressive mechanical monsters to face, including the fearsome, elephant-like Tremortusks featured in the trailers
Improved world traversal mechanics (although climbing is still somewhat sub-par)
Varied locales and stunning vistas
Currently available on PS4 and PS5 only
GreedFall
| | |
| --- | --- |
| Release: | 2019-09-10 |
| Genre: | Action |
| Developer: | Spiders |
GreedFall grants you access to a unique fantasy world inspired by the 17th century.
An island paradise has been discovered, with various adventurers ready to brave its dangers and reap the rewards. You are one of them, of course.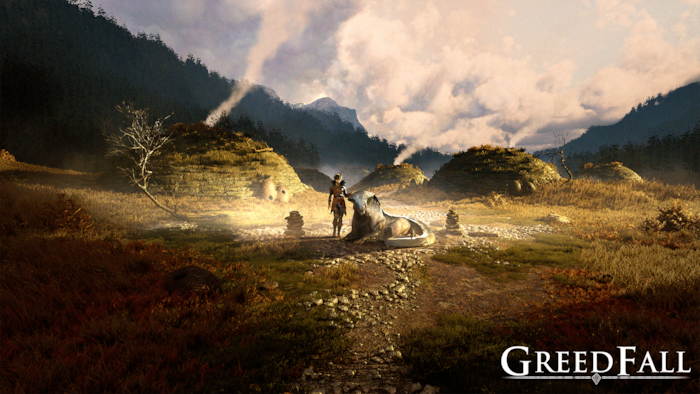 You play as De Sardet, a neutral human who lands on the war-torn island, ready to forge their own destiny. You can become an ally of pretty much any faction in the game's world. While probably nowhere nearly as nuanced as Shadow of War's enhanced Nemesis system, the diplomacy in GreedFall offers you enough variety so that each playthrough is different.
The game itself looks pretty, but it seems a bit closer to The Witcher 3 (also featured on this list) than Shadow of War in terms of how it feels and plays.
Key features
The game's world is a mixture of fantasy and the 17th century
Diplomacy is key here, you can become an ally of various factions invading the island where the game is set or its inhabitants
You will get to fight supernatural powers, too
Very decent visuals
Nioh 2
| | |
| --- | --- |
| Release: | 2021-02-05 |
| Genre: | Action RPG |
| Developer: | Team NINJA |
Serving as both a sequel and prequel to the previous game.
Nioh 2 takes everything that fans loved about its predecessor to the extreme (or something like that). It's fun, it's difficult, it's gory and it will certainly put your skills to the test.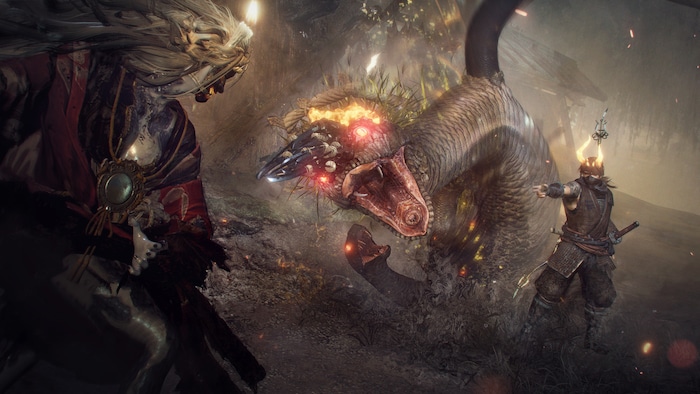 Nioh 2 once again transports you back to a fantasy take on the Sengoku period in Japanese history. As Hide, a Shiftling customizable by the player, your task is to hunt down them yōkai spirits, just like in the previous game.
You'll get to use a wide variety of weapons and skills, including special powers obtained by defeating the evil spirits. However, your enemies have a couple of new tricks up their sleeves. They can create the so-called Dark Realm which further increases the difficulty and makes you face even more challenges.
The Complete Edition of Nioh 2 features three expansion packs that contain new stories and fresh content to explore.
Key features
You will get to defeat a lot of them evil spirits known as yōkai
You will get to use their abilities, too – once you defeat the monsters, of course
Enemies can transport you to the Dark Realm where you will face even greater challenges and obstacles to overcome
A three-player cooperative mode is also available here, you can also summon AI-controlled allies at the so-called Benevolent Graves
Mad Max
| | |
| --- | --- |
| Release: | 2015-09-01 |
| Genre: | Adventure |
| Developer: | Avalanche Studios |
This one might be a controversial addition to the list, but it should nevertheless be a fun game to try out.
After all, it features a vast, post-apocalyptic open world that is reminiscent of Mordor and, just like Shadow of War, it's simply crawling with crazed misfits and outcasts. What fun!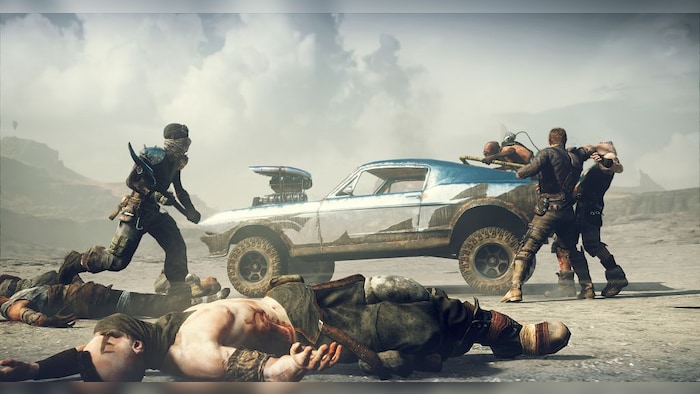 The main difference, though, is that it's primarily a vehicular combat game. The publisher estimated that roughly sixty percent of Mad Max is centered around driving and upgrading the Magnum Opus, built by Chumbucket, a mechanic who joins you at one point.
The game is all about completing quests, roaming the wastelands (namely, the Plains of Silence), defeating the War Boys, upgrading your Magnum Opus with new parts, as well as simple survival mechanics. You'll need food and water to replenish your health. Fuel is also of the essence, as the Magnum Opus will be useless without it.
Ultimately, Mad Max is a fun open-world action-adventure game that has been somewhat overlooked (even though it's been a smash hit at first). The initial critical reaction has been rather mixed, but we suppose it's a very nice title to revisit and try out after all these years. Who knows, maybe it has aged like fine wine?
Key features
Vast wastelands to explore using your trusty car, the Magnum Opus
Simple survival and resource management mechanics
Plenty of them War Boys and other baddies to bully as you see fit
Ammunition is scarce, you will mostly use melee weapons instead of firearms
Batman: Arkham Knight
| | |
| --- | --- |
| Release: | 2015-06-23 |
| Genre: | Adventure |
| Developer: | Rocksteady Studios |
Arkham Knight is a yet another robust open-world action-adventure title on this list that offers plenty of possibilities and a fun place to explore as you see fit.
After all, who doesn't love the famous Gotham City?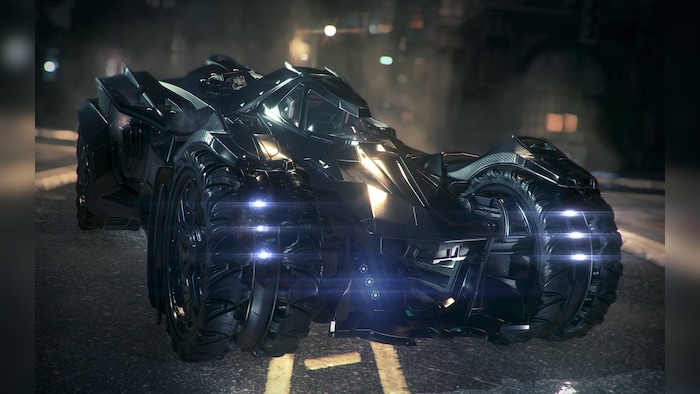 The Caped Crusader is tasked with putting an end to a sinister plot by Scarecrow, with the titular Arkham Knight thrown in the mix. Who is this person, what is their agenda? You will have to find that out on your own.
Arkham Knight features large areas to explore as you see fit. You can complete story quests and various side missions, using tons of gadgets at your disposal, defeating a wide variety of enemies, driving the heavily-armed and armored Batmobile and gliding around using your cape. It's definitely a fun game and a worthy conclusion to the Batman: Arkham series.
By the way, did you know that a sequel to Arkham Knight based on the adventures of the Suicide Squad is in the works? It should be released sometime in 2023.
Key features
The Gotham City is open for you to explore it as you see fit
You can level up Batman and gain access to new abilities, combat moves and health upgrades
The Batmobile is pretty much a weapon of mass destruction, criminals stand no chance against it
New types of enemies, including drones and combat medics who revive their fallen comrades
Horizon Zero Dawn
| | |
| --- | --- |
| Release: | 2020-08-07 |
| Genre: | Adventure |
| Developer: | Guerrilla |
We've got a story set in a world that could be best described as a future-ancient one – it's overrun by machines and you will have to use primitive tools and weapons to get rid of them.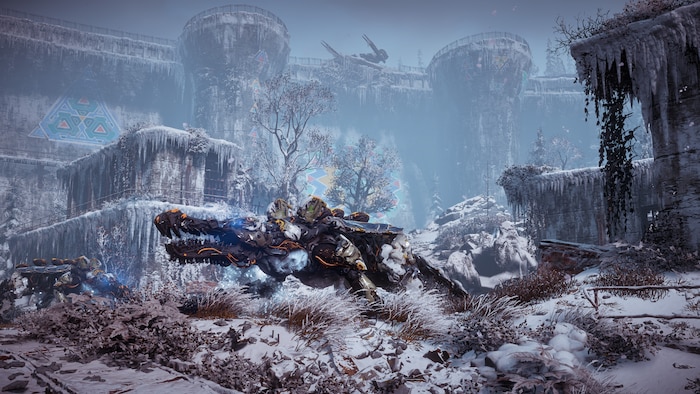 Horizon Zero Dawn is more or less an obvious choice when you're in need of some good Shadow of War alternatives. It has a wide-open world you can freely roam, character progression that allows you to make your protagonist stronger over time, and it even comes with several primitive weapons, including a bow that was commonly used in Shadow of War.
The game does, of course, lack some of the most interesting SoW features, such as the Nemesis system, but it shouldn't be considered a flaw at all. It's not a game you could call a SoW clone, and it's a good thing – it's a refreshing experience that you wouldn't want to miss.
Key features
An open-world environment that can be roamed freely
Set in a future-ancient world overrun by technologically advanced machines
Stunning graphics and visual effects
Character progression with three separate skill trees
Assassin's Creed Valhalla
| | |
| --- | --- |
| Release: | 2020-11-10 |
| Genre: | Action RPG |
| Developer: | Ubisoft |
Many players looked forward to an Assassin's Creed game that would focus on the Viking era, and their pleas were finally heard.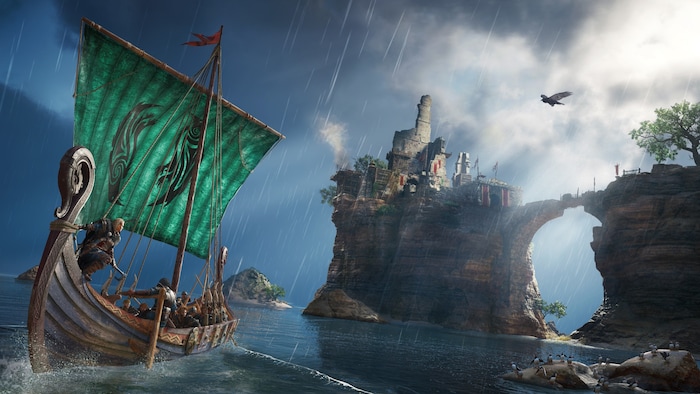 The Assassin's Creed franchise has a lot in common with Shadow of War, and the latest AC release is no different, except it brings even better visuals and more polished gameplay than what its predecessors could offer. This time, the centuries-lasting conflict between Assassins and Templars will take you to the snowy lands of Scandinavian folklore, where you will have to face new formidable opponents.
The combat feels surprisingly close to what Shadow of War offered, so the game should serve as a great SoW alternative. It's also worth noting that the game got favorable reviews from the Reddit community.
Key features
An open-world environment that can be explored freely
Character progression with various skills to unlock and utilize
Dual-wielding – enjoy the possibility to use almost any combination of two weapons simultaneously
Protagonist's appearance customization options
Dark Souls III
| | |
| --- | --- |
| Release: | 2016-04-11 |
| Genre: | Adventure |
| Developer: | FromSoftware, Inc. |
If you want a game with more magic and other stuff that would remind you more of Celebrimbor's tricks, then you should try Dark Souls III.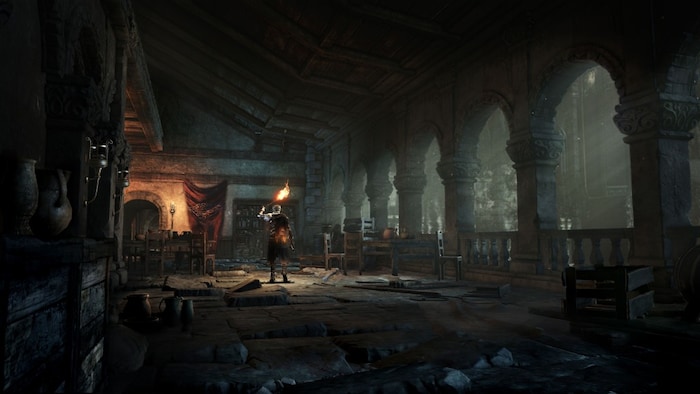 The Dark Souls franchise, as well as many other FromSoftware's games, were always known for their high and unforgiving difficulty level, demanding boss fights, and dark atmosphere, as well as skill-based combat that rewards mastering each weapon's unique moveset.
The difficulty comes in form of surprising gameplay mechanics – once you figure out the enemies' attack patterns and where the enemies respawn, things become much easier. The game also has rich lore, if you're into this kind of stuff. Keep in mind, however, that it's mostly hidden in form of item descriptions, and some items can be extremely hard to find, which means that only the most dedicated players will be able to collect all the pieces and make something out of them.
Key features
Puts emphasis on exploration and exhausting boss fights
Extremely difficult, especially for those who are new to the FromSoftware's productions
Character progression and tons of cool weapons to try, each coming with its own unique moveset
Fun multiplayer interactions, including the possibility to invade other players as they play
Kingdom Come: Deliverance
| | |
| --- | --- |
| Release: | 2018-02-13 |
| Genre: | Adventure |
| Developer: | Warhorse Studios |
On the other hand, if having magic in a game is a problem, then you may want to take a look at the game that doesn't have this kind of stuff at all.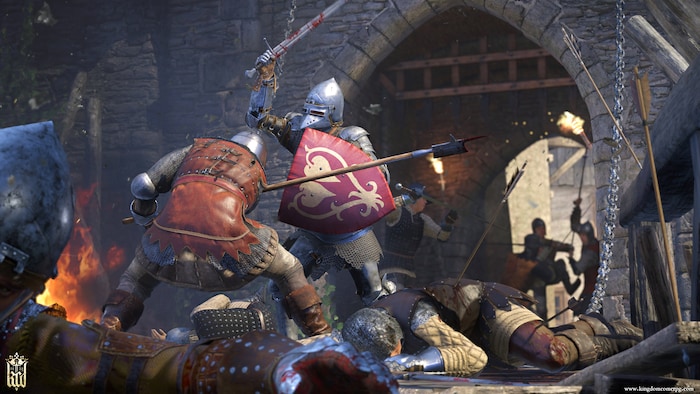 Kingdom Come takes a more realistic approach to the genre, even to the point where it wouldn't be too inaccurate to call it a medieval life simulator. Usually, combat in action role-playing games is quite simple – push this button to attack, push the other one to block or use some special move, and so on. Here, however, you will actually need to think before you strike, so no mindless button mashing.
You can choose the direction of your attacks and blocks, and the same applies to your opponents – the key to success is to predict their moves and act accordingly. Attack from the direction they expect the least and surprise them with a deadly blow. It would certainly be fun to test your combat skills against other players online, so it's a shame it's a singleplayer-only experience.
Key features
An open-world medieval environment with no magic or fantasy, but with simple survival elements
Interesting and unique combat system with lots of different weapons and armors to try
Stunning visuals and high attention to details
Amazing voice acting with a well-fitting British accent
The Witcher 3: Wild Hunt
| | |
| --- | --- |
| Release: | 2015-05-18 |
| Genre: | RPG |
| Developer: | CD PROJEKT RED |
The list of games similar to Shadow of War wouldn't be complete without one of the fullest and truest RPG experiences available up to date.
Who said that offline games are dead?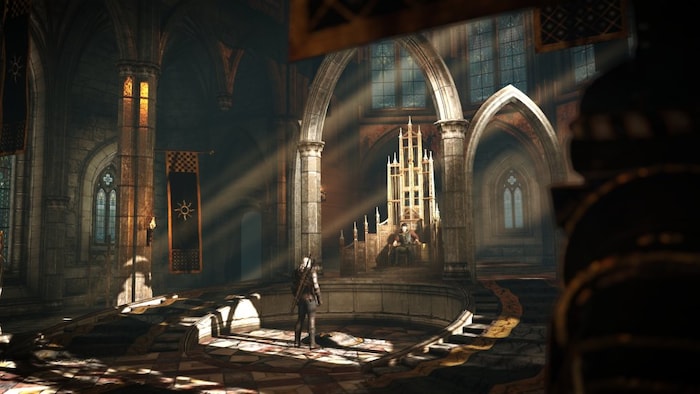 The Witcher 3 is a game about the titular witcher – a mutated human who will gladly undo hexes and curses, even if it means dealing with some powerful evil creatures. However, his services aren't free, so prepare to toss a coin to your witcher if you are in need of his help.
Although he seems like a good guy, he usually meets with hate and disrespect due to his mutant nature. The common folk are scared of him and thus treat him like one of the monsters he fights against. It's hard to blame them, though – did you see his cat eyes?
Key features
Huge unrestricted open-world environment influenced mainly by Nordic and Slavic mythology
An addictive story full of mind-blowing twists
Satisfying combat that combines the use of melee weapons, simple magic, and witcher elixirs
Gorgeous visuals and breathtaking landscapes
Cool Games like Shadow of War
Middle-earth: Shadow of War is a sequel to Middle-earth: Shadow of Mordor and just as its predecessor it's an action role-playing game based on Tolkien's legendarium. It offers a huge open-world environment that can be freely roamed and it's filled with dangers and collectibles of all sorts, which encourages exploration.
The game's most notable feature is certainly its Nemesis System in which you can interrogate encountered orcs in order to learn more about the Sauron's army and infiltrate orcs' ranks. Orcs are generated randomly and they can get numerous different strengths and weaknesses, which adds a lot of replayability to the game. Once an important orc dies, another one can replace him – you can even dominate orcs, so they will enter the Nemesis System while being under your control, which will give you the possibility to spy on the actions of the Sauron's army and may help you decide on your next move.
There are numerous similar action role-playing games out there, but they all do some things differently, so don't get your hopes high if you want to find an exact SoW clone, though some titles come pretty close. Shadow of War alternatives can approach the genre from a more realistic side, while the others prefer to stick to the fantasy one, but they all usually have an open-world environment that can be freely roamed. They also do have some kind of character progression system, which makes it possible to make your character stronger as you play.
Depending on which features of the Shadow of War you liked the most, you will be probably interested in different kinds of action RPGs. We tried our best to find games like Shadow of War that would be entertaining to any type of player, so check out the list above and you'll surely be able to pick something you'll enjoy.