Playing God. Developing the most powerful civilization. Area management and complex transport networks. While in real life, not everyone can afford to build a city of their own, in games similar to SimCity it is possible.
Even easy city building games can become quite a challenge. Building and developing a city is not a piece of cake as the player has to deal with many tasks at once. The simulator from EA is one of the favorite games on Steam, which allows you to take care of economic gameplay without getting involved in military matters. And many players are looking for just such or similar SimCity style games. Are you one of them? Would you like to try something new? Nothing stands in the way! On this list, you will find everything you desire.
| | Name | Released | Genre | Developer | Discount | |
| --- | --- | --- | --- | --- | --- | --- |
| | Tropico 4 | 2011-09-01 | Simulation | Haemimont Games | 95% | Read more |
| | Cities: Skylines | 2015-03-10 | Economy | Colossal Order Ltd. | 88% | Read more |
| | RollerCoaster Tycoon Classic | 2017-09-28 | Simulation | | 64% | Read more |
| | Prison Architect | 2015-10-06 | Indie | Introversion Software | 95% | Read more |
| | SimCity: Complete Edition (Origin) | 2014-11-13 | Economy | EA - Maxis | 72% | Read more |
| | Anno 2205 Ultimate Edition (Uplay) | 2015-11-03 | Simulation | Blue Byte | 75% | Read more |
| | Tropico 6 | 2018 | Simulation | Limbic Entertainment | 75% | Read more |
| | Anno 2070 | 2011-11-17 | City-building, economic simulation | Ubisoft | 66% | Read more |
| | Anno 1404 History Edition | 2020-06-25 | City-building, RTS, Economy simulator | | 48% | Read more |
| | Anno 1800 | 2019-04-16 | Economy | Blue Byte | 77% | Read more |
| | Stronghold: Warlords | 2021-03-09 | Simulation | | 64% | Read more |
| | Banished (GOG.COM) | 2014-02-18 | Economy | Shining Rock Software LLC | 45% | Read more |
| | Anno 1503: Gold Edition | 2002-10-25 | Real-time strategy, City-building game | Sunflowers Interactive Entertainment Software, Max Design | | Read more |
| | Anno 1800 | Complete Edition (Uplay) | 2019-04-16 | Economy | | 44% | Read more |
| | Factorio | 2016-02-25 | Indie | Wube Software LTD. | | Read more |
| | SimCity 3000 Unlimited | 1999-01-31 | City building simulation | Maxis | | Read more |
Tropico 4
| | |
| --- | --- |
| Released | 2011-09-01 |
| Genre | Construction and management simulation, political simulation |
| Developer | Haemimont Games |
Become the dictator of your own island nation! This strategy game, released in 2011, is a unique title that focuses not only on city building but on all subjects of international politics as well.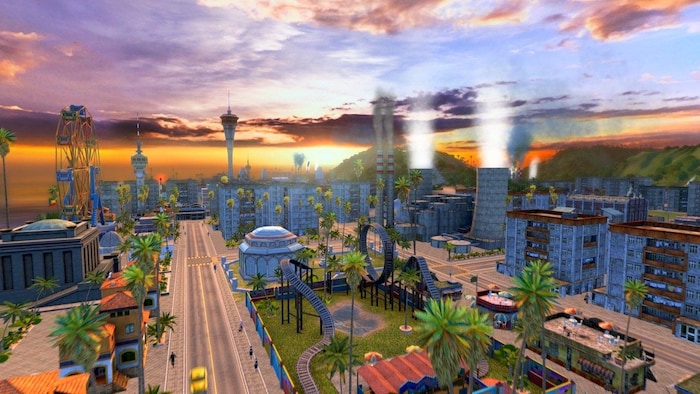 Blue sea, sandy beaches, and tropical music in the background. Here you will build your kingdom to manage it as you please. Construct buildings, control the mood of the citizens, provide entertainment and education. And that's not all because, among games like SimCity, this one focuses on politics. Silence demonstrations, take care of the economy and good relations with other countries, and if necessary – carry out executions! There is constantly something going on in Tropico 4, so be careful. If you are successful and your city runs like clockwork, there could always come some kind of natural disaster.
Key features
Play as El Presidente and lead your country towards a bright future
Build houses and develop the city's infrastructure
Take care of international trades and relations with other countries
Stop protests, carry out executions, and prevent natural disasters
Anno 2070
| | |
| --- | --- |
| Released | 2011-11-07 |
| Genre | Economy, City-building, Real-time Strategy |
| Developer | Related Designs, Blue Byte |
Welcome to the future. As a result of an ecological catastrophe, the Earth was flooded with water, and humanity is looking for a new place to live. Choose from three factions and build a wonderful new home for your people!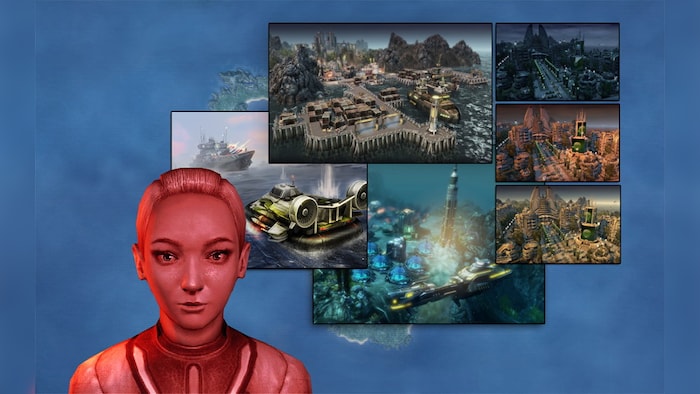 Anno 2070 is a strategy title in which the crucial point of the game is ecology. It determines the level of satisfaction of the citizens and the direction in which the city will develop. You can choose from three factions. One of them is focused on caring for the environment, the other is only interested in fast and intensive development, and the third is committed to making scientific discoveries. The game offers many game modes in which everyone will find something for themselves. Including multiplayer, allowing you to play with other players. And all this in a beautiful audiovisual setting, rich in animated details and realistic appearance of buildings and ships.
Key features
Travel to the future and build cities after an ecological disaster
Choose one of the factions that will determine your playstyle
Try extensive and varied game modes
Play the campaign alone or with other players in multiplayer
Stronghold Warlords (Stronghold 3)
| | |
| --- | --- |
| Released | 2021-03-09 |
| Genre | Simulation |
| Developer | Firefly Studios |
The third installment of the famous series of strategy games from Firefly Studios. Travel to the Middle Ages and become the lord of the castle! A perfect proposition for anyone who, apart from economic gameplay, is also passionate about leading military campaigns.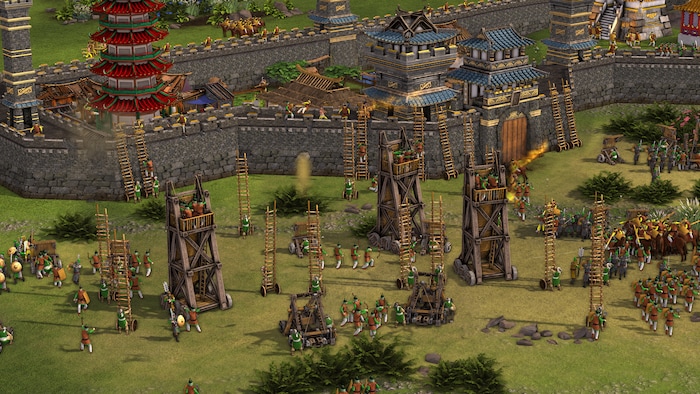 Stronghold is not only one of city-building games like SimCity but a complete simulation of kingdom management in the Middle Ages. Build a castle, construct houses for your people, assign them to get resources, make them start producing food, and be completely self-sufficient. Create an army and take part in one of the ready-made campaigns or play in free build mode. You can also play with a friend in multiplayer!
Key features
Build a castle, create a city and let the citizens work for their living
Create an army that can resist any attack and successfully conquer enemy castles
Build walls, trebuchets, ballistae and gain domination on the battlefield
Play solo or in multiplayer with other players
Cities: Skylines
| | |
| --- | --- |
| Released | 2015-03-10 |
| Genre | Economy |
| Developer | Colossal Order Ltd. |
Among the games similar to SimCity, there is one created as a challenge for the title from Maxis. Cities: Skylines, which has raised the standard of city building strategic games to an entirely new, even astronomical level of realism.
The task is simple – you have to build a city. Start from scratch and gradually expand your metropolis. Construct buildings, create roads, and design the layout of the districts. Decide how the garbage disposal will work and where all service buildings will be placed. Create an efficient public transport network thanks to which your citizens will be able to move quickly and comfortably. And all this while maintaining finances to develop the city even better. If you're looking for a realistic SimCity alternative, try Cities: Skylines.
Key features
Build a city that will run like clockwork
Plan the placement of districts and the most important buildings in the city
Create a network of roads and streets and plan public transport
Plan your financial flow so that you can afford the further development of the city
RollerCoaster Tycoon Classic
| | |
| --- | --- |
| Released | 2017-09-28 |
| Genre | Simulation |
| Developer | Origin8 Technologies Ltd |
A proposal for fans of SimCity style games who want to have fun building, but not necessarily a city. With the title from MicroProse, you can make your dreams come true and become the director of the world's grandest theme park!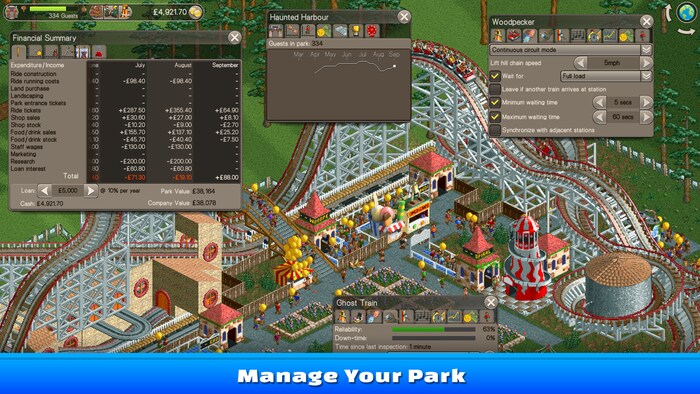 Choose the best location and build a park from scratch! Create roller-coasters, construct river rafts, build a haunted house and a merry-go-round. Make attractions draw as many customers as possible to earn money and develop your park even more. Create a network of paths, set up benches for tired guests, build park alleys and a fountain. And between them, plan some space for food and drink booths so that no guest misses anything throughout the day of great fun. Be careful because it's a really addicting game!
Key features
Become the owner of the largest theme park in the world
Build roller coasters and attractions that will attract more guests
Decorate everything with flower gardens and park alleys
Set up food and drink booths to keep guests as happy as possible
Dwarf Fortress
| | |
| --- | --- |
| Released | Aug 8, 2006 |
| Genre | Roguelike, construction and management simulation |
| Developer | Tarn Adams |
A fantasy game developed by a team of two brothers and released in 2008. It could be described as pixelated Minecraft, but that probably wouldn't be enough. You must know Dwarf Fortress is not just a game but a living legend.
Many claim that developers of this particular title are insane, and this is probably true. The studio has created a randomly generated world that literally lives and is endless. The goal is to manage a colony of dwarves who live in their fortress and want to develop. You can do anything here – dig corridors, mine resources, fight, talk, explore, find treasures, dance, trade, craft, and build. Whatever you can think of! And the best part is everything you create can end in an instant. There is an undefined number of monsters, animals, potential catastrophes, and climate changes in the game that are completely randomized depending on what world you live in. But remember – losing is fun!
Key features
Play the most complex simulation of the world that ever existed
Lead your dwarven colony to win the glory and wealth they desire
Get involved in any activity and do what you want
Win, lose and watch your world live its own lif
Dwarf Fortress is free to play game
Prison Architect
| | |
| --- | --- |
| Released | 2015-10-06 |
| Genre | Indie |
| Developer | Introversion Software |
A strategy game released on PC in 2015, and in the following years on other platforms. Have you ever considered making a career as a prison director? If yes, your dreams just came true!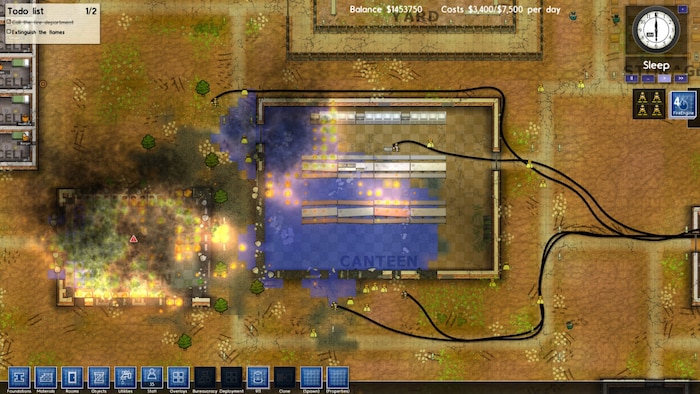 The gameplay in Prison Architect very realistically reflects life in a real prison. Become a director and create your perfect facility! Place buildings, design rooms, and plan their arrangement. Build a kitchen, canteen, and cells to fulfill all the needs of your pupils. Also, don't forget to hire a sufficient number of guards to keep the prison peaceful. When the first prisoners arrive, anything can happen. Driven by their own motivations, they will obey the orders of the guards or start a riot. An interesting SimCity alternative, right?
Key features
Build a prison where you will manage the daily life of your prisoners
Design rooms and plan their layout on the prison grounds
Watch the behavior of your prisoners and react to outbursts of aggression
Hire employees who will help you control the situation in the facility
Banished (GOG.COM)
| | |
| --- | --- |
| Released | 2014-02-18 |
| Genre | Economy |
| Developer | Shining Rock Software LLC |
An economic strategy game with elements of survival, in which you will take the role of the leader of a small community of outcasts. Settle down and start a new settlement that you will transform into a prosperous city.
Build a city that will be a new, sure home for your people. Construct buildings, send people to work, and manage community development. Collect resources, produce food, and carefully plan every move. Banished is not an easy city-building game, as each decision may affect the future of your settlement. Control the exploitation of raw materials and make sure your people do not freeze during the winter. Build new constructions, take in new citizens and see for yourself what a wonderful work you have created. If you like challenges, Banished is a perfect choice!
Key features
Find a new place for the group of exiles and start building the city
Control the exploitation of raw materials to maintain an economic balance
Send people to work to make the settlement self-sufficient
Protect citizens from dangers and diseases
Factorio
| | |
| --- | --- |
| Released | 2016-02-25 |
| Genre | Indie |
| Developer | Wube Software LTD. |
A science-fiction game by the independent Wube Software studio, which, inspired by SimCity, decided to create their own city-building video game. But in Factorio, you will build a factory.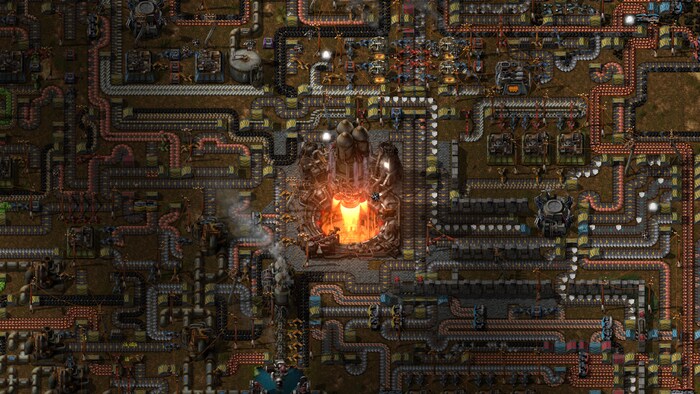 You land on a completely alien planet full of resources. Using your knowledge, you start extracting them to build machines, tools, and the first elements of your future factory. Your goal is to construct the space rocket that will allow you to evacuate from the planet. However, it will not be that easy, as building a rocket requires a lot of work. Expand your factory, improve production, develop a transport network, upgrade machines, and get carried away with creativity! Oh, and watch out for aliens who might not like this whole thing.
Anno 1503: Gold Edition
| | |
| --- | --- |
| Released | 2002-10-25 |
| Genre | Real-time strategy, city-building game |
| Developer | Max Design |
The classic and popular second installment of the excellent Anno series from 2002, set in the 16th century. If you want to have some fun in the historical simulation of building and managing a city, the Anno series will never let you down.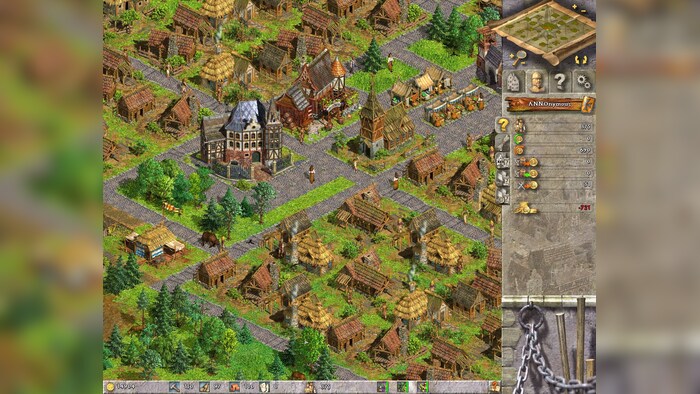 Create a civilization that will dominate the economy and politics of the New World. If someone deserves power and wealth, it is you. Build a city, focus on education, mine resources and create your resources for export. Forge alliances or fight spectacular battles. Plan military tactics in case of conflict, both on land and at sea. Think of your expenses and get more and more money that you will be able to spend on further investments. Your world, your rules!
Key features
Create your own New World in which you will be the greatest ruler
Choose from over 250 types of buildings and develop your colonies
Select the game mode that suits you best
Plan your war strategies, both on land and at sea
Dominate trade and forge political alliances
As you can see, SimCity type games represent a wildly diverse genre. Although at first glance it might seem that it's just building and that's it, the reality is completely different. There are so many additional activities that in the case of some titles the gameplay may take years, and it will never get boring.
It is an absolutely remarkable genre with potential so enormous that it is almost limitless. Just look at the Dwarf Fortress, the creators of which claim it is finished only in 40%. And they keep adding updates! For some, it may seem mad, for others it is simply beautiful. Such video games are projects for life, to which the creators devote not only time but probably also soul and heart.
If the whole genre continues to progress as smoothly as it does, developers will soon be producing even more complex and absolutely delightful creations. So full of secrets or randomly generated events that we may not have enough life to discover all of them. Insane? Yes. But it's also wonderful we have the opportunity to witness such breakthrough moments in the history of gaming.