The Star Wars Battlefront games, one released in 2015, the other in 2017 had a rough start but ended up being a perfectly enjoyable multiplayer way to visit famous Star Wars locations and shoot some Separatist or Imperial forces to your heart content.
With a focus on teamplay and class-based activities, especially Battlefront II ended up as a satisfying production with plenty of content to enjoy, often tying into the modern batch of the Star Wars movies. Unlike its immediate predecessor, it also featured a full single-player campaign fleshing out the transformational period between the Battle of Endor and the rise of the First Order.
There are, however, many games out there, and some of them may appeal to you even more the modern Battlefronts. That's why we've prepared a list of ten games that might match your tastes better, but still share some similarities with BFs, whether in gameplay or something more elusive.
Games similar to Star Wars Battlefront
Planetside 2
| | |
| --- | --- |
| Release date: | 2012-11-20 |
| Genre: | MMO Shooter |
| Developer: | Rogue Planet Games |
Planetside 2 is a treat for everyone who thought "Battlefront 2 is nice, but too small". Well, here you can technically take part in battles with hundreds of participants.
If that sounds like it's too extreme, don't worry, PS 2 is at its core a team-based game. You can easily form a squad of up to twelve players, which can be further divided into separate fireteams for special tasks.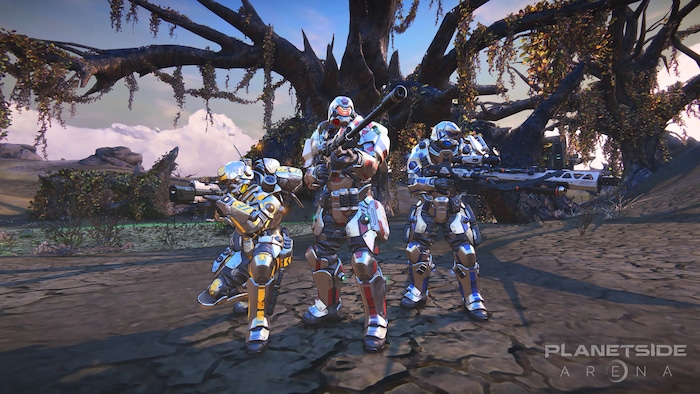 There are also several classes: light and heavy assaults, medic, engineer, infiltrator, and a power armor-using MAX. Overall, Planetside 2 clearly goes for scale, with four continents, three factions you can fight for, and even a variety of vehicles to assist the infantry. If you want to play a game that makes you feel like you're participating in massive operation, then Planetside 2 might be worth a look.
Key features
Class-based massively multiplayer PvP first person shooter
Hundreds of soldiers in every battle
Free to play with a membership option
Science fiction setting
Battlefield V
| | |
| --- | --- |
| Release date: | 2018-11-20 |
| Genre: | First-Person |
| Developer: | DICE |
Seeing how the modern Battlefront games are quite reminiscent of the long-running Battlefield series, and even share the same developer, it's no wonder that a BF game made the list.
The similarities are obvious in the presence of the class systems giving everyone a specific role, the large-scale PvP, and the importance of vehicles. That's not to say there aren't differences.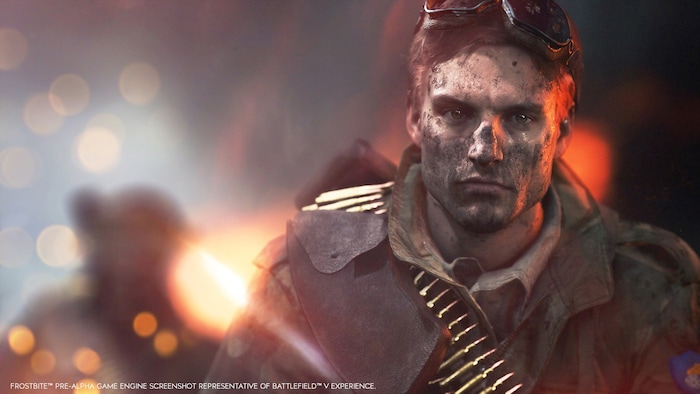 Battlefield V is set during World War II and expands on solutions that worked out very well for its immediate predecessor, Battlefield 1. One of BF5's best features is the Grand Operations mode, which simulates a war front and depending on each team's performance might play across several maps. There's also an interesting anthology of single-player stories from various frontlines.
Key features
Excellent, intense Grand Operations multiplayer mode
Interesting singleplayer mode telling stories from various fronts of World War II
Class-based and team-based
The sequel, Battlefield 2042 might interest you if you prefer something more futuristic
Titanfall 2
| | |
| --- | --- |
| Release date: | 2016-10-28 |
| Genre: | Action & Shooter |
| Developer: | Respawn Entertainment |
Titanfall 2 differs a fair bit from the expected formula, but it still features a lot of stuff that might appeal to fans of Battlefront.
Titanfall 2 is a first-person shooter which, despite a solid, exciting multiplayer, is perhaps even more notable for its outstanding single-player campaign. Players control an incredibly mobile Pilot, who can, in a pinch, call in help from a semi-autonomous mecha: a Titan.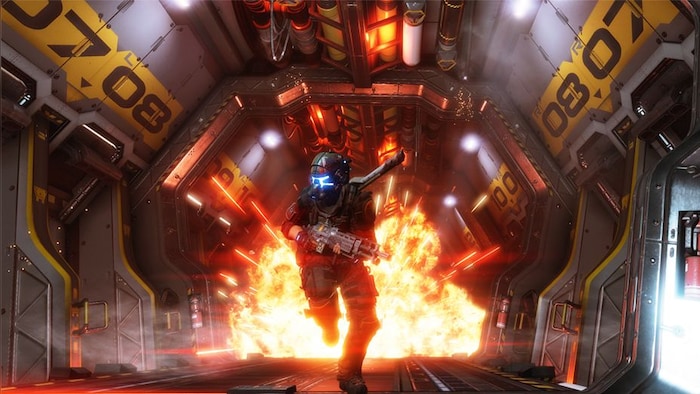 In the single-player campaign you're playing as Jack Cooper, a field-promoted Pilot who, alongside his mentor's Titan, is in a unique position to stop the deployment of a superweapon. Meanwhile, the multiplayer modes feature low player count, but can nonetheless feel quite tense and tight, because Pilots can call in Titans, which take up some space and each Titan type has its own unique abilities.
Key features
Futuristic first-person shooter
Tense, fast multiplayer engagements
Several Titan types with unique regular and ultimate abilities
Phenomenal singleplayer campaign
Classic Star Wars Battlefront 1 & 2
| | |
| --- | --- |
| Release date: | 2004 - 2005 |
| Genre: | Action |
| Developer: | Pandemic Studios |
Oldie but goodie, the original Battlefronts were warmly welcomed in their own time, and ever years later remain in pleasant memory of many.
So much so, that their arrival on digital distribution platforms was quite a big news. Even back in 2004 they had the elements which came back in the modern incarnations: class-based multiplayer, vehicles, several Star Wars eras you could play in…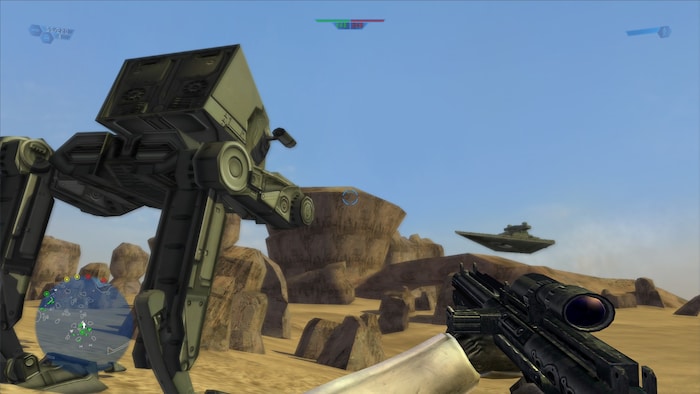 …as well as Heroes, introduced originally in Battlefront II, giving players a chance to wreck some Stormtroopers as Luke or Leia. The singleplayer mode also included the Galactic Conquest mode, which turned the multiplayer shooter into a singleplayer strategy game. If you aren't looking for the visual flair of modern games, the classic Battlefronts might be the kind of Star Wars action you need.
Key features
The Galactic Conquest mode was an interesting feature in an otherwise action-focused game
Class-based multiplayer
Heavy use of vehicles
You can fight alongside (BF1) or as (BF2) heroes you know from the movies
Star Wars Jedi Knight: Jedi Academy
| | |
| --- | --- |
| Release date: | 2003-09-16 |
| Genre: | Adventure |
| Developer: | Raven Software |
Another oldie on the list, but just as worthy of being included, because it had just the right mix of modes and features to draw attention.
At its core Star Wars Jedi Knight: Jedi Academy is a story-heavy single-player game. It's both a third-person hack'n'slash when you're wielding a lightsaber, but turns into a first-person shooter if you decide to use a blaster to solve your problems.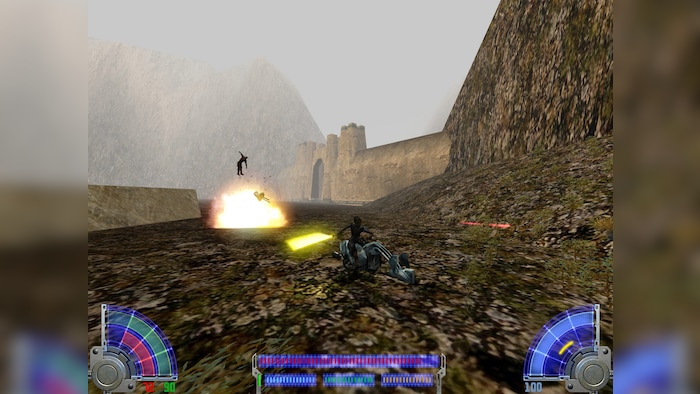 Jedi Academy had a great single-player, which gave you a set of several missions per act and let you decide in which order you want to clear them. It ALSO had a solid multiplayer, which made great use of both the shooting and the outstanding, incredibly fun lightsaber combat. Jedi Academy was a cool, varied game with awesome, tailor-made single-player and multiplayer you could spend hours in.
Key features
Dismemberment-heavy lightsaber combat
Almost non-linear singleplayer, with two different paths for the final mission
Fully-fledged multiplayer with neat character customization and bots
Set a decade after the end of Return of the Jedi, in the old canon
Call of Duty (series)
| | |
| --- | --- |
| Release date: | 2003 - 2020 |
| Genre: | Action & Shooter |
| Developer: | Infinity Ward, Treyarch, Raven |
The Call of Duty series has gone a long way from its World War II roots, and nowadays is famous for a snappy, fast-paced multiplayer and bombastic single-player campaigns.
The CoD settings are all over the timeline, ranging from World War II, through Cold War, to futuristic Earth and even a Solar system-spanning science fiction. You won't find aliens, but you will find a lot of great shooter gameplay.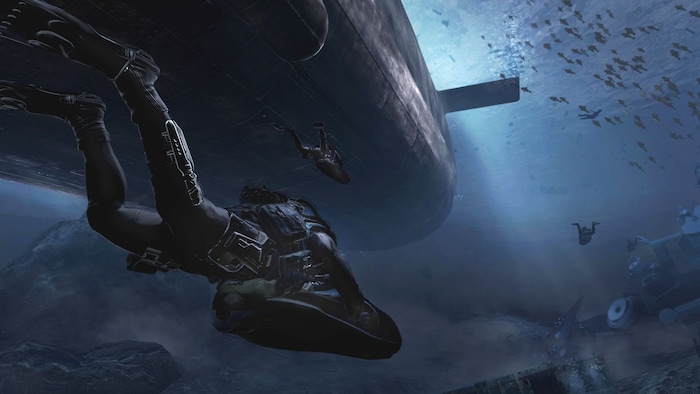 CoD is usually less tactically minded than some of the multiplayer shooters, and its relationship with classes varies from entry to entry, but what you can always expect is energizing multiplayer PvP. You can also expect a co-op Zombies mode, which is more story-driven and team-based than the usual MP and has featured voice work from actors you probably know and like.
Key features
A long-running series of excellent shooters
Explosive, tightly scripted singleplayer sequences
Intense multiplayer
Ranges from historical to futuristic settings
Destiny 2
| | |
| --- | --- |
| Release date: | 2022-01-18 |
| Genre: | First-person shooter, MMOG |
| Developer: | Bungie |
Destiny 2 has some of the finest gunplay you could find anywhere in multiplayer and singleplayer shooters alike.
It also features a vast arsenal of powerful and creative guns supported by a class- and subclass-based array of cool superpowers. By default, Destiny 2 is a 4-player PvE, with more than a little attention given to its storytelling, but it does also feature some PvP options for competitive players.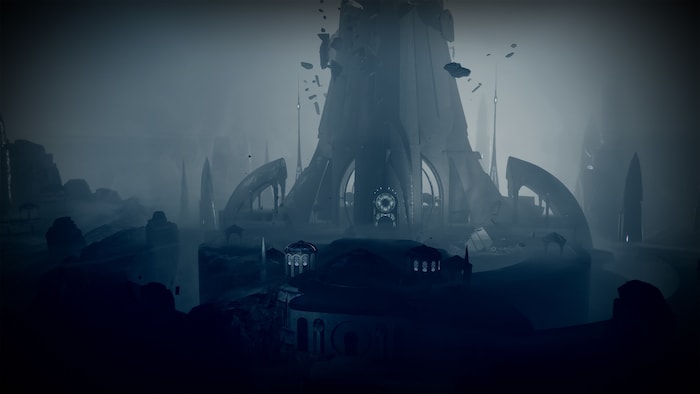 You can also check Destiny 2 out easily because the base game is free, you only pay for the expansions, all of which are quite substantial in terms of both story and gameplay. If you take these first steps it might quickly turn out that you're raiding with passion, enjoying the excellent gunplay, or you'll become invested in the world and its story and you'll want to find out what happens next. Who knows?
Key features
Three core classes, with several subclasses within
Bungie-grade gunplay, some of the best in the genre
Several large expansions
Free-to-play base game
Star Wars: The Old Republic
| | |
| --- | --- |
| Release date: | 2003-11-19 |
| Genre: | RPG |
| Developer: | BioWare |
A whole different ball game, The Old Republic MMORPG can nevertheless deliver on a massively multiplayer Star Wars experience.
True, it doesn't feature a whole lot of shooting, instead it uses a tried and tested MMO standard of clicking abilities in a sequence that makes sense. However, no other Star Wars game currently on the market makes you feel like a part of an epic war quite like TOR.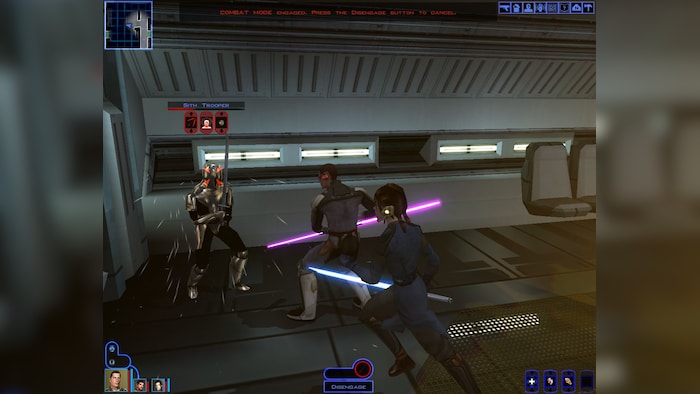 There are four classes per side of conflict, and each one has a unique storyline, complete with full voice acting and cutscenes, each story showing a different perspective on the war raging between the Republic and the Sith Empire. Aside from single-player content, there's also a lot to enjoy in a team, enjoying various kinds of raids and PvP options. Even some story content is team-oriented!
Key features
Eight unique stories taking you on an epic journey across the Galaxy
Plenty of activities for teams of various sizes
Singleplayer content feels like a proper Bioware RPG
There also modes for fans of spaceships: on-rail missions and PvP combat
Halo (series)
| | |
| --- | --- |
| Release date: | 2001 – 2021 |
| Genre: | First-person shooter |
| Developer: | Bungie, 343 Industries |
Halo is one of the most famous first-person shooter series in the world.
It has fully earned this status thanks to excellent gunplay (it was created by devs who later made Destiny), a detailed science fiction setting, and many stories that come with it. However, the element that truly cemented Halo's status is the amazing multiplayer, which kept people playing each entry for years after the release.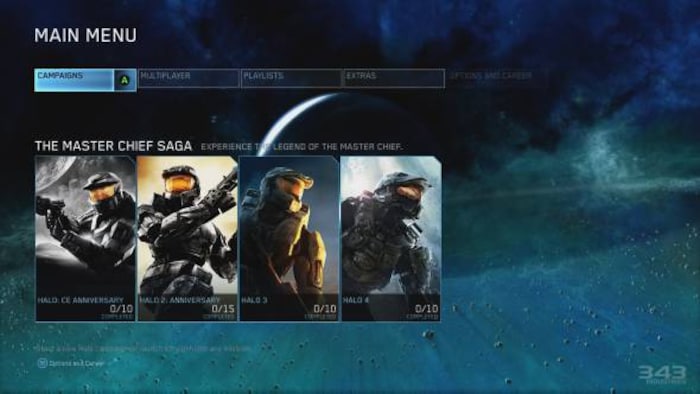 All the main installments also remain very playable thanks to re-releases adapted for modern hardware. If you're looking for dynamic, fast-paced science fiction FPS which can also handle vehicle combat, then you should absolutely take a look at Halo, especially the Master Chief Collection is a convenient deal, bundling up several games in the main series, expect Halo 5 and Halo Infinite.
Key features
One of the best FPS series out there
Vast universe expanded via non-game media
Excellent gunplay
Satisfying customization in multiplayer
Jedi: Fallen Order
| | |
| --- | --- |
| Release date: | 2019-11-15 |
| Genre: | Adventure |
| Developer: | Respawn Entertainment |
We're closing with a complete change of pace in case what you're actually looking for isn't a (multiplayer) shooter, but a solid Star Wars adventure.
Jedi: Fallen Order is a completely singleplayer game, but it has an engaging story, beautiful locations, cool combat, and rewarding exploration. You're playing as Cal Kestis, a padawan survivor of Order 66 who has been hiding ever since.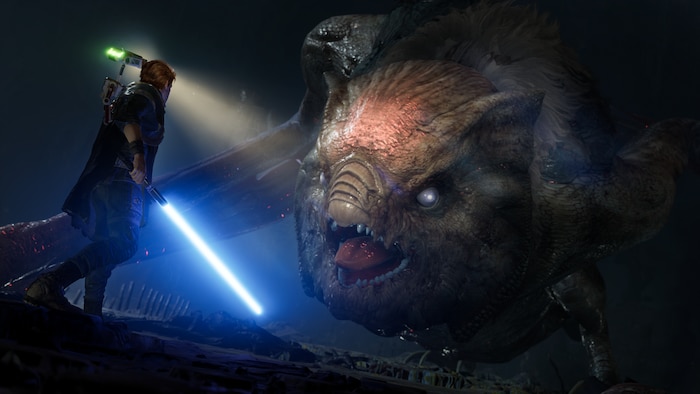 Having been forced to reveal himself, he quickly becomes embroiled in a story larger than just his immediate survival. Fallen Order is third-person action game focused mostly on dodge- and parry-intensive combat and exploration enabled in large part by Cal's returning Force abilities. You also cross paths with inquisitors and some characters from the broader Star Wars canon.
Key features
Cool, engaging lightsaber combat
Gaining new powers unlocks previously inaccessible areas of many maps
Plenty of collectibles, both functional and cosmetic
A challenge mode which lets you test and polish your lightsaber skills
Awaiting orders
This concludes our list of games which offer something you might have liked about Star Wars Battlefront games: satisfying multiplayer, classes, Star Wars license, or maybe even just a singleplayer campaign exploring the setting. Whatever your main interest might be, hopefully our list helped you find something that piques it.