Thanks to the massive esports community, Starcraft has become truly immortal among the games of its genre. But that's not the only reason it's so incredibly successful!
Since 1998, Starcraft got us a Starcraft 2 and a very polished remaster. And it's still as popular as ever! Being constantly supported with new patches, perfectly balanced, and focused solely on the player's skills, this title delivers a game where all is fair.
Plus, it features an engaging storyline and a beginner-friendly campaign for even the most ancient PCs. What else could we wish for? Well, maybe something similarly fun but in a different setting? Whatever the reason, here you'll find all the best Starcraft alternatives.
Ready to dominate the galaxy? Check out these games similar to Starcraft and expand your gaming universe
Ancestors Legacy
| | |
| --- | --- |
| Release date: | 2018-05-22 |
| Genre: | Strategy |
| Developer: | Destructive Creations |
It is a perfect recommendation for those who want similar gameplay but in a more medieval setting. Because that's what Ancestors Legacy is – a brutal, unforgiving strategic game set in Europe between the eighth and thirteenth centuries.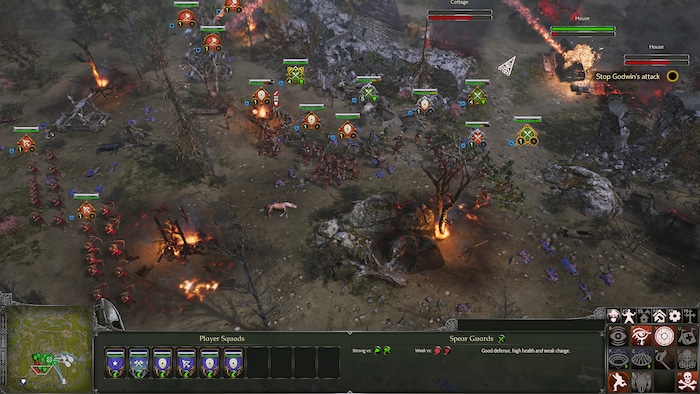 Lead the Vikings, Anglo-Saxons, Slavs, or Teutons and change the course of historical events! The gameplay is slower than Starcraft, focusing on a highly tactical approach to each fight. You will lose yourself in collecting resources, recruiting new units, creating ambushes, and discovering the unique abilities of each faction. Give it a try if you haven't already!
Key features
Play an engaging real-time strategy set in medieval Europe
Choose from four playable factions to witness historical events
Gather resources, expand your villages, and prepare for any turn of events
Play solo or in multiplayer with up to six players
Age of Empires II: Definitive Edition
| | |
| --- | --- |
| Release date: | 2019-11-14 |
| Genre: | Strategy |
| Developer: | Forgotten Empires |
It is a classic among RTS games where you will lead a chosen civilization in different historical eras. Combining the most important aspects of military, economic, and technological development, you can achieve spectacular victories in a solo campaign or multiplayer.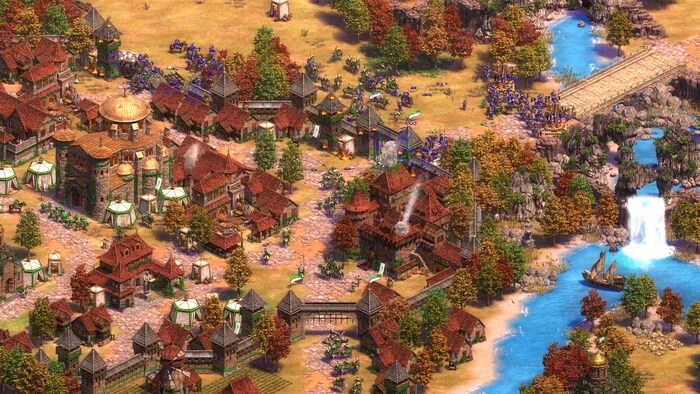 Choose from thirty-five nations to discover their unique strengths and use them to your advantage. Have fun solo in seven-story campaigns, or test your skills against other players! Like Starcraft, this game focuses on gathering resources, development, and combat. But you can expect a slightly slower pace and more random events during gameplay.
Key features
Play one of the most iconic strategy games ever
Choose from thirty-five nations to direct its development and win
Develop your settlement and position military units on the map
Play solo or in multiplayer
Command & Conquer: Red Alert 2
| | |
| --- | --- |
| Release date: | 2000-10-25 |
| Genre: | RTS |
| Developer: | Westwood Pacific |
Discover a world where World War II never happened. Now, the Soviets and the Allies are fighting on various battlefields, and it's up to you who will win this ultimate global conflict.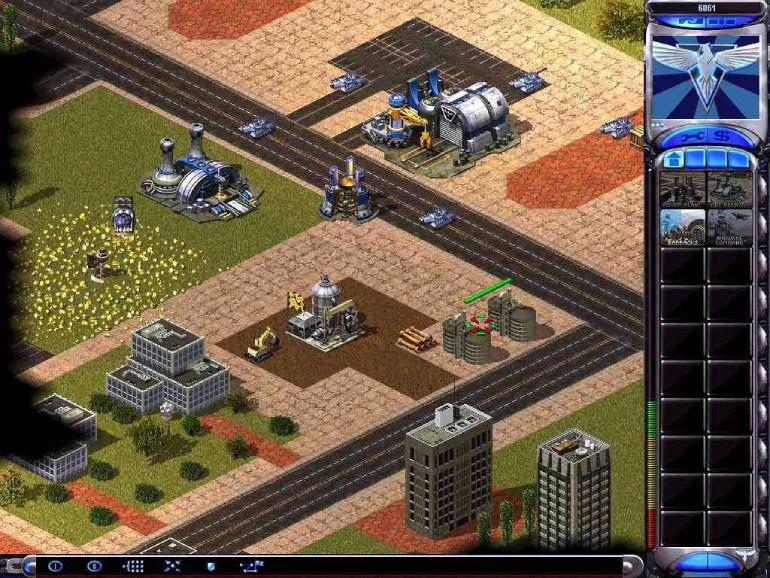 Play over forty solo missions, create scenarios, choose the difficulty level, and awaken your inner strategy master! Unlike in Starcraft, you can only control two factions on fewer maps, but the gameplay is still just as satisfying. Plus, it's a real treat for all fans of sci-fi games with themes of alternative realities and space-time meddling.
Key features
Play a game set in a world where World War II never happened
Manage two opposing factions and choose your favorite
Decide on the deployment of units and research new destructive technologies
Play solo or in multiplayer with up to eight players
Ashes Of The Singularity
| | |
| --- | --- |
| Release date: | 2016-11-10 |
| Genre: | Indie |
| Developer: | Oxide Games |
It is your finest choice if you are looking for a game like Starcraft but with much better graphics and 3D objects with lots of details and realistic lighting. Oh, and with thousands of units fighting on giant maps – so impressive!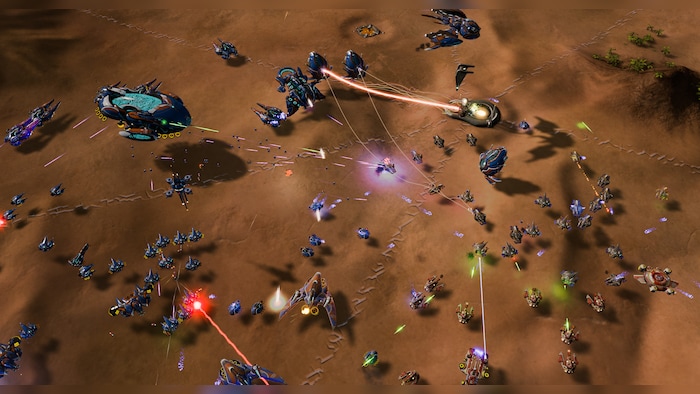 When humanity's greed threatens the entire galaxy, a great war between the descendants of a powerful AI and the Post-Human Coalition begins. You can win by collecting the most valuable resources, developing a fearless army, establishing a base, and researching new technologies. In this game, every choice matters! It's another classic, but not for low-end PCs.
Key features
Discover the addictive campaign about humanity's war against artificial intelligence
Pick one of the two sides and ensure its victory
Manage your units, base, and valuable resources
Play solo or in exciting multiplayer
The Lord Of The Rings: The Battle for Middle-earth
| | |
| --- | --- |
| Release date: | 2004-12-06 |
| Genre: | RTS |
| Developer: | EA Los Angeles |
Inspired by the Lord of the Rings movies, Battle for Middle-Earth perfectly captures the vibe of the trilogy featuring major battles and legendary heroes. And you can play as a good and bad guy!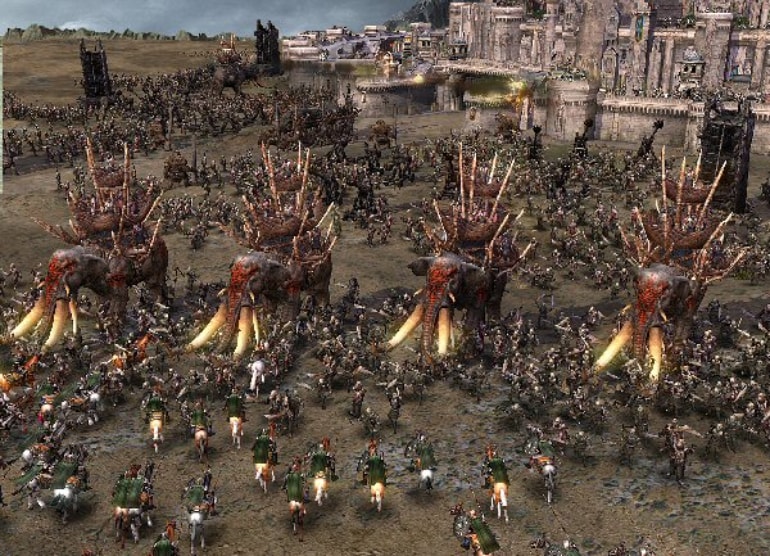 Choose from four factions: Riders of Rohan, Army of Isengard, Soldiers of Gondor, and Legions of Mordor. Each has unique advantages and disadvantages, so using them in combat is crucial for the outcome of battles. Like Starcraft, this is a classic RTS gameplay mixing an economic part with building a base and upgrading units. But the key difference is the presence of the most famous characters from Tolkien's universe, including Ents, Hobbits, Gandalf, the vile Uruk Hai, and more!
Key features
Play an inspiring RTS set in the Lord of the Rings universe
Choose from four factions and witness legendary battles
Have fun with the interactive environment and create powerful siege machines
Play solo or in multiplayer
Total War: Warhammer II
| | |
| --- | --- |
| Release date: | 2017-09-28 |
| Genre: | Strategy |
| Developer: | Creative Assembly |
It is a unique installment in the series of strategy games from Creative Assembly, set in the famous fantasy world of Warhammer. Prepare for an epic war between the leading nations competing to execute their plans for the ancient Great Vortex.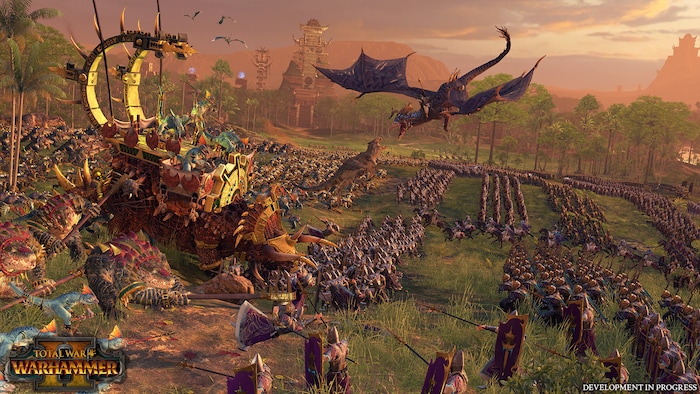 Play as High Elves, Lizardmen, Skaven, or Dark Elves to fight on four different continents and decide the future of this world. It's an excellent recommendation for those looking for a game like Starcraft but focused on a single-player campaign. It's not competitive, but if you want to have fun with other players, enjoy it with four-player multiplayer.
Key features
Take part in an epic war set in the fantasy Warhammer universe
Choose one of the iconic factions
Expand cities and fight in brutal battles
Play solo or in multiplayer with up to four players
Homeworld: Deserts of Kharak
| | |
| --- | --- |
| Release date: | 2016-01-20 |
| Genre: | Strategy |
| Developer: | Blackbird Interactive |
Witness the events set 106 years before the first Homeworld! The planet Kharak is dying. However, an unexpected discovery may carry promise for a brighter future, and you'll be the one to find out how the second expedition sent to investigate it fares.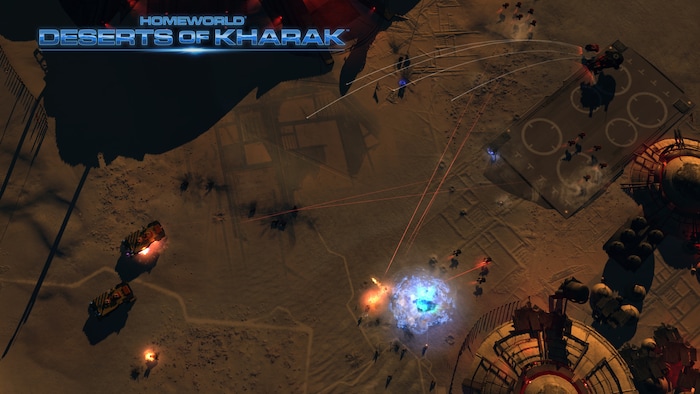 Explore the sandy surface of planet Kharak to gather resources, develop technologies and discover valuable artifacts. But be careful – any discovery can trigger a conflict with other factions equally desperate for resources. Take advantage of the varied terrain in combat, upgrade your cruiser, and you may have a chance to survive these harsh circumstances.
Key features
Play a classic RTS set on the harsh planet of Kharak
Fight against other factions in a conflict for the most valuable resources and domination
Create new units and plan your combat strategy
Play solo or in multiplayer
Company Of Heroes 2
| | |
| --- | --- |
| Release date: | 2013-06-25 |
| Genre: | Strategy |
| Developer: | Feral Interactive (Linux) |
Unlike Starcraft, the Company of Heroes is all about positioning units, finding cover in combat, and implementing the proper strategy. And it's one of those games where base expansion is secondary.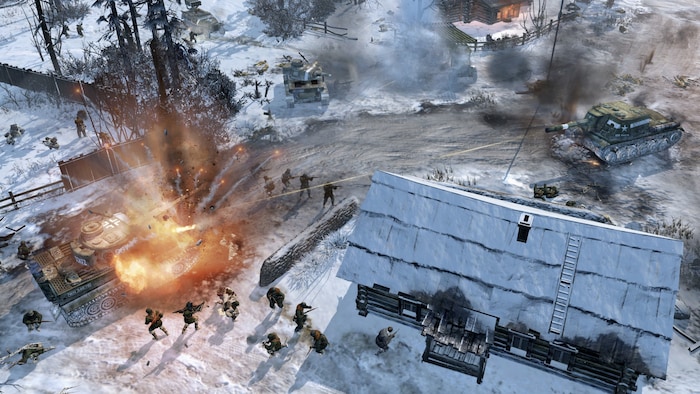 CoH is an innovative RTS gameplay that focuses almost entirely on combat. Featuring the events of World War II, it introduces many innovative improvements like enhanced enemy AI and wild weather conditions. But the most important game-changer is the TrueSight system, making the units notice only the area of the map they would see in real life.
Key features
Play the sequel to the award-winning real-time strategy game from Relic Entertainment
See the most significant events of World War II and change history
Focus on combat and effective deployment of units
Play single-player or multiplayer with up to eight players
Halo Wars
| | |
| --- | --- |
| Release date: | 2016-12-20 |
| Genre: | Strategy |
| Developer: | 343 Industries |
Fancy Halo, but in a more tactical version? Here you go! The action of this RTS takes place 21 years before the events of Halo: Combat Evolved and reveals many tasty secrets of this captivating universe.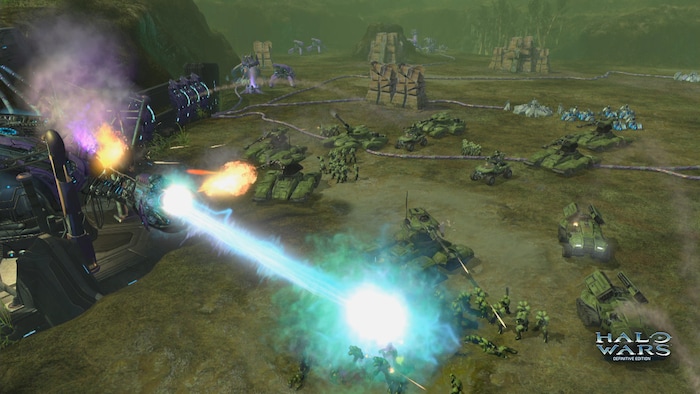 Choose from two factions – Humanity or Covenant. Each has unique technologies, bonuses, and skills that, when used well, prove priceless in combat. Plus, you can play a story campaign or engage in skirmishes against the computer or other players. It's a bit easier to master than Starcraft, so it's an ultimate recommendation for players looking for more relaxed gameplay.
Key features
Discover epic combat RTS set in the Halo universe
Play as Humanity or Covenant
Discover the following chapters of the engaging storyline
Play solo or in multiplayer
WarCraft III
| | |
| --- | --- |
| Release date: | 2013-07-03 |
| Genre: | Strategy |
| Developer: | Blizzard Entertainment |
Journey to Azeroth to participate in legendary fantasy battles for supremacy over the entire land. It's the best day to witness these dramatic events in a new, strategic version!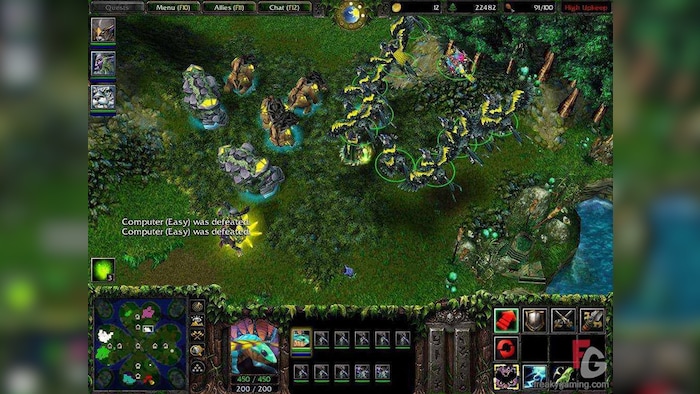 Collect resources, build bases, recruit units, and develop an invincible army. Be sure to take care of food inventory, as any failure means a weaker army. Warcraft Reforged introduces many changes to the standard RTS gameplay, like a dynamic day and night system, random events, and boosts for particular factions during a time of day. This game is an addictive alternative to Starcraft for those who love the great Warcraft universe.
Key features
Discover an improved version of the 2002 game
Fight in a massive war for supremacy over all of Azeroth
Do your best to create a powerful army
Play solo or in multiplayer
Real-time strategy is the most rewarding genre in gaming. Requiring a massive load of logical thinking, predicting enemy behavior, and resource management skills, it engages like nothing else. So every win is a fantastic success. But for some players, games like Starcraft can be too challenging by not offering a tutorial or featuring extremely complex mechanics and millions of bizarre factors. That's why sometimes it's worth checking out something easier or set in a different universe. Not everyone has to like sci-fi adventures! Luckily, you'll find an enormous variety of alternatives for every occasion and mood on this list because we know that playing video games is supposed to be fun, not annoying.