They Are Billions is a surprisingly fun strategy game, where you will be tasked with building the base and fortifications, as well as training specialized troops, in order to prevent zombie hordes from destroying your settlement. And "hordes" is not an exaggeration, as the game's custom engine allows the game to display thousands of units simultaneously.
The game will surely keep you busy and entertained for quite some time, but once you eventually get bored with it and wish to find something else, we may be of help. Check out some of the best games like They Are Billions on the list down below.
Games similar to They Are Billions
Colony Survival
| | |
| --- | --- |
| Release year: | 2017 |
| Genre: | Indie |
| Developer: | Pipliz |
| Game modes: | Single-player, multiplayer |
The first thing that comes to mind when you launch Colony Survival is that it's a Minecraft clone. But don't judge a book by its cover – a voxel-based world is where the similarities end.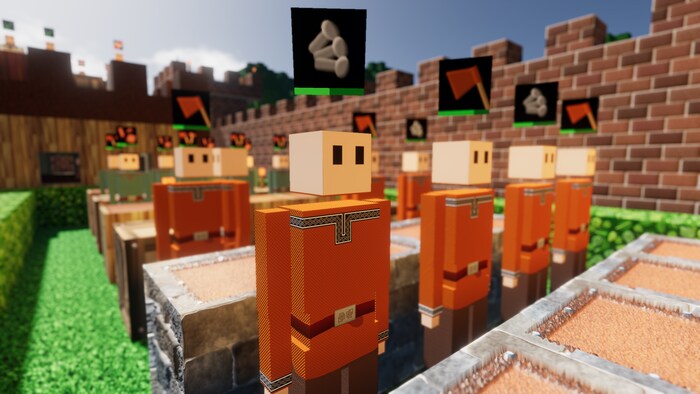 Colony Survival is quite unique in that it's a voxel-based strategy game that's played from a first-person perspective. This means that here, unlike in Minecraft, you will be able to control not only your own character but also command AI-controlled characters in real time.
Building an unbreachable fortress is not an easy task and certainly not one that could be completed by a single person, so any help from non-player characters is warmly welcomed. Build solid fortifications and protect your men from evil creatures that are roaming the world.
Key features
Strategy game played from a first-person perspective
The gameplay focused on building a new self-sustained colony
A voxel-based world with numerous different biomes
Addictive co-op experience
RimWorld
| | |
| --- | --- |
| Release year: | 2018 |
| Genre: | Indie |
| Developer: | Ludeon Studios |
| Game modes: | Single-player |
If you like sci-fi settings, then maybe you'll find RimWorld an interesting option – a solid choice on the list of the best games similar to They Are Billions.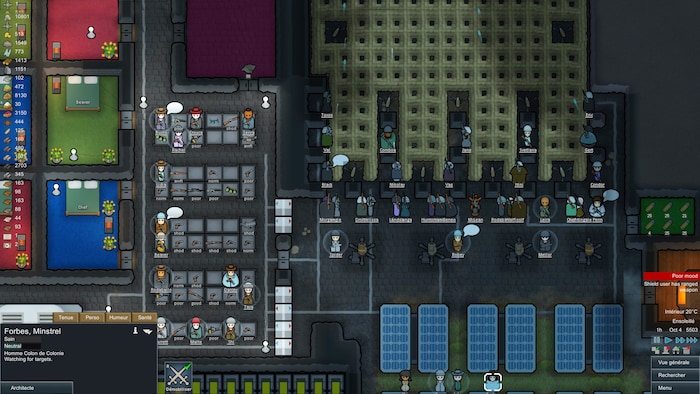 RimWorld may look simple, but keep in mind that it's an indie game, which means it had a quite limited budget. By making some sacrifices in terms of visuals and choosing a more cartoonish art style, developers were able to focus more on gameplay and complex mechanics.
The game is described by its authors as a story generator, where you can experience a variety of random scenarios – you will have to utilize your colonists' random perks to your advantage, but it's often easier said than done due to the existence of a variety of negative traits.
Key features
Colony building simulator with quite complex game mechanics
Vast randomly-generated worlds full of unique biomes, each with its own fauna, flora, and weather conditions
A great number of character traits and personalities that affect interactions and relationships between colonists
Well-thought and logical injury system, where each body part can be separately damaged and will affect colonist's productivity in different ways
Factorio
| | |
| --- | --- |
| Release year: | 2020 |
| Genre: | Indie |
| Developer: | Wube Software LTD. |
| Game modes: | Single-player, multiplayer |
There are some games that put more emphasis on automating most of the crafting – one of these is incredibly fun sci-fi strategy, Factorio.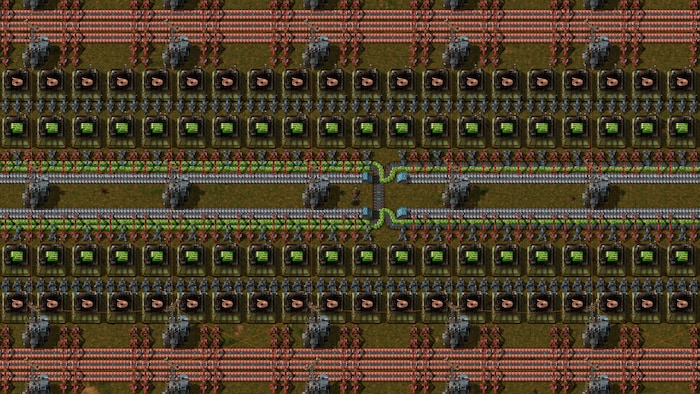 Factorio is similar to They Are Billions in that it also lets you build your settlement that needs to be defended from increasingly stronger hordes of enemies. The key difference lies in the game's focus on factory management. There's a lot of crafting to be done to achieve the ultimate goal, which is to build a rocket and leave the hostile alien planet, but thankfully most of the work can be automated.
You'll need to utilize assembling machines, pumps, conveyor belts, and trains, to design the most effective factory that can mass produce all the necessary components. Keep in mind, however, that factories create pollution, and local creatures don't seem to like the fact that someone's contaminating their home – make sure to build solid defenses and prepare for incoming invasion.
Key features
One-of-a-kind factory management game in a sci-fi setting
Extremely addictive gameplay focused on mass production of components and assembling them into dozens of different items
Challenge in form of fierce aliens that become stronger over time
Fun multiplayer experience, where dozens of players can team up and grow their settlement together
Gnomoria
| | |
| --- | --- |
| Release year: | 2016 |
| Genre: | Indie |
| Developer: | Robotronic Games |
| Game modes: | Single-player |
Gnomoria is another indie game that sacrificed the presentation layer in favor of more complex and interesting gameplay and game mechanics.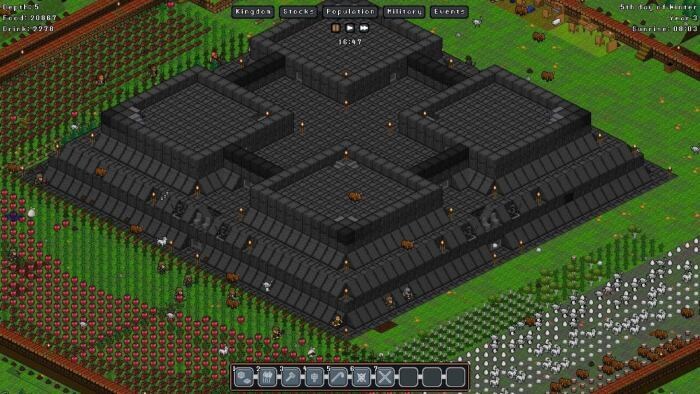 The game's sandbox nature makes it an interesting They Are Billions alternative. The game's coolest feature is probably the possibility to assign your gnomes to a variety of different jobs, and there's a lot of flexibility – there's nothing stopping you from turning a gnome into a metalworker who cooks food and heals wounded gnomes in his free time, for example. This results in open-ended micromanagement gameplay, where you can decide in greater detail your settlement's development direction.
Although combat doesn't play a huge part in Gnomoria, it's there and it provides some challenge. However, if you prefer a more peaceful experience, there is an option to turn enemies off, so you can focus entirely on crafting, exploring the world, and growing your gnome colony.
Key features
Open-ended sandbox strategy focused on exploration and growing a gnome colony
A lot of flexibility when it comes to assigning gnomes to a variety of jobs
Role-playing elements in form of gnomes' personal skills – the more they do something, the more proficient they become at it
Procedurally generated world for increased replayability
Project Zomboid
| | |
| --- | --- |
| Release year: | 2013 |
| Genre: | Indie |
| Developer: | The Indie Stone |
| Game modes: | Single-player, multiplayer |
For the last game on the list, we've got something zombie-related, so if you loved They Are Billions, the chances are that you will also like this one.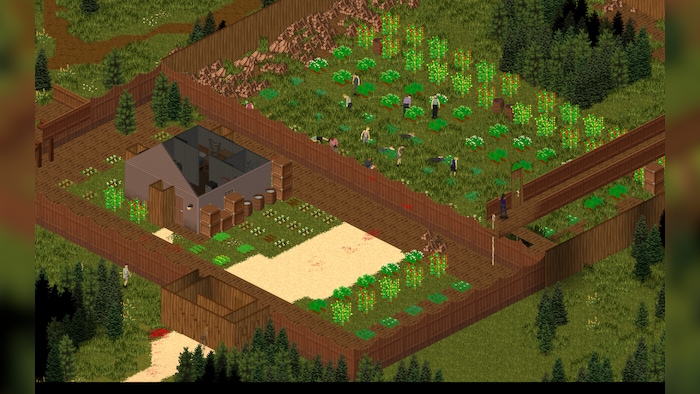 Project Zomboid is set during the zombie apocalypse, where mindless monsters roam the streets in search of living beings and, of course, their brains. As a survivor, your job will be to scavenge the surroundings in hopes of finding anything of use – anything that could help you stay alive longer.
The game is surprisingly complex for an indie title. Among its notable features, there is real-time lighting and line of sight system, day and night cycle, tons of craftable items, upgradeable skills, and vehicles with their own physics. It's also worth noting that the game's sandbox nature allows players to adjust the difficulty to their own taste, so no need to worry about Project Zomboid being either too easy or too hard.
Key features
Hardcore survival RPG set during zombie apocalypse, with hundreds of zombies looking for prey
Vehicles with physics, day and night cycle, character customization with skills and perks, and a variety of available activities, including fishing and farming
Can be extremely challenging or surprisingly relaxing – depending on your personal preferences
Local split-screen co-op for up to 4 players
Build Your Base in 5 Games like They Are Billions
They Are Billions is a great management game, where players have to build their settlement and ensure everyone's safety by training specialized troops and building fortifications to defend against a virtually infinite number of zombies. The game's most important feature is its custom game engine that allows it to spawn thousands of zombies without affecting the game's performance. This results in enormous encounters, where you can finally feel the true power of never-ending zombie hordes.
It's hard to find a game that's able to do exactly the same, but there are still some other cool survival games to try. Check out the list above and you'll find some of the best video games like They Are Billions, as well as other interesting survival base-building titles for Mac and Windows.