If you played the Fallout series, you've probably heard that war never changes. This War of Mine allows us to experience the horrors of war from an entirely different perspective than what we're used to. Instead of playing one of the highly-trained experienced soldiers, here you will be commanding a group of simple civilian survivors as they try to stay alive during the armed conflict.
It's a great experience that shows a more realistic and non-romanticized face of the war – if you're interested in such titles, then let's take a look at 10 similar games to this war of mine and other war survival games.
10 Games like this war of mine
Sheltered
| | |
| --- | --- |
| Release year: | 2016 |
| Genre: | Indie |
| Developer: | Unicube |
Let's start with a game that, despite having an entirely different art style, feels surprisingly similar to This War of Mine gameplay-wise.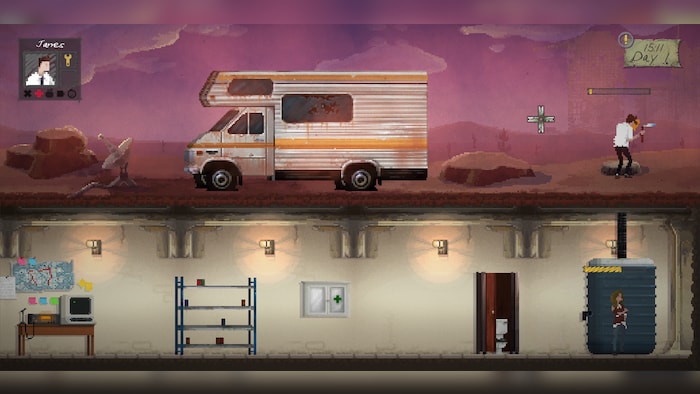 Sheltered is a game about surviving in a post-nuclear environment, where people are forced to hide in shelters due to nuclear fallout. As it's like in other similar management games, you will be tasked with taking care of a group of people and satisfying their basic needs, such as hunger and thirst, hygiene, and stress.
Limited supplies will force you to send people to scavenge the area for necessary resources, but proceed with caution – radiation is not the most pleasant way to go. Apart from visuals, what makes the game different from This War of Mine is bigger randomness and a less depressive atmosphere.
Key features
2D survival management game in a post-nuclear setting
The gameplay focused on taking care of a group of survivors as they try to survive in an inhospitable environment
A set of increasingly difficult levels to complete
Randomly generated maps for increased replayability
Dead State: Reanimated
| | |
| --- | --- |
| Release year: | 2015 |
| Genre: | Indie |
| Developer: | DoubleBear Productions |
Dead State: Reanimated is an enhanced edition of Dead State – a management game set in a world torn apart by hordes of roaming zombies.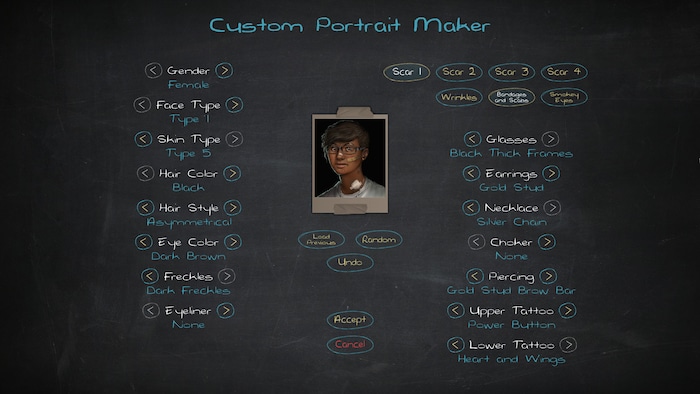 Zombie-related games got us used to have to fight back the mindless horde, which is also the case in Dead State. You can't always keep a low profile and act silently – sometimes combat is unavoidable, but thankfully your men are somewhat prepared for violent scenarios.
Speaking of combat, it's turn-based, which is quite a rare sight in these kinds of games, thus making the title a fresh and worthy alternative to This War of Mine, and a game you should definitely check out.
Key features
3D role-playing survival in a zombie apocalypse setting
Gameplay that combines exploration and survival with turn-based combat
Character progression and unlockable skills
Permanent death for increased challenge
Rebuild 3: Gangs of Deadsville
| | |
| --- | --- |
| Release year: | 2015 |
| Genre: | Indie |
| Developer: | Northway Games |
Speaking of zombie games, Rebuild 3 is also something to recommend to those who are looking for a game similar to This War of Mine.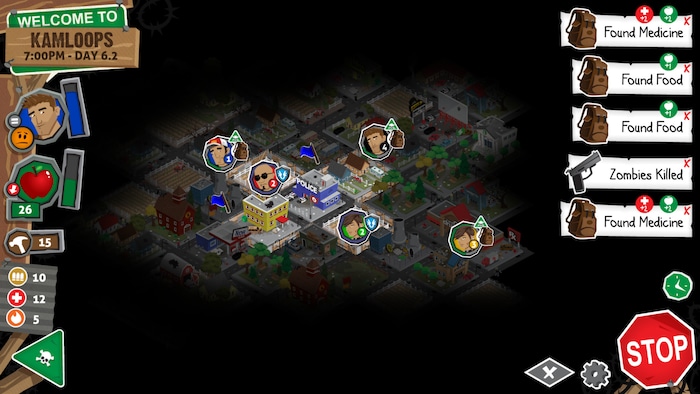 Rebuild 3 is all about careful management of limited resources, and if you master this element, you'll surely succeed. It allows players to take control over a group of survivors during a zombie apocalypse and work towards restoring the civilization and collapsed society.
The game's cartoon-like colorful visuals make it clear that it's not a game that's meant to be taken too seriously, but don't expect too much of a comedy, either – just some subtle dark humor that perfectly fits the grim setting.
Key features
Management simulation with role-playing elements in a zombie apocalypse setting
The gameplay focused on scavenging places for valuable resources
Cool and polished comic-like art style
Dark sense of subtle humor
Craft The World
| | |
| --- | --- |
| Release year: | 2014 |
| Genre: | Indie |
| Developer: | Dekovir Entertainment |
On the more bright and less depressing spectrum of war-related video games we've also got Craft The World – a chilling fantasy focused on ruling a dwarven tribe.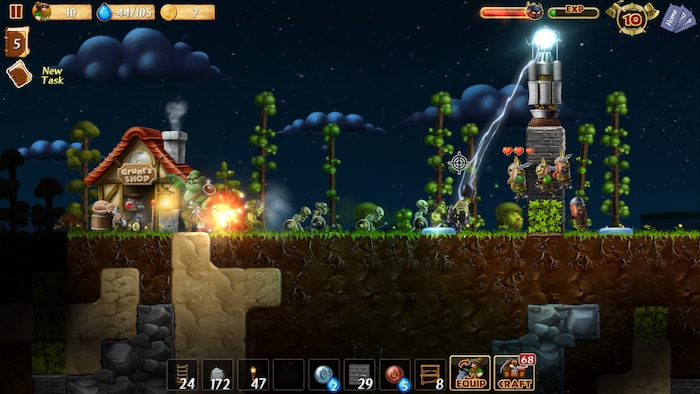 Craft The World is a game with a self-explanatory title – it's an addictive sandbox with a strong emphasis being put on crafting and building. As a virtual ruler of your dwarven empire, you'll be responsible for exploring the underground in search of valuable resources that can be later used to craft a variety of items and to expand the kingdom.
If you played Terraria ever before, you'll quickly get a grasp of the game's basic mechanics – it's quite similar, although it has some interesting real-time strategy elements attached to make the experience fresh and unique.
Key features
An interesting combination of strategy, tower defense, and management simulation
Randomly generated worlds filled with dangerous enemies and valuable treasures
Open-ended gameplay emphasized by the game's sandbox nature
Intuitive and user-friendly crafting system
Terraria
| | |
| --- | --- |
| Release year: | 2011 |
| Genre: | Adventure |
| Developer: | Re-Logic |
As we've already mentioned Terraria above, it's only natural to include it on the list – get ready for an epic adventure in a beautiful 2D world.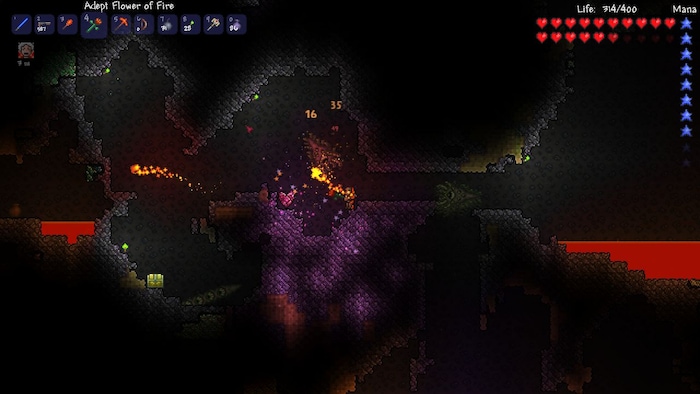 Terraria appears to be a rather simple game at first glance, but the more you play, the more content starts to show up. Some could call it Minecraft 2D, but it would be a huge and unfair oversimplification. Although Terraria does focus on exploring, mining, and crafting, it has a much better sense of progression with tons of increasingly powerful weapons and equipment to be found or crafted, explorable dungeons filled with traps and rare enemies, and – most importantly – powerful bosses that drop one-of-a-kind loot.
All of this combined with the game's adorable pixel-art visuals makes Terraria a solid choice for anyone who looks for a fantasy survival game.
Key features
Excellent 2D sandbox experience set in a fantasy world, where magic is just as common as swords and armor
Randomly generated maps full of hidden treasures, fierce opponents, random events, and mighty bosses
Hundreds of craftable items, from simplest building blocks to pieces of legendary equipment
Top-notch 2D pixel-art visuals with advanced lighting and particle effects
Starbound
| | |
| --- | --- |
| Release year: | 2016 |
| Genre: | Adventure |
| Developer: | Chucklefish |
If we have Terraria on the list, we also need to include Starbound, which, strangely enough, manages to be very similar yet very different at the same time.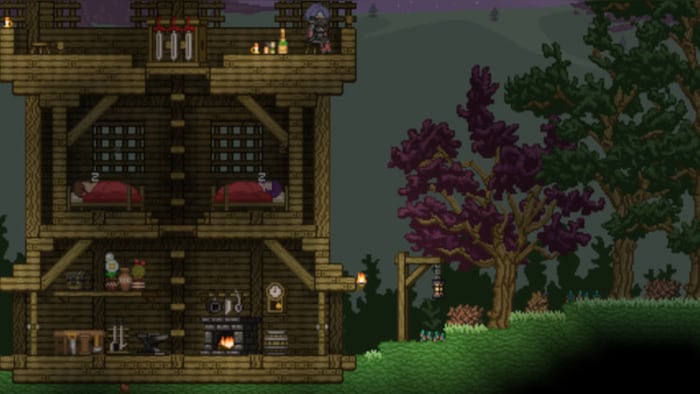 Starbound is a sci-fi sandbox game that allows players to explore vast 2D randomly generated worlds in order to gather resources required to craft weapons and equipment needed to survive in hostile environments. What's especially worth being noted is the game's combat system that is more strategy-oriented and requires quick reflexes to not only dish out damage and dodge opponents' attacks but also to use blocking mechanics to mitigate incoming damage.
There is also bigger emphasis being put on building the base, so if that's your thing, you'll find Starbound pleasantly surprising.
Key features
Gameplay focused on strategic combat, exploration, and base building
Procedurally generated worlds for increased replayability
Great 2D pixel-art visuals and smooth animations
Very flexible when it comes to modding
Don't Starve
| | |
| --- | --- |
| Release year: | 2013 |
| Genre: | Adventure |
| Developer: | Klei Entertainment |
Maybe it's not a game strictly about surviving the war, but it's a survival game nonetheless, and incredibly fun and challenging, too.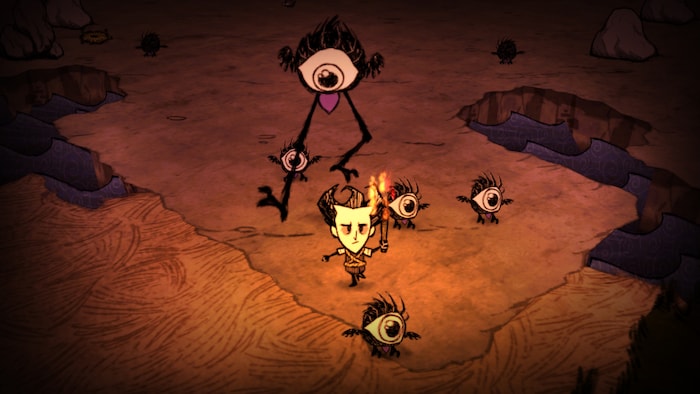 Don't Starve is an interesting sandbox game, where you have to explore a randomly generated world in order to collect various materials needed to increase your chances of surviving in the wilderness. You need to take care of your character's basic needs. You need to regularly eat and maintain optimal body temperature as well as preserve sanity – the last one is especially interesting and it's probably what defines the game.
If you start doing upsetting things, such as fighting monsters, robbing graves, or even eating spoiled food, you will start to lose sanity, which will eventually cause terrible nightmares to materialize and haunt you in the real world.
Key features
Sandbox survival experience with an open world that can be freely explored
Several different playable characters to choose from, each boasting a slightly different playstyle
Unique stylized cartoon-like dark visuals
Challenging difficulty level with demanding opponents, random events, and item spoiling over time
Frostpunk
| | |
| --- | --- |
| Release year: | 2018 |
| Genre: | Simulation |
| Developer: | 11 bit studios |
Sometimes the most threatening enemy is not another human, but nature itself. Do you have what it takes to survive the everlasting winter?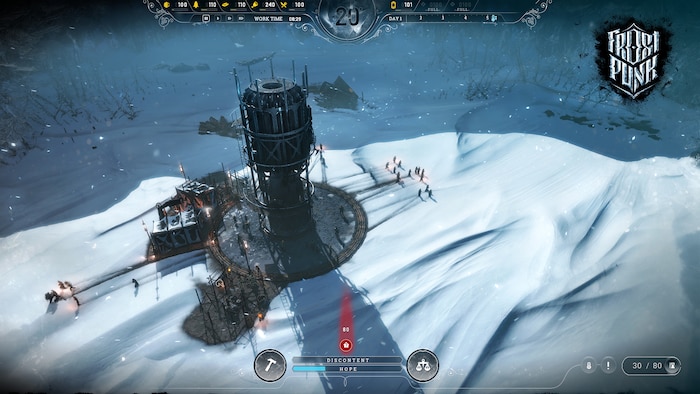 Due to certain cataclysmic events, the Earth is now a giant inhospitable snowball. Humanity has to face the biggest and most devastating natural disaster in human history yet, and the only way to survive in the new harsh environment is to found new cities around huge coal-powered engines that can serve as the source of invaluable heat.
As you might have already guessed, it plays a huge role in this addictive city builder – each building has its own requirements when it comes to the heat. Some buildings, such as medical facilities, won't even be able to operate when the temperature is too low, so plan accordingly and try to choose the most optimal places for each of your structures.
Key features
Unique city-building experience, where heat management plays a huge role in designing the best city
Varied weather conditions and important political decisions that can affect people's productivity
Several addictive and increasingly difficult scenarios to beat and master
A variety of specialized technologies that can make surviving easier
Papers, Please
| | |
| --- | --- |
| Release year: | 2013 |
| Genre: | Adventure |
| Developer: | 3909 |
Surviving the war can be presented from a variety of different perspectives, but being able to play as a border-crossing immigration officer takes things to a whole new level.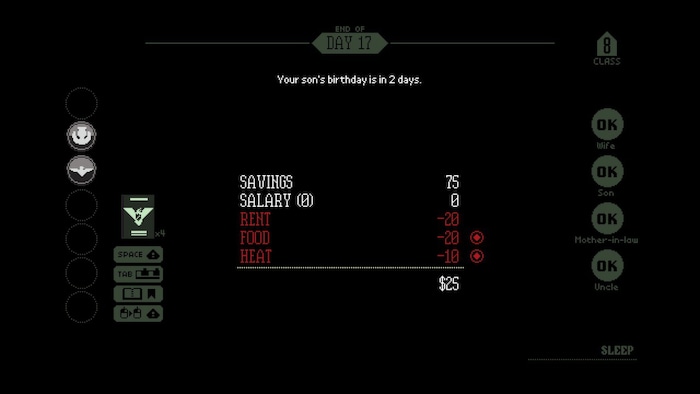 You would never expect a game focused on the work of a border-crossing officer to appear on the market, and maybe that's what made it so popular and successful. At first, it looks like just a fun simple puzzle game, where you need to verify a number of different things in documents of people trying to cross the border.
However, it quickly becomes an emotional rollercoaster, where you often need to choose between loyalty to your country and helping people in need. Strictly following your superior's orders can make you look like a beast devoid of human feelings in the eyes of commoners, but it will give you the money needed to ensure the wellbeing of your own family. Are you willing to risk your family's safety to help strangers?
Key features
Addictive gameplay focused on validating immigrants' documents
Great atmosphere that allows players to really feel like they are a part of the Eastern Bloc-like country
Lots of difficult moral choices and several different endings
Simple yet adorable graphics
This Is the Police
| | |
| --- | --- |
| Release year: | 2016 |
| Genre: | Indie |
| Developer: | Weappy Studio |
For the final game, we've got something slightly different – a game that focuses on the last working months of an old soon-to-be-retired police officer.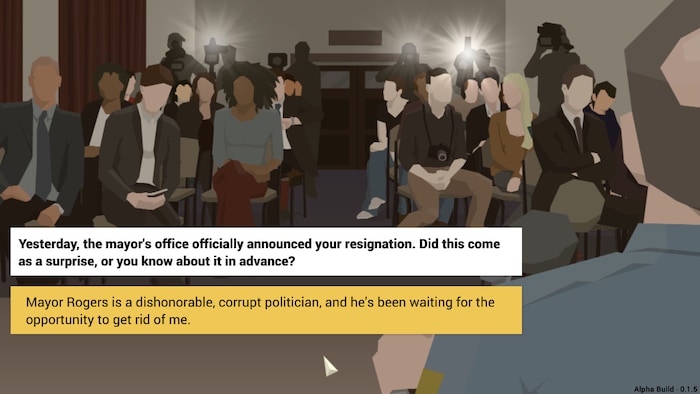 This is the Police is a management game where you will be playing as a police officer during his last 180 days in the office. Forced to retire by a corrupt mayor, now he's tasked with making at least $500,000 for his retirement fund. This can be done in a variety of ways, and the easiest and most lucrative is probably to make a deal with the local mafia in exchange for occasionally turning a blind eye to the mafia's actions.
The gameplay focuses on sending police officers to a number of different emergency situations – the key to success is careful resource management, because sending too many people may result in not having enough to prevent some other crime.
Key features
A great combination of strategy and police management game
The gameplay focused on answering emergency calls and assigning police officers to various tasks
Important choices that may affect the story
Eye-catching stylized visuals
The Best Games like This War of Mine
This War of Mine is an astounding title that makes it clear that war is not a game and it's certainly not pretty. From a simple civilian's point of view, war brings nothing else but suffering and destruction – this is something that's often being skipped in war-related video games, where we're usually playing as an armed and experienced soldier, who's not afraid to find himself on the front lines.
But for simple civilians, war is just something that will most likely eventually separate them from their friends and family, or force them to leave their hometown where they were born and raised. They'll have to leave their memories and sentiments behind to be able to focus entirely on a desperate fight for survival.
This War of Mine perfectly captures the grim nature of war, but it's not the only survival game out there. If you liked This War of Mine and you're interested in checking out similar games, take a look at the list above, where you'll find some of the best games like This War of Mine and other survival games.