Heroic battles. Mighty enemies. Excellent historical realities. And all of this managed by your tactical talent. This is Total War – the favorite RTS of PC users.
The first part of the Total War series debuted in 2000 and didn't lose its popularity ever since. The next installments of the series only confirmed what could be expected from the very beginning – the title from Creative Assembly is an absolutely timeless video game.
The series includes everything from historically faithful battles in Ancient Rome to epic conflicts set in the Warhammer fantasy world. If you are interested in more information about this remarkable series of strategy games, we recommend our article about Total War Games. And if you are familiar with this series and looking for something different or similar alternatives, you are in the right place. Welcome to the Total War style games list!
Best Total War like Games
Mount & Blade II: Bannerlord
| | |
| --- | --- |
| Released | 2020-03-31 |
| Genre | RPG |
| Developer | TaleWorlds Entertainment |
The second installment of the legendary series of strategy games with RPG elements. The ruler of Calradia died, and chaos and anarchy overtook the land. Will you find the strength to restore peace and order?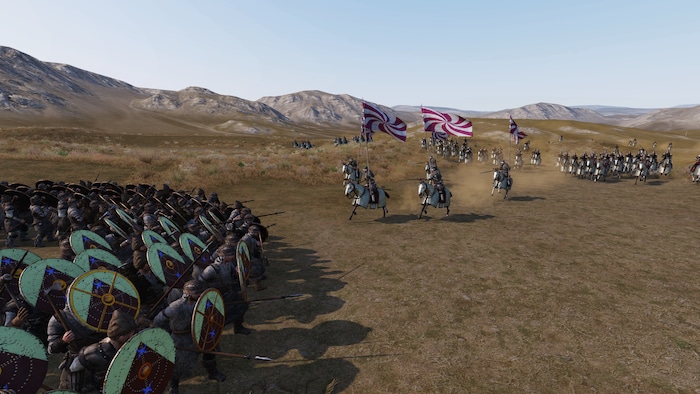 Create a character in the extensive hero creator and get ready to explore the political diversity of this land. Travel, hire troops, and most importantly – engage in epic battles. There will be thousands of fighting soldiers, burning fortresses, and working siege machines on the battlefield. Lead your people to fight the improved AI and manage victorious attacks. Control your grounds, send citizens to work, and ensure economic progress. This is what Mount & Blade is – the most thrilling adventure in the conflict-torn Middle Ages.
Key features
Bring order to the whole land and rule
Grow your army and lead the people on the battlefield
Conduct sieges from which your enemies cannot defend themselves
Take care of the economy, trading and crafting
Hegemony III: Clash of the Ancients
| | |
| --- | --- |
| Released | 2015-08-25 |
| Genre | Indie |
| Developer | Longbow Games |
The third part of the strategic series from Longbow Games, where you can witness the very beginnings of the most powerful ancient civilization – the Roman Empire!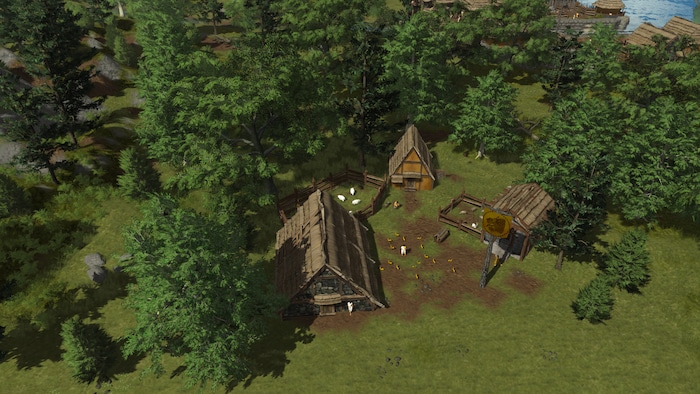 Will you be faithful to the history, or will you personally establish its new foundations? Play on ready-made maps or create your own, choose from over 25 factions and make your empire invincible. Take care of resource extraction, food, and trade. Build your army and conquer! Be clever, outsmart the enemy, and dominate the entire map, developing the mightiest empire the world has ever seen.
Key features
Play a game where you can lead the most powerful ancient nations
Become part of history or rewrite it
Lead your army in epic battles and conquer the land
Collect resources, produce food, and outsmart your enemy
Grand Ages: Medieval
| | |
| --- | --- |
| Released | 2015-09-25 |
| Genre | Simulation |
| Developer | Gaming Minds Studios |
A medieval strategy game with economic elements, released in 2015 for PC and PS4. Travel back in time to Europe from 1050 and take power!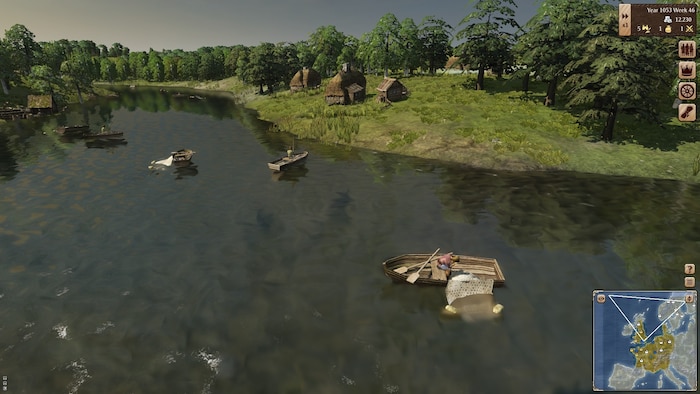 Grand Ages is a medieval from zero to hero simulator, in which you start the game with almost nothing but can end it as the ruler of all Europe. Manage a small settlement to control the entire network of trade routes on the continent! Explore, extract resources, and trade. And fight! Grab your sword and lead your army to conquest. And stay aware as your kingdom may be threatened by sudden cataclysms.
Key features
Play a strategic simulator of the European Middle Ages
Start as ruler of a small village to take over all of Europe
Trade, earn money, and expand your empire
Create an army and lead it to victory
Play solo or in multiplayer for up to 8 people
Knights of Honor
| | |
| --- | --- |
| Released | 2005-05-10 |
| Genre | Strategy |
| Developer | Black Sea Studios Ltd |
It is an exciting real-time strategy game, released in 2004 for PC. If you are interested in the type of gameplay focused on diplomacy and leading the army to war – Knights of Honor will meet your expectations.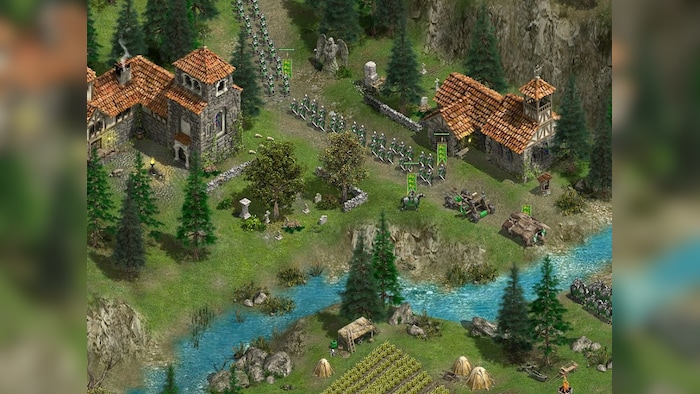 Become the lord of the castle and create an army that will be invincible. Collect resources, forge alliances or generate conflicts. Equip your soldiers with the best weapons and most powerful siege machines. Raid, conduct sieges, and become the number one on the map! Your kingdom, your rules!
Key features
Get involved in a web of fascinating political conflicts
Become the most qualified strategist
Create the best-equipped army on the map
Manage wars, defeat your enemies, and gain power over an even bigger area
Play solo or in multiplayer for up to 6 people
King Arthur: The Role-Playing Wargame
| | |
| --- | --- |
| Released | 2009-11-24 |
| Genre | Strategy |
| Developer | NeocoreGames |
A strategy game with fantasy elements that players on Steam review as worthy competition for the Total War series. If you are a fan of Arthurian legends and real-time strategies, this game is your new must-have.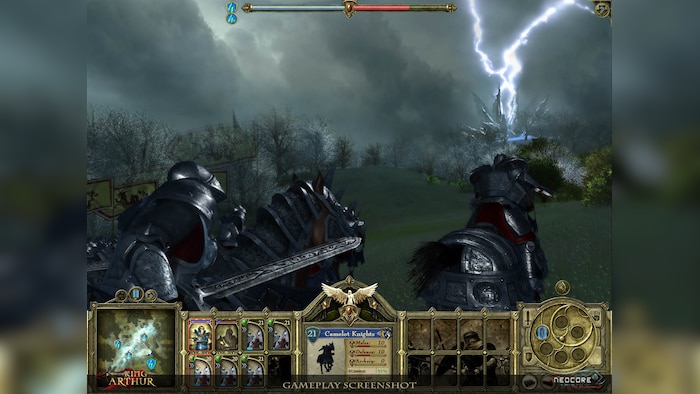 Play as the great King Arthur and rule over Britain! Build a Camelot castle, summon the knights of the legendary Round Table, and bring the legend to life one more time. Manage provinces, develop your cities and make decisions that will determine your future. Influence the development of your hero and play as a cruel tyrant or become a ruler that every citizen can dream of. You are the living legend here!
Key features
Develop your country and take care of the economic part of the game
Build an army and take part in huge battles
Lead the legendary Round Table
Make decisions that will determine the further progress of the game
Play alone or in multiplayer
The Kings' Crusade
| | |
| --- | --- |
| Released | 2010-10-08 |
| Genre | Strategy |
| Developer | NeocoreGames |
Time for a trip to the Holy Land! The Kings' Crusade is a strategy game in which you will find yourself at the center of the events set during the crusades in the 12th century. If you like games like Stronghold, you will fall in love with this title.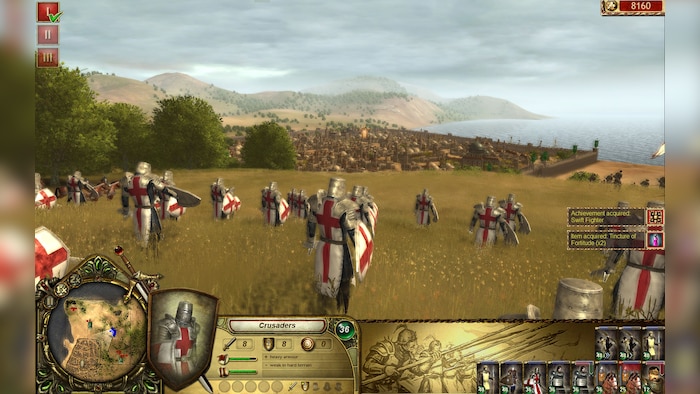 Play as Richard the Lionheart and lead European warriors to the most crucial battle of their lives. Or play as Saladin and guide the Saracen forces to defeat invading armies! Plan your conquests, develop the perfect strategy, and show no mercy. Lead your troops through the most epic campaign in history!
Key features
Play a game set in the times of the greatest crusades to the Holy Land
Choose a side and lead your army to battle
Plan strategies, make decisions, and gain an advantage on the battlefield
Play alone or in multiplayer with other players
Crusader Kings III
| | |
| --- | --- |
| Released | 2020-09-01 |
| Genre | Strategy |
| Developer | Paradox Development Studio |
A powerful dynasty. War. Revenge. Intrigues and deception. This and much more you can find in Crusader Kings 3 – the third installment of the beloved strategy game from Paradox Interactive.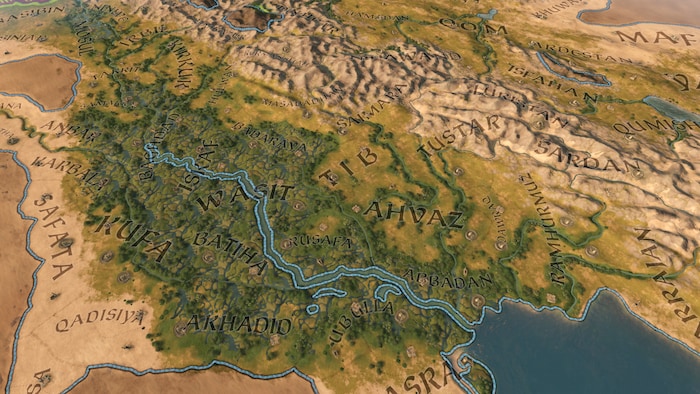 Become the head of a mighty family and gain influence across the map. You are not just going to fight wars in this game. In this game, you will learn about every possible aspect of kingdom management! Forge alliances, become an outstanding diplomat, and conquer the world of ruthless politics. Observe the behavior of your family members, and do not be fooled by their sugary smiles – your loved ones can deliver the most unexpected betrayal.
Key features
Lead a dynasty and hold it in power forever
Make decisions that will determine the fate of the whole world
Get involved in political manipulations and use spies to your advantage
Play alone or fight in multiplayer
Europa Universalis IV
| | |
| --- | --- |
| Released | 2013-08-13 |
| Genre | Economy |
| Developer | Paradox Development Studio |
The fourth installment in the well-received series of strategy games from Paradox Interactive. Europe is not enough for you? Well, in Europa Universalis IV you will conquer the whole world.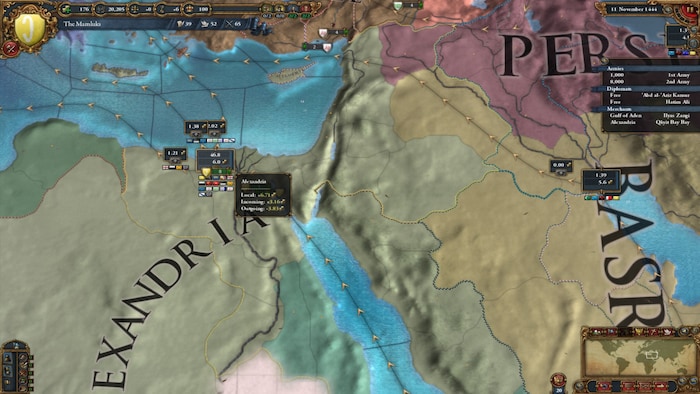 Welcome to the historically most polished map among strategic video games. Choose from over 200 nations and lead your people through hundreds of years of development. Explore, discover, conquer! Manage politics and take care of the economy. Do whatever you can to hold power – no matter the cost. The world is your large field to show off, and you are the smartest ruler here. If you love historically faithful strategy video games – be sure to buy Europa Universalis IV.
Key features
Choose from over 200 countries and guide it however you want
Become a born diplomat, capable of anything
Plan your attacks, make decisions and take care of the economic part of the game
Play alone or in multiplayer with up to 32 players
Wargame: Red Dragon
| | |
| --- | --- |
| Released | 2014-04-17 |
| Genre | Strategy |
| Developer | Eugen Systems |
The third installment in the RTS series of video games from Eugen Systems, set in the rough times of the Cold War in East Asia. Choose your nation and fight in the middle of the most dramatic conflicts in history.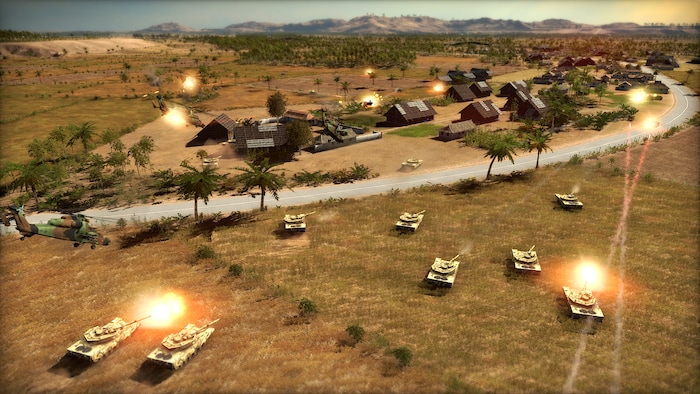 Awaken your instincts of the most brilliant strategist and start planning your attacks. Play one of the four campaigns, choose a map, and fight through years of conflict. Fight on land, water, or in the air. Choose from a massive number of available units, direct the actions of your soldiers and take care of their morale. And if necessary – slow down the speed of the game to even better plan your next move. In Wargame: Red Dragon, you will use each of your leadership skills!
Key features
Choose from many available units and nations
Fight on land or water
Plan your attacks, take care of the morale of your soldiers and gain an advantage on the battlefield
Play alone or fight other players
Sid Meier's Civilization VI
| | |
| --- | --- |
| Released | 2016-10-20 |
| Genre | Economy |
| Developer | Firaxis Games |
Civilization could not be missing from the list of games similar to Total War. If you have not dealt with this fantastic 4X series of strategy games from Firaxis Games yet – the time has come!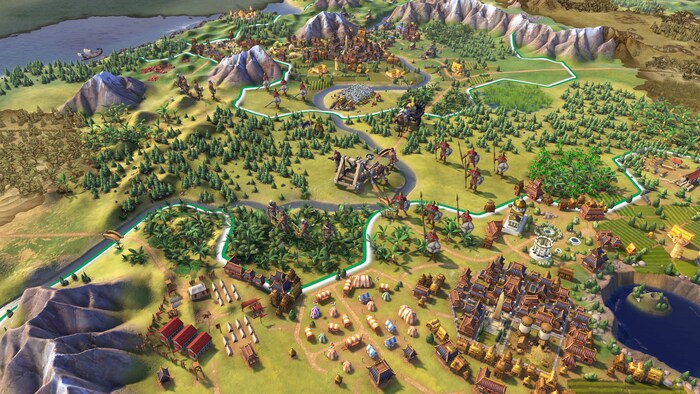 The goal of the gameplay in Civilization is simple – choose a nation and lead it along a golden path of development for thousands of years. Choose a suitable location on the detailed 3D map and start building your huge civilization. Use the terrain to your advantage. Construct buildings, reach new levels of development, and produce new inventions. Plan the deployment of your troops and the course of heroic battles. Or engage in diplomacy and use politics to get what is yours.
Key features
Play one of Steam's most popular strategy game series
Choose your civilization and lead it through thousands of years of development
Expand your country and earn new achievements
Play solo or in multiplayer for up to 8 people
Strategy games represent a genre that can fascinate anyone. It doesn't matter if you are an experienced gamer or just starting your adventure with video games. It doesn't matter if you are 16 years old or 90. In games like Total War, everyone will awake their soul of a born strategist.
This awareness of having power over your piece of land or army is an absolutely unique experience. We feel responsible for what the creators entrusted to us. We know that we are worthy and qualified to develop this piece of life. To build, fight and conquer! And all this in perfectly refined historical realities or fantastic worlds straight out of legends or other universes. Fans of strategy games not only play but also learn and constantly develop their management skills. When you play a strategy game, you not only grow your own kingdom – you also grow yourself.