Sometimes less is more, and poncle's indie video game proved that very well. With overwhelmingly positive ratings on Steam, it enchanted players with simple yet dynamic gameplay that left them wanting more of a similar experience.
Vampire Survivors is a spectacular action game combining roguelike with bullet shooter and horror features. Claiming its place in the adrenaline-fueled auto-shooter genre, it guarantees single-player fun for hours of survival struggle.
Choosing from many playable characters, you can create your ultimate hero to fight hordes of incoming enemies, constantly upgrading your equipment and gaining experience. Wonder if there is anything similar to this unique and deadly addictive gameplay? There is, and you'll find all the similar titles in this comprehensive list of games.
10 Fang-Tastic picks for Vampire Survivors fans
| | Game | Release | Genre | Developer | Sale | |
| --- | --- | --- | --- | --- | --- | --- |
| | Voidigo | 2021-02-25 | Shooter | Semiwork Studios | 91% | Read more |
| | Atomicrops | 2020-09-17 | Indie | Bird Bath Games | 89% | Read more |
| | Skul The Hero Slayer | 2021-01-21 | Indie | SouthPAW Games | 65% | Read more |
| | Enter The Gungeon | 2016-04-05 | Adventure | Dodge Roll | 73% | Read more |
| | Soulstone Survivors | 2022-11-07 | Action | Game Smithing Limited | | Read more |
| | Tiny Rogues | 2022-09-23 | Bullet hell | RubyDev | | Read more |
| | Brotato | 2022-09-27 | Action | Blobfish | | Read more |
| | Loop Hero | 2021-03-04 | Indie | Four Quarters | 59% | Read more |
| | Necrosmith | 2022-07-13 | Indie | Alawar Premium Limited | | Read more |
Magic Survival
| | |
| --- | --- |
| Release date: | 2019-10-31 |
| Genre: | Hack'n'slash |
| Developer: | Leme |
It is a recommendation for players looking for similar entertainment on Android. Become a lone hero fighting for survival against hordes of oncoming monsters that keep multiplying!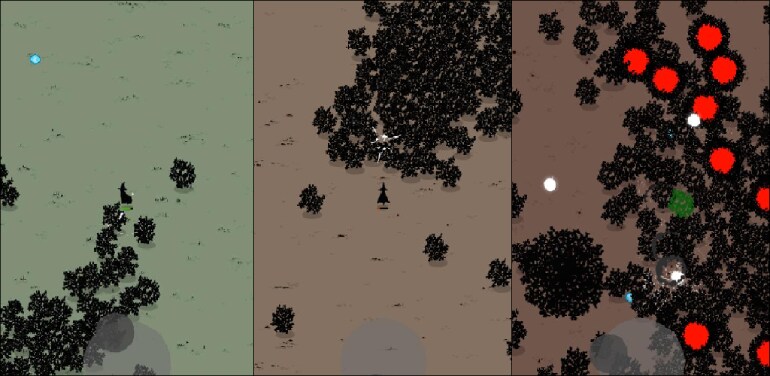 Playing Magic Survival, you can be sure of one thing – death will come at some point. Play as one of five playable characters and begin a desperate race for survival! You will proceed through eight unique levels full of ever-multiplying monsters. You cannot fight as your hero will do so automatically using spells and abilities of your choice. Your task is to guide him so that he survives as long as possible, gaining more experience and valuable artifacts.
Key features
Play a thrilling shoot'em up game on Android
Pick one of five heroes and equip them with better abilities
Proceed through the levels and fight the increasing number of enemies
Plan your attacks and search for artifacts
20 Minutes Till Dawn
| | |
| --- | --- |
| Release date: | 2022-06-08 |
| Genre: | Bullet hell |
| Developer: | Flanne |
You will fall in love with this game if you have an affection for monsters inspired by the works of H. P. Lovecraft. Venture into the dark, spooky forest and do everything to survive the twenty upcoming minutes before sunrise.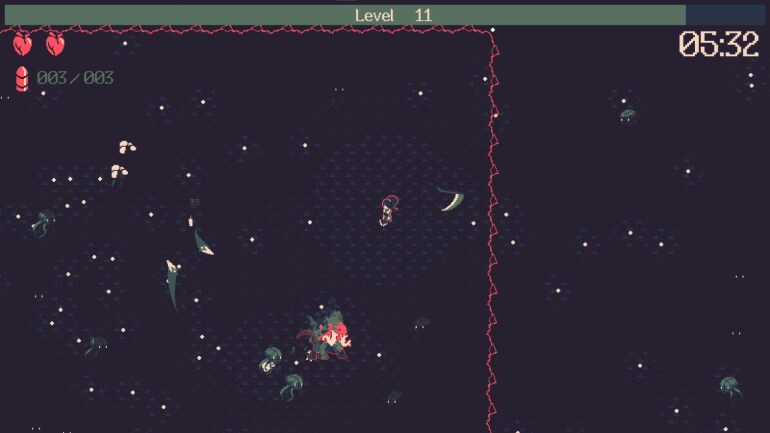 Choose from seven characters and proceed straight to the adrenaline-fueled gameplay! Each hero has unique weapons and skills to use in this unforgiving fight for survival. Collect experience points and get better to reach the most challenging levels. It is a recommendation for fans of games with a high difficulty level, often described as better than Vampire Survivors.
Key features
Venture into the dark forest to survive twenty minutes before sunrise
Pick one of the heroes and discover their powerful abilities
Fight hordes of enemies and earn experience points
Unlock valuable items to increase your chances of survival
Gunlocked
| | |
| --- | --- |
| Release date: | 2022-04-29 |
| Genre: | Indie |
| Developer: | FromLefcourt |
Like Vampire Survivors, this title is an independent pixel-art production focusing on sci-fi roguelike combat. It's simple but highly addictive!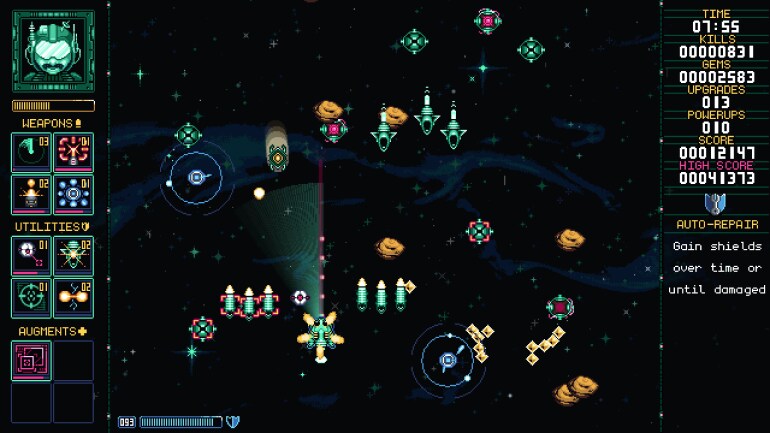 Aliens are approaching from all sides, and your task is to eliminate enemy spaceships to survive this trial. Choose from playable heroes, upgrade your ship, and plan a flawless combat strategy. Gunlocked has a multitude of different enemies, bosses, and unlockable powerups that will make you lose yourself in the game right away.
Key features
Play one of the best indie auto-shooters on Steam
Choose one of the playable pilots and upgrade your ship
Plan the perfect strategy to eliminate as many hostile aliens as possible
Enjoy unique gameplay every time
Project Lazarus
| | |
| --- | --- |
| Release date: | 2022-06-23 |
| Genre: | Action |
| Developer: | Terapoly |
It is a recommendation for fans of mechs and adrenaline-fueled action. It's a bit slower than Vampire Survivors, but similarly fun to play!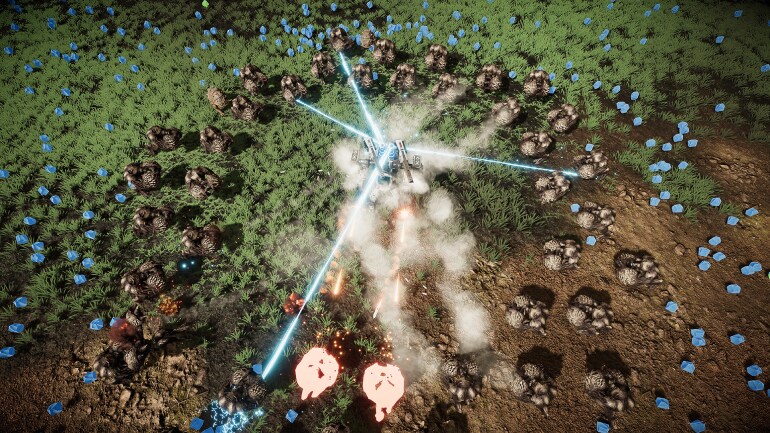 You will have a great time in this game if you are excited about constantly improving your equipment. Upgrade your mech, install new parts and join a desperate fight for survival against hordes of monsters! Choose from several mechs and powerful weapons that will make you invincible or lead to defeat. Choose well and eliminate all enemies!
Key features
Play an engaging mech vs aliens game
Choose from several mech models and upgrade them
Install upgrades and plan your strategy
Enjoy the fierce bullet-hell gameplay
Brotato
| | |
| --- | --- |
| Release date: | 2022-09-27 |
| Genre: | Action |
| Developer: | Thomas Gervraud |
Brotato is all about fun and unforgiving combat. Play as the last potato on a foreign planet and fight for the eternal glory of your beloved Potato World.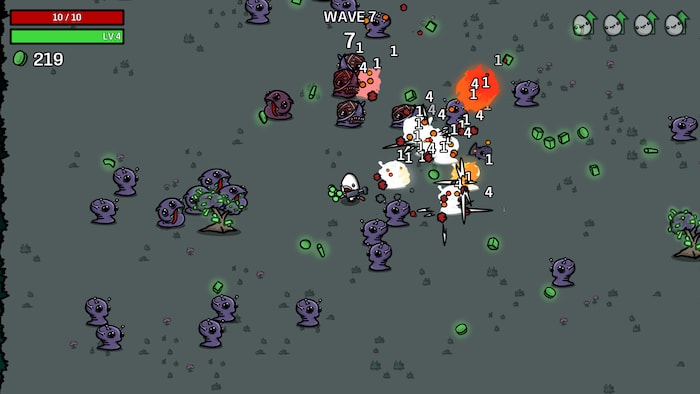 After landing on an alien planet, fight to be rescued by your potato fellows. You will enter various arenas to face hordes of incoming enemies. But you can use six weapons at once! Progressing in the game unlocks more characters, so the longer you play, the more choices you will have in planning your strategy. And know Brotato is the real badass among all the battling vegetables on Steam.
Key features
Play a fun action game combining bullet shooter and roguelike features
Use many creative weapons to eliminate numerous opponents
Gain experience and upgrade your equipment
Unlock new characters and discover their unique abilities
Spirit Hunters: Infinite Horde
| | |
| --- | --- |
| Release date: | 2022-03-25 |
| Genre: | Rouge-lite |
| Developer: | Creature Cauldron |
Play this graphically beautiful action game to fight an endless army of hideous enemies. You are the only hope for this world, so your battle will never end!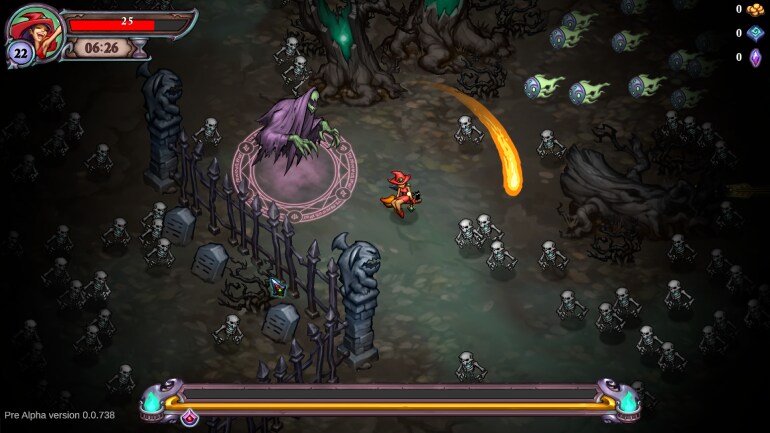 The day has come, and it's time to start the ultimate fight for your and the world's survival. Become the chosen one and kill hundreds of multiplying monsters that want only your death. Collect souls, slay waves of enemy forces, and develop your unique abilities. When you master them all, you will have a chance to become absolutely unbeatable on the battlefield.
Key features
Play an engaging bullet-hell game
Fight waves of spawning monsters
Collect souls to master all your abilities
Enjoy clean and beautiful visuals
Fray Fight
| | |
| --- | --- |
| Release date: | 2022-06-10 |
| Genre: | Bullet Hell |
| Developer: | Playsaurus |
It's a real treat for all fans of Nordic legends and the Scandinavian vibe! Embark on a dangerous journey to earn your place in Valhalla.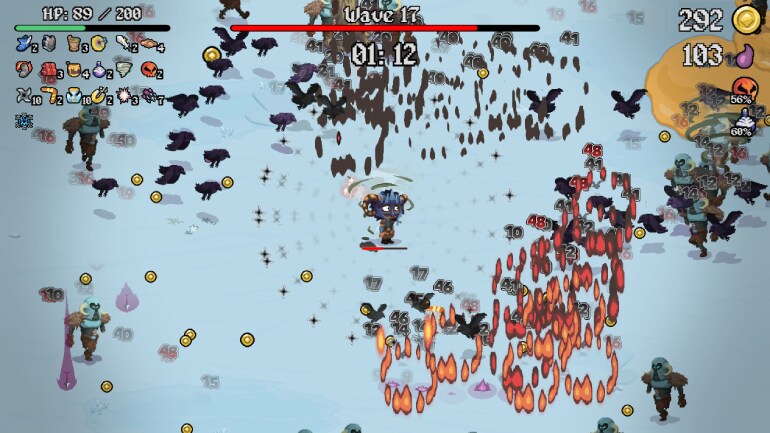 Choose from several playable characters and discover their unique abilities to create your favorite play style. Fray Fight is a fantastic opportunity to build your dream hero capable of completing four challenging maps full of epic bosses and bloodthirsty enemies. Collect gold, earn legendary items, and boost your skills to survive each incoming wave of powerful enemies.
Key features
Play an exciting free-to-play action game inspired by Nordic legends
Choose from many playable characters and create the perfect hero
Explore more maps to fight the incoming waves of enemies
Learn new skills and collect gold
Soulstone Survivors
| | |
| --- | --- |
| Release date: | 2022-11-07 |
| Genre: | Arcade |
| Developer: | Game Smithing |
Join the legions of fearless daredevils seeking supernatural powers and become one of the Void Hunters! Ready for the roguelike fight of your life?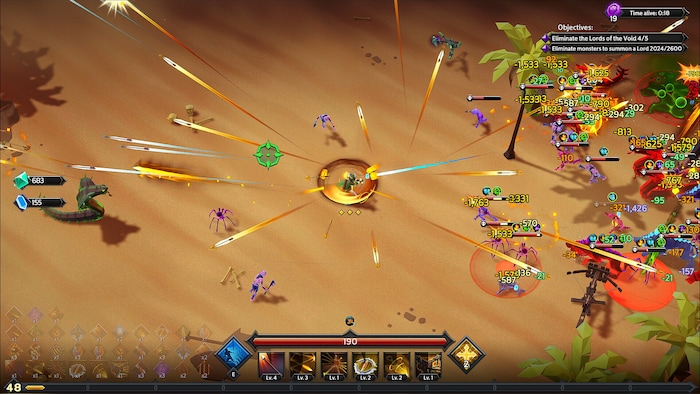 Choose one of the characters blessed with unique abilities and embark on an epic adventure to defeat the Lords of the Abyss. There is only one path to your ultimate success – fighting armies of powerful opponents. Learn your passive and active skills, upgrade your weapons and collect runes to make them all tremble before your might!
Key features
Play an indie action game with RPG elements
Create a mighty hero and direct him to avoid deadly shots
Gain experience, upgrade your weapons, and enjoy the increasing difficulty level
Explore the challenging stages of a desperate fight for survival
Nomad Survival
| | |
| --- | --- |
| Release date: | 2022-04-28 |
| Genre: | Indie |
| Developer: | The Fox Knocks |
It is an unimaginably fast and challenging recommendation for action-driven automatic shooters enthusiasts. Discover new ways of customizing your hero and test each build to plan the most effective strategy!
You can do anything in this game. Get ready for four maps of increasing difficulty levels tailored to your experience. Unlock new heroes, get all abilities, enjoy additional Heritage bonuses and upgrade your stats. You can even have a pet if you want. Moreover, there is always an option to increase the pace of the action if you prefer to do things faster!
Key features
Play one of the best games like Vampire Survivors
Proceed through four maps and gain combat experience
Discover fantastic boosts, bonuses, and upgrades
Create the perfect build for every occasion
Crimson Dawn
| | |
| --- | --- |
| Release date: | 2022-10-10 |
| Genre: | Arcade |
| Developer: | Purple Lake |
It is a survival bullet-hell game with RPG elements where you will experience a memorable adventure and fight against hordes of merciless enemies. Discover the new fun 2022 game to enjoy your favorite gameplay features like never before!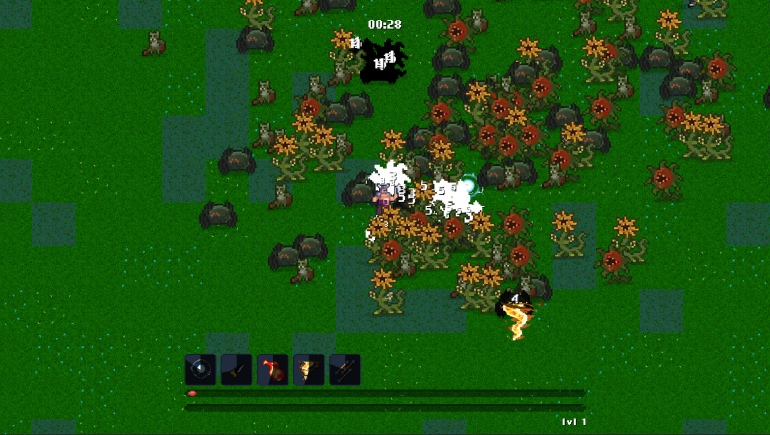 Start your journey in the Hub – the only safe place where you will do the essential shopping and create the perfect hero. Then go on an adventure! Each mission is hordes of powerful enemies to maneuver between as your character will use all attacks automatically. Progression means increasing difficulty, so collect gold and resources to develop irreplaceable equipment.
Key features
Discover the unique bullet hell gameplay with RPG elements
Create a dream build for your upcoming expeditions
Explore the world and collect resources
Upgrade your weapons and gain experience
Grim Horde
| | |
| --- | --- |
| Release date: | 2022-06-21 |
| Genre: | Action |
| Developer: | Red Koi Box |
It is the last and equally fun recommendation on our list, where you will lose yourself in the chaos. Play as an emissary of hell and use your army of minions to conquer and destroy all life.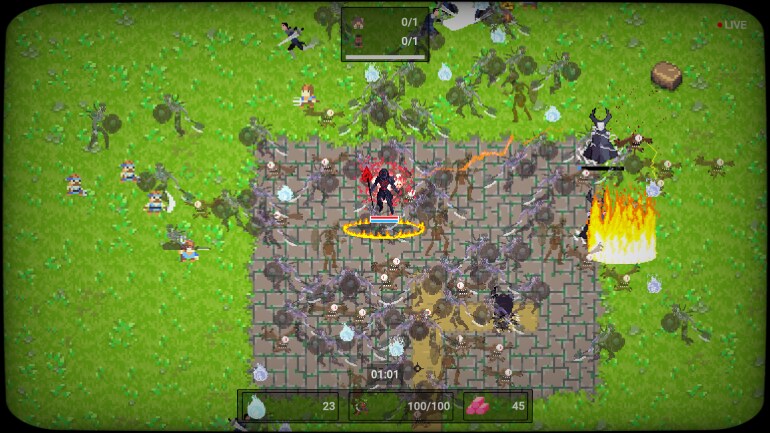 You have only one goal – to become unimaginably powerful. To accomplish this plan, you must embark on an epic journey to collect as many souls as possible. Choose from three characters, summon your army and start an impressive work of destruction! It's an excellent choice for all fans of chaos and doom.
Key features
Play as a demon seeking unimaginable power
Summon a dark army to destroy everything you can
Collect the souls of the defeated
Upgrade your skills and become even worse
When stressed, bored or tired, games like Vampire Survivors can provide much-needed comfort. Focused on the easy-to-learn and hard-to-master rule, they deliver engaging gameplay and high replayability – with little or no penalty for each death. You can just run the chosen title and have fun for as long and as intensely as you like! And if you want, ditch it until the next relaxing time – with no questions asked.