We all know Solid Snake is the ultimate soldier. But have you ever heard about Worms? This strategy series is the priceless gem of its time, taking artillery games to a whole new level of fun!? 
When Team 17 released the first Worms in 1995, the world was ready. The players welcomed angry worms capable of destroying half the map with one kaboom. And these cute maggots were equipped with some heavy weapons and deadly artillery. But the list of weapons did not end with standard rifles or bazookas!
In Worms, you could also fight with a mad cow, holy hand grenade, or dodgy phone battery. New parts brought improvements and polished features, improving the crazy shooting gameplay. If you are looking for a ready-made set of the best titles in the series, be sure to check out products like Worms Collection on Steam. But if you crave something similar but still different – welcome to the list of the best Howitzer games like Worms!
Angry Birds
Join the war of angry birds and evil pigs that mobile phone users loved in 2009! Creative methods of destroying defenses are what Worms fans will immensely enjoy in this game.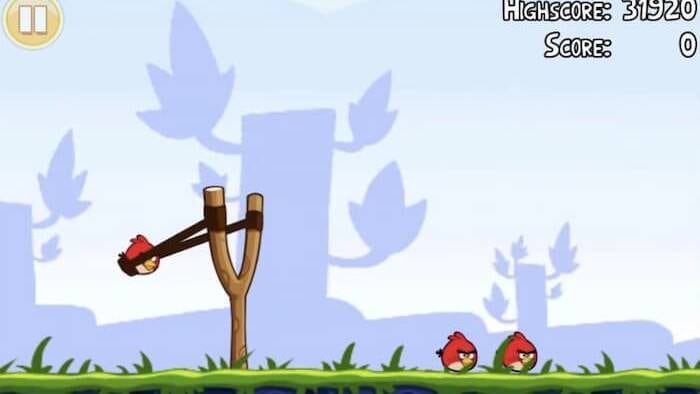 Ready for some exploding eggs? In this game, the birds will defend their territory using every trick! Launch them with your slingshot to disintegrate the evil pigs' defenses once and for all. Shoot precisely to deal as much damage as possible. Some birds have powerful attacks that will ensure an advantage on the battlefield in no time!
Key features
Play a world-famous arcade game
Fire the birds with your slingshot to defeat the evil pigs
Improve your results and earn points
Discover special bird attacks and use them to win
ShellShock Live
| | |
| --- | --- |
| Release: | 2015-03-11 |
| Genre: | Action & Shooter |
| Developer: | kChamp Games |
It is a perfect recommendation for all tank lovers! Join an online artillery competition and play solo or against other players to crush them on a brutal battlefield.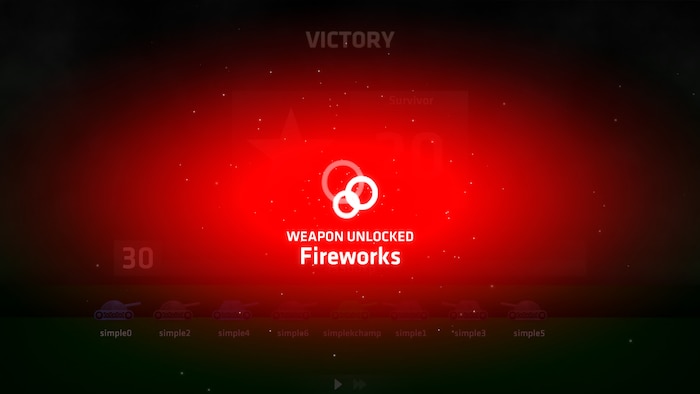 See the world of mighty tanks blessed with destructive powers. Choose your game mode and enter a military battle where destruction is everything! Choose from tanks and weapons to wreak havoc and crush your enemies. Discover new weapons and attacks every day and earn prizes to take the highest position in the world ranking. The better you play, the more rewards you get!
Key features
Play an artillery tank game
Equip your units with devastating weapons and attacks
Watch out for devastating natural disasters
Play solo or in multiplayer
Super Bomberman R
| | |
| --- | --- |
| Release: | 2018-06-12 |
| Genre: | Action |
| Developer: | Konami Digital Entertainment |
Do you like bombs? Check out the Super Bomberman R, where bombs are life! Discover dozens of different maps and play solo or in the company of friends to become the master of deadly tactics.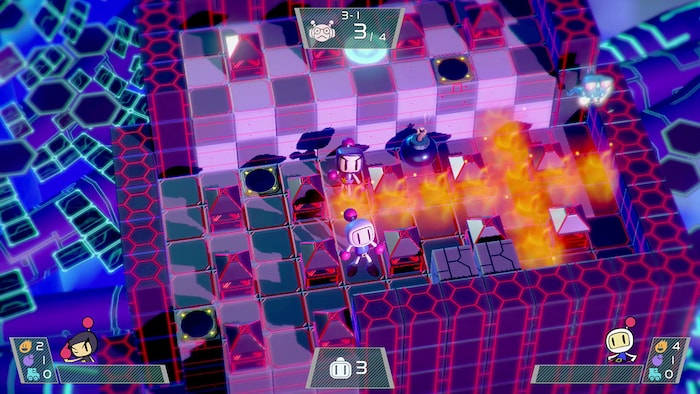 Bomberman's goal is simple – eliminate all opponents on the map. Each level is a maze of passages and obstacles with colorful characters moving around to achieve their goals. Surprise them all with powerful bombs! Develop your attacks, create traps, blow up land and eliminate everyone. Prefer a solo campaign? In this game, you will discover the immersive single-player Story mode. Or maybe you prefer to wreak havoc on the maps in the company of other players? Get straight to brutal Battle Mode!
Key features
Play an exciting bomb game
Plan your tactics and eliminate all your opponents
Use bombs to blow up everything
Play solo in Story mode or in multiplayer
Cannon Brawl
| | |
| --- | --- |
| Release: | 2014-09-19 |
| Genre: | Adventure |
| Developer: | Theresa Duringer |
It is an indie real-time strategy video game with an epic atmosphere, where you will fight for the fate of the entire kingdom. If you are looking for games like Worms, this title will meet all your expectations!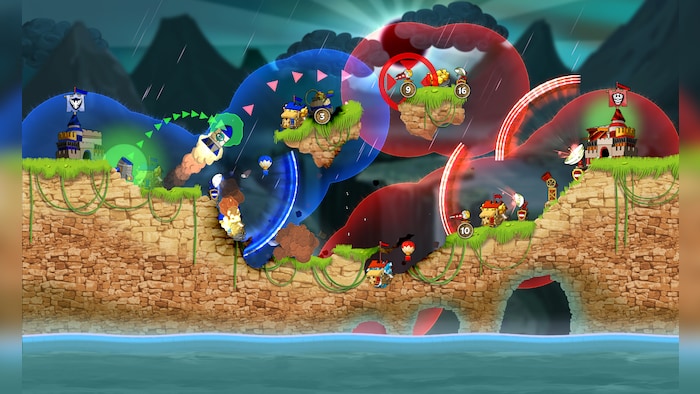 Enter a colorful and fierce war against evil. Get ready for the complex terrain layout and obstacles on many challenging levels. Use airships to deliver your weapons to the most vital points on the map and demolish everything! Crush obstacles, prepare your attacks, and eliminate your opponent with impressive blasts. It is fantastic fun for enthusiasts of hilarious battles in a colorful setting!
Key features
Save the kingdom from the hands of your ultimate enemy
Fly the airships to arrange supplies for your units
Blow up map elements and enemy units
Play solo or in multiplayer for up to two people
Retimed
| | |
| --- | --- |
| Release: | 2019-12-05 |
| Genre: | Indie |
| Developer: | Team Maniax |
It is a dynamic and cute action game perfect for family and friends' meetings! Choose from four unique heroes and join the game's many modes where time slows down when you need it most.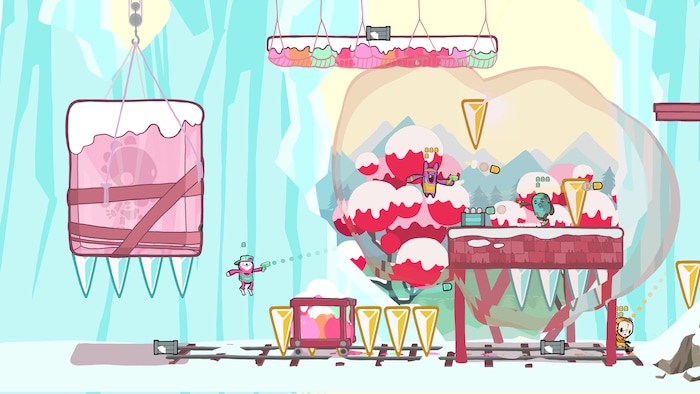 Play as sad Bintain, weird Psycho, relaxed Yowie, or excited Violet. Get ready for bullet chaos in intense battles on various challenging levels! There is no time to rest in this game – you have to react quickly to survive. But in the riskiest moments, time slows down, and you can decide what you want to do next! Lose yourself in addictive Retimed competition and discover the best party co-op game ever!
Key features
Play a cute action game where time slows down
Choose from four unique heroes
Shoot and avoid the bullets
Play solo or in the company of friends
Scorched Earth
Before Worms came to life, players were spending their time in Scorched Earth – a strategy video game where you can blow up everything. In many incredible ways!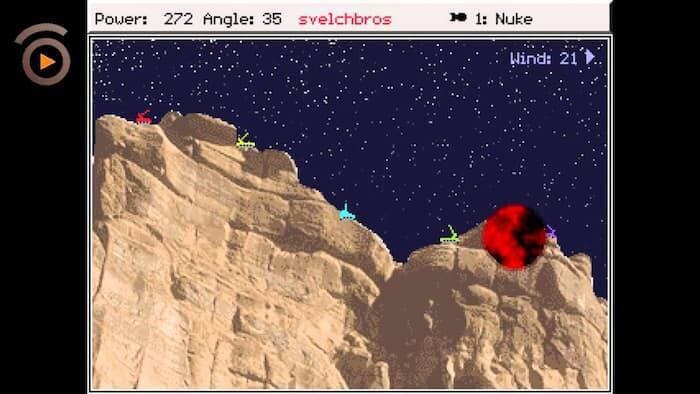 The creators of this game focused on multiplayer – and it was the right decision! Scorched has impressive gameplay and multiple strategies that you can try out on a simple map. Play against the computer or your friend and supervise your units to eliminate all enemies as quickly as possible. Remember, each victory is new money that you will be able to spend on even more devastating weapons, so show no mercy!
Key features
Play the 1991 Worms ancestor
Plan your strategies on randomly generated maps
Decide on the deployment of units and types of attacks
Play solo or in multiplayer
Tank Wars: Anniversary Edition
Pixels, explosions, and tanks – that's what Tank Wars is! If you are an enthusiast of retro gameplay focusing on epic fights and ground-shaking explosions, this game will make your dreams come true.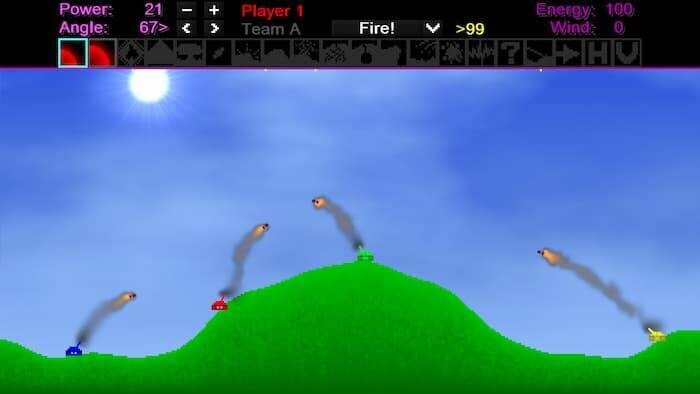 Choose one of the three modes and get carried away by tank competition in one of the graphically simplest games ever. Fight in turn-based, simultaneous or real-time modes and lose yourself in the world of spectacular explosions – solo or with friends! Tank Wars is a game that brings back the best memories and provides great fun for long hours of addictive gameplay.
Key features
Play a game about tanks
Choose a mode and join the brutal competition
Plan attacks or make decisions in real-time
Play solo or with friends
Hedgewars
It's Worms – but with hedgehogs! Hedgewars is a free-to-play strategy game where you'll enjoy fierce adrenaline-fueled battles against teams of up to eight players.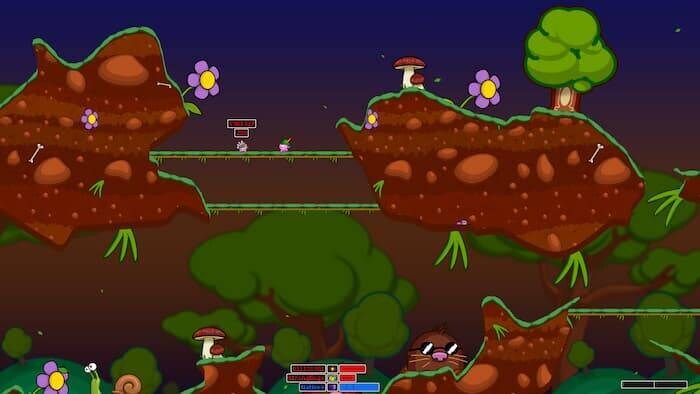 Engage in turn-based combat to move your hedgehogs or strike your opponent. Like in Worms, in this game, you can use an arsenal of powerful weapons and tricks that are sure to surprise an unprepared opponent. Control one hedgehog or an entire team and fall in love with this addictive gameplay available to everyone!
Key features
Play Worms but with hedgehogs
Plan deployment of your units and eliminate enemies
Use a variety of weapons and wreak havoc on the map
Play solo or in multiplayer
What made Worms so enjoyable – the mechanics or the addictive story? Well, the best memories come from the multiplayer. Is there anything better than coming home after school to defeat your best friend on the computer screen? Somewhere between homework and daily chores, we've always had time to lead brutal worms in the most epic battles ever. And perhaps Worms wasn't a particularly groundbreaking game. But back then, it was just perfect.