XCOM is a well-established franchise that focuses on defending the Earth from hostile aliens by sending highly-advanced units equipped with the latest technology available.
XCOM games combine facility management with turn-based fights, which is extremely fun – but if you already finished all games from serie, you may be wondering if there are any other similar titles you could play. And yes, there are.
Mutant Year Zero: Road to Eden
| | |
| --- | --- |
| Release date: | 2018 |
| Genre: | Turn-based tactics, tactical role-playing |
| Developer: | The Bearded Ladies |
If XCOM's sci-fi setting is not your thing, you may want to give Mutant Year Zero a try – a game, where instead of soldiers equipped with futuristic equipment, you get to control a team of humanoid animals.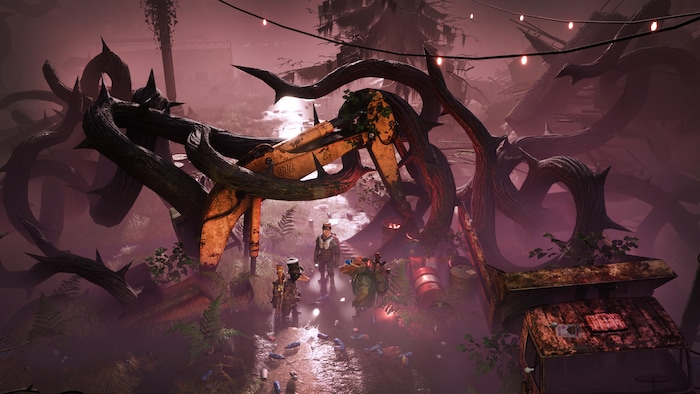 One of the game's interesting features is its combat system. Usually, in these kinds of games, combat is entirely turn-based, but Mutant Year Zero allows you to explore locations in real-time and move your characters freely as long as you remain unnoticed by the enemies.
Once you enter their line of sight, the traditional turn-based sequence begins. The skill trees are also worth being mentioned, as well as some strategy and role-playing elements, making the entire experience deeper and richer than what other similar tactical games may offer.
Key features
Post-apocalyptic setting
Memorable and unique playable mutants
Gameplay that combines real-time exploration with turn-based combat
Character progression and loadout customization
Xenonauts
| | |
| --- | --- |
| Release date: | 2014 |
| Genre: | Indie |
| Developer: | Goldhawk Interactive |
Xenonauts is one of the titles that gets as close to what is offered by XCOM games as possible, so if you loved XCOM, you will surely have a great time with this one.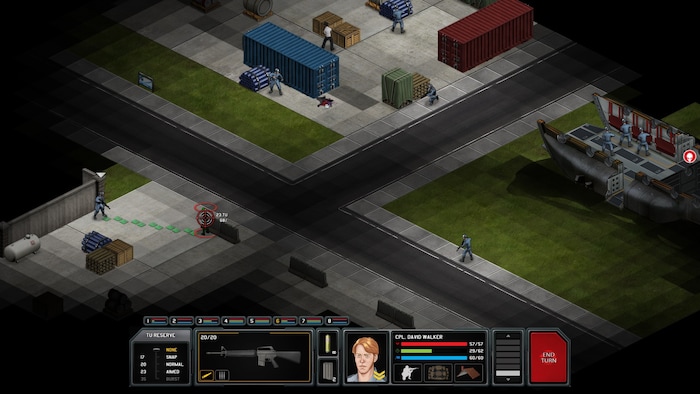 There are a lot of similarities between Xenonauts and XCOM, but let's focus on the areas, where Xenonauts shines. One of the interesting features is the possibility to manage not one but a few separate bases. Another one could be the introduction of allied NPCs that sometimes appear on the battlefield to provide support and make the fight a little easier.
Finally, the interception mini-game is more complex and fun. These are just a few differences, but it should give you an idea about what the game is. Graphics-wise Xenonauts looks rather simple, which is understandable if you consider the fact that it's an indie title. In this type of productions, however, visuals are not the most important part, so don't let this fact discourage you from playing, as there is a lot more to it than first meets the eye.
Key features
Set during the Cold War, the game focuses on fighting against the alien invaders
Base management and technology research as another layer of strategy
Realistic ground turn-based combat
Persistent soldiers – send units to battle and watch their skills improve over time
Fallout 2
| | |
| --- | --- |
| Release date: | 1998 |
| Genre: | Role-playing |
| Developer: | Black Isle Studios |
Although these days Fallout is usually connected with 3D environments, it wasn't always this way. Fallout series started as isometric 2D games, and in some aspects, they were quite similar to XCOM.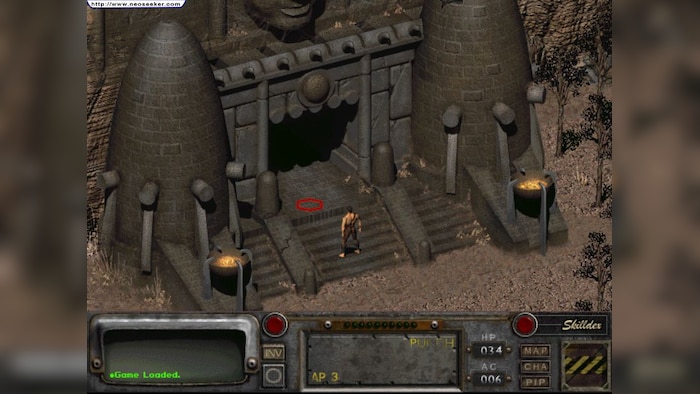 Fallout series is best known for its post-apocalyptic setting, with large parts of Earth being transformed into nuclear wastelands full of mutated creatures as a result of a global conflict. In Fallout 2, as one of the survivors, you will be tasked with recovering a powerful artifact that is said to be able to reverse the environmental damage the nuclear weapons have caused.
Gameplay-wise it's worth noting that it's much more of a role-playing game with a huge open-world environment, but if you liked XCOM, you will probably also like the tactical turn-based combat of Fallout 2.
Key features
Post-apocalyptic setting in a nuclear wasteland
A vast open-world environment filled with dangerous creatures
Rich role-playing experience with complex character progression
A lot of freedom when it comes to advancing the story
Warhammer 40,000: Mechanicus
| | |
| --- | --- |
| Release date: | 2018 |
| Genre: | Strategy |
| Developer: | Bulwark Studios |
Did you ever wonder how would an XCOM game look like when put inside a Warhammer universe? Thanks to Warhammer 40,000: Mechanicus you can see yourself.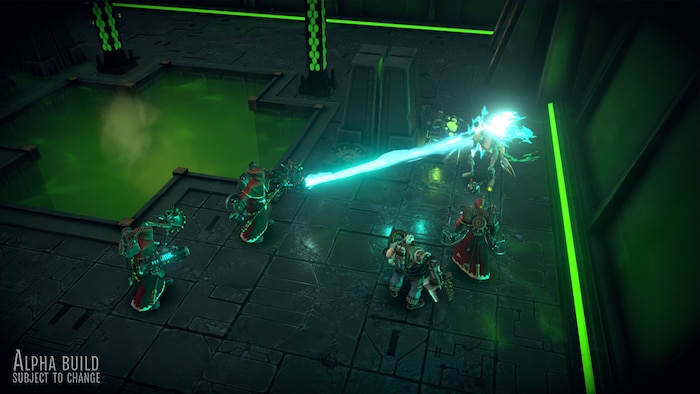 The game is a turn-based strategy focused on Adeptus Mechanicus forces – you, as their leader, will be tasked with commanding a small group of tech-priest and tech-guard units in order to explore unwelcoming dungeons where Necrons started to wake up, threatening everyone's safety.
What makes the title stand out from the crowd is the fact that your units are highly customizable – you can equip them with all sorts of enhancement augments which does not only change their role and purpose on the battlefield but also requires a different playstyle to unleash their full potential.
Key features
A game set in one of the best-known fantasy universes
Turn-based battles that will test your planning and strategy skills
Highly customizable units for more varied gameplay
A compelling story with alternate endings
Divinity: Original Sin II
| | |
| --- | --- |
| Release date: | 2017 |
| Genre: | Role-playing |
| Developer: | Larian Studios |
For those who love the XCOM series but are also fans of high fantasy, one can't recommend Divinity enough – a classic RPG experience that can feel oddly familiar.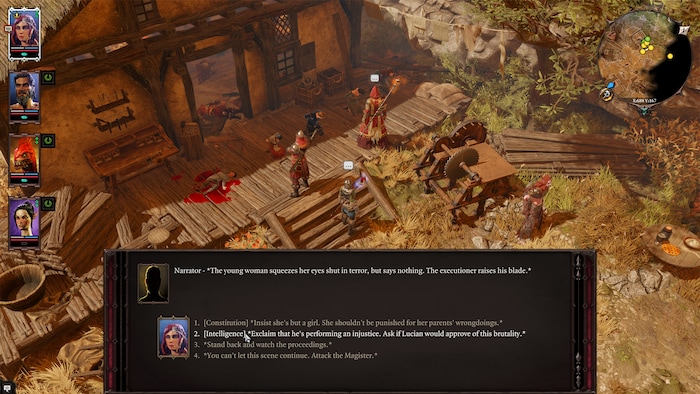 The sci-fi setting is replaced by epic fantasy and the role of evil alien invaders from space is played by skeletons, goblins, and other mythical likes, but some similarities between XCOM and Divinity can be clearly seen. Although the game can be played alone, it starts to really shine once you start tinkering with multiplayer – up to 4 players can play and overcome various challenges together.
Each player can command his own party of several playable characters, opening some interesting opportunities when it comes to planning battle tactics. It's also worth noting that the multiplayer mode comes not only in an online form but also in a split-screen one – a rare sight that makes the game a perfect choice for a party title.
Key features
Classic RPG experience in a high fantasy world
Unique turn-based combat where different skills can be combined and terrain elevation matters
Several playable classes to choose from for a more varied gameplay
Online and local split-screen multiplayer for up to 4 players
Massive Chalice
| | |
| --- | --- |
| Release date: | 2015 |
| Genre: | Turn-based strategy, turn-based tactics |
| Developer: | Double Fine Productions |
Indie game developers are often able to come up with some interesting gameplay ideas to make their game more unique – it probably won't be surprising if we tell you, that Massive Chalice is one of these games.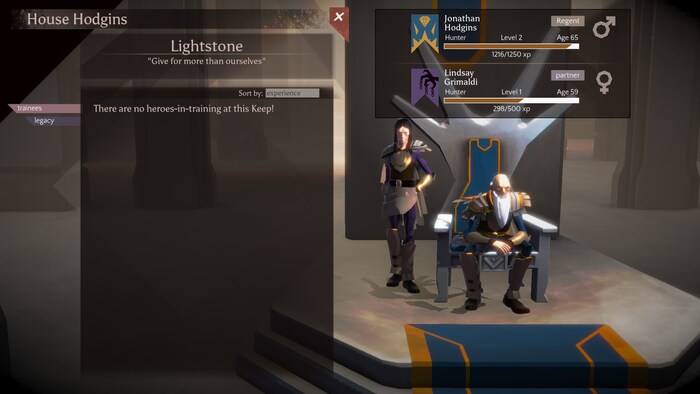 Massive Chalice focuses on a centuries-lasting conflict between humanity and an evil force known as the Cadence. The game is similar to XCOM in that it also consists of real-time strategy, where you can manage and develop your kingdom, and turn-based tactics, where you can command your troops on the battlefield.
What makes the game really unique, however, is the fact, that your heroes are not immortal – due to the fact that the game will last 300 years, you will have to deal not only with the growing Cadence threat but also with your people passing away. This means you need to establish bloodlines and arrange marriages that will hopefully bring more soon-to-be-heroes babies to the world, securing the succession and giving you more people to fight against evil.
Key features
Fantasy setting with action being focused on a centuries-lasting conflict
Adorable low-poly visuals
Puts emphasis on growing the empire and ensuring steady population growth
Interesting genetics mechanics, where children are able to inherit certain abilities from their parents
Into the Breach
| | |
| --- | --- |
| Release date: | 2018 |
| Genre: | Turn-based strategy |
| Developer: | Subset Games |
Into the Breach is another interesting position to try if you enjoy playing XCOM. It's different on several levels, but this results only in a fresher and more exciting experience.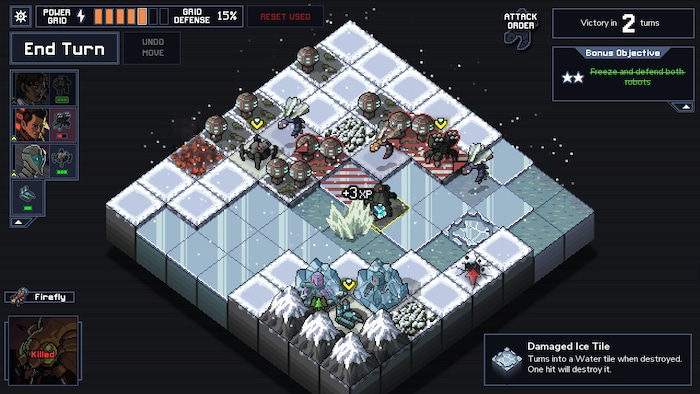 The game takes place in the future and focuses on a war between technologically advanced forces of humanity and an army of giant monsters. Although there are some similarities between Into the Breach and XCOM, there are also two major differences that you can easily spot right away – a different art style and battles that take place on 8×8 grids.
There are more differences, of course, such as the necessity to focus not only on eliminating the enemies but also on protecting civilian buildings from enemy fire, as they provide your mechs with power.
Key features
A war between humanity and giant monsters in a futuristic setting
Turn-based combat on 8×8 grids
Dozens of unique mechs, each with their own unique stats and abilities
Detailed pixel art with smooth animations
Phantom Doctrine
| | |
| --- | --- |
| Release date: | 2018 |
| Genre: | RPG |
| Developer: | CreativeForge Games |
Phantom Doctrine graphics-wise looks very similar to XCOM but don't judge the book by its cover, as the game is unique enough to be considered a worthy and fresh alternative.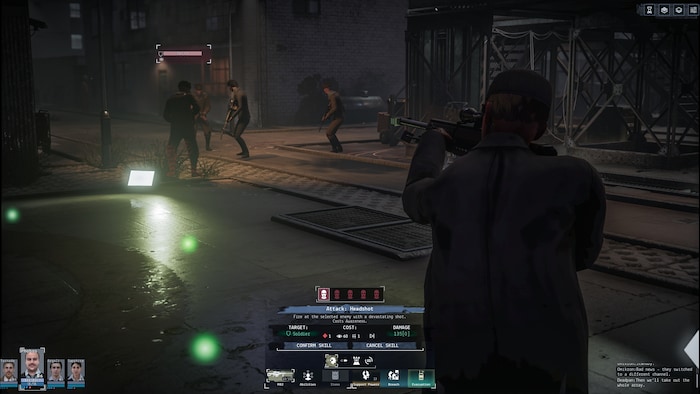 Phantom Doctrine takes place during the Cold War in an alternate timeline, where global conspiracy controls the world. You will have to command a team of special agents tasked with a series of secret missions, infiltrations, and interrogations, in order to unravel the plot and thwart evildoers' plans.
Just like it was in XCOM, you will be able to manage your base during the strategy phase, and participate in turn-based encounters as the fights are resolved. The main difference is the element of stealth and surprise – you can, for example, disable cameras, perform silent takedowns, and drag bodies to remain undetected. In fact, you can beat entire levels silently, without ever raising an alarm.
Key features
Set in an alternate timeline during Cold War
A well-designed mix of turn-based tactics with stealth
A unique take on combat – all standard attacks are guaranteed to hit the target
Polished and appealing 3D visuals
Darkest Dungeon
| | |
| --- | --- |
| Release date: | 2016 |
| Genre: | Role-playing, dungeon crawl |
| Developer: | Red Hook Studios |
It's probably not the first game that would come to mind when you think of the best games like XCOM, but you should give the Darkest Dungeon a try anyway.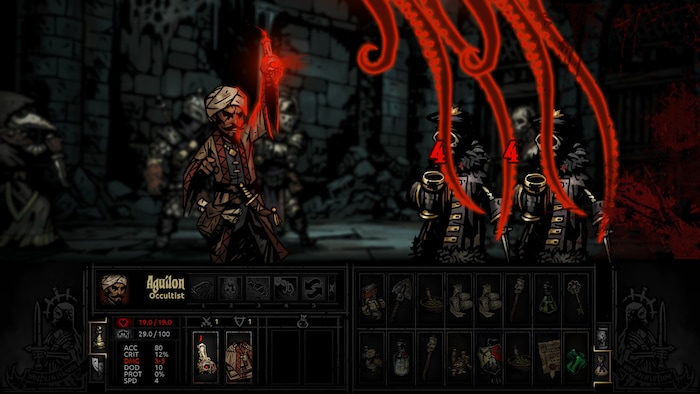 Darkest Dungeon is a roguelike dungeon crawler with role-playing elements, where you will need to create and lead your party of 4 different characters and explore the god-forsaken dungeons in search of wealth and glory.
The similarities between this title and XCOM end on turn-based combat – it's an entirely different game but it comes with some interesting features, making it a great XCOM alternative. The gameplay is difficult and unforgiving, but rewards those who can plan ahead – hunger and diseases can prove to be as deadly as dangerous enemies you are about to encounter, so prepare your heroes before you begin the journey.
Key features
Fantasy setting with a dark and murky atmosphere
Procedurally generated dungeons and over 10 different classes for increased replayability
Unique 2D comic-like graphics
Difficult but rewarding gameplay
Chroma Squad
| | |
| --- | --- |
| Release date: | 2015 |
| Genre: | Tactical role-playing |
| Developer: | Behold Studios |
For the last entry in the ranking, we've got something special. If you loved XCOM but wished there was a more humorous alternative, Chroma Squad has got you covered.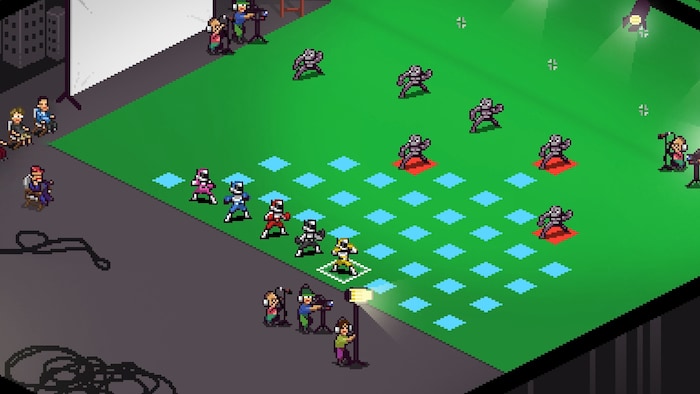 Chroma Squad was largely inspired by the Super Sentai and Power Rangers TV shows – you will command a team of stunt actors as they play the roles of superheroes and fight against all sorts of villains in a series of in-game TV shows. Each encounter is a new show, and depending on your battle performance it will get a different rating.
Higher ratings mean more popularity and thus more money that can be spent on various upgrades to make your squad more efficient. The game's most unique feature is teamwork – heroes can combine their attacks and help each other to perform more powerful and useful moves to defeat their opponents.
Key features
A humorous game inspired by Super Sentai and Power Rangers
Turn-based combat with special teamwork attacks
Studio and team management that adds another layer of strategy
Simple but charming pixel art graphics
XCOM is one of the oldest game franchises that are still being developed. The first game was released back in 1994 and it was called UFO: Enemy Unknown, also known as X-COM: UFO Defense.. While newer releases feature various improvements, gameplay changes, and quality of life additions, XCOM games usually share the same core gameplay mechanics – players play the role of a leader of human resistance forces and use all the available resources to stop the alien invasion.
XCOM games usually consist of two separate phases – strategy and tactical. The strategy phase allows players to take their time as they construct new buildings, recruit new party members, and decide the best development path for various facilities and the entire base complex. It's a leisure phase with no dangers, so no need to rush. However, this phase is often interrupted by aliens attacking the Earth – you have to react quickly to the incoming danger, and once you send your squad to fight, the battle is played in a turn-based fashion on a grid-based battlefield.