Poland for many foreigners is just a small country located somewhere in the eastern part of Europe, and it's best known for its rich history, certain alcoholic beverage.
Its famous kielbasa sausage and the popular k-word curse used frequently by angry and annoyed polish players. However, Poland has much more to offer, and that includes some of the most exciting video games you can find on the market.
Find out what are the best Polish video games that you can play right now
The Witcher 3: Wild Hunt
| | |
| --- | --- |
| Release date: | 2015-05-18 |
| Genre: | Action role-playing |
| Developer: | CD PROJEKT RED |
This one is so obvious, that we were wondering if it should even appear here – everyone has already heard about The Witcher and how much of a masterpiece it is.
For the same reason, however, it wouldn't be fair to not at least give it a brief mention. The Witcher franchise is based on Sapkowski's series of novels of the same title. It tells the story of a mutant for hire – pay him a reasonable amount of gold, and he will gladly undo any curse or take care of any monster threats you are bothered with.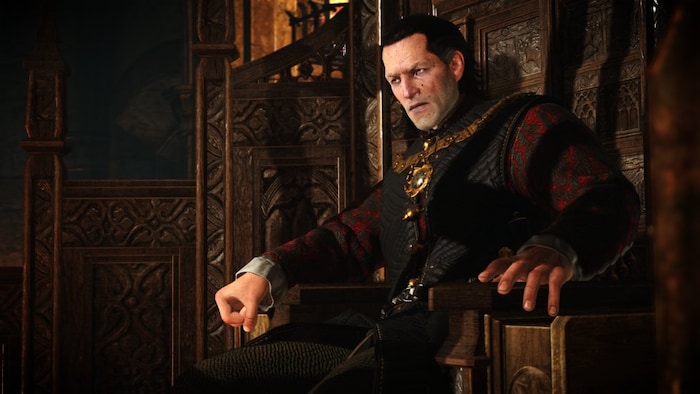 Although it sounds like he's a cool guy, for common people he is just as scary as the monsters he hunts, so instead of gratitude, he meets with hate, disgust, and fear. Gameplay combines an amazing and addictive story with character progression and smooth combat, where you can use a variety of different weapons and special spells called witcher signs, to fight the enemies. Surprisingly, The Witcher III became the most praised game of the entire trilogy, while usually, it's quite the opposite – more often than not, it's the first game that is considered best.
Key features
One of the best and fullest RPG experiences available up to date
A gorgeous fantasy world that is entirely open and free to explore from the very beginning
Character progression that supports many different playstyles
Inspired largely by Slavic and Norse folklore with numerous pop culture references
Cyberpunk 2077
| | |
| --- | --- |
| Release date: | 2020-12-10 |
| Genre: | Action & Cyberpunk |
| Developer: | CD PROJEKT RED |
While we're at CD Projekt Red games, let's also not forget about their latest production.
Cyberpunk 2077 is an entirely different setting, but worth diving into nevertheless. Cyberpunk 2077 offers a unique RPG experience set in a dystopian retro-futuristic world ruled by ruthless gangs and greedy corporations.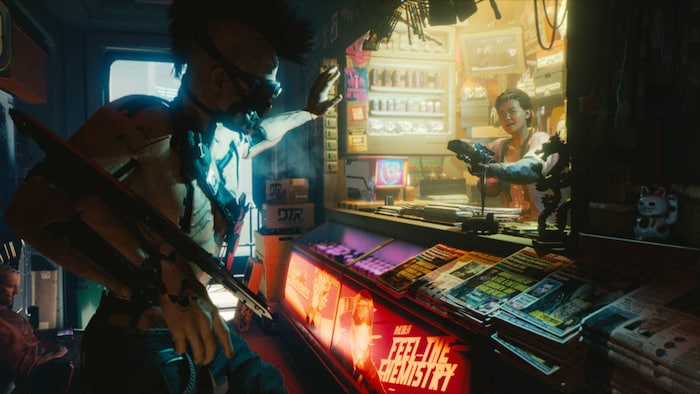 As a mercenary known simply as V, you will quickly find yourself in the middle of the conflict between the most influential people in the city, and you will begin your fight for survival. The game feels quite refreshing and comes with certain new gameplay mechanics that were never or rarely seen before. This includes, for example, weapons that can shoot through walls or bounce off them to reach enemies hiding around the corner. It's also worth mentioning that the game can be beaten completely without ever killing a man – a nice challenge for those who can resist their bloodthirst.
Key features
Huge open-world environment – explore retro-futuristic Night City and its surroundings at your own pace
Rich RPG experience with smooth melee combat, satisfying gunplay, and floating damage numbers
A dark, unforgettable story full of intrigues and plotting
Supports numerous different playstyles, including a pacifist approach
Dead Island
| | |
| --- | --- |
| Release date: | 2016-05-31 |
| Genre: | Action & Shooter |
| Developer: | Techland |
There are plenty of zombie-related games on the market, and one of the great ones happens to be made by a Polish game studio.
Dead Island is yet another attempt at a zombie apocalypse scenario – and a well-executed one, to say the least. It's often compared to Valve's arcade shooter Left 4 Dead 2, and while it's hard to say which one of the two is better, there are certainly some things that Dead Island does in a more appealing way.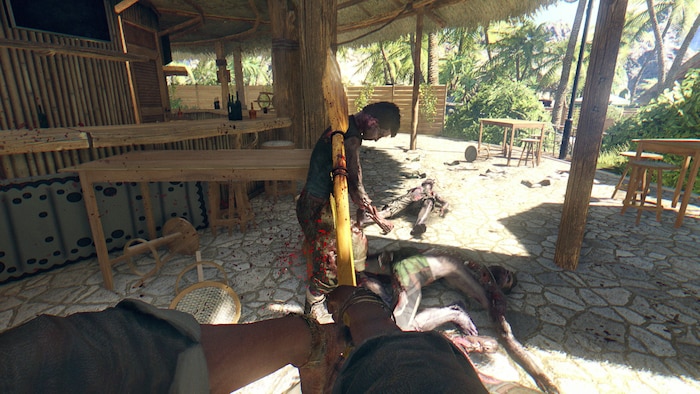 The list includes the possibility to upgrade weapons and improve character skills by earning experience – it's an RPG after all. The playable locations are also much bigger and the game may feel more casual-friendly overall. The survival factor also plays a bigger role here – you need to think strategically and conserve resources, unlike in Left 4 Dead 2, which is more like a run and gun experience.
Key features
Zombie apocalypse setting with large open areas
Dynamic and thrilling first-person action with the emphasis being put on melee combat
A tense atmosphere with the necessity to be on guard at all times
Randomly-generated weapons and character progression
Blair Witch
| | |
| --- | --- |
| Release date: | 2019-08-30 |
| Genre: | Adventure |
| Developer: | Bloober Team SA |
If a horde of flesh-eating zombies is not enough to scare you, then maybe this psychological survival horror will do the job.
Blair Witch is a game set two years after the events from the 1999 film The Blair Witch Project and follows the story of a former police officer as he begins to search a nearby forest for a missing boy.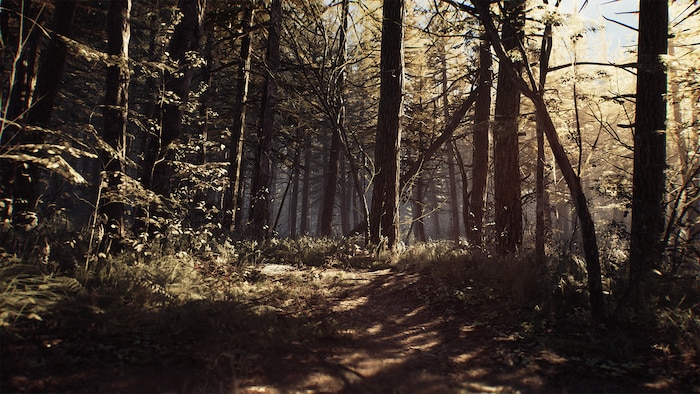 The first-person perspective combined with tense music and paranormal phenomena helps to build an immersive atmosphere where you are not the one who's in control, leaving you helpless and isolated, far from anyone who would be willing to give you a helping hand. Gameplay-wise you will explore various areas together with your trusty dog and using certain gadgets, such as the camera and flashlight, you will have to uncover the dark truth behind the boy's disappearance.
Key features
A terrifying survival horror experience
The amazingly scary atmosphere and visuals
Possibility to alter the reality with the use of certain cassette tapes
Numerous simple puzzles to solve
Frostpunk
| | |
| --- | --- |
| Release date: | 2018-04-24 |
| Genre: | City-building, survival |
| Developer: | 11 bit studios |
For the last game on the list, we've got something for those who love to stretch their brain cells a bit.
Frostpunk is a city-building survival game that will surely put your management skills to the test. Frostpunk is a dark and sad survival adventure with tough strategic and moral choices to be made during play. However, here your enemy is not a horde of ferocious creatures or evil spirits haunting the innocent, but instead, nature itself.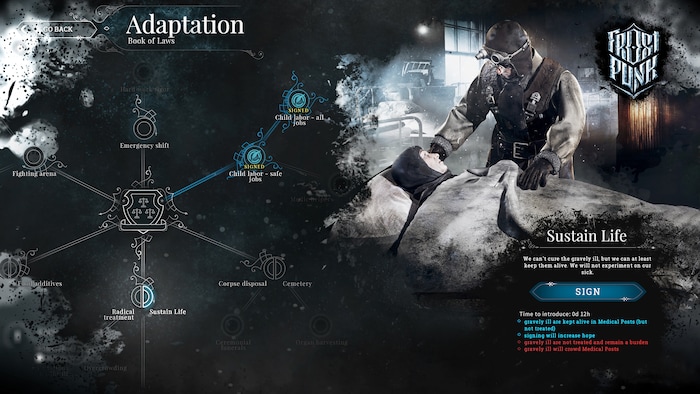 Your mission is to build and grow a self-sustained city during a worldwide volcanic winter and make sure your people live warm and healthy lives. The city you will build centers around a coal-powered generator that provides heat to the surrounding circular area that grows bigger as the generator is upgraded. The major issue you will be dealing with is the fact, different buildings need a different temperature to remain operational – you need to think twice before you pick a place for a new house or medical facility.
Key features
A unique city-building game that centers around surviving the worldwide winter
Addictive gameplay mechanics, where the careful placement of new buildings is necessary to succeed
Difficult moral choices that will shape the society you are leading
The ultimate challenge in form of an endless mode for the most dedicated players
The Best Polish Games
Poland has a lot to offer, and good Polish video games are just one great example. Recent years were especially fruitful for Polish players – now they have numerous games to be proud of, but the most recent titles developed by CD Projekt Red clearly overshadow the rest and leave the competition behind. However, if you're not a huge fan of RPG, then the Witcher and Cyberpunk may not exactly hit your taste – in this case, it's worth to remember, that there's also plenty of great Polish titles from smaller companies to try, and they come in a variety of different shapes and sizes, so you are almost guaranteed to find something you'll truly enjoy. Take a look at our list of Polish video games and perhaps you'll find a title you'll fall in love with.