Nothing gets the blood flowing like blowing up enemies' brains with a laser shotgun, slashing them to pieces with a sword or sending them into the orbit with a single punch. Action games introduce a breath of fresh air into our boring lives, making them a little bit brighter.
Whether you're a fan of first-person shooters, side-scrolling hack'n'slashes, TPP fighting games or anything in between – action games genre has something for everyone. So, make yourself some coffee and get your blood pumpin' as we introduce some of the best gaming offerings that you can get for your PC.
A Must-Play Great Action Games for PC
Rainbow Six Siege
| | |
| --- | --- |
| Release: | 2015-12-01 |
| Genre: | Action |
| Developer: | Ubisoft Montreal |
If you ever wanted to feel like a member of a highly professional, well-trained group of international special agents, then Rainbow Six Siege should be right up your alley.
The game series based on the novel by Tom Clancy had its ups and downs, but Siege is definitely the former.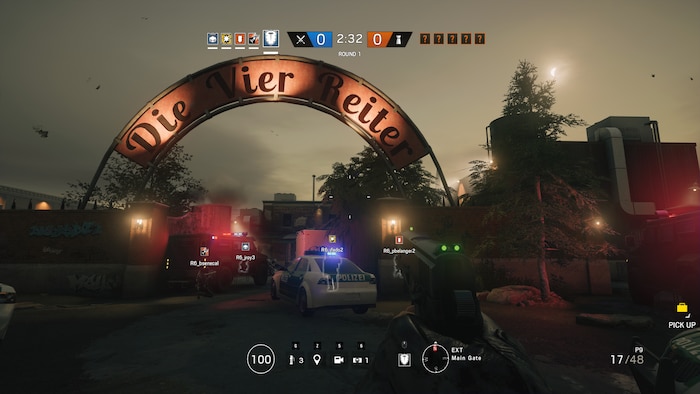 It offers everything you could ever want from an online shooter – a diverse roster of unique characters, various types of equipment to use in combat, and perhaps the most important – modes that don't rely on gimmicks to keep the player engaged. The player can enjoy the game in either PvP or PvE modes, there are also tutorial missions for single player, that explain the mechanics of the game. Siege received positive reviews and won The Best Game of 2014 at Game Critics Awards.
Key features
Multiplayer-focused gameplay
Five different modes playable in PvP and PvE
Variety of characters and equipment, purchasable for in-game currency
Borderlands 3
| | |
| --- | --- |
| Release: | 2020-03-13 |
| Genre: | First-Person |
| Developer: | Gearbox Software |
For those who dream of exploring faraway worlds and also shooting at everything with increasingly wacky guns, we have Borderlands 3.
The third installment if popular series that combines first-person shooter action with RPG mechanics, B3 is the culmination of the crazy story of Vault Hunters, searching the planet Pandora for hidden loot.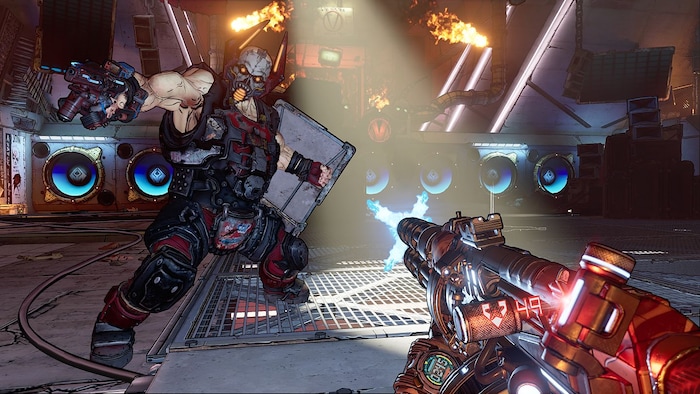 The game introduces several new mechanics, such as new ways of maneuvering, new types of ammunition, as well as a spaceship Sanctuary III, by which the player can travel outside Pandora and explore new worlds in the search of vaults. The game was met with critical acclaim, winning a few nominations and Gamescom's Best Multiplayer Game of 2019.
Key features
A wacky space adventure, exploring the world beyond Pandora
Procedurally generated weapons, with various upgrades and add-ons
New new movement options make encounters even more exhilarating
Saints Row The Third
| | |
| --- | --- |
| Release: | 2021-05-22 |
| Genre: | Action |
| Developer: | Volition |
When Saints Row was released back in 2006, many thought it was yet another GTA clone – a little brother of a star footballer trying to seem important by wearing his brother's helmet. And despite all that naysaying, the series prevailed, trying to find its footing and finally being able to do it with The Third.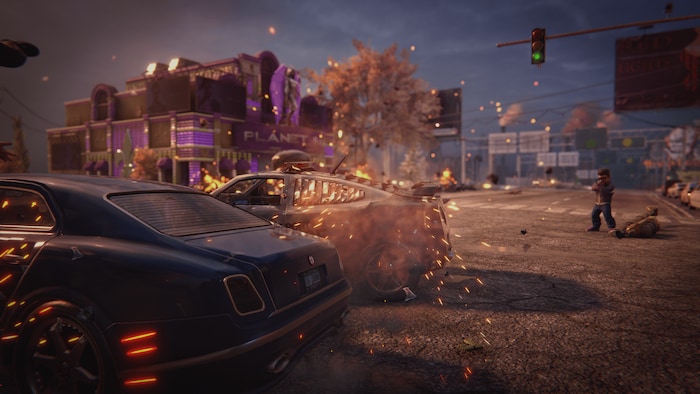 It drops all the pretenses of aiming for anything else than high-octane action and uncompromised outrage. Because a game that begins with the main character leading a massive shootout, taking down the rival gang's hideout to the tune of Kanye West's "Power" and prominently features a certain adult object of the size of a baseball bat as a weapon has all of its priorities straight. The Third was met with critical acclaim and praised for the absurd humor and licensed soundtrack.
Key features
Pure craziness emanating from the screen, from graphics design to gameplay mechanics
Character creator lets you build your gang leader from the scratch
Licensed soundtrack full of hit songs and classic tunes
Doom Eternal
| | |
| --- | --- |
| Release: | 2020-03-20 |
| Genre: | Action |
| Developer: | id Software |
When the fourth Doom came out in 2016 it was a revelation. The return of classic first-person shooter that not only managed to remain true to the series' roots but also adjust to modern gaming aesthetics was something truly majestic.
It seems that soon-to-be-released continuation, Doom Eternal, might be even more impressive.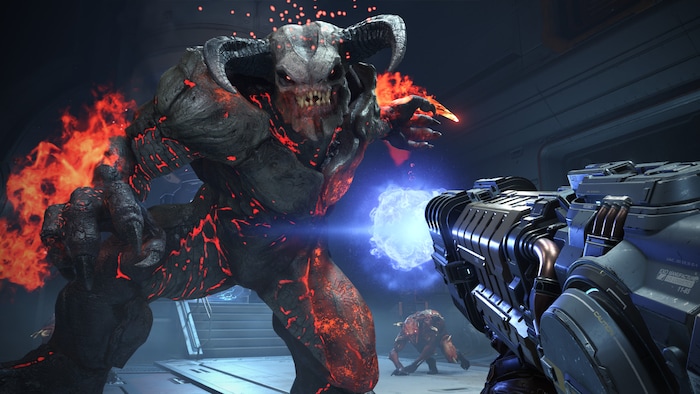 The game will retain the never-stop mechanics of the 2016's Doom, which forces the player to be constantly on the move, clearing levels of endlessly spawning enemies. DE will also feature new mechanics, such as new movement options, shotgun equipped with a grappling hook, shoulder-mounted grenade launcher and many more. The game introduces a new mode, Slayer Challenge, where the player will be able to test their skills in increasingly difficult scenarios. With all that behind its back, Doom Eternal is bound to be a huge success and a worthy successor of the revived line.
Key features
The fifth installment in the classic series of FPS games
New movement mechanics and weapons
Slayer Challenges up the difficulty ante for those not afraid to tell them
Dragon Ball Z: Kakarot
| | |
| --- | --- |
| Release: | 2020-01-17 |
| Genre: | Action |
| Developer: | Bandai Namco Entertainment,CyberConnect2 |
When the news dropped Bamco is going to release an action-RPG set in the world created by Akira Toriyama, many fans were doubtful if such an endeavor could succeed. Well, they were wrong.
Kakarot deftly combines the fighting with exploration, at the same time faithfully retelling the story of son Goku and his friends, covering the events of all the sagas of the Z series.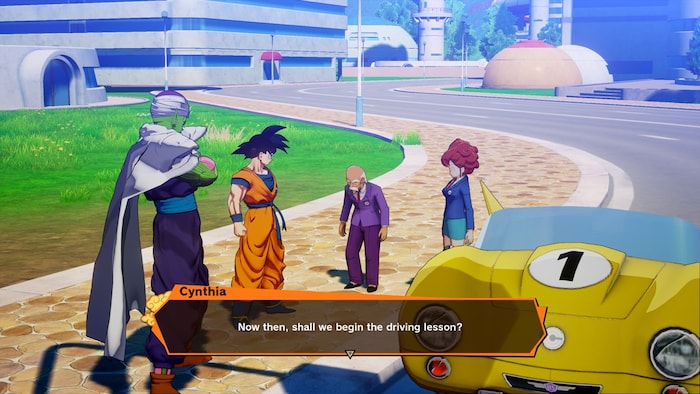 The player will have the chance to test their might against the Saiyans, stop Galactic Emperor Frieza from conquering the universe, face the powerful bio-android Cell, and prevent Majin Buu from turning the world into his private chocolate cupboard. In between climactic encounters, the player will be able to travel across the DBZ world, doing side quests, fishing, collecting various types of tokens, and searching for wish-granting Dragon Balls. DBZ: Kakarot received a solid reception from the critics and players alike.
Key features
Relive the most iconic encounters of the Dragon Ball sagas
Play as Goku, Vegeta, Gohan, and Piccolo and face various challenges and side quests
Travel across the world and collect items to help you along the way towards becoming the strongest Z warrior
Max Payne 3
| | |
| --- | --- |
| Release: | 2012-05-31 |
| Genre: | Adventure |
| Developer: | Rockstar Studios |
In the world of action games, Max Payne is a legendary character.
A former New York cop, who turned the city into his personal shooting range after the murder of his wife was the true hero of his age. He returns in the third installment a little sourer, a little drunker, but still trigger-happy as hell.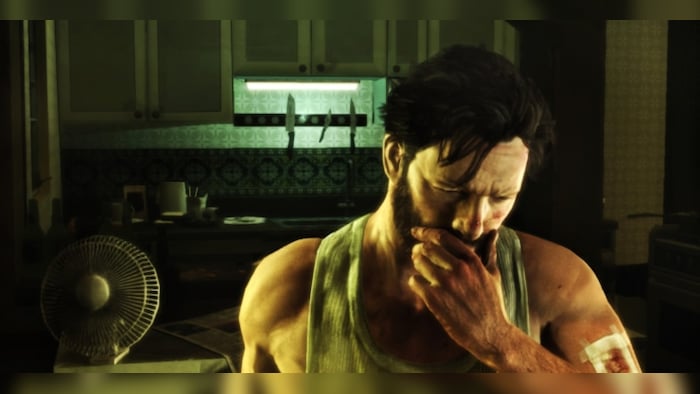 The player will guide Max's rage through the narrow streets of Rio de Janeiro favelas, eliminating criminals with an arsenal of weapons from pistols to machine guns and grenade launchers. The trademark bullet-time also returns, allowing the player to slow down time and stylishly eliminate thugs. The game received stellar reviews from the media and received several nominations for the best shooter game.
Key features
Max Payne returns to clean up yet another mess
Shoot your way through gangs of Rio de Janeiro, utilizing a small arsenal of firearms
Use bullet time to mow down thugs in slow-motion
Hotline Miami 2
| | |
| --- | --- |
| Release: | 2015-03-10 |
| Genre: | Adventure |
| Developer: | Dennaton Games |
Hotline Miami 2 takes place after the events of its predecessor. The game pays homage to the arcade games of the 80s. The player controls the protagonist "Jacket", who is sent to investigate a series of killing sprees by a mysterious person leaving messages on his voice mail.
The player's goal is to murder everyone in the given location – a task complicated by the fact that Jacket enters the place unarmed, and the enemies hold nothing back, using various melee weapons against the player.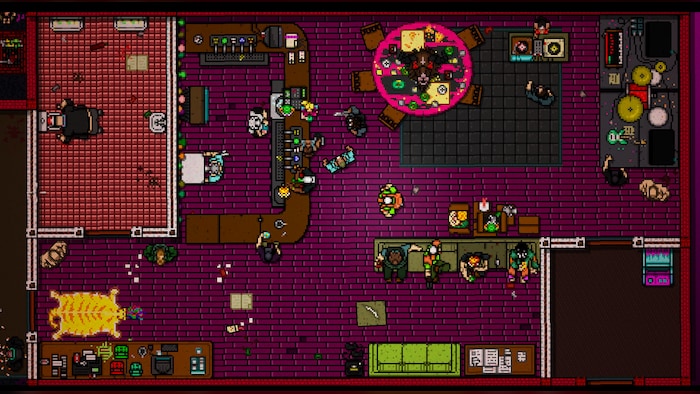 Luckily, the game offers plenty of options for stealthy disposal of enemies, looting their weapons and using them against others. The player can also gain special perks from wearing different masks on the job. The game was met with universally positive reception, with reviewers praising the 80's stylistics and demanding gameplay mechanics.
Key features
The retro style combines the themes of '80s games and movies
Demanding gameplay mechanics, requiring the player to think quickly or die
Gruesome depictions of murder and gore
My Friend Pedro
| | |
| --- | --- |
| Release: | 2019-06-20 |
| Genre: | Indie |
| Developer: | DeadToast Entertainment |
My Friend Pedro is another oddball on our list – a side-scrolling shoot 'em up, which to the surprise of no one, has the player shoot at everything that moves and tries to shoot back.
The player controls a nameless protagonist, accompanied by a talking banana named Pedro, and that should give you more or less an idea of how bonkers this entire thing is.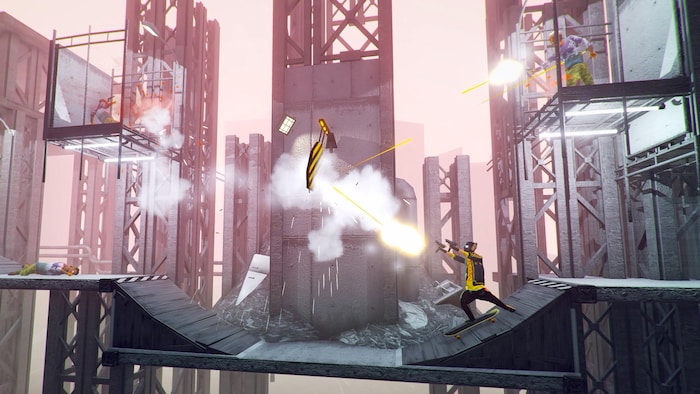 The game does feature some neat mechanics, like split crosshairs, allowing the player to shoot two enemies at the time. You will want o do that because the games reward the craziest kills with points. The enemies the player faces include strong bosses appearing at the end of the level, requiring different strategies to defeat. For its fun and engaging gameplay, MFP received positive reviews from the critics.
Key features
An engaging side-scrolling shoot em' up based on a mobile application
A crazy adventure of the nameless protagonist and his pal, who happens to be a banana
Gameplay mechanics, rewarding stylish disposal of enemies
Just Cause 3
| | |
| --- | --- |
| Release: | 2015-12-01 |
| Genre: | Action |
| Developer: | Avalanche Studios |
Just Cause 3 is one of those games that let you enjoy the mayhem most awesome the mayhem from the comfort of your couch.
Set in the beautiful island nation of Medici, the game features the series protagonist, Rico Rodriguez, returning to his homeland Mediterranean nation trying to overthrow the dictatorship led by ruthless General Sebastiano Di Ravello.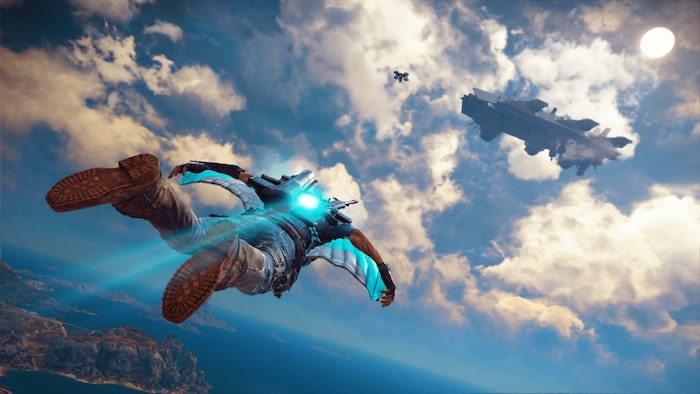 The game world is made of 1000 meters square of explorable terrain, where the player can engage in various activities outside story missions and side quests, such as skydiving, various races, looting area for collectibles, destroying government property, and more. The game set a new standard for the series and was met with critical acclaim.
Key features
Vast open-world setting full of optional activities
Gameplay mechanics based around maximum destruction and stunts
A multitude of collectibles to find across the island
Dishonored
| | |
| --- | --- |
| Release: | 2012-10-11 |
| Genre: | Action |
| Developer: | Arkane Studios |
Dishonored, otherwise known as "the best FPP stealth game since Thief" – puts the player in the shoes of Corvo Attano, a former Imperial Guard-turned-assassin.
The game shares many similarities with the classic FPP series from Eidos. It emphasizes health to the point that the mission objectives can be carried out without killing a single NPC, including the boss characters.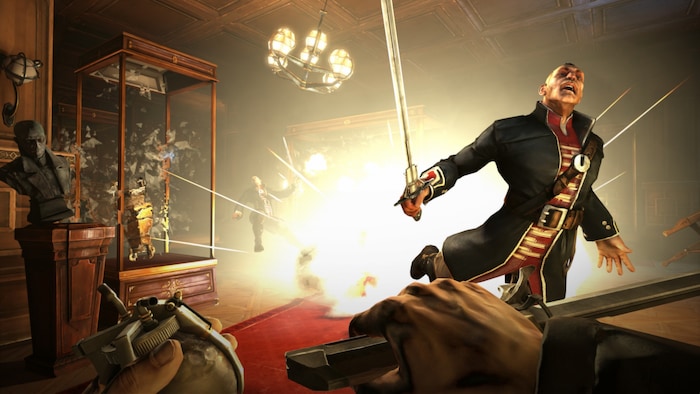 The player's success during the missions depends not only on their stealth skills but also magical powers of Corvo, who can, for example, possess animals to distract enemies, slowing down time to pass unnoticed, and many more. The critics lauded this unique approach to gameplay, awarding Dishonored top scores in their reviews. The game won several awards, including Best Action-Adventure Game of 2012 at Spike Game Awards.
Key features
Intriguing troy of a master assassin Corvo
Unique gameplay mechanics emphasizing stealth and combat-avoidance
A vast array of magical powers the player can use to evade detection
Wolfenstein: The New Order
| | |
| --- | --- |
| Release: | 2014-05-19 |
| Genre: | Action & Shooter |
| Developer: | Machine Games |
"What if the Nazis won WWII?" – a question asked and answered so many times it's started to get boring.
Luckily, New Order doesn't bother with the political ramifications of Nazi Germany controlling the bigger part of the world. The protagonist of the game – B.J.Blazkowicz – has only one rule: "Good Nazi is a dead Nazi".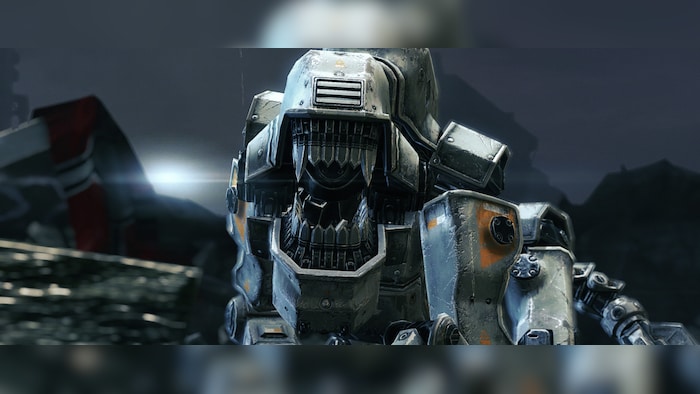 So the player will spend the gameplay time on bettering the defenders of the Vaterland using various lethal tools – some more realistic, some less, but all of them equally good in filling Krauts with lead or burning them to a crisp. The game features some stealth elements, with the player able to sneak behind the enemy and split their skull open with a hatchet, but New Order isn't about being quiet. It's about loud explosions and even louder screams dying enemies. Wolfenstein: New Order received positive reviews from the critics for its fast-paced action gameplay.
Key features
High-octane action following B.J. Blazkowicz fighting the Nazis
The Third Reich won the war, make them regret it by mowing down German soldiers with a vast arsenal of lethal devices
Develop your skill tree with points gained throughout the gameplay
Yakuza Kiwami 2
| | |
| --- | --- |
| Release: | 2019-05-09 |
| Genre: | Adventure |
| Developer: | Ryu Ga Gotoku Studio |
Like Max Payne, mentioned earlier on our list, Kazuma Kiryu is a man to be reckoned with. A former member of Tojo, one of the most powerful yakuza clans in Japan, he left his old life behind.
Now he returns, and that spells trouble who anyone who gets in the way of his fists. Yakuza Kiwami 2 combines the action-adventure and fighting mechanics with open-world exploration and minigames.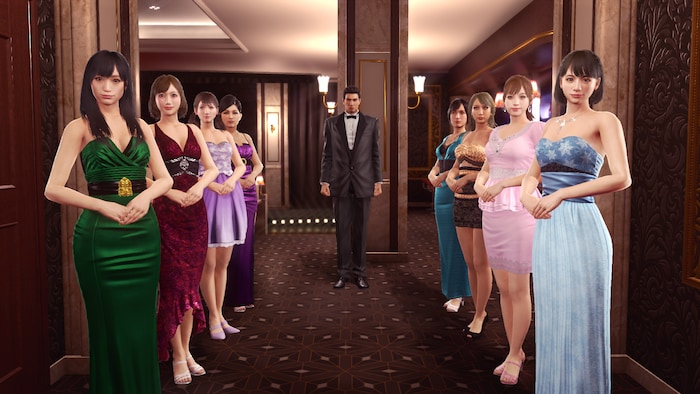 The player can freely move around the Kamurocho and Sotenbori, fictional districts located in Tokyo and Osaka, and participate in various activities, such as visit bars and restaurants, play arcade games, and more. Sometimes the player will have to fend off a rival gang in hand-to-hand combat. Kazuma can use various melee weapons as well as perform special attacks dealing a lot of damage. Yakuza Kiwami 2 received positive reviews from the critics, who praised the title's setting and open-world activities.
Key features
Explore the brightly lit streets and dark alleys of modern-day Tokyo and Kyoto
Fight for your life with rival gangs and send them flying with your martial arts skills
Enjoy a variety of minigames to distract yourself from constant combat
Serious Sam 3: BFE
| | |
| --- | --- |
| Release: | 2011-11-22 |
| Genre: | Indie |
| Developer: | Croteam |
Serious Sam 3: BFE is a sequel to the critically acclaimed and fan-favorite first two games in the Serious Sam series – The First Encounter and The Second Encounter.
The player once again assumes control of Sam, a time-traveler sent into ancient times to stop an alien invasion of Earth. The game is a quintessential first-person shooter experience – the player is given an arsenal of weapons and a simple task: kill everything that comes near you.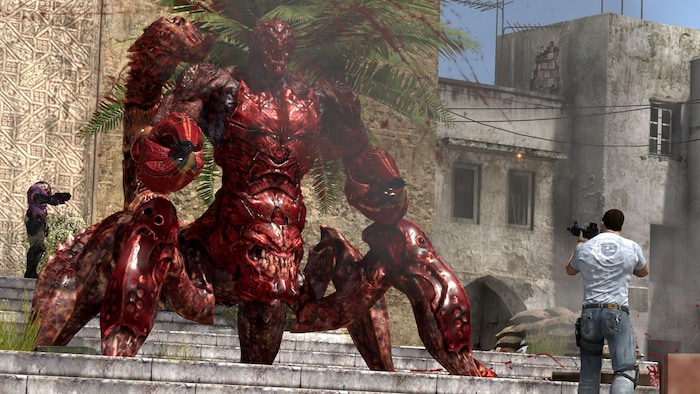 And there are a lot of everythings coming, sometimes all at once: from Headless Kamikaze running screaming at the protagonist to massive charging bulls and towering aliens shooting rockets. Sam can use a variety of weapons, from revolvers, shotguns, and miniguns to rocket launchers laser cannons, and even a portable howitzer, firing explosive cannonballs. Serious Sam 3: BFE received a positive reception from the critic and was met with near-universal acclaim from the players.
Key features
A nostalgic trip down the memory lane
FPS gameplay mechanics of bygone era that holds up even today
Use an arsenal of bizarre weapons to send aliens crying back to their mamas