Role-playing adventures are what players like to replay to follow a different development path or experiment with unique character builds. And the grand launch of Hogwarts Legacy is an ideal opportunity to see if this new magical experience has a chance against the best title in the genre – Skyrim.
After many more or less successful game adaptations of the Harry Potter story, it's time for something a little fresher. Here comes Hogwarts Legacy – a brand-new fantasy RPG set in the universe designed by J.K. Rowling. This time, the gameplay will not follow the young wizard's adventures but take players to Hogwarts of the 19th century. They can begin their magical education, explore the school and its surroundings, and lose themselves in an entirely new conflict.
Some may wonder if this title has a chance of dethroning Skyrim. The Elder Scrolls V: Skyrim is one of the best-crafted RPGs ever, guaranteeing long hours of exciting gameplay in the faraway frozen land of the Tamriel continent. And its modding community is just one of many reasons why players love this game! However, it is a bit ancient. So today, we will examine some of both titles' different features to decide which one wins the ultimate Hogwarts Legacy vs Skyrim comparison.
Game Comparisons
Narrative
The action of both games takes place in open fantasy worlds, where players explore the available landscape and complete quests to discover the following parts of the complex plot. Skyrim is an impressive story about one of the last dragon hunters gifted with the extraordinary ability to acquire the powers of these ancient creatures.
But the fight against the impending dragons' invasion is not the protagonist's only concern, as the province of Skyrim is also struggling with a civil war. The title is known for its perfect balance between lore and free exploration, which allows players to take a breath from the challenging plot and decide how they want to experience the adventure. It takes about 35 hours at a medium pace but over 200 when exploring all the secrets.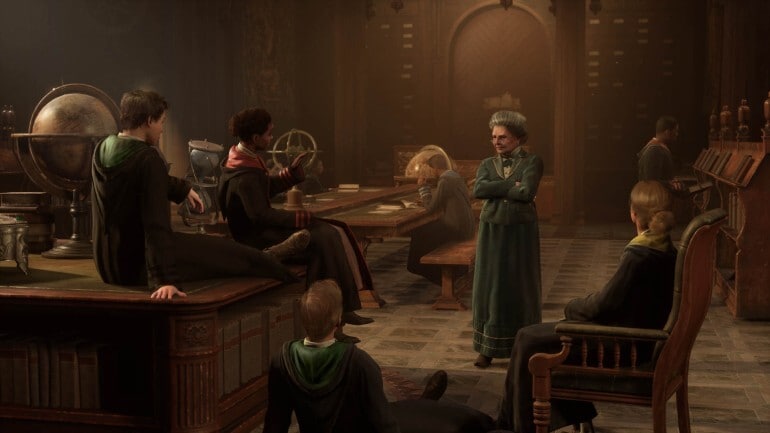 source: https://cms.upcomer.com/
Hogwarts Legacy is the same number of hours up to 70, with all aspects of the game fully completed. The title tells the incredible tale of a young student starting education at the School of Witchcraft and Wizardry, set in the 19th century. The protagonist enjoys everyday life and lessons, plus becomes an essential part of a new conflict between the magical creatures. Only his exceptional skills can help him decide if there is a future for Hogwarts and the wizarding world.
Game Mechanics
As in all decent RPGs, the gameplay of both titles begins with a crucial similarity – character creation. In Skyrim, you can choose from ten races and decide the hero's appearance. There are no classes or races in Hogwarts Legacy – you can only customize the character's appearance and pick one of the four Hogwarts houses. And that's where all the differences begin. While the gameplay core is pretty much the same, focusing on exploration and following the storyline, there are quite a few distinct details.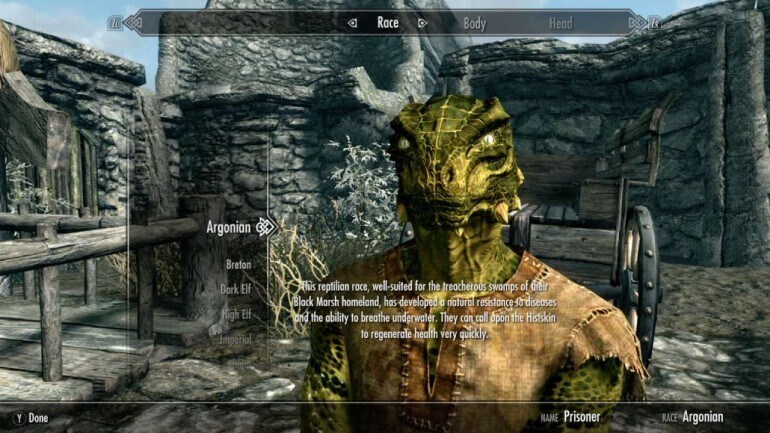 source: https://www.gamespot.com/
In Skyrim, you get an unimaginably gigantic map and can go anywhere you want. The locals live their own lives, and everyone has something to do. You can choose from various main and side quests or roam the world in search of random adventures. The setting is rather dark, with many dangerous encounters requiring experience to complete.
source: https://vignette.wikia.nocookie.net/
But each fight is a new opportunity for character development, so it's worth getting involved in. The protagonist wields weapons, shields, and spells to defeat the enemy in a challenging combat system that requires skillful use of controls. And combining magic with melee weapons delivers spectacular results. However, some players state the map in Skyrim is too big. Sometimes, the protagonist has to travel impressively long distances to reach their destination or find some trace of civilization in the wild.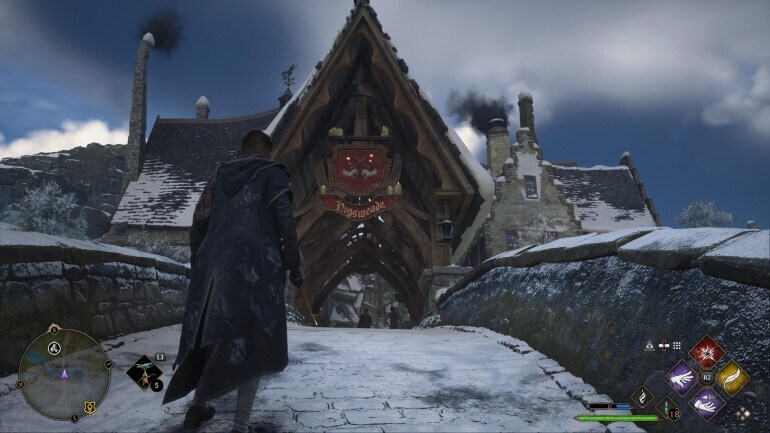 source: https://www.ggrecon.com/
The Hogwarts Legacy gameplay focuses more on school life. The protagonist participates in lessons, meets new friends, and engages in various activities like flying a broom or riding magical creatures. The title encourages exploration of Hogwarts and all its secrets. In addition to the school, players can also travel to the Forbidden Forest and Hogsmeade areas, so the map there is smaller than in Skyrim. But it may promise a greater density of activities and quests. As for combat, Hogwarts Legacy only allows you to use spells and potions, so you probably won't enjoy it if sword fighting is your must-have. But like in Skyrim, each encounter with enemies means more experience and better equipment.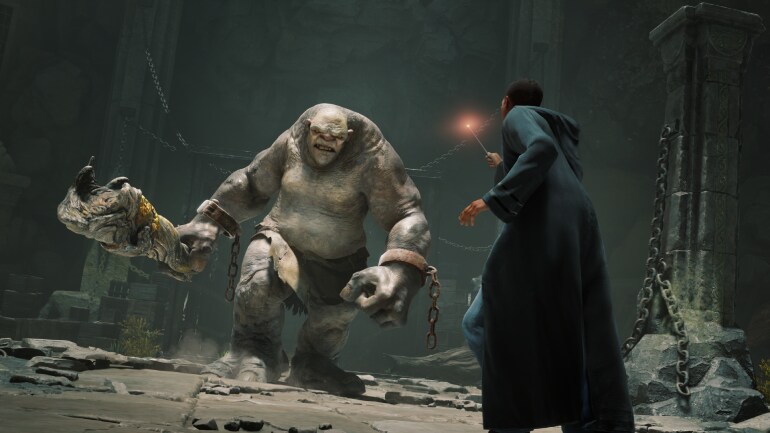 source: https://www.eurogamer.pl/
Graphics
While Skyrim has been updated in recent years with improved facial expressions, weather effects, and realistic NPCs behavior, its graphics seem outdated compared to Hogwarts Legacy. Hogwarts Legacy impresses with details, smooth animations, and breathtaking views, providing epic aesthetic sensations.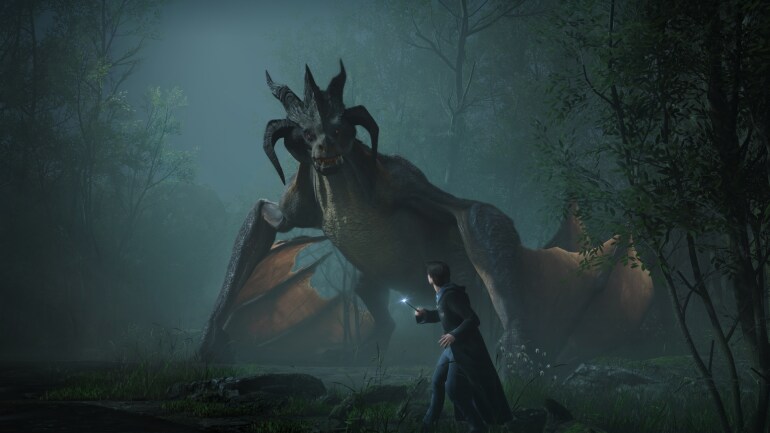 source: https://www.ppe.pl/
Soundtrack
Players expecting a classic Harry Potter-like soundtrack in Hogwarts Legacy may be disappointed. The music was composed by Alexander Horowitz – it is truly epic, adapted to the climate of particular scenes, and perfectly emphasizes the game's magical vibe. However, it's hard to say whether it will become as recognizable and legendary as Skyrim.
Replayability
Skyrim is replayability. With a massive area to explore, tons of side quests to complete, and decisions that influence the course of events, it makes a game that can be played differently every time. Does Hogwarts Legacy have a chance to reach a similar level? It depends on how well the developers have filled the map with potential quests and secrets to discover. The less linear the story, the greater the replayability, so in this case, time will tell.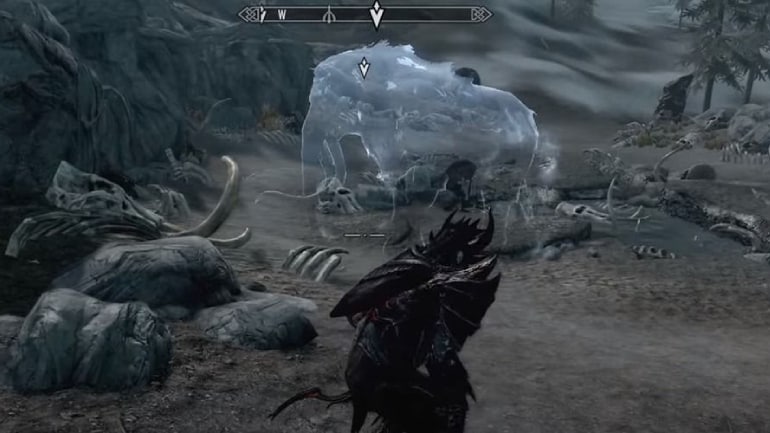 source: https://gamerant.com/
Conclusion
You need to know that Skyrim and Hogwarts Legacy are two unique video games. The latter is more than ten years younger, so it uses fantastic graphics and failed experiences of previous installations in the Harry Potter universe. Apart from LEGO Harry Potter, there isn't a better Hogwarts game, so the success of this release is a sure thing. But does that make it the best?
Skyrim will not lose its popularity for a long time. Thanks to the gigantic modding community, it is always up to date with new stuff in gaming. You could have played the Hogwarts Legacy mod for Skyrim long before the game release! Plus, its high replayability allows you to play in a fun or more serious way. It depends on whether Hogwarts Legacy stays alive and can learn from the best in the genre. Because ultimately, it all boils down to the eternal conflict of the new vs. experienced.
For now, Potter fans are so hungry for any magical adventure in their beloved universe that comparing Hogwarts Legacy to giants like Skyrim doesn't matter. But during the first or second playthrough, knowing the fundamental differences can help them decide which game is actually better.