Video games have never been more accessible than now. Regardless of the players' modest budget or the equipment, everyone can find something perfect for themselves and enjoy it on their favorite device. But can you play Xbox One games on PC?
Having one TV can be challenging if more roommates want to use it simultaneously. Some games also look much better, or the controls may seem friendlier on PC. So if you have an Xbox One console and want to have fun with your favorite multiplayer and single-player Xbox titles on PC – make it happen!
More, you can efficiently implement this ambitious plan even without having an Xbox console. Just follow the few necessary steps described in this guide and choose the best method.
Xbox Play Anywhere
It is your best solution. Xbox Play Anywhere is a new, free service that allows you to play Xbox One games on computers operating with Windows 10 and Windows 11. Using it, you will have access to over 200 titles from your console's library! What's more, you only need to purchase them once to play on the chosen device without limits.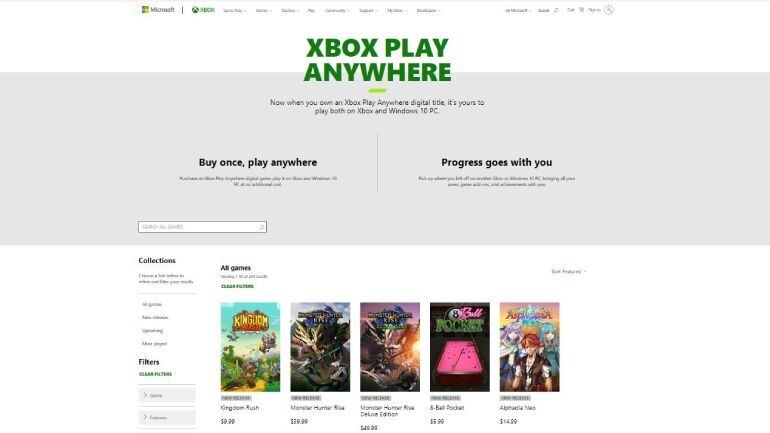 Worried about your progress? Fear not – this unique service keeps neverending track of your gameplay stages, whether you're resuming the game on PC or Xbox. Everything stays in place, even the achievements. It's also effortless to enable. Just sign in with your Microsoft account on the official Play Anywhere website, where you'll find an extensive library of video games with the service's logo. Install the title you already own or buy the game of your dreams, and download it to run it directly from the Microsoft Store on your PC.
Among the best titles in the Xbox Play Anywhere library, you will find gems like Resident Evil 7, Hollow Knight, Persona 5 Royal, and LEGO Star Wars, so there are definitely many genres and memorable adventures to choose from.
Xbox Game Pass
There is such an extraordinary thing as PC Game Pass. It is available to owners of computers with Windows 10 or 11, as it is impossible to play on earlier versions. And you have to buy it. Xbox Game Pass comes in several subscription versions: Standard, Ultimate, and Live Gold. But by getting it, you'll gain access to a gigantic library of epic games like Forza Horizon 4, Sea of Thieves, The Sims, and more! You can also get an EA Play membership, enjoy new releases, and have fun with legendary discounts on dream titles and expansion packs.
All you have to do is purchase a subscription and install the Xbox app on your Windows to browse your dream games and download them to your PC. Xbox Game Pass is an excellent solution for those who don't own an Xbox console but want to play Xbox games.
Stream to Windows
It may happen that the game you want to play isn't in your Xbox Play Anywhere or Game Pass library. At that point, your last chance to enjoy it on your PC is the most complex option available – streaming. First, investigate the quality of your connection, as both devices must be using the same uninterrupted internet source. Secondly, look for essential updates.
You can check their status on your PC by clicking the Start button and entering the Power User Menu. If there are any updates to complete, you'll see them right away. And if you want to be sure on your Xbox One, go to settings, find System and go to Updates & Downloads.
It's time to connect both devices!
Go to your Xbox account settings and find the Devices & Connections button.
Select Remote Features and enter Xbox app preferences.
Check Allow connections from any devices on the left and select Allow game streaming to other devices on the right.
Then, connect your Xbox controller to your PC using a USB cable (but you can also do it via Bluetooth – your choice).
Let's proceed to PC! Open the Xbox Console Companion app and select the connection button on the left. Choose your console and click Stream – you're all set! Now you can enjoy flawless (depending on the quality of your internet connection) gameplay of your favorite Xbox One game on PC.
Summary
These ways may sound easy, but keep one more issue in mind. Depending on the chosen method, the game may or may not run on your computer. If you use Xbox Play Anywhere to buy a brand-new game, you'll probably download it on a PC.
The same goes for Game Pass. And while every title will look impressive on the console, an older or weaker laptop may simply not run it. Therefore, you'd better explore the specific details of your PC specs first to check if the title can operate on your computer. This rule does not apply to streaming from Xbox One because the console only sends the image to the PC, handling the burden of its run on its own.
Either way, all these options are great for players of all budgets and preferences. Now, even if you don't have an Xbox console, you can enjoy Xbox games. And if you have a low-end computer, you can comfortably stream them from the console without too much load on the CPU and graphics card. Whichever way you choose, fulfill your dreams of playing with your friends right away. Or enjoy your favorite single-player title using a comfortable PC and noise-canceling headphones. It's a great time to be alive!