Video games don't need extraordinarily high funding to become successful, and the best proof is small indie games – indie developers usually have very limited budgets, so they need to come up with something unique and turn it into a game as soon as possible to avoid unnecessary expenses.
It's much harder to make a great game with a small budget because a small budget means that the developer can't spend as much time polishing every element of the game as he would like to. Sacrifices are needed to be made, but the reward in form of being able to make a critically acclaimed low-budget title that can compete with similar games made by bigger studios is well worth the effort.

Minecraft
| | |
| --- | --- |
| Release: | 2015-07-29 |
| Genre: | Adventure |
| Developer: | Mojang |
The game's creator, Markus "Notch" Persson, had no idea about how successful and influential his creation will become in the future.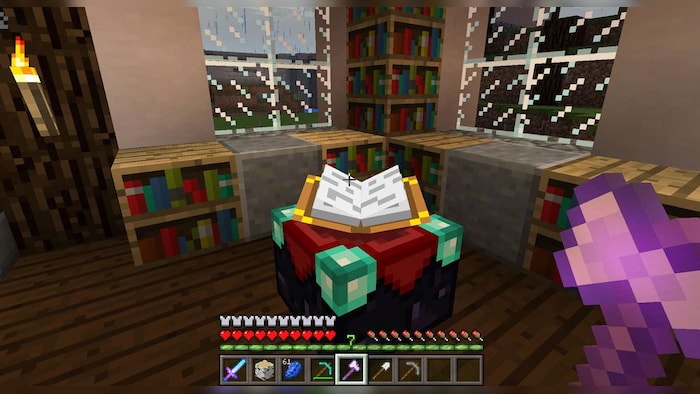 Minecraft is a voxel-based sandbox game that gives players a huge randomly generated world for them to have fun in. There's no real objective, so you can play the game however you want, but you'll probably spend most of your time exploring, mining, shaping the surroundings around you, and building whatever you want, block by block. The game is extremely popular even today, and it's not uncommon to see Minecraft references in other games. There are also tons of real Minecraft-related merchandise, so you can buy yourself a plushie creeper who'll haunt you at night, for example.
Key features
Randomly generated worlds full of unique biomes, dangerous creatures, and mysterious places to discover and explore
Sandbox nature and open-ended gameplay that gives players a lot of freedom
Focused mainly on unleashing creativity, but also has a survival mode that adds a bit of challenge
Fun multiplayer that allows players to team up and build their worlds together
Terraria
| | |
| --- | --- |
| Release: | 2011-05-16 |
| Genre: | Adventure |
| Developer: | Re-Logic |
Sandboxes are quite popular when it comes to indie games, so it's not surprising to see another one on the list.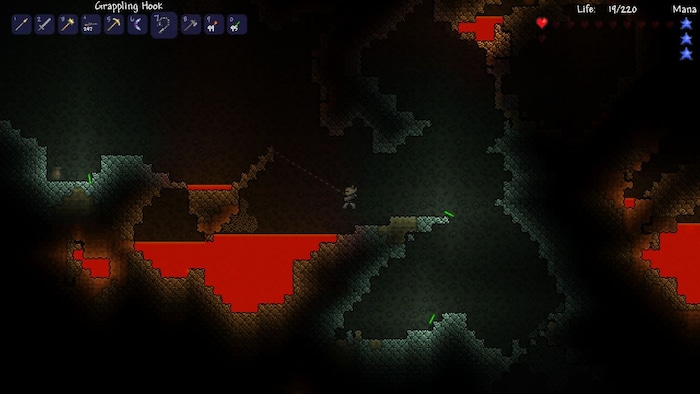 Although those who didn't have the opportunity to play Terraria could probably say by looking at screenshots that it's just a 2D Minecraft, it would be criminally unfair, as the two are entirely different games. Terraria puts more emphasis on adventure and boss fights. Most of the game's content is locked behind the bosses that need to be defeated before you can progress further – only when you succeed, you will get access to new resources, events, and powerful craftable gear that will help you tackle more difficult challenges.
Key features
Randomly generated worlds that can be entirely shaped according to your will
Challenging bosses and random events that give access to more amazing weapons and useful gadgets
Eye-catching 2D pixel art visuals with impressive lighting effects and smooth animations
Inimitable atmosphere, day and night cycle, fishing, mounts, clothing with custom coloring, and more
Stardew Valley
| | |
| --- | --- |
| Release: | 2016-02-26 |
| Genre: | Adventure |
| Developer: | ConcernedApe |
Farming simulation games have some addictive component inside them – somehow, they are able to steal a lot of our free time without us even noticing what exactly happened.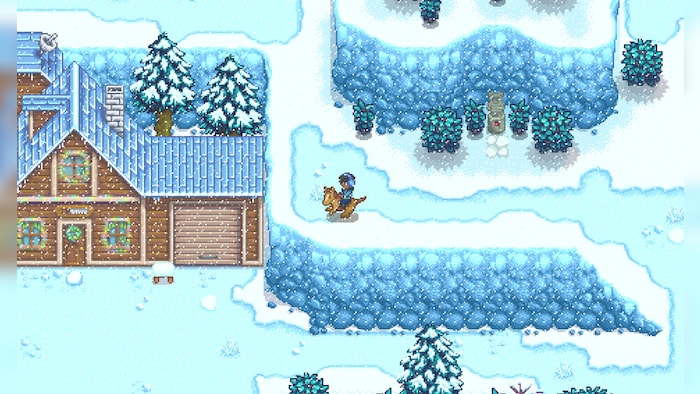 Stardew Valley is a farming simulation game but it's more complex than it first appears. There is a simple story that explains your current situation and gives you a long-term goal, but how you achieve it it's mostly up to you. As you might have already guessed, your main job in Stardew Valley is to grow seeds and sell the product – make money to buy more seeds and repeat the process. There are different seasons that force you to plan ahead on what to grow and when, and there are various town festivals that take place throughout the year. There's also combat, crafting, cooking, and even multiplayer for up to 4 players – all of that mixed with a beautiful pixel art style.
Key features
Farming simulation with a casual and relaxing atmosphere
Addictive gameplay with lots of possible activities, from farming to fishing, building relationships, and taking part in seasonal events
Polished and detailed pixel art visuals
Lots of collectibles – a perfect game for completionists
Papers, Please
| | |
| --- | --- |
| Release: | 2013-08-08 |
| Genre: | Adventure |
| Developer: | 3909 |
There are not too many games that give us the opportunity to become a border-crossing immigration officer – filling that specific niche in a creative way is probably the reason behind the game's popularity.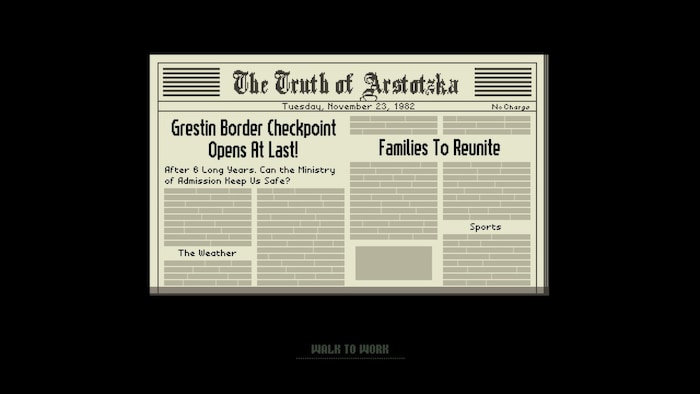 Papers, Please is a simple puzzle game with pixel-art visuals. It focuses on the fictional country of Arstotzka, inspired largely by communist Eastern Bloc states. As a border-crossing immigration officer, you will be tasked with checking documents of those who wish to cross the border – check if the documents are real and valid, check if the person has all the necessary permits, check if there are no discrepancies, and so on. The game also has numerous moral choices – some people will beg you to let them in despite not meeting the requirements, but you need money to keep your family fed and happy, which means that you need to strictly follow the procedures, where no exceptions are allowed. Will you have the courage to say no to people in need?
Key features
A puzzle game that focuses on the work of a regular border-crossing immigration officer in an Eastern Bloc-inspired country
Simple gameplay that gets more complex in later stages – check if immigrants meet the requirements and decide if they can cross the border or not
Moral choices and a lot of different endings
Pixel art visuals and amazing atmosphere
Undertale
| | |
| --- | --- |
| Release: | 2015-09-15 |
| Genre: | Indie |
| Developer: | tobyfox |
Among low-cost video games, one can't forget about Undertale – quite a unique RPG, where you don't even need to fight to complete it.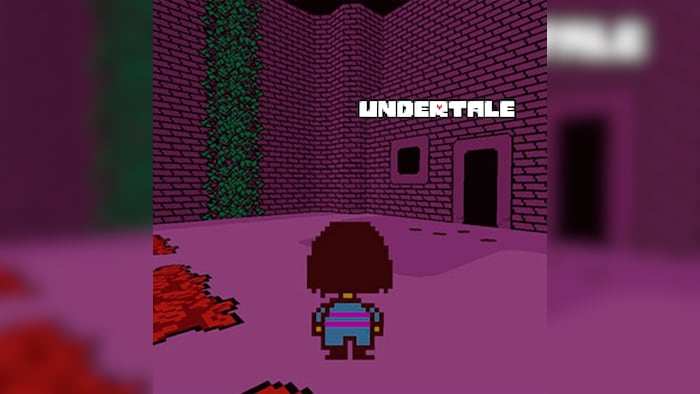 Undertale is a role-playing game, but gameplay-wise it's quite difficult to label. That's because Undertale's gameplay consists of a variety of different elements – in fact, the entire game feels like an epic adventure, with repetitive sequences limited to the very minimum, so every minute of play is a new experience. There are puzzles to solve, charismatic characters to meet, and reflex-based combat minigames to master. Add a lot of humor and funny dialogues to the mix, and you get a game that you won't soon forget.
Key features
Entertaining and non-repetitive
Rich humorous story with some unexpected twists
Simple minigames that require fast reflexes
Puzzles and riddles that will serve as a great exercise for your brain
Among Us
| | |
| --- | --- |
| Release: | 2018-11-16 |
| Genre: | Cooperation |
| Developer: | Innersloth |
If you're wondering if there's a cool inexpensive game that's worth buying right now and that can be played together with friends, then Among Us could be one of the possible answers.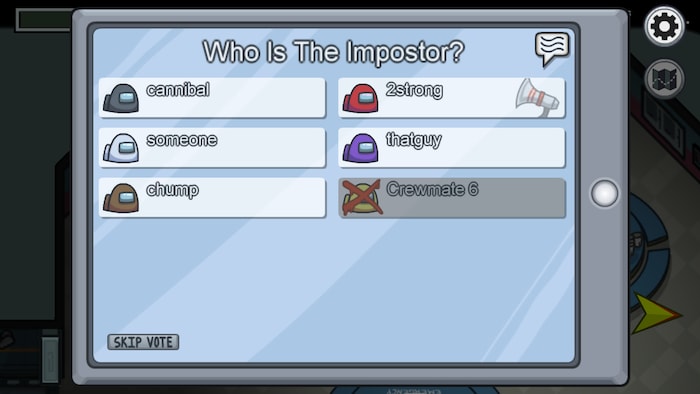 Among Us is a simple game, where players meet together on one of several sci-fi-themed areas with one goal in mind – to find impostors hiding among them. Unless, of course, you're an impostor yourself. All players get a list of small individual tasks to complete, such as fixing wires or stabilizing spaceship's systems, while the impostors have to sabotage their work and kill everyone. The game requires good social skills, as players have to report what they were doing when a disaster occurred – if you're not convincing enough, they will vote to get rid of you, even if you're not an impostor.
Key features
A great sci-fi party game that favors good social skills and clever bluffing
Rich gameplay and character customization options
Short game sessions – you can always find a few minutes to play a game or two
Cross-platform capabilities that allow PC players to play together with Android and iOS users
The Stanley Parable
| | |
| --- | --- |
| Release: | 2013-10-17 |
| Genre: | Adventure |
| Developer: | Galactic Cafe |
There are some amazing games that started simply as mods for other popular games, and The Stanley Parable happens to be one of these.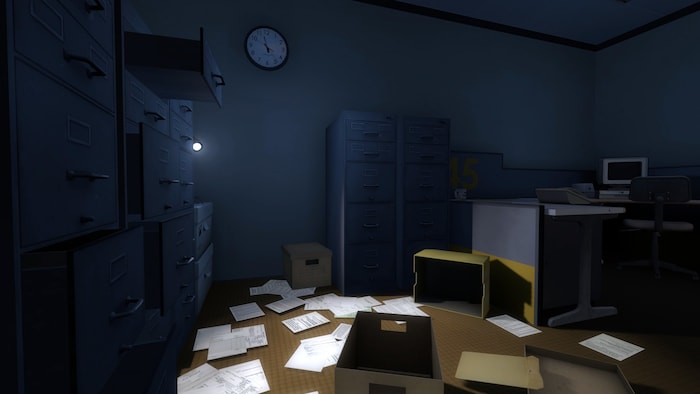 The Stanley Parable is an interesting story-based video game with gameplay focused entirely on exploration and simple interactions with the environment. The idea is to follow the narrator's narrative – or not – and see what happens. The narrator comments on your almost every action, and it's quite hilarious to listen to him talking when things are not going the way he planned. The game has several endings and some hidden secrets for you to discover, so you're guaranteed to have a lot of fun.
Key features
The game focused on experiencing a day in the life of titular Stanley – an ordinary man with an ordinary job
A lot of mysteries to discover – the more you play, the more you learn about the game's world
Interesting gameplay with the narrator who gives funny comments on almost every action taken by the player
Numerous possible endings, which increases replayability
Super Meat Boy
| | |
| --- | --- |
| Release: | 2010-11-30 |
| Genre: | Indie |
| Developer: | Team Meat |
If you're looking for the ultimate platform challenge, then picking Super Meat Boy would be an obvious choice.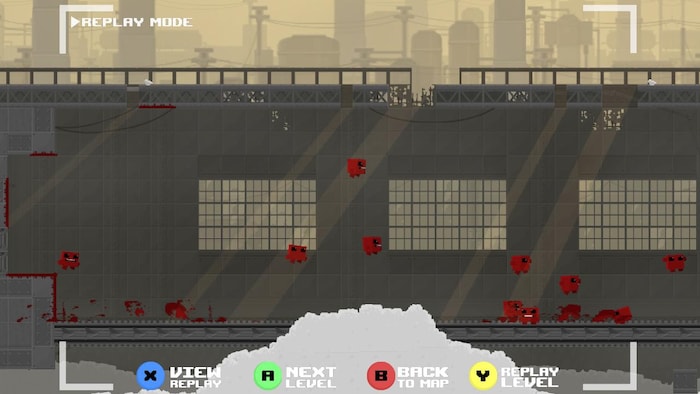 Super Meat Boy is a platform game, where you will be playing as a male cube of meat as he tries to rescue a similar female cube of meat. It sounds silly, and it is, but it's also insanely fun – at least as long as you find dying over and over again while trying to beat certain stage fun. It's not an easy game and if you don't have godlike reflexes, then probably you'll swear and curse a lot during play, but it's worth noting that usually, the harder something is to do, the more satisfied you'll be once you finally manage to do it.
Key features
The gameplay focused on getting from point A to point B while dodging all the traps and obstacles
Hundreds of increasingly difficult levels to beat, ranging from super easy to nigh impossible
Simple but adorable 2D visuals
A fitting soundtrack that matches the game's fast-paced action
Castle Crashers
| | |
| --- | --- |
| Release: | 2012-09-26 |
| Genre: | Adventure |
| Developer: | The Behemoth |
When speaking of highly valuable video games, you can't forget about Castle Crashers – a fun side-scrolling hack and slash, that can be played together with up to 3 other players.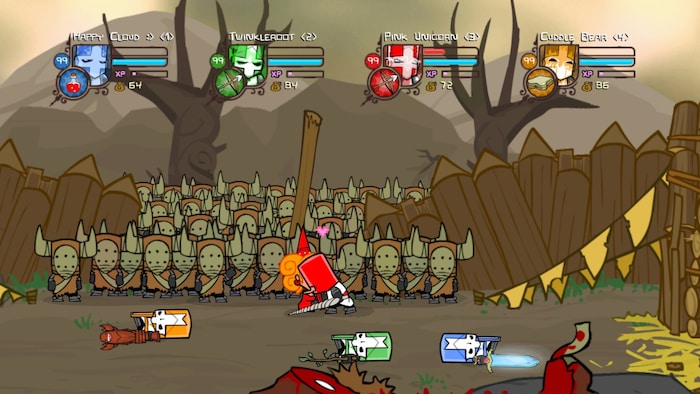 Castle Crashers is a side-scrolling hack and slash video game and it's a great choice for a party title, but it can also be played solo. The story is rather simple – rescue four princesses and restore order in the fictional medieval kingdom. Nothing unusual, but it's not the story that matters the most here. Castle Crashers is an incredibly fun and addictive game that allows players to choose their character from over 20 different playable ones and then earn levels and grow stronger as they defeat increasingly stronger opponents. Combat focuses on utilizing combo attacks and special abilities that are unlocked as the character levels up, but there's also a selection of weapons to find and use to increase your chances of surviving even the seemingly impossible encounters.
Key features
Side-scrolling hack and slash in a fantasy setting
Character progression, satisfying combat with the addition of powerful magic, and polished 2D visuals
Over 20 unique playable characters
Fun multiplayer for up to 4 players
They Are Billions
| | |
| --- | --- |
| Release: | 2017-12-12 |
| Genre: | Strategy |
| Developer: | Numantian Games |
Finally, since we're talking about games, where the low cost of development is important, there's also They Are Billions – a surprisingly addictive combination of strategy and base defense.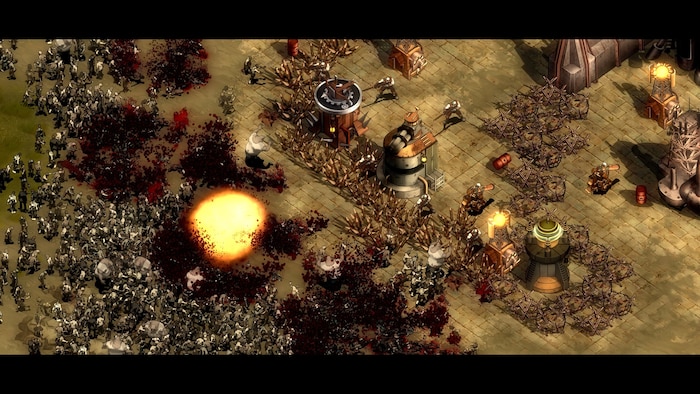 If you ever played Stronghold games, but you wanted more challenge and maybe a different setting, then They Are Billions is the answer. This RTS game is set in a steampunk post-apocalyptic universe overrun by zombies and your task is to gather resources, build defenses, and keep the horde at bay to ensure your people's safety. What makes the game unique is its ability to simulate thousands of zombies simultaneously. Up to 20000 zombies can appear on the screen at any given time – as you can see, the word "horde" wasn't an exaggeration.
Key features
Addictive RTS experience with resource management and base building
A custom engine that allows the game to handle up to 20000 hostile units in real-time
Various technologies to research and make the ultimate objective slightly easier to reach
Extremely good-looking 2D visuals
Generally speaking, the more it costs to develop a game, the more polished such game will be once it's finished, but it's not always the case. Sometimes the game turns out to be a complete failure, despite having an extremely high development budget, but sometimes it's the other way around – the game that was cheap to develop starts to make a lot of money.
Great low-budget games are usually made by indie developers, who naturally don't have as much money at their disposal as bigger companies do, forcing independent developers to think creatively and come up with interesting gameplay ideas that can be developed and delivered as fast as possible. Time is money, which means that the faster the game can be completed, the less money will be required to fund it.
Making an interesting indie game is not an easy task, because developers have to make sacrifices during the development phase – sometimes they can't afford to spend too much time on the game's visuals, sometimes the music will suffer, and sometimes the story will be nonexistent. That's why most indie games are made in pixel art 2D or low-poly 3D – these styles can look amazing even if one doesn't pour hundreds of hours into making them.