Microsoft never stops evolving, constantly releasing new systems – for PC, servers, and mobile devices. But which Windows 11 OS is best for gamers or home users? Find out in this article.
Browsing available Windows systems can be exhausting. The wide offer presents a whole range of versions dedicated to the specific requirements of the user. Would you like to switch from an older system to Windows 11, and you don't know which edition is right for you? Or maybe you are uncertain if Windows 11 is a good choice at all? Be sure to check out our detailed guide and Windows 11 Professional vs Windows 11 Home Edition comparison.
Features available in both versions
Courtesy Official Windows Youtube channel
Aesthetics and functionality
Windows 11 comes with a whole range of features that users of previous editions could only dream of. The refreshed and clearer interface helps intuitively use programs and applications. The new menu and taskbar with the Start button in the center deliver instant access to all the most significant functions. Among them, you will find the fast Microsoft Edge browser, access to the Widgets and documents, Microsoft Teams messenger, Microsoft Store, or the OneDrive Cloud storage.
Effective multitasking
Remote work and hybrid learning are becoming more and more popular, and Windows 11 is responding to the vital needs of all users. Thanks to the features that boost the speed of the software, Microsoft 11 does not overload your hardware, allowing you to open multiple windows, applications, and programs at the same time. With Snap Layouts and Snap Groups, you can customize and save your screen space as you wish by arranging the plan of Widgets and apps in a three-column layout. Operating the system by voice or touch, your work becomes as satisfying as ever. Dictate text or give a command and see the magic happen! Windows 11 is a unique design for people with disabilities and those spending a lot of time working in front of a computer. And all this so that you can set your creativity free.
Always in touch
Windows 11 focuses on unlimited contact in the workplace and within the family. With Microsoft Teams, you can stay in touch with everyone, anytime, anywhere. Teams meetings cover not only users operating Windows on PC but also other software or mobile devices. The application allows direct contact via SMS, including the calls of users with more outdated equipment.
Windows 11 for gamers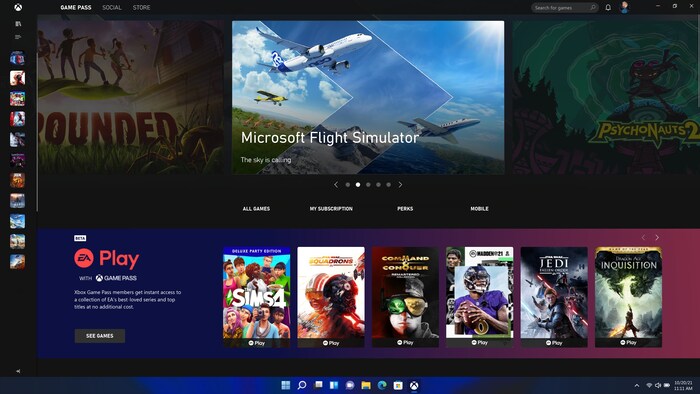 Although the belief that consoles will replace personal computers has been popular lately, Microsoft has not stopped working to invent the best system for gaming. Windows 11 meets the needs of gamers by implementing breakthrough technologies so far available for Xbox Series X/S users. If you have a device that supports HDR (High Dynamic Range), Windows 11 will convert video game graphics from SDR (Standard Dynamic Range) to HDR. With this feature, you can enjoy an even better, more vivid, and deeper color palette in each game. And if you want to return to the original graphic settings – you can do it at any time by turning off this function for a chosen title.
Windows 11 operates a Direct Storage mass management system with which Xbox Series X and Xbox Series S users are familiar. For NVMe SSD users, this is a noticeable change in the speed of loading or rendering objects in the game. All thanks to the technology that allows you to use the data stored in the temporary memory of the computer, bypassing the processor. Direct Storage helps you significantly relieve your equipment while experiencing an even faster performance of even more detailed worlds of video games.
Win 11 Pro vs Home
As you can guess, Windows 11 Home is a version designed for local users, and the Pro edition is a fantastic proposition for business clients and companies. While both versions have most of the same features, an upgrade to the Pro version is required to enjoy the full range of Windows 11 features. However, is it what you need?
Extensive Windows 11 Pro security system
If you work a lot in travel or use multiple devices, BitLocker security can be a blessing. If the device is lost, access to data and documents will be instantly blocked. This way, you can be sure third parties will not be able to read or interfere with the valuable data stored on your device. This particular feature is only available in Windows 11 Professional for multi-device users. Another exclusive feature for Windows Pro is Windows Information Protection (WIP), which supports data protection on systems used on devices around the workplace.
Windows 11 Home features for your family
Although Windows 11 Professional is equipped with the latest security and data encryption technologies, the Home version is equally rich. Remember that as a casual PC user, you do not necessarily need to have access to several extensive functions designed for business.
Windows 11 Home allows you to enable security features that will ensure the comfort of performance for all users. You can decide who has access to a device, as well as use a range of features to protect your hardware against malware or dangerous websites. Thanks to the Find My Device function, you will never lose any piece of your electronic equipment, and Parental Control will ensure the safety of the youngest. Also, Windows 11 manages the Windows Hello function, identifying the user by the selected authentication system – including even facial or fingerprint recognition system. Moreover, the tablet mode is only available for Windows 11 Home.
Which is better for you?
Windows 11 Product Key deals
Let's admit – Windows 11 Professional comes with a broad range of functions and security features that you won't experience by choosing Windows 11 Home. When you buy the Home version, you give up BitLocker or Windows Information Protection. On the other hand – do you really need them so much?
So let's take a look at the final part to help you decide which version is best for you. Depending on the retailer, prices should be around 199$ for Windows Pro, while Windows Home can cost 139$. As you can see, the price difference is big, so if you do not want to overpay for the system at basically the same level – choose a license for Windows 11 Home. However, if you are a business user, requiring a full range of data security features – Windows 11 Pro will do it for you.
No matter what you choose, Windows 11 will meet your expectations. You can always upgrade the Home version to the Pro if it turns out that you desire something more. Nevertheless, it is worth remembering the purchase of the system should meet the needs of all future users. If you're looking for the best OS for gaming, Windows 11 Home will be exactly as good as Pro.