The Monster Hunter series' origins go all the way back to 2004. But Monster Hunter: World from 2018 could enjoy players in Japan and worldwide. And it was this release that became a key breakthrough for the Capcom studio, which decided to take its title to a new level of gaming mastership.
Since the official release of Monster Hunter: World, fans of the series have been able to enjoy ever-increasing content in their favorite gameplay. Motivated by enormous success, the creators released the next part in 2021 – Monster Hunter Rise. With a full list of new changes, improvements, combat mechanics, and most of all – monsters. But is it a better game than its predecessor? Or has the MH: World set standards that are impossible to beat? To determine this matter once and for all, we made an ultimate comparison of the two games. Take a look and choose the best Monster Hunter video game!
General overview
Both titles are action role-playing video games where players explore new lands and slay monsters in single or multiplayer mode. The plot stays more in the background than other gameplay features but encourages deep immersion from the very first minutes. MH:W is a fascinating story about the New World inhabited by ancient elder dragons. The players' task is to go on a journey to investigate this mystery and learn something about powerful beasts. During the expedition, they meet the locals, discover unknown locations, and track down monsters threatening the village community.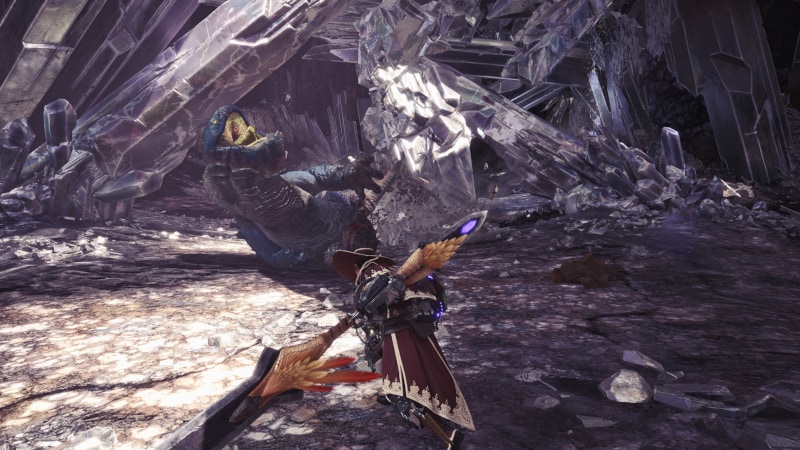 MH:R is a short story where players take on the role of experienced hunters and solve the case of the mysterious Rampage that threatens the people of the magical land. As in the previous title, the plot plays a less significant role, and the endgame focuses on dynamic action and spectacular combat. Players travel the realm of monsters to fight them, tame pets, and discover new opportunities for exploration. This title comes with a whole bunch of improvements that attract more and more Switch and PC users. To learn them all, keep reading this article!
Exploration
In the Monster Hunter Rise vs World comparison, exploration is a vital feature. In MH: Rise, players have five unique lands to explore that seem smaller than in MH: W. The world does not seem so infinitely gigantic anymore, and its contents stay in a slightly smaller area. Nevertheless, the journey through the land is still an epic experience setting severe competition to other video games in the genre. And Rise introduces two massive new exploration methods that make players instantly addicted to the game.
The first is Palamutes – wolf-like creatures that act as travel companions. Their appearance is completely customizable, and any player can get this guy in Kamura Village. Their vital feature is that they are perfect for long journeys as you can ride on their backs. And while driving, you can regenerate your strength and health or even repair a damaged sword. In addition, Palamutes are irreplaceable when tracking monsters. And from their backs, you can obtain the most valuable ingredients or upgrades, continuing the search for your target. They are also precious in combat and have several unique skills that will make your journey legendary.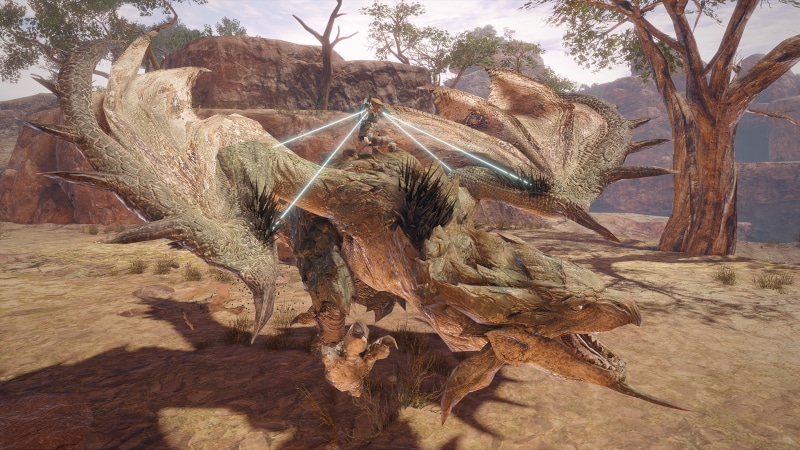 The second wonder is Wirebugs – blue worms that work as a climbing line. It is a total novelty in the series from Capcom, as now you can get to any height and the most unreachable places. Bored with the usual Palamute ride? Choose Wirebugs and lose yourself in a parkour-like exploration on the highest peaks of the surrounding mountains. Discover the freedom, jump from enormous heights and enjoy these fantastic features that remove all obstacles in your way. Monster Hunter Rise definitely wins over World in this category, especially as it also removes load times, allowing you to explore freely without interruptions.
Combat
It is one of the crucial features of both games, making the title so addictive. To fight, you accept a quest, then go into the wilderness and track down the monster. Each trip is an excellent opportunity to gain experience and valuable resources! Like in MH: World, In Rise, you can wield fourteen unique weapon classes, including a great sword, long sword, hammer, switch axe, or insect glaive. Each weapon delivers different effects that you must learn to use. Monster Hunter Rise introduces a complete novelty – blue Wirebugs that add extraordinary powers. Their presence significantly speeds up each battle, allowing dynamic dodges, attacks, or jumps. Yes, grinding with a long sword may still seem slow and tedious. But the spectacular Wirebugs help you completely forget it and enjoy the fast pace of action. Now you can count on the sword's power to speed up or even hide it at any time during the fight.
Tracking down the monsters is not easy, but the varied loot can reward the journey's hardships. When fighting the beasts, they drop stuff, and you can collect it to craft better sets of armor or weapons. Each monster has completely different combat tactics. In the battle, you can even take control of a monster! Or jump from a height using Wirebugs and take its powers by sitting on its back. In Monster Hunter Rise, you'll encounter many more enemies, including old monster types and entirely new bosses. Watch out for beasts like Magnamalo, Bishaten, or Almudron because these are some of the most dangerous opponents in this title. You'll meet as many as nine new monsters, so there's plenty to hunt for!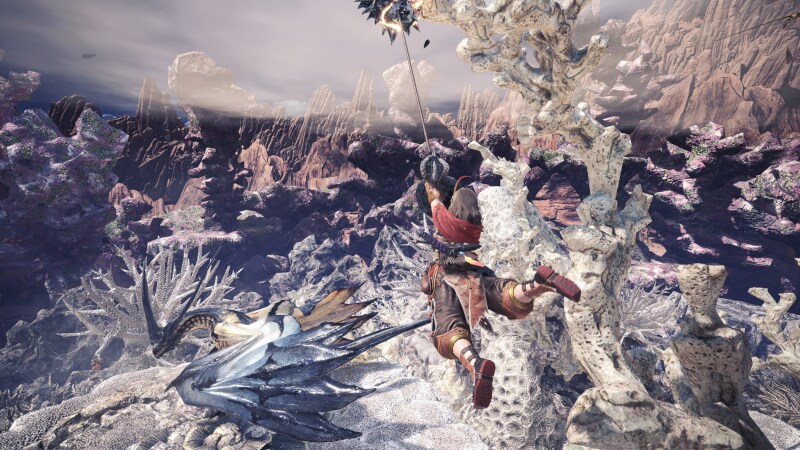 Monster Hunter: Rise also introduces Rampage. It is a mysterious phenomenon that drives the monsters crazy, so they invade a village and want to end humanity. As part of Rampage, you will discover an unlockable task that will take you to an arena. Then, you will fight off waves of attacks to prove your hunter's worth and defend the village from destruction. Rampage mode looks a bit worse in the game than in the trailer, but it is a real treat for fans of tower defense games.
Companions
Let's admit that companions are an essential feature. While in Monster Hunter: World, you could only have one pet to support you in battle, in MH: Rise, there are two! You already know everything about the new and very useful Palamute. The second companion in this game will be the irreplaceable Palico known from the previous part. They are cute cat warriors, incredibly helpful in combat and tracking down giant beasts. You can design your companion's appearance from scratch, adjust their armor, and choose a weapon. In addition, Palico can handle unique items or communicate with monsters, which can prove to be life-changing during a challenging fight or a complex quest.
The world and graphics
As players on Reddit say, the Monster Hunter Rise world is just ugly compared to the previous game. It is smaller, less breathtaking, and repetitive. The five lands are practically the same in slightly different settings. Meanwhile, the areas of the MH: W were extraordinarily enormous, hiding hundreds of collectibles, monsters, and secrets. And this means better gameplay length! Unfortunately, this beautiful realm also had its flaws. Hub villages were practically lifeless, and the characters were emotionless and repetitive. In Rise, the role-playing content has already been a bit better, although it is still not a game that can be called a plot masterpiece.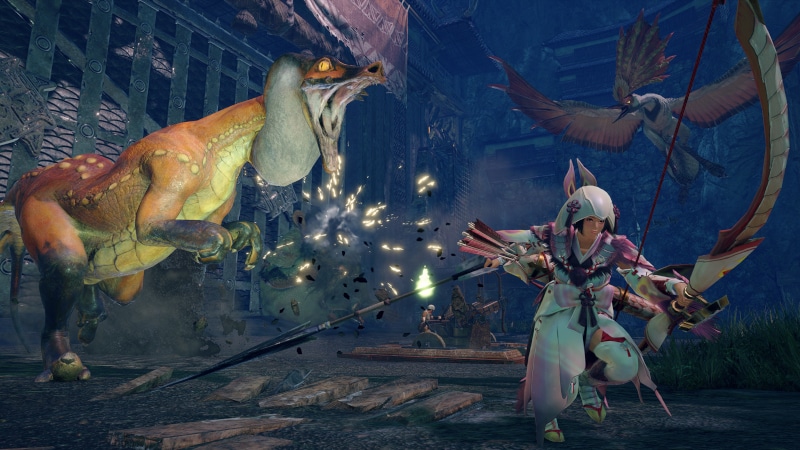 MH: W had better graphics, but remember that the game was made for PC, Xbox One, and PlayStation 4. Big screens have their requirements and good visuals were necessary in this case. MH: R is a title for PC and Nintendo Switch. It runs on the RE Engine known from games like Resident Evil Village or Devil May Cry 5 and works on the Switch's tiny screen. The game runs smoothly with no loading screens and no graphical bugs. As you can see, uglier graphics are a tiny cost in this situation.
MHW vs MH Rise – what to choose?
Choose Monster Hunter: Rise! This game is packed with thrilling improvements, new features, and epic gameplay for hours of fun. Yes, it has some imperfections, but they are nothing compared to Monster Hunter: World. And there are new companions, pets, monsters, travel methods, and so on. The title is also a little easier at the start, so it's perfect for new players.
But if you can afford two games, start with Monster Hunter: World. Explore this beautiful land, discover thousands of secrets and then proceed to Rise. Or you can spice up your gaming experience by purchasing Monster Hunter: Iceborne, an epic World DLC. This way, you will discover all the features of both games and decide which one is the best.