Microsoft Office is one of the staples of every Windows PC. A suite of programs ranging from text editors, through compiling spreadsheets, to managing databases, it is virtually indispensable.
Whether you are a student, already have a job, or need a convenient solution to handle your home budget or write a novel in, MS Office has something that's going to help you out. But you need to decide which version you want to buy, first. You have two choices, and they are substantially different.
To inform your decision, we have prepared a quick comparison of the two. This is Office 365 vs Office 2016.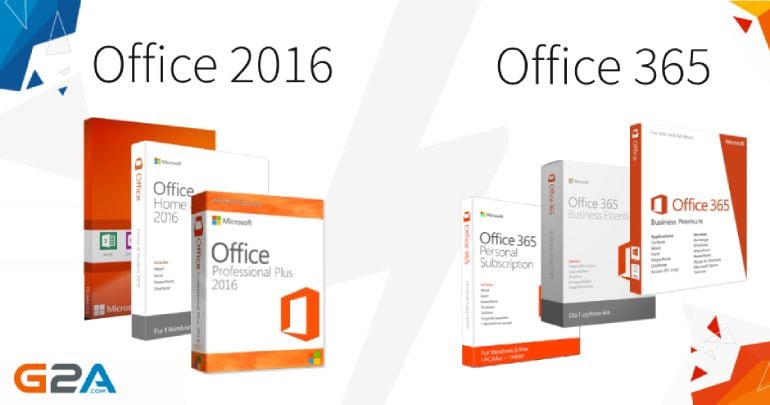 Available versions
Both Office 2016 and Office 365 come in multiple variants, which differ in which programs are included, as well as additional features, and the number of devices or users allowed by the license. Below we provide a quick rundown of each version's contents.
A list of the Office 2016 and Office 365 versions
Office 2016
Purchasing Office 2016 is simple and as uncomplicated as it could be. You simply decide which of the following plans you need, and make a purchase. After you make the purchase you download the suite, activate the key and get to use it indefinitely in the state you purchased it in, except for patches and essential updates, of course.
| | Name | Outlook | Publisher | Access | Skype for Business | Sale | |
| --- | --- | --- | --- | --- | --- | --- | --- |
| | Home & Student | - | - | - | - | 91% | Read more |
| | Home & Business | - | - | - | - | 90% | Read more |
| | Professional | + | + | + | - | 95% | Read more |
| | Professional Plus | + | + | + | + | 97% | Read more |
Office 365
Unlike its desktop counterpart, Office 365 at its core is an online subscription-based suite. This means that instead of an up-front payment you are expected to pay for it on a regular basis, either monthly or annually. It also has several plans to choose from, differing in price and the programs included. Regardless of the plan, all options have access to Office Online, a browser-based service granting the logged-in user the ability to use Word, Excel, PowerPoint, and OneNote on any device.
| | Name | Outlook | Publisher | Access | Skype for Business | Sale | |
| --- | --- | --- | --- | --- | --- | --- | --- |
The basics
Both Windows Office 2016 and Office 365 are a collection of several programs designed to handle various types of documents. Although different plans include different programs, the core three you'll get access to in either option are:
MS Word – the iconic text editor, and probably the one part of the Office suite everyone has some experience with. It is great for writing texts of any length and nature, from novels to research papers. It's also very useful for proofreading thanks to its Review functionality allowing you to record and show all changes made to the corrected text, as well as add comments. The broad selection of fonts and the customization thereof makes it your go-to program for any writing.
MS PowerPoint – PowerPoint is a presentation-designing software. It allows you to design and arrange any number of slides, which can be filled with text, pictures, graphs and even media files, like videos or audio recording. You can manage the transitions, as well as decide how content unveils on each individual slide. All that makes it an indispensable tool for anyone who needs to make an attractive presentation for work or hobby.
MS Excel – this one's can help you with spreadsheets. It can handle robust calculations, as long as you supply a proper formula, can draw graphs based on data you put in and more. It might appear complicated at first, but with Office's useful Help tool it can be a tremendous help in managing anything from home budgets to complicated calculations one usually only deals with at work.
Extra features
In addition to Word, PowerPoint, and Excel, depending on the plan you choose, you might get some of the following features: Office 2016
OneNote – this program allows its user to make notes in various formats (text, handwriting, image, voice recordings, etc.) and share them with others when necessary.
Outlook – a powerful e-mail manager, letting you gather multiple accounts under one app and manage them from there. It also includes a calendar and a task manager, useful for time management at work and in everyday life.
Publisher – where Word is focused on writing itself and doesn't concern itself too much with page design or layout, Publisher steps up to do just that. It is Microsoft's DTP (desktop publishing) program, useful for everyone running fanzines or in need of more substantial page layout customisation in general. Write in Word, arrange in Publisher.
Access – a database creation and management tool, it might be used for simple tasks like putting your home library in order, but it reaches its true potential in workplace environment where it is necessary to compile data from numerous sources.office-2016-vs-office-365-the-difference-article
Skype for Business/Microsoft Teams – both are communication clients, and while Skype for Business merely handles moment to moment text and voice conversations, Teams additionally functions as a hub for all activity within and between teams. Each requires a pre-existing network to function, making them useful almost exclusively to companies.
Updates and upgrades
On this front, the difference is very straightforward.
Office 2016 users have to stick with the product they bought. Barring inevitable updates and patches fixing potential problems, once you buy Office 2016 you are going to have Office 2016 until you upgrade by buying a new license for a newer version.
Office 365 on the other hand, as a product based on recurring payment, grants you immediate access to new features and versions as they come out, as long you have an active subscription.
Choosing one over the other is largely a question of which type of convenience you are more interested in, as well as how comfortable you feel financially.
Office 2016 requires paying a lump sum up-front, and makes you stick with the version you paid for, but on the other hand you don't have to worry about further payment and losing some the functionality of your programs.
Office 365, meanwhile, requires regular payments (monthly or annual for private use, or just annual for business purposes), but you always get the latest version of software, including all updates and fixes.
Ultimately the choice is yours, but now you can make an informed decision.